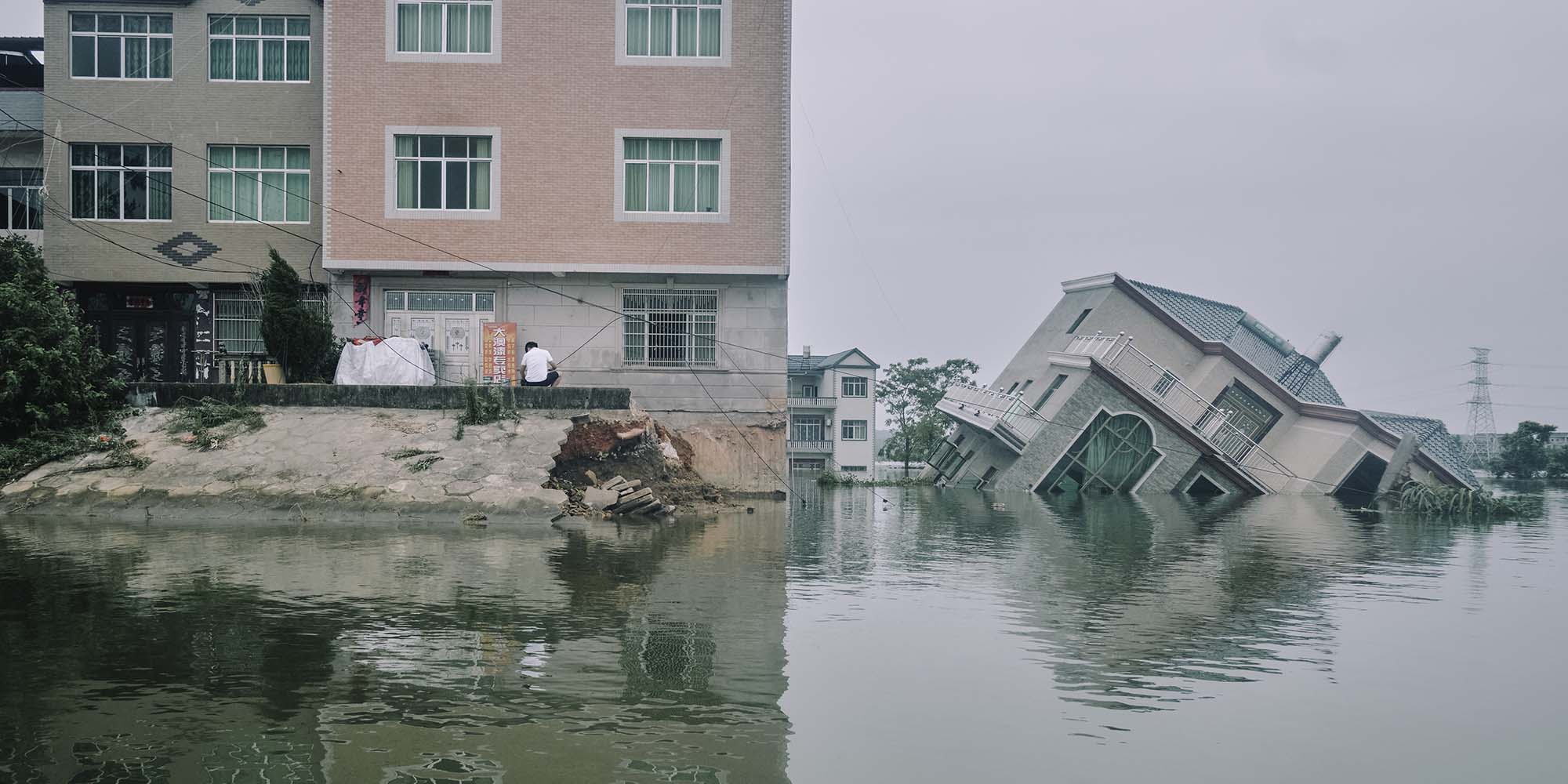 MULTIMEDIA
Floating Life: China's Flood Victims Pick Up the Pieces
In the eastern Jiangxi province, villagers face an uncertain future after the country's worst flooding in decades.
JIANGXI, East China — Li Xiang'er stands in silence outside his ruined home, staring at the devastation around him.
The house where the 77-year-old lived for decades is now unrecognizable: A heap of shattered tiles, concrete shards, and jagged beams is all that remains.
On July 8, torrents of water surged through Li's home village of Yanqiao in eastern China's Jiangxi province, the floods over a meter deep in many places. Li's old house collapsed within hours, as the water pulled the mostly wooden structure to pieces.
Cai Qiaoyin, Li's wife, tells Sixth Tone the couple was in an adjacent building that Li constructed a few years ago when it happened. She recalls Li physically trembling as he watched the house crash down before his eyes.
Luckily, the new building is still standing, but it sustained severe damage as nearly the entire first floor was submerged. "We're old and can't move easily, so we lost a lot of things," says Cai.
Sitting on the edge of Poyang Lake, China's largest freshwater lake, Yanqiao Village is no stranger to seasonal flooding. But the disaster that's unfolded over the past few weeks is unlike anything most residents can remember.
Since June, regions across southern China have suffered some of the heaviest rainfall ever recorded. Wuyuan — a county just east of Yanqiao — received nearly 2 meters of rain in just six weeks, more than Beijing normally experiences in three years.
The water levels in local rivers near Yanqiao rapidly swelled to 23.7 meters — even higher than the height recorded during the notorious 1998 flooding that killed 4,000 people nationwide.
In Jiangxi province, the floods have already forced 700,000 people to relocate and caused over 22.7 billion yuan ($3.2 billion) in damage, according to government data. Entire villages have been inundated and rural transportation links cut off.
When Sixth Tone arrives in Yanqiao July 15, rescue teams and local residents are cutting through the village streets on speedboats, delivering food and other emergency supplies to those still sheltering in their partially flooded homes. Furniture and electric appliances are visible floating in the water.
Many residents have already left the village. Others who live on higher ground have started to clean up their homes, as the water has receded slightly. The mood is calm, with small groups of villagers chatting and eating together.
Li Anran, who isn't related to Li Xiang'er, is sitting outside his front door, gazing into the distance. The 70-year-old has spent the past three days scrubbing the mud from his floor and furniture. He was unable to save the refrigerator, air conditioners, or beds, he says.
"The water was rising so fast!" Li Anran tells Sixth Tone. "In 1998, we had a whole night to move our furniture to the upper floor. But this year, after we'd finished moving the furniture from one room on the first floor, the floods had already come nearly 30 centimeters up the wall."
For the villagers, the road to recovery looks long and winding. According to Li Anran, it took three months for the water to drain from Yanqiao in 1998. He's still worried about the possibility of a second wave of storms. His remaining furniture will stay perched on high stools for now, he says.
The other villages and towns encircling Poyang Lake have suffered similar fates to Yanqiao, with large numbers of locals forced to abandon their farms and move into government-run shelters.
In Duchang County, another region bordering the lake, entire villages have been moved into a local school, which the government commandeered July 10. Villagers are sleeping in the student dormitories, six to a room, and the authorities are providing meals in the canteen.
After only a few days in the shelter, however, some villagers are getting restless and bored of the long days with nothing to do. Several complain about the poor food quality.
"A few days is fine, but if I stay here for too long, it's no different than being in jail," says Gao Xingsun, who is from nearby Xiaoyang Village. "But I can't decide the weather, can I?"
Yet others stress that the situation is much better than the aftermath of the 1998 floods, when China's economy was less than one-tenth the size it is today.
"We're much better now — the country has developed and life's way better," says 66 year-old Li Yishun, who lives in Yanqiao and isn't related to Li Anran or Li Xiang'er. "But we'll have to wait a long time for things to get back to normal. All we can do is just wait."
Photos: Wu Huiyuan; editors: Dominic Morgan and Qi Ya; design: Fu Xiaofan.
(Header image: A destroyed villa in Youdunjie Town, Poyang County, Jiangxi province, July 16, 2020. At least nine of the town's buildings and two of its bridges collapsed during this year's flood season. Wu Huiyuan/Sixth Tone)