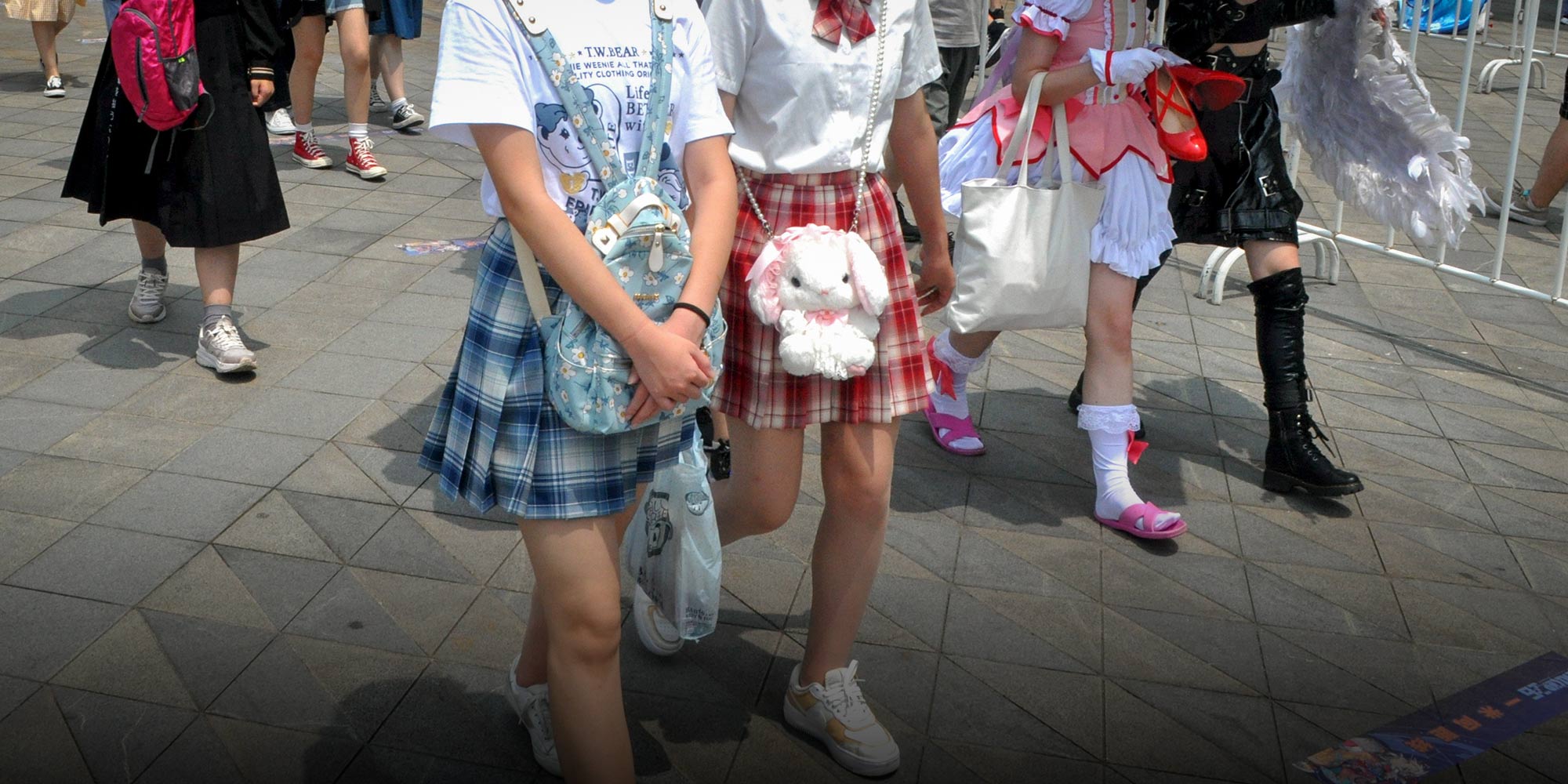 NEWS
Viral Video Starts Discussion on Upskirting and 'Safety Pants'
Many Chinese women have started wearing an additional layer of clothing to deter judgmental comments and would-be voyeurs.
A model who was slammed for posing "inappropriately" while onlookers photographed her from behind said Sunday that she was wearing "safety pants" specifically to guard against upskirting, or taking surreptitious photos of women's underwear.
After the video, shot during a Shanghai anime convention over the weekend, went viral on Chinese microblogging platform Weibo, women began posting about the need to wear tight shorts over their undergarments — an accoutrement commonly known as "safety pants."
The additional layer of clothing is designed to prevent women from exposing their undergarments, especially while wearing skirts and dresses, as well as protect them from unwanted filming or photography in public. According to an online poll conducted by an independent blogger, 85% of 75,000 respondents said they would wear safety pants while donning a short skirt.
Chen Yaya, a commentator on gender issues, told Sixth Tone that the prevalence of safety pants reveals how traditional mindsets place high expectations on women's bodies.
"As long as people's requirements for women remain unchanged, safety pants will not be able to offer women freedom," said Chen. "If people remain conservative, (women) will be attacked if they don't wear safety pants and attacked if they accidentally reveal their safety pants."
Upskirting and voyeurism in general are common concerns among women in China, as there are no laws prohibiting the sale of hidden cameras, although secretly filming other individuals is punishable by up to 10 days' detention. This has led many women to include safety pants as part of their wardrobe, not only to protect themselves from unwanted looks but also to make a statement against voyeuristic behavior.
On China's leading e-commerce platform Taobao, safety pants with graphics or creative messages aimed at deflecting unwanted gazes — a thumbs-up icon or an animated horse head playfully obscuring a phrase meaning "What the f--- are you looking at?" — have become popular with female customers.
Xiao Mai, a Taobao vendor who sells safety pants, told Sixth Tone that while the garment and its playful graphics were originally intended for men, women have recently shown a huge interest as well. Last month alone, she sold more than 4,000 safety pants, with the majority of her buyers women.
"Originally, I designed the style for menswear, as it's entertaining," said Xiao Mai. "Then many female customers messaged me saying they wanted this style for safety pants, so we made it — and they became our bestsellers."
Xiao Mai said many female customers have told her that safety pants make them feel protected from hidden cameras and upskirting. And the reviews on her products are telling.
"This is so great: I don't have to worry about people secretly filming under my skirts anymore," one female buyer commented in the review section of Xiao Mai's Taobao store.
Editor: Bibek Bhandari.
(Header image: Visitors enter the venue for COMICUP 26, an anime convention in Shanghai, July 25, 2020. Yan Daming/People Visual)