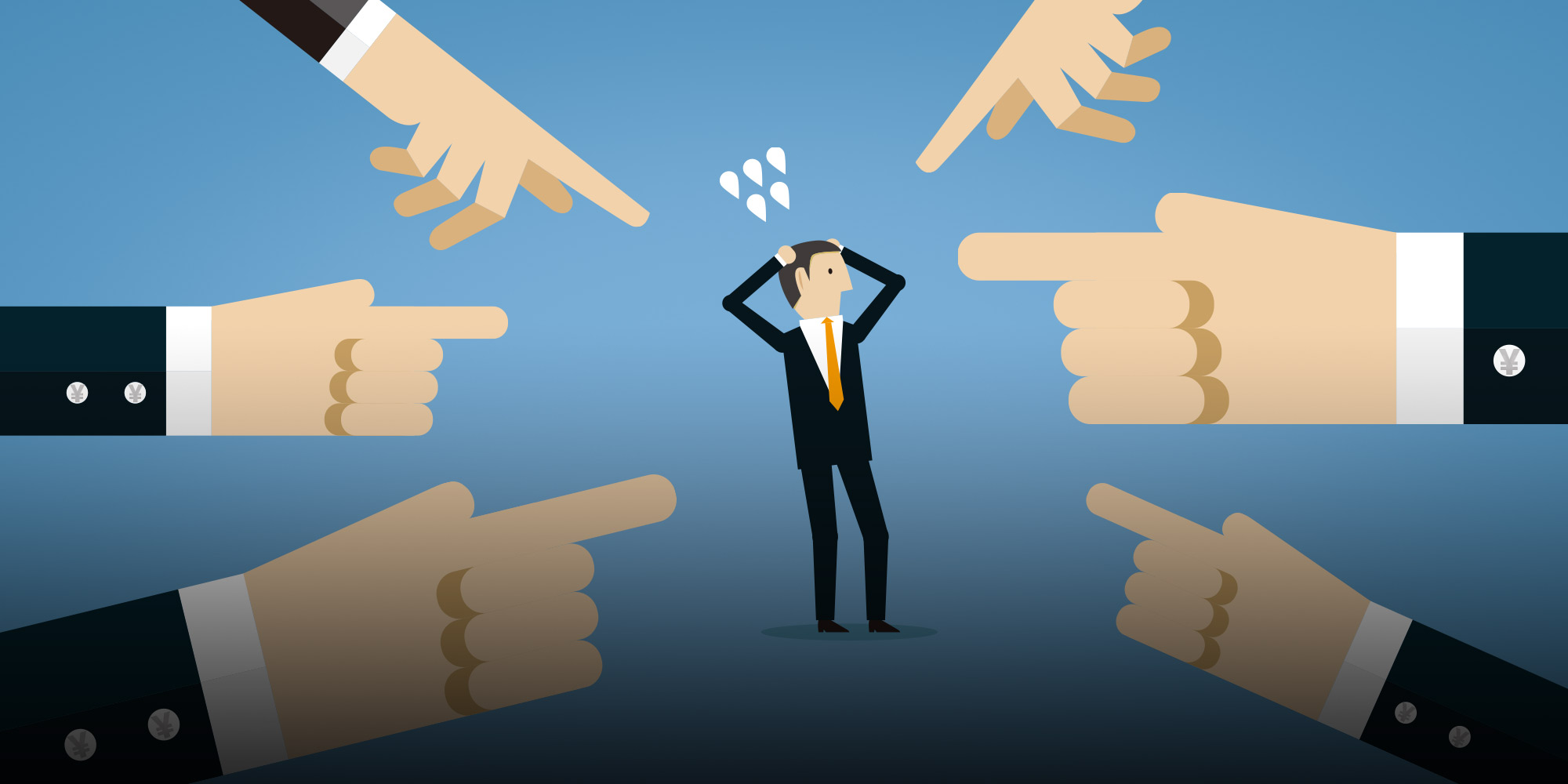 NEWS
Chinese Rapper's Viral Post Sheds Light on 'Workplace PUA'
After Yamy called out the head of her agency for constantly manipulating and belittling her, thousands have come forward with stories about their own horrible bosses.
It's 6 p.m. on a Tuesday. In the crowded office of a Shanghai internet company, a woman calmly gets up from her desk and leaves without so much as a glance back at her colleagues, who are still feverishly at work.
Later, they realize her desk has been cleared of any personal effects: She has no intention of returning.
According to Zack, one of the woman's co-workers, she quit because of their department director's domineering and borderline abusive behavior: assigning them busywork, giving contradictory orders, pushing them to work overtime, and losing his temper with little or no provocation.
"She told me she finally realized our manager was actually mentally manipulating us the whole time," the 28-year-old told Sixth Tone. "It only took the director a few months to push a newcomer from confident to self-loathing."
Feeling the same psychological pressure himself, Zack was envious that she had left. "I appreciated her courage, which I can't say I have right now," he said. Later that night, the woman sent him an article on messaging app WeChat about something called "workplace PUA," which it described as "invisible mind control."
The same day, the hashtag "workplace PUA" went viral on microblogging platform Weibo. At the time of publication, the trending topic had been viewed over 580 million times, prompting tens of thousands of posts about office conflict similar to that experienced by Zack and his former colleague.
In China, PUA, or pick-up artistry, originally referred to the practices and theories some rely on to attract sexual partners. The concept became controversial in China after a growing number of women began reporting so-called dating coaches and their acolytes for advocating misogyny by "negging" their targets — or lowering their self-esteem to make them easier to "catch." In recent years, "PUA" has evolved from its original meaning to become synonymous with emotional abuse in interpersonal relationships more broadly.
Workplace PUA began trending on Chinese social media this weekafter a rapper said she had been put under enormous psychological pressure by the head of her agency.
On Tuesday morning, Guo Ying — better-known by her stage name, Yamy, and for her role as captain of the now-disbanded idol group Rocket Girls 101 — published a long post on Weibo about the abusive behavior of Xu Mingchao, the founder and CEO of JC Universe Entertainment. The post included a 3-minute audio recording from a company meeting she hadn't attended.
Yamy — who has a unique appearance by Chinese pop star standards — claimed that Xu had "humiliated" her with abusive language during the April gathering.
"If I said Yamy was prettier than you, I bet you'd have a mental breakdown," Xu can be heard saying to another employee in the recording. Apart from calling Yamy "ugly" and "sick," Xu also accused the star of "dressing like a hedgehog."
"I used to believe that if there was some problem, it must be my fault: Maybe I didn't perform well enough," wrote Yamy, who, unable to cope with the creeping depression and self-doubt from her interactions with Xu, had asked to be released from her contract.
"Maybe I could only earn one ten-thousandth of your fortune, but that doesn't mean my job is worth any less. Maybe my appearance doesn't fit your taste for beauty, but that doesn't mean you can trample on my dignity," she wrote.
Yamy's post has received more than 229,000 comments and 5.8 million likes. While some commenters have argued that Xu should respect women regardless of what they look like, others have said Yamy's experience sounds a lot like workplace PUA.
Xu responded to Yamy's viral post with two of his own on Tuesday and Wednesday. In the first, he said Yamy's accusations were just a scheme to get out of her contract; in the second, he copped to being a "middle-aged male boss who engaged in workplace PUA."
While Xu said he had never consciously tormented or manipulated his employees, he apologized to everyone he had ever worked with for occasionally losing his temper — everyone, that is, except Yamy.
"If I've ever bothered you with my inappropriate expressions and emotions, I sincerely apologize," Xu wrote in Wednesday's post. "Although I didn't mean to hurt you, I still have to say I'm sorry. Please forgive my arrogance."
The ongoing conflict between the idol and her agency has sparked broader discussion on work relationships between supervisors and their subordinates. Following last year's online outcry over some Chinese companies' "996" work culture — 9 a.m. to 9 p.m., six days a week — experts are now saying that workplace PUA reflects job-seekers' anxiety as they face grim employment prospects, especially in the post-pandemic era.
"Workplace PUA destroys people's self-esteem and self-worth, making them solely reliant upon the employer's appraisal," Yu Tianyi, a Beijing-based psychologist specializing in workplace relationships and "mood management," told Sixth Tone.
According to Yu, so-called mind control is ubiquitous in the workplace — "but in many cases, the victims don't even notice it," she said.
"In severe situations, the victims think they're useless, and that this is why the boss is treating them badly, instead of realizing it's just the boss engaging in workplace PUA," Yu said. "And if the victims fail to realize this, they'll continue to live in darkness, believing their lives are worthless."
In a June reportby recruitment platform Zhaopin.com, over two-thirds of 8,000 white-collar workers surveyed said they had experienced workplace PUA. The report also said workplace PUA was more common in competitive industries.
Cindy Tian, a 32-year-old with over a decade of experience in consulting, told Sixth Tone she experienced a slightly different form of workplace PUA from a former employer.
"One of the most common habits of my ex-boss was to keep finding flaws in our work," Tian said. "She would frequently tell me I wasn't worth the salary she was paying me, and that I was lucky to work with her."
Even more than full-fledged staff, interns, too, face huge pressure and unreasonable conduct from their supervisors.
A 21-year-old college student in Shanghai told Sixth Tone that during his internship at a state-owned company last year — where his duties included applying for reimbursement, booking meeting rooms, and picking up coffee — his department leader verbally abused him on several occasions.
"One time, the leader lost his temper at me in a meeting room with the door open. I was sure everyone in the office could hear him evaluating my work as 'bullshit,'" he said. "It felt like being naked in public."
Though the student had planned to do a six-month internship, he decided to leave halfway through — but removing himself from the uncomfortable situation may have hurt his future prospects, as he wasn't able to find another internship during the summer holiday.
Xiong Xinfa, a career adviser who gives tips and trainings on Weibo, told Sixth Tone that while employees should be able to accept fair and constructive criticism from their supervisors, he hoped people targeted by unreasonable or hostile behavior would extricate themselves from such environments.
"Workplace PUA can happen when there's a power imbalance between employer and employee," Xiong said. "Every employee must recognize that their workplace relationships should be based on personal equity. It's senseless to work for a boss who doesn't know how to respect their employees."
Zack from the internet company said that during his job interview, he was impressed by the boss's eloquent speaking and lengthy résumé. "He promised to be my career mentor and told me to follow his instructions," he said. Though Zack had other offers at higher salaries, he decided to take the job.
But now, after witnessing a few of his colleagues resign, Zack is feeling the full, oppressive weight of his boss's constant conniptions. "I won't doubt myself anymore, because it's just his nature to try and control me," he said.
Editor: David Paulk.
(Header image: Ja_inter/Getty Creative/People Visual, re-edited by Sixth Tone)