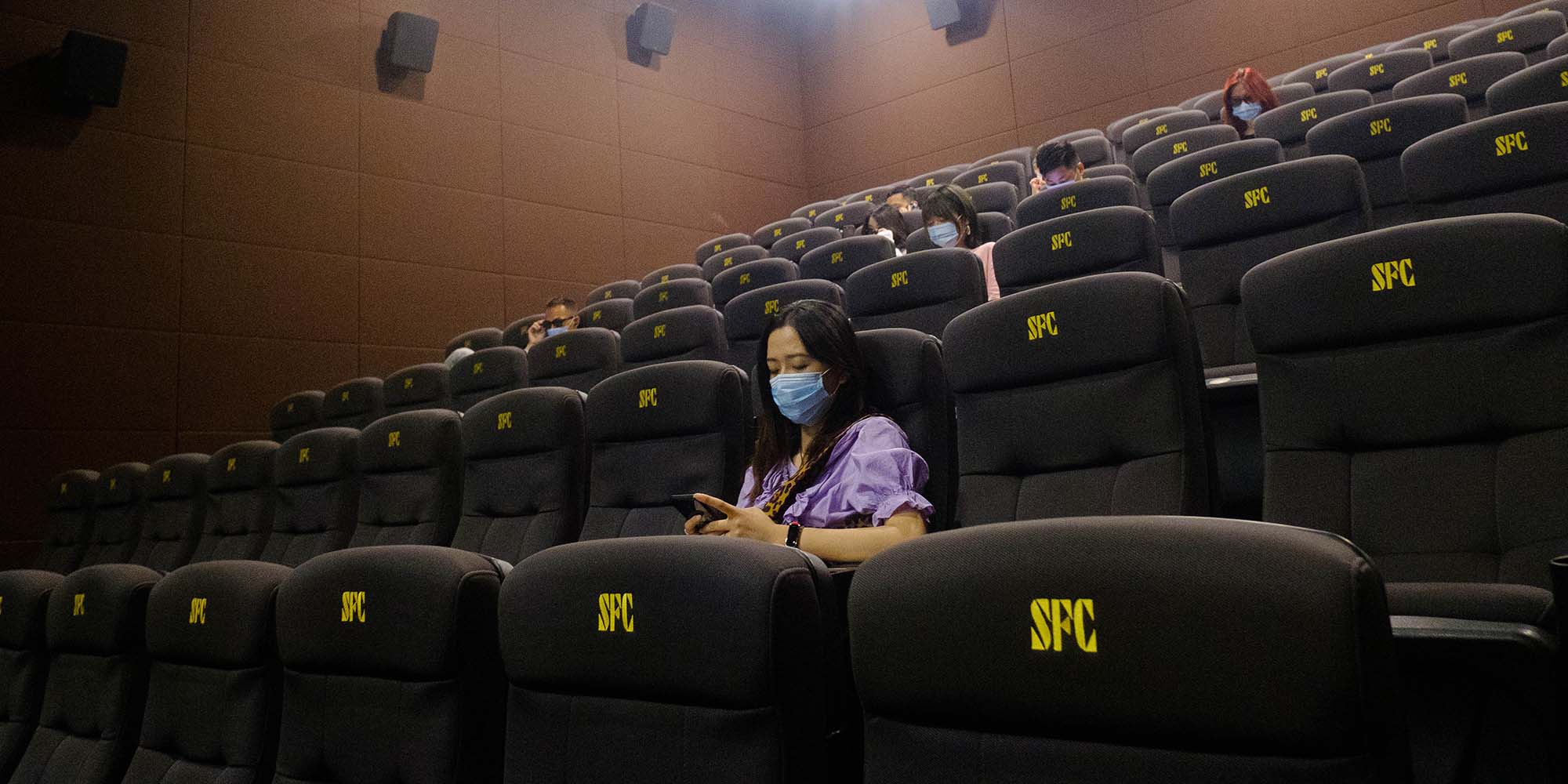 NEWS
China's Cinemas Reopen as Coronavirus Restrictions Eased
While some patrons were excited to be watching films on the big screen again, others said the experience wasn't the same without snacks and beverages, which remain prohibited.
SHANGHAI — Action, romance, and drama are coming back to China's silver screens.
Domestic movie theaters opened their doors Monday after being mostly closed for around six months due to the coronavirus pandemic. The National Film Administration had announced Thursday that low-risk areas of the country would be allowed to reopen cinemas at 30% seating capacity and screen time capped at two hours.
Several theaters across the country reopened with screenings of Wang Lina's "A First Farewell," an award-winning film at last year's Berlin International Film Festival.
In Shanghai, patrons told Sixth Tone they couldn't wait to watch the new release on the big screen after such a long hiatus.
"I'm very excited to be among the first group of moviegoers," said Han Yuxin, who was at a theater in the downtown Jing'an District to watch Wang's movie. "I feel the theaters must have done a good job preparing for the reopening, so I'm not too worried about safety."
At another movie theater in Shanghai's Xuhui District, staff members in masks — a compulsory accessory for both employees and guests — stood outside preparing to welcome their first customers in months. However, few people were waiting to go in, and the usual buzz around the concession counters was conspicuously absent: For now, no food or beverages are allowed, according to Thursday's guideline.
Staff at the theater told Sixth Tone they were only screening old releases on Monday, though they plan to gradually add new films to the lineup. And the Shanghai International Film Festival, postponed since June due to the pandemic, is coming to the theater July 25.
"We've been feeling excited since yesterday," Bao Yaopei, the theater's manager, told Sixth Tone. "We've been preparing nonstop."
With cinemas basically closed for half the year, China's entertainment sector has been hit hard and has a long road to recovery ahead. Several films scheduled for release during the Chinese New Year holiday in February — peak season for movie theaters and production studios — had to be postponed indefinitely, resulting in billions of yuan in lost revenue.
According to an estimate from the National Film Administration, the pandemic could cost the domestic industry more than 30 billion yuan ($4.3 billion) in box office losses, or around 50% of the previous year's total revenue.
But with business finally getting back on track, theater operators are eager to make up for lost time.
Wu Zongnian, an employee at the theater in Jing'an District, told Sixth Tone that 11 screenings — including "A First Farwell" and three old releases — were scheduled for Monday. The establishment has only opened three of its five theaters, however, and set a reduced screening schedule of 1:30 to 10 p.m.
"The tickets sold pretty well," Wu said. "Although most of the films are old, this doesn't seem to have dampened audiences' enthusiasm at all."
Some viewers, however, don't see the picture as quite so rosy, and have expressed mild disappointment in the special precautions, even ones being enforced for their safety.
"Watching a movie without snacks and drinks is just a bit strange," said patron Wang Xinchen.
Additional reporting: Wu Ziyi and Liu Siqi; editor: Bibek Bhandari.
(Header image: Viewers at a movie theater on the first day they've been allowed to reopen nationwide since the coronavirus outbreak, Shanghai, July 20, 2020. Wu Huiyuan/Sixth Tone)