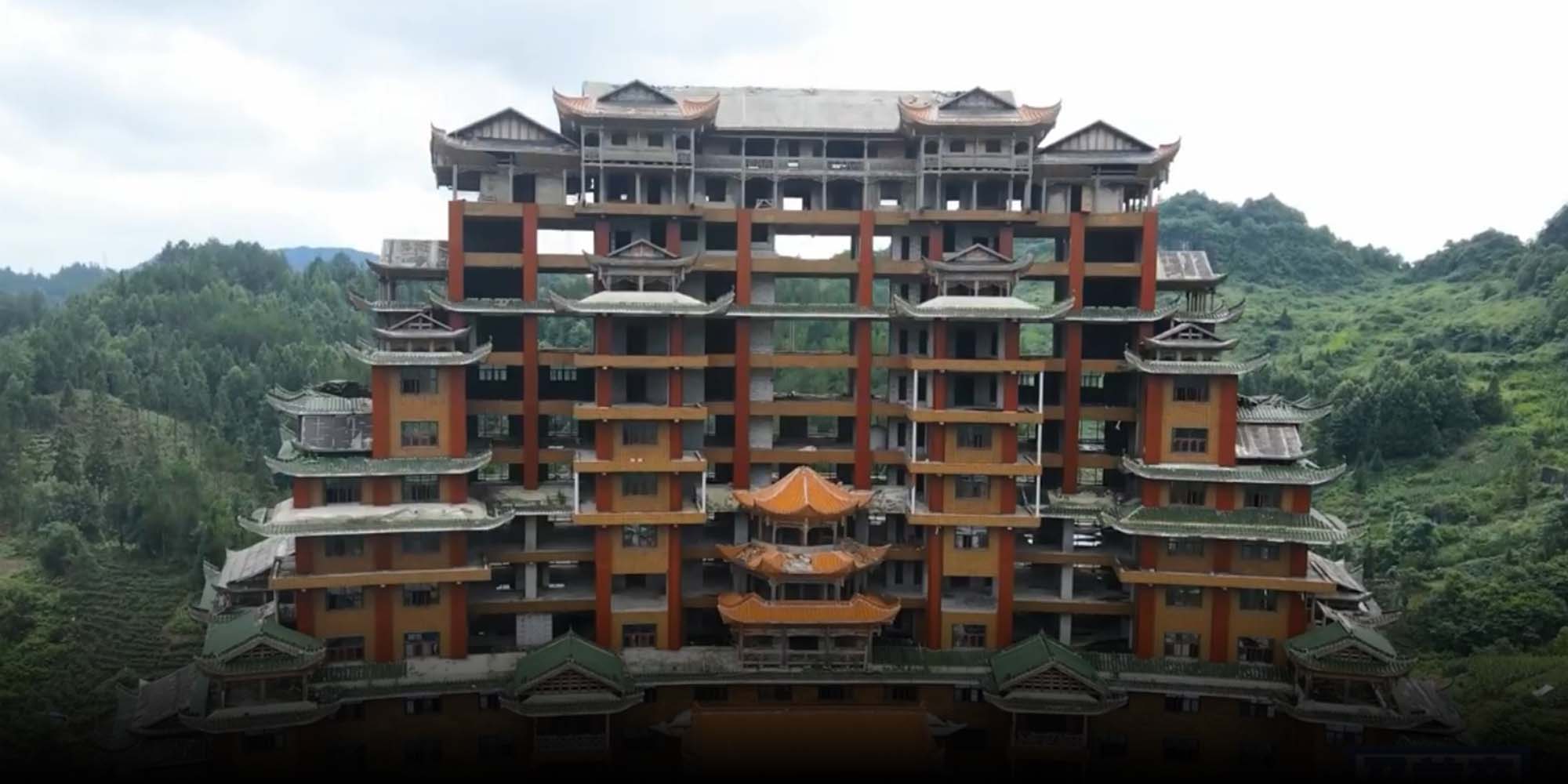 NEWS
Unfinished Vanity Projects a Debt Trap for Guizhou County
A documentary has cast a spotlight on dozens of ostentatious building projects in Dushan that have plunged the county over $5 billion in debt.
Update: On July 16, the prefecture that administers Dushan said the county's remaining debt was 13.5 billion yuan as of June, and the current leadership is dedicated to correcting the "historical legacy" of runaway government debt in the region.
A county in southwestern China is now infamous after a documentary revealed that its urban renewal projects were costing tens of billions of yuan the local government didn't have.
Dushan, a backwater county in Guizhou province, is an unlikely home for dozens of fancy-looking buildings that were part of an official push to develop the local economy. Today, the projects — which include manmade scenic sites and industrial parks, among others — stand idle, awaiting visitors and tenants.
The projects have plunged Dushan — which had only just graduated from China's list of poverty-stricken counties in March — into debts amounting to over 40 billion yuan ($5.7 billion).
The local government's fast and loose spending of public funds was the subject of a documentary that was widely shared Monday on Chinese social media platforms. The 22-minute film is a kaleidoscope of unfinished buildings and empty streets evoking a ghost town, with the shocked host questioning the logic of squandering billions in a county consisting of just eight townships and a still-small population.
Dushan's debt crisis had already made national headlines last year, after the official newspaper of China's top discipline watchdog, the Central Commission for Discipline Inspection, cited Dushan's fiscal recklessness as an example of public officials misusing their authority. Pan Zhili — Dushan's former party secretary and the official deemed responsible for the crisis — has since been charged with taking bribes and abuse of power.
An online backlash followed the documentary's release, prompting the Dushan authorities to say that they're currently verifying the filmmakers' claims. New leadership has assigned different teams to take over the unfinished projects: While 18 of the plans have been completed, 32 remain in progress, and 17 will be redesigned, according to an article published Tuesday on the local government's website.
On Tuesday, a staff member at the county's publicity office surnamed Wei told Sixth Tone that the office had not been successful in contacting the filmmakers yet. The county is still trying to "figure out" how to resolve the issues the projects have created, Wei said.
The documentary team did not respond to Sixth Tone's interview request by time of publication.
Editor: Bibek Bhandari.
(Header image: A screenshot from the documentary shows an elaborate but unfinished government construction project in Dushan County, Guizhou province. From @观视频工作室 on Weibo)