Last year, a primary school student won a prize in one of China's top science contests after submitting a detailed study on the role a specific gene plays in the development of colorectal cancer.
Now, some are questioning whether the project was really the boy's own work.
The student, surnamed Chen, a sixth-grader from the southwestern city of Kunming, submitted his research to the 34th China Adolescents Science & Technology Innovation Contest (CASTIC) — a prestigious competition jointly organized by nine Chinese government ministries and national-level organizations — in 2019.
The project, which Chen said provided new insights into the diagnosis and treatment of colorectal cancer, initially aroused no suspicions, despite the competition's rules stating that students must design their research projects themselves. In July 2019, Chen's study was awarded a third prize — one of only a few hundred to be recognized among millions of entries.
Over recent days, however, netizens have begun to raise questions over Chen's feat, with many doubting whether such a young student was truly capable of completing what some have described as doctoral-level research.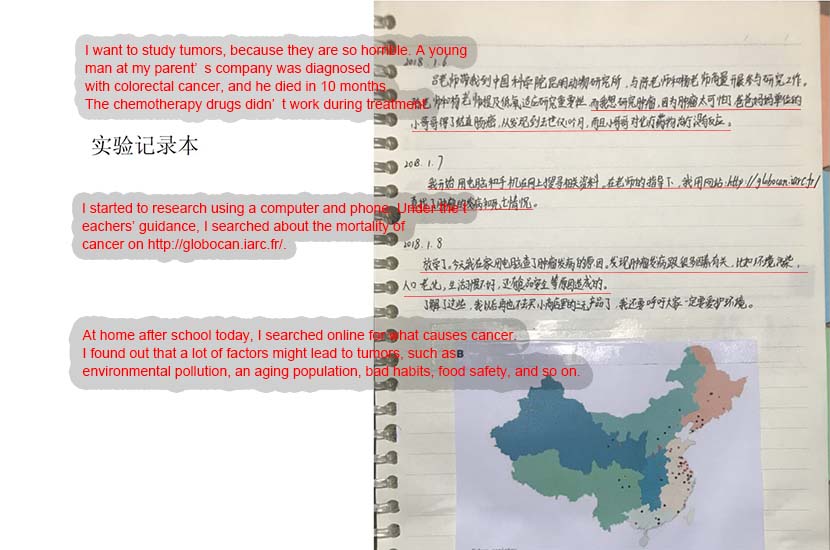 Chen's lab records. From the official website of CASTIC
According to the brief introduction to Chen's project on the CASTIC website, the student analyzed the function of an uncharacterized protein, C10orf67, in the development of colorectal cancer.
Using laboratory methods such as real-time polymerase chain reaction (PCR) and Western blotting, Chen ultimately found that C10orf67 regulates the susceptibility of colorectal cancer to chemotherapy drugs.
According to Chen, the findings are "expected to provide new biomarkers and drug targets for the diagnosis and treatment" of the cancer.
The student's achievement is even more remarkable given that until January 2018, he said he had no in-depth knowledge of cancer or genetics.
In the experiment notes, Chen wrote that he was inspired to start researching this field after his parents told him about a former colleague who had died of colon cancer just 10 months after being diagnosed. "I want to study tumors," Chen wrote. "It's so horrible."
Chen's project began with a Jan. 6 visit to the Kunming Institute of Zoology, a research body under the Chinese Academy of Sciences, where he received assistance from two researchers surnamed Chen and Yang.
After that initial encounter, Chen describes making rapid progress in his studies. Between Jan. 7 and 10, he learned about the morbidity and mortality of cancer, the causes of cancer, genetics, and the main principles of molecular biology. Then, he began studying the laboratory method PCR.
Many have expressed incredulity that a sixth-grader could design such an advanced research project unassisted. The CASTIC rules, later revised in 2020, specify that all entries must be proposed, studied, researched, and completed by the students themselves.
"Looking over the award-winning project — its preconditions, conception, and the later specific lab design — it's almost at the same level of scientific research as that of a grad student or even a doctoral candidate," an author writing for Dingxiangyuan, one of China's largest online platforms for health professionals, claimed Sunday.
Others have speculated that the two researchers at the Kunming Institute of Zoology mentioned by Chen in his study are in fact the boy's own parents. On Monday, the institute confirmed that at least one of Chen's parents works at the organization — though the Chinese statement didn't make clear whether one or both parents are employed there.
"We have set up a team to investigate this incident, and we will reveal the results of the related investigation to the public in time," the institute wrote in a statement on its official website.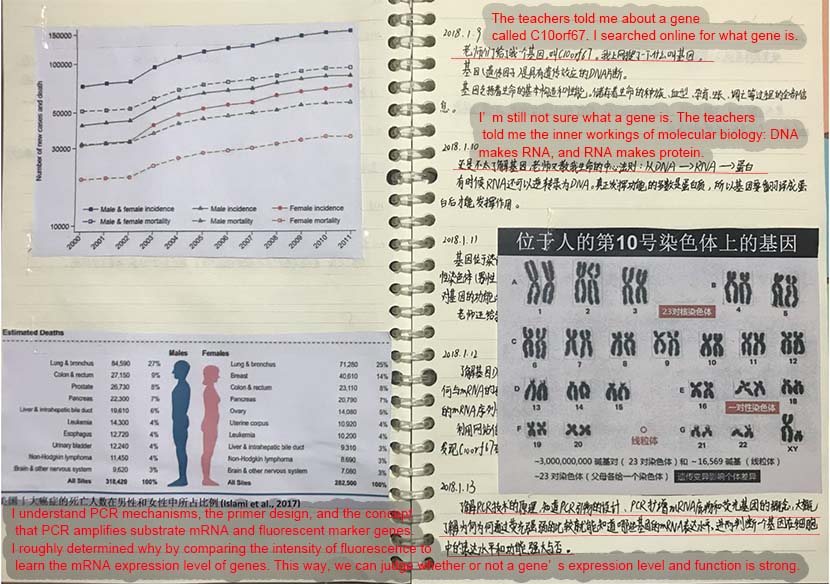 Chen's lab records. From the official website of CASTIC
The case has sparked renewed controversy over the role science and sports contests play in China's education system.
In the past, students who won a prize in a high-profile contest would often receive up to 20 bonus points on the gaokao — China's all-important college entrance exam. They also sometimes received priority in the Independent Freshman Admission Program (IFAP), a scheme that allowed universities to recruit outstanding students from high schools directly.
On several occasions, parents were found to have helped their children win prizes, hoping this would help them gain admission to an elite school. In 2018, high school students from nine different provinces, some of whom had already entered universities via IFAP, were accused of plagiarizing essays.
A Shanghai-based parent, who requested anonymity due to the sensitivity of the matter, told Sixth Tone he had helped his 8-year-old son win a first prize in a national-level contest in order to make the child's resume look more appealing.
"We heard that such a prize could win extra points toward enrollment at higher education institutions," said the father, who completed the competition entry along with his wife. "Otherwise, we would never have entered such a contest. It's a waste of energy and money."
In January, China's Ministry of Education announced the end of the IFAP and said national prizes would no longer entitle students to bonus points on the gaokao. However, contests such as CASTIC can still help students gain entry to high schools in some provinces and cities.
In a commentary published Monday, the state-run People's Daily acknowledged the mounting criticism of school contests, calling on the authorities to fight back against inequality and strengthen the supervision of such events.
"When the original contests of intelligence, innovation, and practical skills become a competition of family resources and social networks, the authorities should not turn a blind eye anymore," the article said. "Most importantly, contest results should be separated from high school enrollment as soon as possible, which can completely return contests to their correct path of improving adolescents' scientific ability."
Contributions: Liu Siqi and Ye Ruolin; editor: Dominic Morgan.
(Header image: nPine/People Visual)