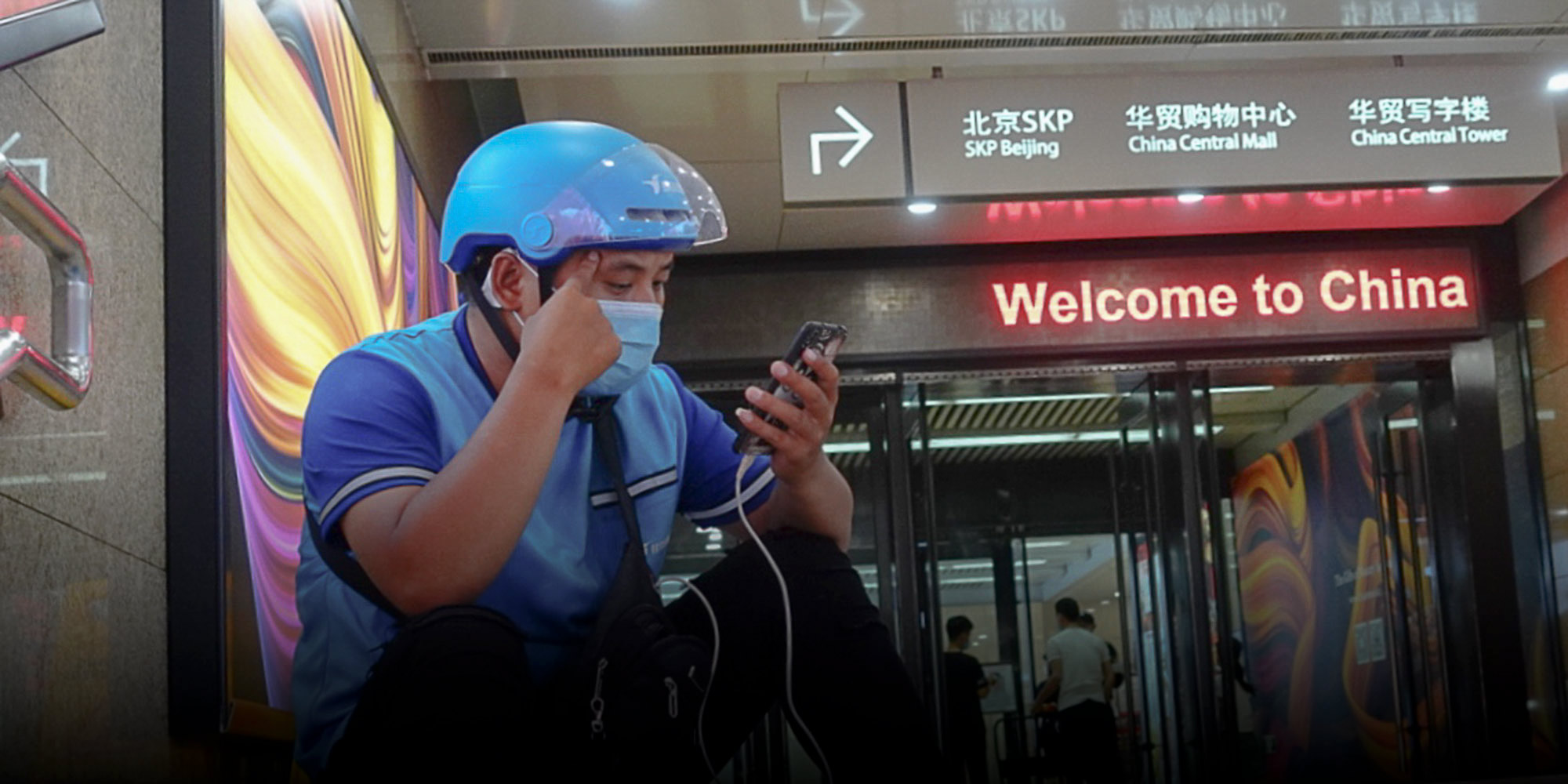 NEWS
Fancy Beijing Mall Denies Discriminating Against Delivery Drivers
A popular vlogger documented her struggle trying to gain entry to a luxury shopping center while dressed as a food courier.
Beijing's SKP shopping mall has dismissed allegations that it discriminates against food delivery drivers by barring them from entry.
In a statement Sunday, the luxury shopping complex said it had designated a special entry point for couriers to pick up and drop off packages during the coronavirus pandemic — a measure consistent with the Beijing government's COVID-19 prevention regulations, SKP added.
The statement came after the popular vlogger Cao Dao, who has 1.7 million followers on microblogging site Weibo, shared her experience of being repeatedly denied entry to the facility while wearing the yellow uniform of a driver for food delivery platform Meituan.
In Cao's video, she is turned away at SKP's main entrance while attempting to pick up a customer's milk tea order from a store inside the mall. Security personnel suggest she instead put a coat on over her uniform, change clothes, or find the "staff entrance."
Still simmering over her thwarted attempt, she is finally asked not to stand in front of the entrance.
"SKP treats the entire delivery industry differently because of their uniforms. I think this is discrimination," Cao told The Beijing News on Sunday.
However, a driver from another delivery company, Ele.me, told Sixth Tone he's able to enter most of the shopping malls in Shanghai and doesn't feel that SKP's policies are discriminatory.
"As for unfair treatment in this society, there's discrimination everywhere," said the driver, who asked not to be named. "Personally, I don't feel strongly about it."
As of Monday evening, Cao's video about SKP had been shared over 120,000 times, and a related hashtag was trending on Weibo. While many social media users have slammed SKP for what they view as a discriminatory attitude toward delivery drivers, others have argued that such policies only improve the overall experience of mall customers.
"Many hotels also don't allow delivery drivers to enter in order to protect their customers' privacy and safety," one user commented under a related post.
After declaring 13.5 billion yuan ($1.9 billion) in total sales in 2018, SKP Beijing was crowned the "second most successful" luxury shopping mall in the world, trailing only Harrods in London. SKP sells over 800 luxury brands, and 38% of "top global luxury brands" have selected SKP as their launch site, according to China Daily.
A robust army of around 3 million couriers prop up China's vast takeout and parcel delivery industries. However, the long working hours, safety risks, and rigorous system of punishments and rewards are making the profession less appealing for migrant workerswho have long been the backbone of the industry.
Editor: Bibek Bhandari.
(Header image: A delivery driver sits outside an entrance to the SKP shopping mall in Beijing, July 12, 2020. Li Kaiyang/Beijing News/IC)