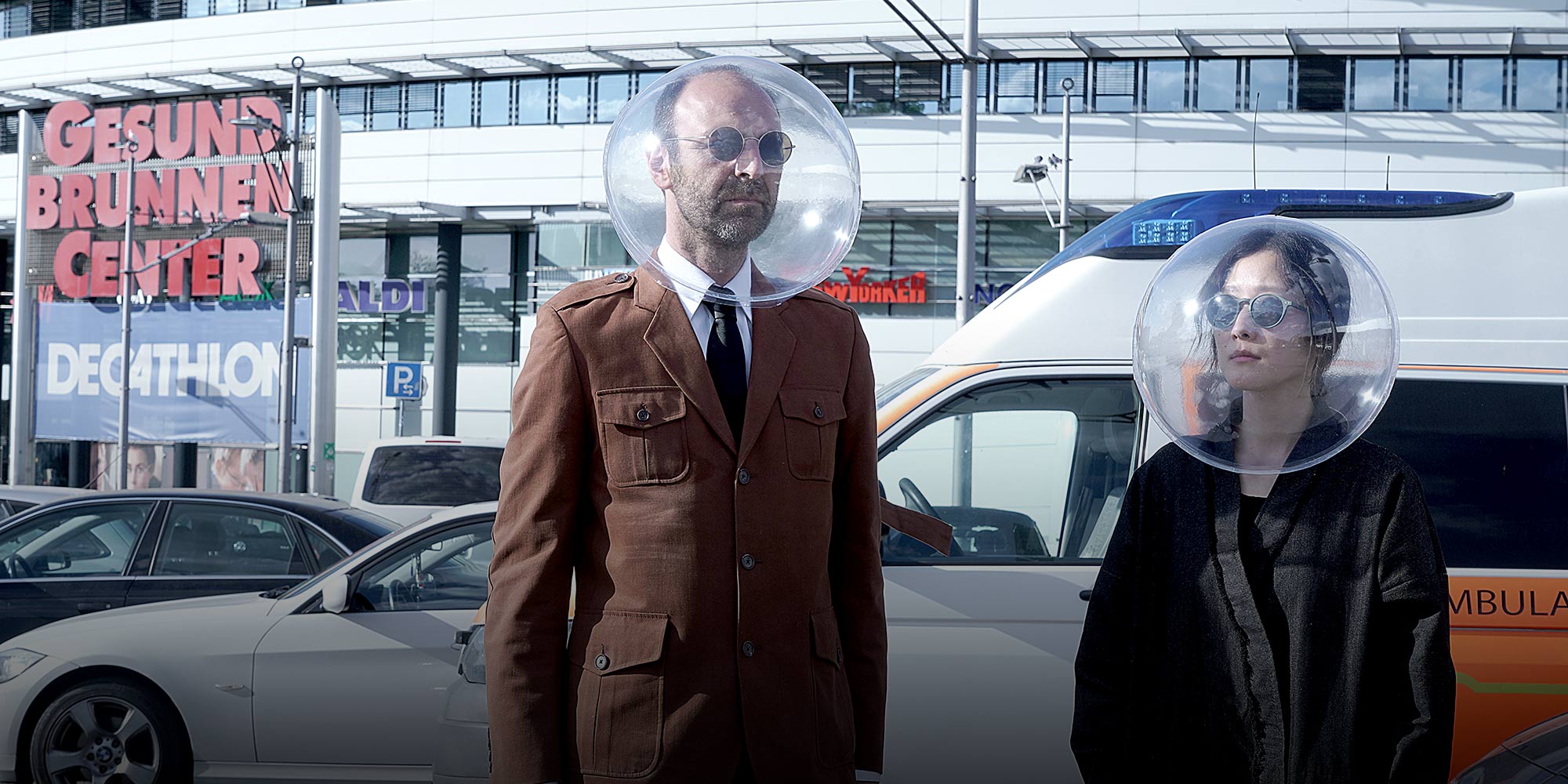 VOICES & OPINION
Artistic Distances: Giving Form to Grief in a Pandemic
COVID-19 can't reveal or crystallize some deeper meaning about the universe. But it also can't stop us from making our own.
"I miss my friends."
"I'm angry all the time."
"I feel so depressed that I just wear my pajamas and lie in bed all day."
My students were not in a great place this March. Nor was I, for that matter. I'd been in Italy for six weeks by that point: a stretch that somehow felt like both a lifetime and just a minute. I was angry and depressed at my life, at how far I was from my home in the eastern Chinese city of Nanjing, from my friends and loved ones, from my apartment and things. I wished I knew when all this would end. Above all else, I felt — and still feel — broken by grief.
A few days before that class — held via Zoom across a distance of almost 9,000 kilometers — I'd read about an official Chinese project to collect mementos and artifacts from the country's battle against COVID-19. It inspired me to rethink my students' final assignments: Rather than write another term paper, I had them curate a digital exhibition dedicated to the pandemic, a kind of collective personal diary of those difficult months. After some brainstorming, we came up with a theme: "六/6: Finding Meaning" — a reference to the stages of grief we were all experiencing.
As famously theorized by Elizabeth Kübler-Ross in "On Grief and Grieving," the five stages of grief are, in order: denial, anger, bargaining, depression, and acceptance. Normally, they are associated with loss, as in death. Yet, as longtime Kübler-Ross collaborator David Kessler emphasizes, life gives us many reasons to grieve, from a loss of normalcy or economic difficulties to simple isolation.
Kübler-Ross's theory of grief became our exhibition's organizing principle. One of the virtual rooms, "DABDA" (Denial, Anger, Bargaining, Depression, Acceptance), consists of objects that, in the experiences of my students, connect with one of those stages, helping us express our suffering.
But there is also another stage, added later by Kessler, that was crucial to our plans: meaning. Dissatisfied with the idea that acceptance is the end of the healing process, Kessler was convinced that to become whole again we must first find meaning in the darkness that envelops us. At a time like this, that could be as simple as realizing not all is lost — that we can wear masks and protect ourselves, that we can still tell those we care about that we love them, and that we can still make art with others even when they're a world away.
That's why we called our project "六/6: Finding Meaning." The number six of course refers to that final stage of grief, but the repetition of the Chinese and Arabic numerals also echoes the Chinese expression liuliu dashun — "May everything go smoothly." By working together creatively, we realized that life was not over: We could do something here and now that was significance to us, something good and fulfilling. And we could find new ways of being together.
Nanjing University, where I work, was extremely supportive and gave us a generous grant that allowed us to develop and produce our digital exhibition in collaboration with Difforme design studio in Beijing. Thanks to word-of-mouth and a bit of luck, 18 artists — both foreign and Chinese — also agreed to participate, donating both time and artwork.
Some of these artists have been exhibited in the most famous venues of the art world, including the Venice Biennale, yet they all saw something in our small project. We collected their donations in a virtual room called "六/6," a space where we can metaphorically and metonymically conquer our pain and find meaning in our suffering through the medium of artistic transformation.
The third and final room — though the first you see when you enter the virtual exhibition — is "Emotional Timeline." Here, a group of students, in collaboration with Italian duo Biancoshock & Rolenzo, artistically re-interpreted the timeline of the pandemic in an effort to capture the distorted sense of temporal unfolding that I have mentioned above.
It consists of a reproduction of this year's fluctuations in the Shanghai stock market, manipulated to reflect students' emotional states during that time. Before the pandemic, economic forces could seem irresistible — undulating laws of nature. But COVID-19 showed how something as small as a virus can upend them.
There is certainly some irony in the fact that the most important cultural production I've participated in has come at a time when the art world has largely shut down. Indeed, it wouldn't be a stretch to say that it came about because the art world shut down, or at least, because of what shut it down.
Some might read this as some kind of artistic theodicy vindicating the evils of COVID-19 in light of the good it has brought about. But that's not what I mean: Pain, suffering, and tragedy are meaningless on their own. They do not on their own make us better people or reveal some ultimate significance. Indeed, the point of our exhibition isn't that COVID-19 brought us here. It's that, in spite of COVID-19, in spite of all the darkness of the past six months, the human gaze can still illuminate our world. When surrounded by senseless pain, human creativity can still perform miracles, even ones as simple as finding meaning in a time of loss.
The author would like to thank his students, teaching assistant, and everyone who participated in "六/6: Finding Meaning."
Editors: Wu Haiyun and Kilian O'Donnell.
(Header image: Project "iSphere,"2020. Courtesy of Plastique Fantastique)