As Americans in China prepare to gather for U.S. Independence Day festivities on Saturday, they won't have to worry about their Budweiser cans and kegs being tainted by a disgruntled employee's urine.
On Thursday evening, the American beer company issued a statement via its official account on Chinese microblogging platform Weibo, denying a fast-spreading rumor that one of its employees had been relieving himself into Budweiser beer tanks for years.
According to the statement, the rumor — which originated from a satirical article on a humor website before gaining traction in Chinese cyberspace — has "purposefully slandered the brand, seriously misled consumers, and infringed our company's legal rights."
"Our company hereby sincerely declares: These things are pure fabrication," Budweiser said, adding that it has reported the case to the authorities and reserves the right to take legal action against rumormongers. "We ask that major media outlets and netizens please don't believe or spread the rumors," the company said.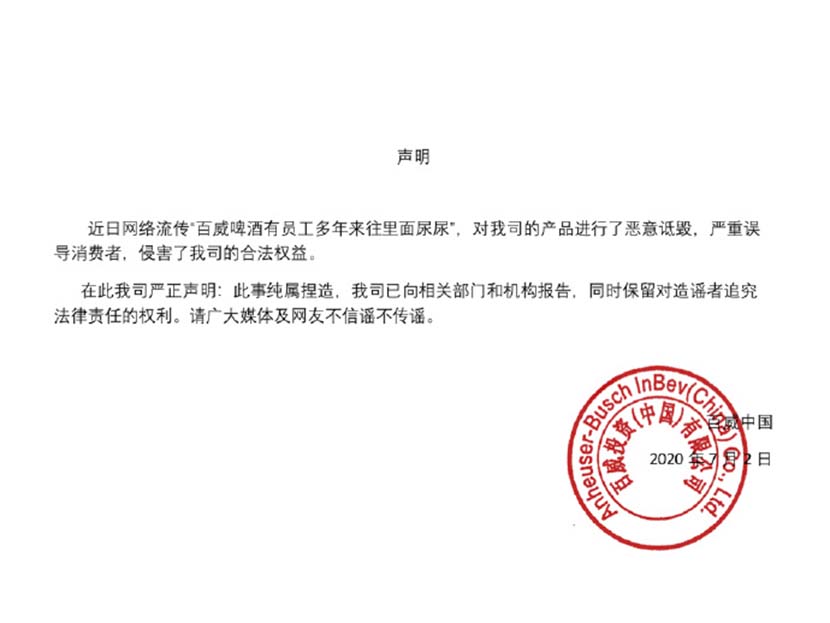 Budweiser's statement refuting a rumor that one of its employees had been urinating in Budweiser products. From @百威啤酒 on Weibo
Curbing rumors and blatant lies is a perpetual challenge for China's content-hosting platforms such as WeChat and Jinri Toutiao. Such material often comes from the country's notorious yingxiaohao, or "marketing accounts" — content mills that generate income by using outlandish, shocking, or salacious headlines to attract traffic.
This year has seen a surge in online hyperbole, from bogus remedies for COVID-19 to nationalist articles about countries like Kazakhstan supposedly being desperate to become part of China. In May, a widely followed WeChat account was shut down after claiming that the U.S. was processing the corpses of COVID-19 victims into hamburger meat.
The urine-in-Budweiser rumor, however, had barely begun to gain traction in China before the company stepped in to rebut it. Budweiser's Weibo post has received over 140,000 likes and been widely reported by domestic media, to the delight of amused netizens.
"I'm dying of laughter! This is the joke of the day. The people who believe this now will be the ones eating stove ash to cure themselves when they're old," a Weibo user commented under Budweiser's post, referring to a dubious folk remedy one might read about online.
Editor: David Paulk.
(Header image: People shop for Budweiser beer at a supermarket in Shanghai, April 3, 2020. People Visual)