Police in the southwestern city of Guiyang have arrested three people suspected of scamming tech giant Tencent by pretending to be representatives of China's best-known chili sauce brand, Sixth Tone's sister publication The Paper reported Wednesday.
The three suspects, surnamed Cao, Liu, and Zheng, are accused of posing as marketing managers for Lao Gan Ma, forging official company stamps, and signing a promotional contract with Tencent, according to the media report.
"The purpose was to obtain the online game gift package code provided by Tencent in its promotional activities, and then illegally obtain economic benefits by reselling them online," the Guiyang police said.
On Tuesday, a court in the southern megacity of Shenzhen froze 16 million yuan ($2.3 million) in Lao Gan Ma's bank account after Tencent sued the spicy sauce company over a "contract dispute." Specifically, Tencent had accused Lao Gan Ma of failing to pay the agreed-upon advertising fee from the contract, later found to be fraudulent.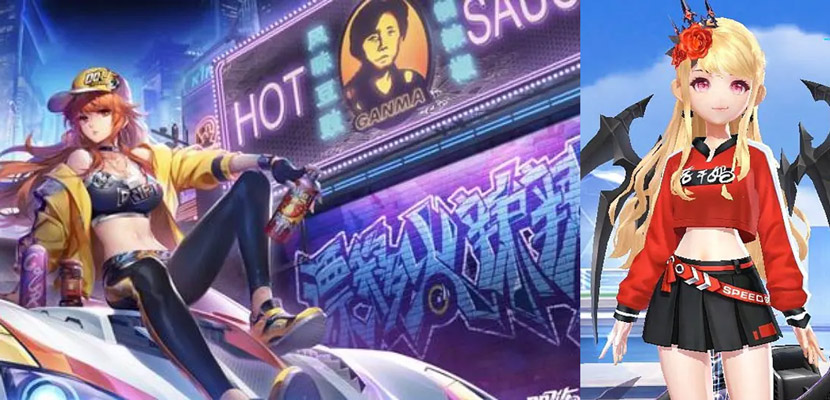 A promotional graphic from Tencent's multiplayer racing game GKART, featuring Lao Gan Ma branding. From Douban
Responding to the verdict, Lao Gan Ma said it had never signed any such agreement with Tencent and had reported the matter to police.
Tencent had not publicly responded to Lao Gan Ma's claim that it was not involved in the agreement by time of publication.
Lao Gan Ma — which literally translates as "Old Godmother" — was founded in 1996 by Tao Bihua, whose portrait is still featured on the signature sauce bottles. The brand is beloved by people in China and abroad, even becoming a fashion symbol during New York Fashion Week in 2018. Meanwhile, its sales revenue last year topped 500 million yuan.
In China, official company stamps, or chops, are necessary to finalize business deals — a sort of literal seal of approval. In April, the Chinese e-commerce company Dangdang made headlines after its co-founder Li Guoqing was accused of stealing dozens of official seals in an attempt to wrest control of the company from his soon-to-be-ex-wife.
Editor: Bibek Bhandari.
(Header image: Jars of Lao Gan Ma chili sauce at a supermarket in Changzhou, Jiangsu province, Oct. 30, 2018. People Visual)