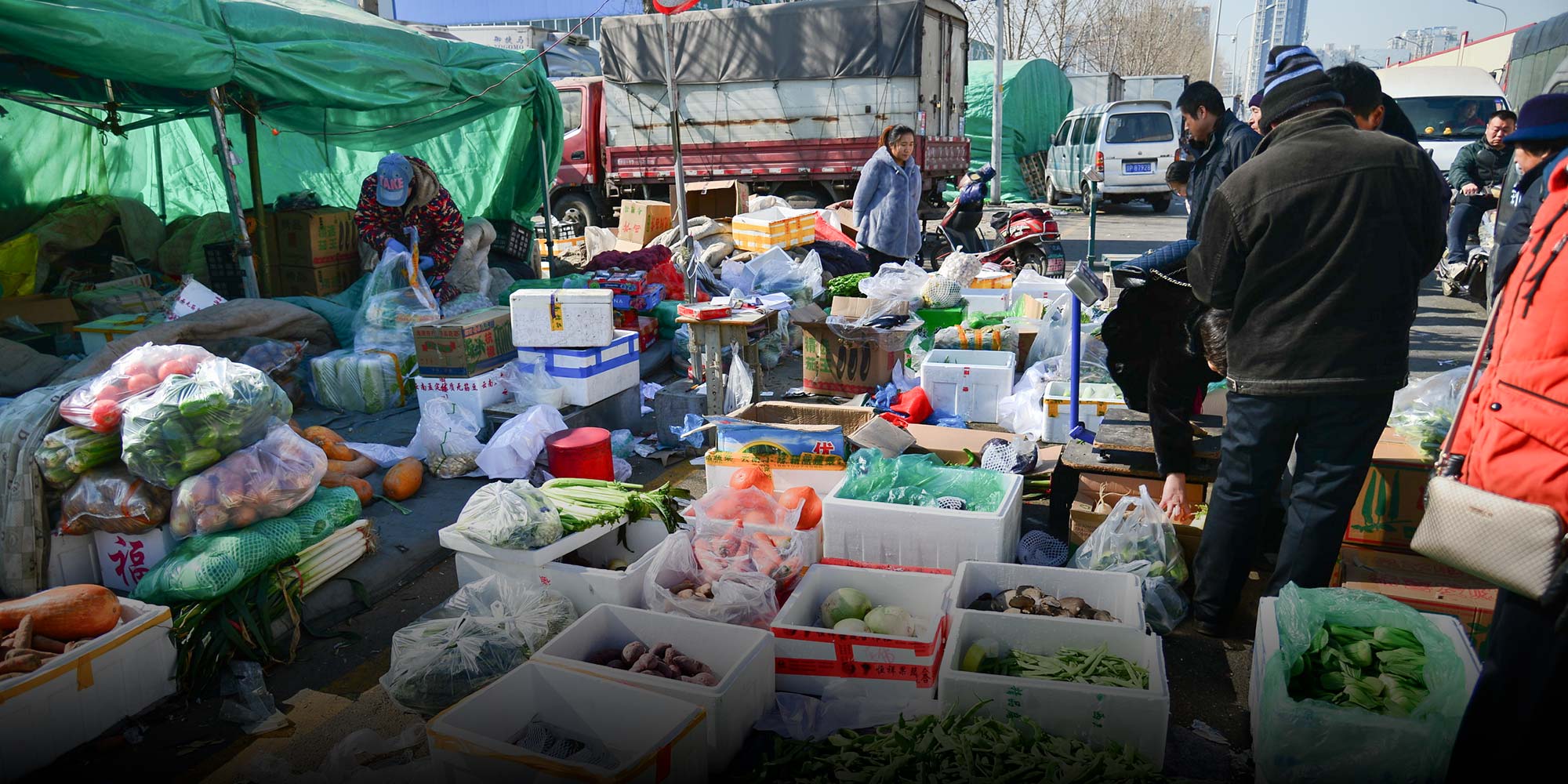 VOICES & OPINION
Why China's Cities Need Wet Markets
They might make a convenient scapegoat, but wet markets are one of the pillars of Chinese urbanization.
In mid-June, news of a COVID-19 outbreak linked to Beijing's Xinfadi Agricultural Produce Wholesale Market stoked fears of a coronavirus "second wave." It also dragged the country's farmers markets back into the spotlight. Although much of the global controversy surrounding China's wet markets can be chalked up to cross-cultural misunderstandings — and Xinfadi is hardly a typical wet market — even in China these places carry a stigma as dirty, messy, and shoddy disease vectors.
Indeed, compared with modern urban supermarkets, markets like Xinfadi, which are usually located on the outskirts of cities, seem like relics of a more disorderly, bygone world. But a closer look reveals a more complex picture: These "dirty" and "messy" places have formed an inseparable relationship with urban China and continue to play an indispensable role in the journey of food from the country's rural fields to its urban tables.
Produce markets are hardly a recent innovation: China has been hosting farmers markets across the country for millennia. However, the past 40 years of urbanization have radically expanded the scale and status of these markets while altering their role in the country's commercial ecosystem.
Prior to the 1980s, there was relatively little migration in China, and urban areas grew slowly. The agricultural products available in cities were mainly shipped in from the nearby countryside. As "reform and opening-up" gained traction, rural Chinese migrated to the cities in larger numbers — and evermore farmland was sacrificed to make way for urban construction — cities became increasingly concerned with ensuring their food security.
Technological advancements helped, allowing for the circulation of agricultural products across multiple regions. These strides combined with the widespread adoption of greenhouse technology in the 1990s to revolutionize the conditions and rhythms of vegetable farming. Large production bases emerged, including Shandong Shouguang, which this month shipped 5,000 tons of vegetables over 500 kilometers to Beijing to stabilize local prices after the latest outbreak.
Meanwhile, the adoption of refrigeration technology further diversified the types of agricultural products available in urban markets. City dwellers in China's chilly north can now buy fresh vegetables from tropical Hainan province even in the dead of winter.
But as vegetables began to be shipped across regions in bulk and urban consumers grew accustomed to wider variety, merchants quickly found they needed specially designated venues to process them. Growers, too, had a problem: Chinese farmers tend to specialize, with people from the same place growing the same kind of produce using techniques often only imparted within tight-knit circles of friends and relatives. Because of the homogeneity of their produce and their inability to transport it to retailers themselves, vegetable farmers are highly reliant on intermediaries to buy their produce and sell it in urban areas for them.
Back when the country had few national logistical chains, regional distribution centers were a logical solution. Take Xinfadi, for example. It was originally an outdoor market where farmers could set up stalls and sell their produce directly. But after the Beijing municipal government deregulated produce prices and opened its gates to vegetables from all over the country in 1985, its convenient location next to the expressway helped it develop into a massive agricultural wholesaler. In 2002, it added fruit to its selection of products. Since then, it has grown into the largest wholesale market in Asia, covering an area of 1.12 million square metres — or more than 150 soccer fields — and it now sells everything from lettuce to salmon.
Thus, from farm to table, Chinese produce passes through a supply chain comprising of at least three links: First, it's sold by farmers to brokers at designated rural markets; then, it's transported to urban-adjacent wholesale markets like Xinfadi where it's sold to retailers; and finally, it's bought by urban consumers from stands in wet markets around the city. One of the traditional conundrums of agricultural trade is that produce is "hard to sell and expensive to buy." Large wholesale markets provide a solution by incorporating small-scale farming businesses into a bigger, more efficient distribution network.
Despite all the bad press during the past six months, once the pandemic comes to an end, these markets will still be necessary. And while new startups like Alibaba's Hema Xiansheng are trying to build an advanced nationwide produce delivery chain, wholesale markets aren't ready to surrender just yet. Xinfadi is planning to move further down the chain by opening retail outlets across Beijing.
Nevertheless, we must address the hygienic problems that have elicited such public concern. For example, vegetables' short shelf life inevitably results in large quantities of spoiled produce and waste. Vegetable sales have meager profit margins, and wholesale markets' investors and operators tend to care more about making money than about improving sanitation. A shallow talent pool also increases the difficulty of managing wholesale markets.
These problems are not without solutions. The outbreak has cast an unflattering light on the weak links in China's agricultural supply chain, but the rational approach to dealing with the crisis is not to stigmatize them, but rather to target sellers with fine-tuned policies. In addition to upgrading market infrastructure, regulators should force market managers to make use of modern warehousing and distribution technologies and improve daily monitoring of their supply chains. These changes will help farmers markets shuck their bad reputations and allow Chinese people to enjoy cleaner, safer dining options.
Translator: Lewis Wright; editors: Cai Yineng and Kilian O'Donnell; portrait artist: Zhang Zeqin.
(Header image: Produce on display at Xinfadi Agricultural Produce Wholesale Market in Beijing, Feb. 13, 2020. Fan Jiashan/IC)