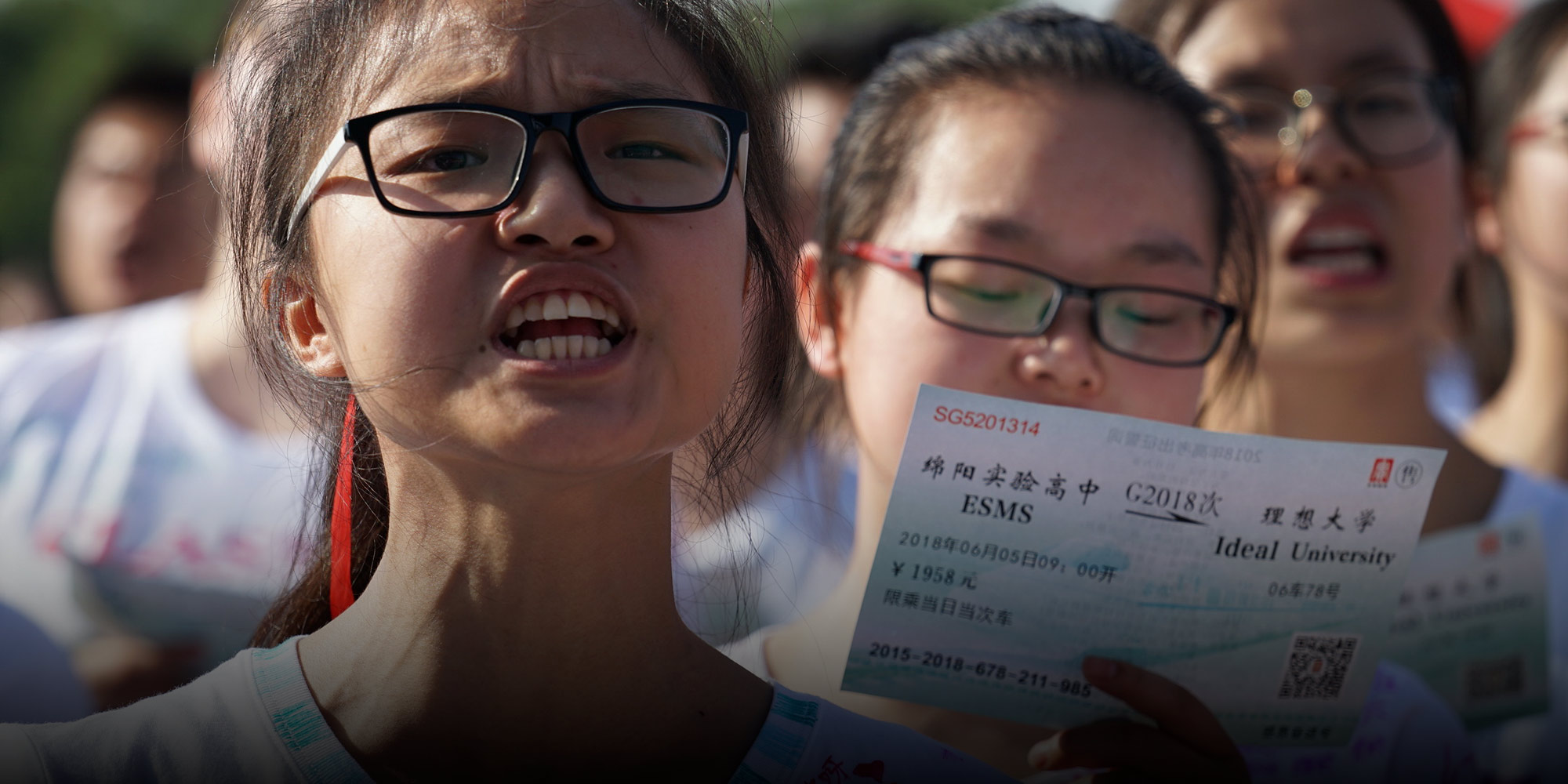 FEATURES
Try, Try Again: The Students Who Keep Retaking the 'Gaokao'
China's notoriously grueling college entrance exam can make or break careers before they even begin. But specialist cram schools say they can help students rewrite their destinies — if they can handle the pressure.
This is the second part of a series on China's high-stakes college entrance exam, the gaokao. View the entire series here.
For most Chinese students, sitting the country's college entrance examination — or gaokao — is a once-in-a-lifetime experience, a painful rite of passage that few want to repeat.
Zhang Ke, however, is about to take the grueling test for the third time.
The student is in his fifth year of high school, which normally lasts for just three years in China. For the past two summers, he's watched the vast majority of his classmates head off to university while he gets ready for another year of intense exam preparation.
Zhang isn't a bad student. Last June, he ranked in the top 2% of gaokao candidates in his home region — the southwestern Sichuan province — in his second attempt at the exam. Yet he still decided to put his life on hold for another year, to give the exam a third go in 2020.
"Only the most courageous choose to re-sit the gaokao," Zhang tells Sixth Tone. "It's a decision worthy of admiration."
The 18-year-old is part of a small, but growing group of ultracompetitive high schoolers choosing to fudu — or repeat a year — in an attempt to get a gaokao score high enough to attend China's elite universities. 
These students consider an extra year or two spent cramming to be a worthwhile gamble, as the benefits of a super-high score can last a lifetime. But the trend is fueling concerns that China's exam culture is becoming even more extreme, with students forced to make ever greater sacrifices for success.
College admission in China is determined almost entirely by applicants' performance in the gaokao — a set of standardized tests that millions of students sit each summer. This year's exams will take place July 7-8, after being delayed a month due to the coronavirus pandemic.
Gaokao advocates champion the test as a great equalizer that gives even the most underprivileged students a shot at an elite education. But the exam can also cause students enormous stress, with many believing the results could define their careers for years to come.
And research indicates there is some truth to this assessment. When Chinese companies hold on-campus recruitment events, a candidate's university background is among the two most important criteria recruiters scrutinize, according to a 2018 survey by the ChinaHR Research Institute.
Many blue-chip employers label a degree from the Project 985 or Project 211 — two Ivy League-like groups of elite Chinese universities — as an essential requirement for applicants. Recent graduates from those colleges, meanwhile, expect to earn over 27% more on average than peers from other universities, according to a 2019 survey by Chinese recruitment platform Boss Zhipin.
This reality is pushing some students to stay in high school and subject themselves to another year of manic gaokao revision, hoping they can rewrite their destinies. Zhang says the months of grit will be worth it if he wins a place at an elite institution in Beijing or Shanghai.
"A top university can provide me with a better platform and guarantees more promising employment prospects," says Zhang. His dream is to work as a designer at Japanese anime studio Kyoto Animation, he adds.
Zhang has gone to great lengths to ensure his third attempt pays off. Last summer, he moved from his hometown of Chengdu — Sichuan's provincial capital — to a boarding school over two hours away in Mianyang, a city famous for its excellent education system.
Zhang's new home, Mianyang Nanshan Experimental High School, is a specialist cram school that attracts high schoolers from across Sichuan. In its ads, the school claims to be able to raise students' gaokao scores by 100 points on average.
"The students who choose this school are very competitive," says Zhang. "Their outstanding performances can push me to make even more efforts."
This year, over 2,000 students at Nanshan Experimental will be sitting the gaokao for the second or third time. Demand for places is higher still. The school has set a tough entry threshold for fudu students, but it still filled its spots in just five days.
"It's a trend here that students re-sit the gaokao to get into a better university," says Luo Hongwei, director of the admissions office at Nanshan Experimental. "To me, it's a good thing they're confident enough to sit the gaokao again and are aiming high for their futures."
Nanshan Experimental's approach, however, isn't for the faint-hearted. The school separates its fudu students from the others and subjects them to a relentless schedule of seemingly endless mock tests. A typical school day for Zhang runs from 7:15 a.m. to 10:20 p.m., but it's the intensity of the workload that sets Nanshan Experimental apart, he says.
"Every day, it's about sitting repeated tests, and then analyzing the tests," says Zhang. "They don't give me time to digest or reflect. It's all about repetitive tests."
Speaking just a few weeks ahead of his final exams, Zhang describes the atmosphere in his classroom as "suffocating" — not only because more than 60 students are crammed into a sweltering room with no air conditioning, but also due to the tension.
"There are few textbooks on our tables, but piles of exam papers on the floor," he says. "The piles can be high enough to reach my thigh."
The extreme program has been hugely successful, but it's also provoking pushback from students and parents who argue it's impossible for those taking the gaokao for the first time to compete.
"Honestly, I feel they (fudu students) are occupying resources that should be ours," Xiao Shulin, a final-year high school student in Mianyang, tells Sixth Tone. "They scored high enough to attend a good university, but they chose to re-sit the gaokao because they're keen on one particular school like Peking or Tsinghua (two elite universities in Beijing)."
"It's absolutely unfair," adds Xiao's mother, who gave only her surname Su for privacy reasons. "They have one more year to consolidate their knowledge — of course they can get a better score. But due to the high number of students re-sitting the gaokao, the admission scores are being pushed higher and higher. It's a vicious circle."
It's difficult to verify Su's claims, but evidence suggests competition among China's top students has become even fiercer over recent years.
In Sichuan, only 5,600 candidates taking the science gaokao scored above 630 in 2016, but the number surpassed 10,000 in 2018 and reached 16,600 last year, according to data released by the Sichuan Educational Examination Authority. In the liberal arts gaokao, meanwhile, a mere 70 students scored 630 or more in 2016, compared with 160 in 2018 and 400 last year.
With public discontent over fudu programs mounting, Sichuan's education authorities banned provincial-level "model" high schools from admitting students planning to retake the gaokao in April. The ban, however, will only affect 10% of high schools in the region. 
As a private school, the restrictions don't apply to Nanshan Experimental, and the school doesn't expect to become the target of similar measures in the near future, the school's admissions office tells Sixth Tone. Luo, the admissions director, insists a full ban would be counterproductive.
"You can't avoid competition," says Luo. "Preparing for the gaokao for another year is a market need, and we're providing the service needed."
Chu Zhaohui, a researcher with the state-run National Institute of Education Sciences, says he'd advise students against retaking the gaokao, but also expressed opposition to a ban.
"This group of students does take away some opportunities from students in their third year (of high school)," says Chu. "But I think fairness should be for all — we can't exclude those who sit exams a second time."
China's fudu students, meanwhile, feel they shouldn't be punished for making what they consider a sensible decision. Bai Zhiyu, a fourth-year student at Mianyang Experimental High School — another specialist cram school — got a high enough score to attend a Project 985 university last year, but thought she could do even better in 2020.
"It's an absolutely normal choice," she tells Sixth Tone. "When I was in my third year, I didn't view those re-sitting the gaokao as taking away my opportunities. … It's a right every student has."
In reality, however, not everyone is capable of choosing this option. Nanshan Experimental isn't cheap: Zhou Ziliang, a fourth-year student, says his family won't pay for another year of tuition if he botches his exams.
"The cost for the past year was nearly 30,000 yuan ($4,250)," says Zhou. "I view this year's gaokao as my last chance. I have no backup plan."
Then there are the potential health costs associated with another year of gaokao revision. Some Chinese students struggle with mental health problems in the year leading up to the exam; repeating the experience in an even more intense environment pushes even the most resilient to the edge.
Zhang Ke, the fifth-year student, says he had to think hard before moving to Mianyang. "It's a great challenge to retake the gaokao," he says. "I needed to evaluate my physical capability — whether I could withstand the exhaustion of another year preparing for the exams."
Within a month of classes beginning last fall, two of Zhang's classmates at Nanshan Experimental dropped out, unable to deal with the pressure. Zhang says he understands how they feel: He sometimes also struggles to cope.
"Sometimes, it really made me devastated — the school didn't give me any time to breathe," says Zhang. "When you've reached your limits and feel you're going to explode, the school doesn't care."
Zhou has also had to adjust to the huge workload. He estimates he's completing twice as many mock exams at Nanshan Experimental as he did at his previous school.
"Apart from answering nature's call, I rarely leave my chair," he says. "The rest of the time, I've been focusing solely on preparing for the exams."
The students have to develop ways to manage the stress. Last year, Zhang says he was often so wound up, he couldn't fall asleep until after 3 a.m.
"I escaped classes to play games in an internet café, or went on an eating binge," he says. "But the second time … I chose other ways to deal with the pressure, like playing badminton. I do this once a week. Otherwise, it'd be hard to get through the next week."
After nearly a year in Mianyang, Zhang confesses he's become slightly disillusioned with his program: Sometimes, repeating mock tests and exercises is futile, he says. But he's determined to keep fighting till the end.
"Students like me shouldn't feel contempt for ourselves," says Zhang. "At least you've dared to challenge yourself."
Editor: Dominic Morgan.
(Header image: Students shout motivational slogans before taking the "gaokao" at a high school in Mianyang, Sichuan province, June 5, 2018. Ling Hong/IC)