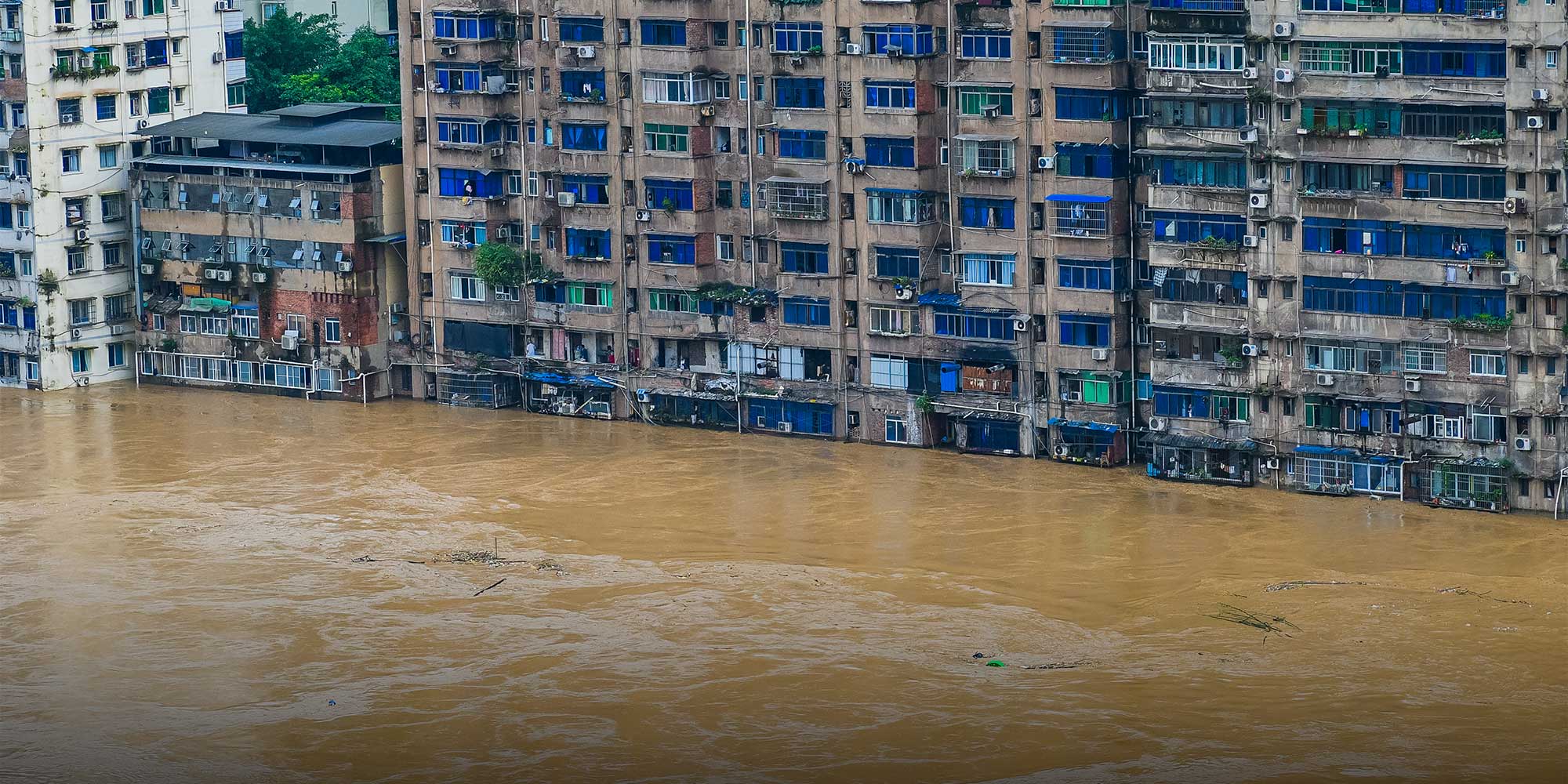 NEWS
Worst Floods in Decades Submerge Chongqing, South China
Parts of China are experiencing torrential rainfall, affecting millions of people and causing over 20 billion yuan in damage.
The southwestern Chinese metropolis of Chongqing has experienced its worst floods in over two decades, as torrential rainfall batters nearly two-thirds of the country.
On Monday, the city's Qijiang District, located along the upper reaches of the Yangtze River, saw water levels rise 5 meters above the flood line — the highest point ever recorded by the local hydrological monitoring station, according to authorities. Officials estimate that more than 100,000 people in the district have been evacuated, while dozens of homes have been destroyed by the floods.
Hu Xueyuan, a subdistrict official, told Sixth Tone on Wednesday that this year's floods were mainly triggered by intense rainfall in the neighboring province of Guizhou. "The rainfall in Qijiang wasn't actually that intense, but heavy downpours in Guizhou passed through here," he said.
The deadly deluges in southern China this summer have affected more than 11 million people in the provincial-level regions of Guangxi, Guizhou, Guangdong, Hunan, Jiangxi, and Chongqing, according to the Ministry of Emergency Management. The floods have also destroyed some 9,300 homes and ravaged 861,000 hectares of farmland, as the economic toll of the natural disaster exceeds 24 billion yuan ($3.4 billion).
At least 39 people have been killed or gone missing, the ministry said.
In Chongqing, the floods have affected at least 210,000 people across 26 counties and subdistricts, and raised fears of landslides. So far, no casualties have been reported in Qijiang District, according to Hu.
A man surnamed Chen who owns a restaurant in Qijiang told Sixth Tone that his family was evacuated to higher ground after their area was submerged Monday. He said the entire first floor of his two-story home was underwater, and many houses along the river were destroyed.
"If the floods had come at night, the consequences would have been unimaginable," Chen said.
The flood damage is likely to grow as more monsoon rains are set to hit the country in the coming weeks, particularly Guizhou and Guangxi, according to authorities. Last summer, severe flooding across southern China killed 88 people and impacted over 6 million more.
An overall warming climate has contributed to a heightened risk of extreme rainfall events, according to Yale Climate Connections, a publication affiliated with the American university. Studies have found that summer precipitation in the Yangtze River basin has significantly increased in the 20th century, and this trend is likely to worsen in the 21st century.
As the water level in parts of Chongqing receded Monday night, Hu said the local government began cleaning up the mud as the evacuated families trickled back to their homes.
Editor: Bibek Bhandari.
(Header image: Residential buildings are flooded in Qijiang District, Chongqing, June 22, 2020. Chen Xingyu/People Visual)