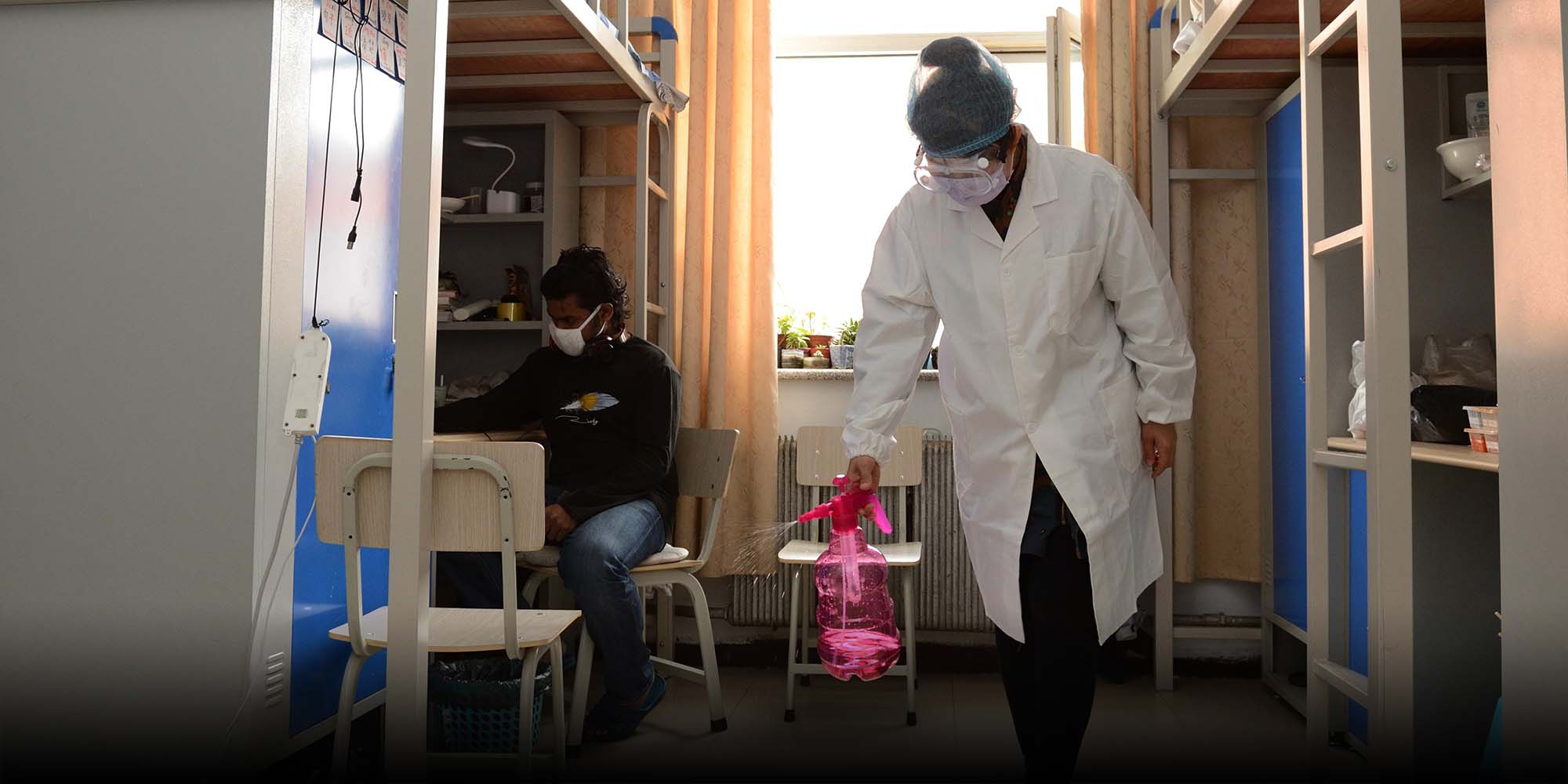 FEATURES
Locked In, Locked Out: The Foreign Students Stuck in Limbo
As COVID-19 spread across China, international students faced a tough choice: Flee the country, or hunker down on campus. Months later, they're still living with the consequences of that decision.
As Preslava Pavlova waited to begin her thesis defense for her undergraduate program in teaching Chinese as a foreign language, the 24-year-old felt nervous. Her nearly five years of studying at Xiamen University in eastern China could be for nothing if something went wrong over the next couple of hours.
The Bulgarian had good reasons to be anxious: She'd not only have to present her research in Chinese, she'd also have to do so via video call at 3 a.m., in a kitchen with a patchy internet connection.
The COVID-19 pandemic has been extremely disruptive for students all over the world, but for the nearly 500,000 international scholars enrolled at Chinese universities, it's been even tougher than most.
As the coronavirus spread across China in late January, foreign students faced a difficult decision: Leave the country, or hunker down on campus. Few imagined that nearly half a year later, they'd still be living with the consequences of that choice.
Large numbers of students that left China — including Pavlova — are still unable to return, as Chinese authorities maintain tight border controls in an attempt to prevent a second wave of infections. Many of those that stayed, meanwhile, have been cloistered in university campuses, allowed to leave for only a few hours at a time.
With Chinese universities now preparing for graduation season, the fates of many students are undecided. While some have managed to complete their degrees despite the crisis, others are scrambling to extend their studies, renew expiring visas, and secure fresh sources of funding.
A Waiting Game
Pavlova is one of the lucky ones. She left before late January's Lunar New Year holiday to travel in Southeast Asia, thinking she'd be gone for just a few weeks. But she packed an external hard drive she'd filled with research materials, just in case.
The files proved crucial. As the scale of the COVID-19 pandemic became clear, Pavlova decided to return to Bulgaria. Then, on March 28, just weeks after she arrived home, China banned nearly all foreign nationals from entering the country, stranding international students overseas. The ban has yet to be lifted.
Though unable to access her college's libraries and online journals off campus, Pavlova was able to stitch together her thesis using the documents on that external hard drive and photos of key book passages, sent to her by friends back in Xiamen City.
Others, however, haven't been so fortunate.
Shafi Ullah, a Ph.D. candidate at the school of pharmacy at Shanghai Jiao Tong University, went back to his home country of Pakistan in February, needing only to complete a few more experiments to graduate by the end of 2020. Now, he's not sure when he'll be able to finish the program.
The 32-year-old tells Sixth Tone he's powerless to finish his doctorate without access to the school's laboratories. At this stage, he'd normally be in the labs 10-14 hours a day, he says. Several colleagues' research projects are also on hold, since they require his expertise — including some experiments related to coronavirus treatments.
Unable to return to China, Ullah has been forced to prolong his studies by a year and is applying to extend his scholarship. If his application is rejected, he's uncertain how he'll fund the expensive lab work. 
"If I were to say (my top three concerns), that would be: scholarship, visa, and getting back to the lab," says Ullah. "But I'm not planning on quitting."
Some students, though, say they've considered abandoning their programs following months of frustration.
Maximo Peralta, a master's student at Tongji University in Shanghai, went to Thailand in March, planning to hunker down on an island for a few weeks until China got its virus outbreak under control. Over three months later, he's still marooned there, waiting in vain for his university to confirm when he can come back.
A lack of communication from the school has made life especially disheartening, according to the 35-year-old. In late February, Tongji University announced it would temporarily freeze stipends for foreign scholarship students not currently in China. Peralta, however, says he only learned about the decision when he checked his bank account.
"It took time for us (students) to deal with the scholarship situation, because people need the money," Peralta tells Sixth Tone via video call. "There are people who aren't in their parents' houses, who are living in hostels, in friends' houses."
Tongji University resumed the stipends in May, but students can't return until the university gives them the go-ahead or when the borders open. As the weeks pile up with no news, and with the university sometimes taking days to respond to his messages, Peralta says he's starting to consider moving on from his studies.
"It's kind of like I'm swimming in water," he says. "I'm not going to drown, because I have the tools to stay afloat. … But I don't know where I'm going."
The Dorm Where It Happens
Foreign students who chose to stay in China, meanwhile, have had to contend with months of isolation as universities enforced strict campus lockdowns.
Ana Vasquez, a first-year Ph.D. student at Tongji University, had barely left the school grounds in five months when Sixth Tone spoke with her in late May, saying her supervisor would pass her beer and groceries through a hole in the school gate.
"Nobody comes in," says Vasquez. "If you leave, you're on your own."
The marine sciences student had originally planned to spend her winter vacation at a camp in the mountains of the central Hubei province. After COVID-19 rapidly spread in the region, however, she canceled the trip and decided to remain in Shanghai. 
Although her parents "were losing it," likening the epidemic to the apocalypse, Vasquez opted against heading back to her home in Costa Rica. "I feel safer in Shanghai than I would anywhere else," she says. "I was feeling very safe here."
The feelings of security, however, soon gave way to anxiety, as Tongji University's remaining students were confined to the campus starting in late January. Students were able to leave the school premises only with permission, and usually only for trips deemed essential — a "closed campus" setup adopted by universities across China.
A self-proclaimed introvert, Vasquez says being cooped up with her stressed classmates for days on end sometimes made her feel overwhelmed. She at times hid from her dormmates and avoided social media. With students at Tongji University only allowed out for a few hours at a time, she says a nearby McDonald's became a temporary refuge.
Though students locked down in China have faced fewer logistical challenges than their peers stranded overseas, several tell Sixth Tone the emotional strain of isolation affected their studies.
Pascal Kwangwari, a student of medicine at Shanghai's Fudan University, decided against returning to Zimbabwe because he was worried his home's unreliable internet access and different time zone would make it impossible to keep up with his university's online classes. But distance learning from his dorm has also been tough, he says.
"This is the room where you sleep, the room where you eat your food, and this is the room where you study," says Kwangwari. "It's not really a very conducive environment for studying and doing your best."
The constant bad news from home has made things even harder. In May, the number people infected with the coronavirus in Zimbabwe skyrocketed, and the 22-year-old says he's worried his family will get sick. 
"In the end, it affects when you want to study," says Kwangwari. "One of the things that stopped me from going home was I knew that if I went, I wouldn't be able to come back."
Pomp and Social Distancing
Yet despite all these obstacles, thousands of international students are getting ready to graduate over the coming days. For many, though, the virtual ceremonies will provide little sense of closure.
Ket Mulaj Linda is set to graduate from her degree in international trade at Shanghai's Donghua University July 9. She's excited about finishing and says she feels ready for the next step. The occasion itself, however, should be surreal.
Of her graduating class of 20, Linda is the only one in Shanghai — meaning she'll likely be alone in the ceremony hall when she receives her certificate, aside from her supervisor and a few other teachers.
"It feels a little awkward," says Linda. "I never thought it would be like this, that the students wouldn't be able to come back."
For those adrift overseas, simply completing the complex bureaucratic process associated with graduating in China will be a cause for celebration. 
Surpik Kabaradjian, a master's student at a university in the eastern city of Nanjing currently stranded in Argentina, is expecting to defend her thesis in July. She's confident about her work, but less so about her ability to complete all the paperwork from abroad. "I'm a little bit afraid about that," she says.
More than anything, she and several students express sadness at opportunities lost and friendships cut short. Kabaradjian, a public health major, laments her inability to return to China to see how the country dealt with such a major crisis.
"It was an amazing time to talk about public health with professors, but it wasn't possible," she says.
Back in Bulgaria, Pavlova tells Sixth Tone she passed her thesis defense. But rather than celebrating with friends, she simply logged out of the chat software alone at 8 a.m.
If things had turned out differently, Pavlova says she would have gone on a trip with her classmates before graduation. Instead, she's been researching ways to retrieve her things from Xiamen — especially her diploma, which she worries will be waylaid by international mailing restrictions.
"It doesn't have the same meaning," she says. "This ceremony was going to be an end to a very important time in my life."
Linda, awaiting her solo graduation ceremony in Shanghai, says her classmates scattered across the world are making a video to celebrate the end of their studies. "(It's) to leave a memory here, proof that they were at this university," she says.
Pavlova, however, can't help but feel she has unfinished business in Xiamen, which has been "a second home" to her for nearly five years. "My life in China: It's still there," she says.
Additional reporting: Mo Yaoxin; editor: Dominic Morgan.
(Header image: A medical worker sterilizes a foreign students' dorm at Inner Mongolia Normal University in Hohhot, Inner Mongolia Autonomous Region, April 15, 2020. Liu Wenhua/CNS/People Visual)