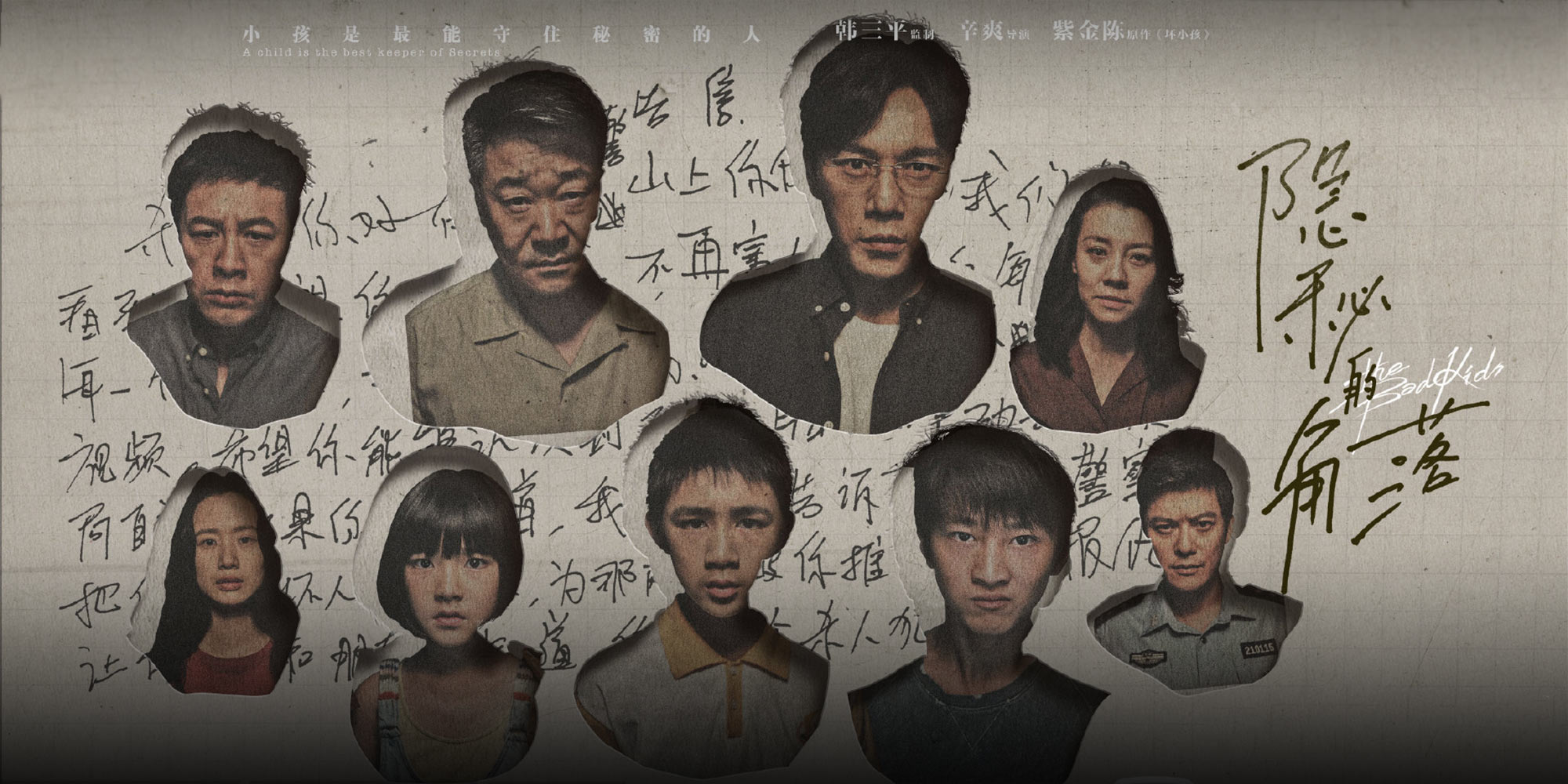 NEWS
Debuting to Rave Reviews, Chinese Drama 'The Bad Kids' Cuts Deep
Directed by a former punk rocker, the wildly popular psychological thriller is driven by complex characters, including three children who inadvertently film a cold-blooded murder.
It's a pristine day, and substitute math teacher Zhang Dongsheng is out for a hike with his elderly in-laws. As they stop for a rest at a craggy overlook, Zhang whips out a large camera and motions for the couple to pose as they're seated together on a boulder against the backdrop of a cloudless sky. The soft-spoken younger man moves closer to adjust their posture and suddenly — as if momentarily possessed — shoves them from their perch, sending them tumbling to their deaths.
"Dad! Mom!" Zhang screams in feigned horror before the scene cuts to the series' eerie opening credits sequence.
So begins "The Bad Kids," the English title for a wildly popular new series whose Chinese name translates to "Hidden Corners." The web drama, which concluded with its 12th and final episode Thursday, is the directorial debut of Xin Shuang, a punk rocker-turned-entrepreneur-turned-screen director.
Since its first episodes were released on China's Netflix-like video platform iQiyi in mid-June, "The Bad Kids" has earned sweeping praise for its plot, cinematography, casting, dialogue, pacing, and soundtrack. It's also generated wide-ranging online discussion on human nature due to the psychology and complex motivations of its characters.
"Crouching Tiger, Hidden Dragon" star Zhang Ziyi on Thursday praised the show as one of the first Chinese dramas she's seen that rivals American and British productions in terms of quality. On IMDb-like review platform Douban, "The Bad Kids" has an impressive aggregate rating of 8.9 out of 10 based on over 440,000 reviews.
"At 12 episodes in length, it's just right, worth a watch," she wrote, alluding to the drama being far shorter than the genre's usual 50 or 60 episodes. "Remember, everyone, to not become a slave to your own emotions — otherwise, the pain you feel in your life will only multiply."
"The Bad Kids," which is based on a Chinese novel of the same name, revolves around three children who accidentally record the show's shocking first scene from afar and the math teacher, Zhang, as their lives intertwine in the coastal city of Zhanjiang in southern China. As the plot progresses, Zhang's motivations for the murder slowly unravel, more murders take place, and one of the kids — Zhu Chaoyang, a math whiz seventh-grader from a broken family— gradually begins to understand, and even emulate, his homicidal teacher.
"Is there anything you're terrified of losing?" Zhang asks Chaoyang later in the series. "Sometimes, for the sake of these things, we end up doing things we never wanted to do."
News of the series spread quickly after its release thanks to the haunting opening sequence, which some online have described as "possibly the most frightening moment in a Chinese drama."
The intro has turned the once-innocuous question Yiqi pashan ma? — "Wanna go for a hike?" — into a popular meme. Now, one might joke with colleagues that an unpopular boss should be invited for a team-building hike. A picture of Qin Hao, the actor who plays Zhang, using a phone on which the message Yiqi pashan ma? is displayed has also gone viral, resulting in a similarly designed phone cover becoming a bestseller on the popular online marketplace Taobao.
Critics on Douban — who have a reputation for being discerning, if not downright stingy, with their reviews — have doled out especially high praise for the series' soundtrack, which includes ethereal tracks from the composer Dingke, along with indie tunes that play as the credits roll at the end of each episode. Media have also praised the show's diverse cast — comprising knowns and unknowns, and not just radiant young people — as well as the absence of liuliang mingxing, or traffic-generating celebrities who tend to attract droves of viewers in spite of their often lackluster acting chops.
"The Bad Kids" doesn't shy away from weighty social issues, zeroing in on the importance of a child's upbringing to the development of their character and moral compass. Chaoyang, whose dark streak over the course of the series is exacerbated by loneliness, run-ins with bullies, and intense pressure from his single mother to excel in school, is also largely ignored by his father, who prefers spending time with his new wife and daughter.
Media have further commented on how Chaoyang's formative experiences end up shaping him — twisting him — and how children are capable of being evil, as well as experiencing "adult" emotions and thoughts, in contrast to a prevailing belief in Chinese society that children are innocent and generally unaware of the ways of the world.
"Lucky people are healed by their childhoods their whole lives, while unlucky people spend their whole lives healing from their childhoods," read one common comment on microblogging platform Weibo.
On the same site, content creator Liu Bi, who specializes in videos about films and TV shows, observed in an analysis video of Chaoyang that "The Bad Kids" is a good example of just how much Chinese dramas can get away with, even within the country's strict regulatory environment.
"'Hidden Corner' had to make a lot of changes from the original work in order to be approved," Liu continues. "But I think this adaptation is excellent. Its treatment of human nature is far richer (than the original written work). I hope we can see far more book-to-film adaptations like this in future."
Editor: David Paulk.
(Header image: A promotional image for the online series "The Bad Kids." From Douban)