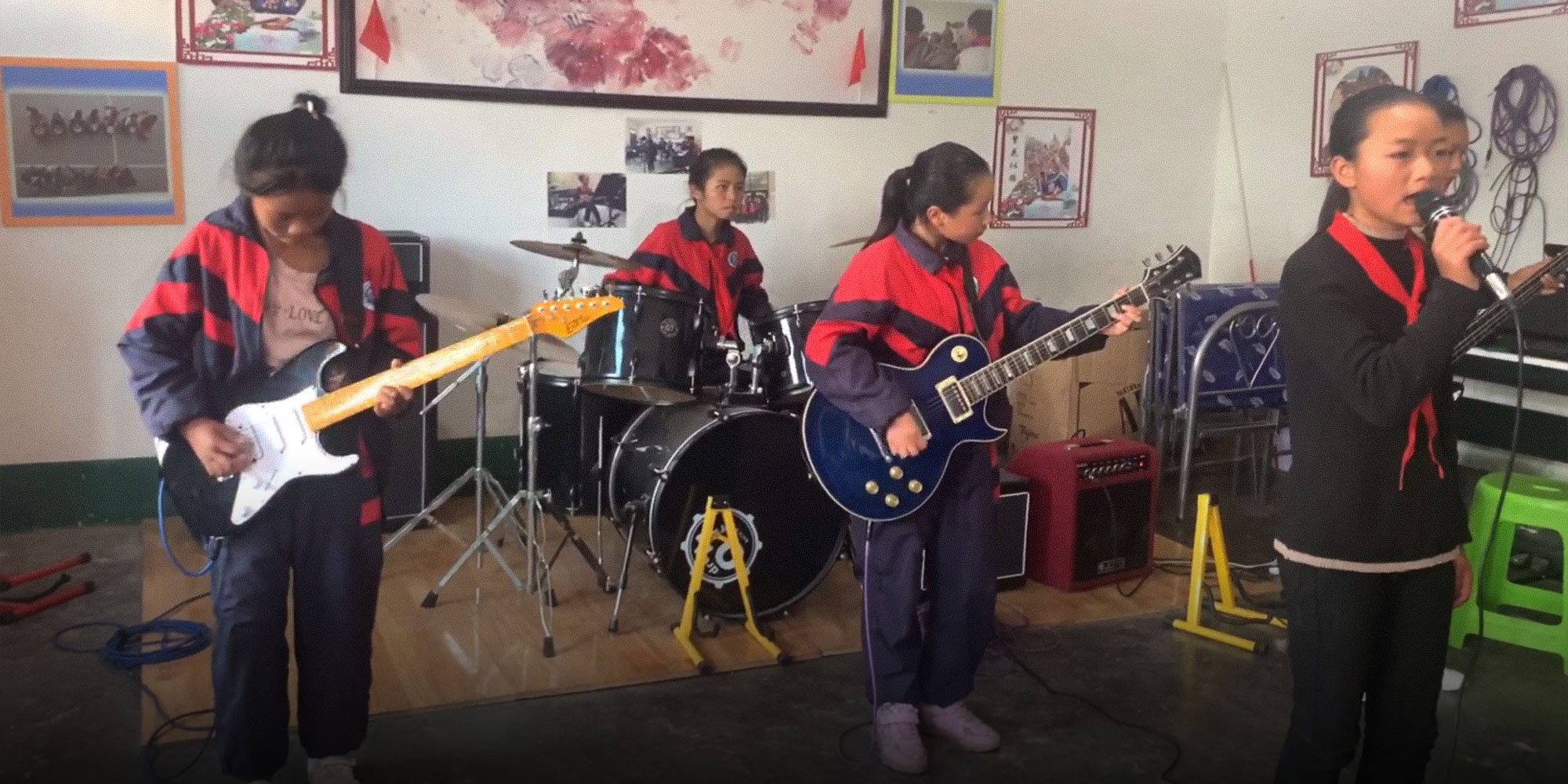 NEWS
Kids Learn Music, Confidence at Guizhou's School of Rock
A few years ago, Haiga Elementary School was underfunded and underutilized. Now it has a strong reputation for academics, buoyed by a music program that teaches kids to cover rock 'n' roll classics.
China's latest indie-rock sensation is a gang of teenagers from one of the country's most impoverished provinces.
Rocking baggy, tracksuit-style school uniforms, the five-piece outfit "Unknown Youngsters" (weizhi shaonian) delivers headbanging covers to an audience of their entranced peers. Their videos have been viewed millions of times on microblogging platform Weibo, thanks in part to the juxtaposition of their youthful faces and raspy tunes, as well as a high-profile shoutout from a legendary Chinese rock group.
"Every angel loves beauty," Miserable Faith posted on its Weibo account, along with a video of the young group's performance. "There will be a grander stage for you guys in the future."
The teen rock band was formed at Haiga Elementary School, nestled high in the hills of southwestern Guizhou province at an altitude of 2,900 meters. Fifth-grade Chinese and music teacher Gu Ya, a music school graduate and former guitarist in a metal band, has tasked himself with instructing the students and orchestrating their performances.
The school's music curriculum was developed around four years ago, when Gu, then new to the faculty, was struggling to adjust to the isolated environment, and would play his guitar on campus to relieve his loneliness. The students, most of whom had never seen or heard of the strange stringed instrument, were captivated by its soothing sounds, and began congregating in Gu's office for impromptu performances.
The students' enthusiasm reminded Gu of his own path to music. Growing up in a rural area of the same province, he wasn't able to afford a guitar until high school. So after settling into his new teaching gig, he decided to give the students an opportunity he didn't have at their age.
After learning about Gu's music initiative, charity groups across the country donated over a hundred instruments — guitars, ukuleles, and drums, among others — to the school. Gu began lecturing on music after the students' lunch period as well as in his spare time. On a bare wall, he spray-painted "rock school" and "music" in bright colors.
Gu initially taught his students to play metal, covering songs by Megadeth and the Beijing-based group Die From Sorrow. Later, worried that parents might not appreciate their children being raised to embrace mosh pits and body art, he pivoted to gentler tunes. A student band evolved from these classes and began performing at local festivals.
When Gu first started teaching, he said his students were shy, reluctant to make eye contact or speak up in class, which made his job more difficult. He hoped that through teaching them rock music, they might become more extroverted, and defy the stereotype of children in rural China being meek and quiet.
"These students grew up in a very isolated community, and had the mindset that their teachers are superior to them," Gu said. "Music really brightened them up: They became much more confident and less timid to approach adults."
At first, Gu was worried that the parents wouldn't want their children to prioritize music alongside their regular schoolwork. But the classroom performance of his young acolytes actually improved over the years, and his school now has a strong academic reputation.
When Gu joined the faculty in 2014, Haiga Elementary School suffered from a paucity of funding and other educational resources. Haiga Village, whose inhabitants are mainly of the Yi ethnic minority group, is self-sustained through farming and animal husbandry, but it's also isolated from the outside world.
Despite being the most accessible school to the villagers, Haiga Elementary School initially had fewer than 10 students: Because of its lack of resources, local families were opting to send their children along craggy mountain roads to attend schools farther away. But through the efforts of teachers like Gu, Haiga Elementary School gradually grew in stature among the community and now enrolls over 120 students.
According to Li Meiying, the band's pint-sized guitarist, music gives the children a chance to relieve some of the stress they feel at school.
"I love the community we've formed through music," she says in a video shared online. "I hope our band will stick together in the future."
Editor: David Paulk.
(Header image: A student rock band performs at Haiga Elementary School in Guizhou province, 2020. Courtesy of Gu Ya)