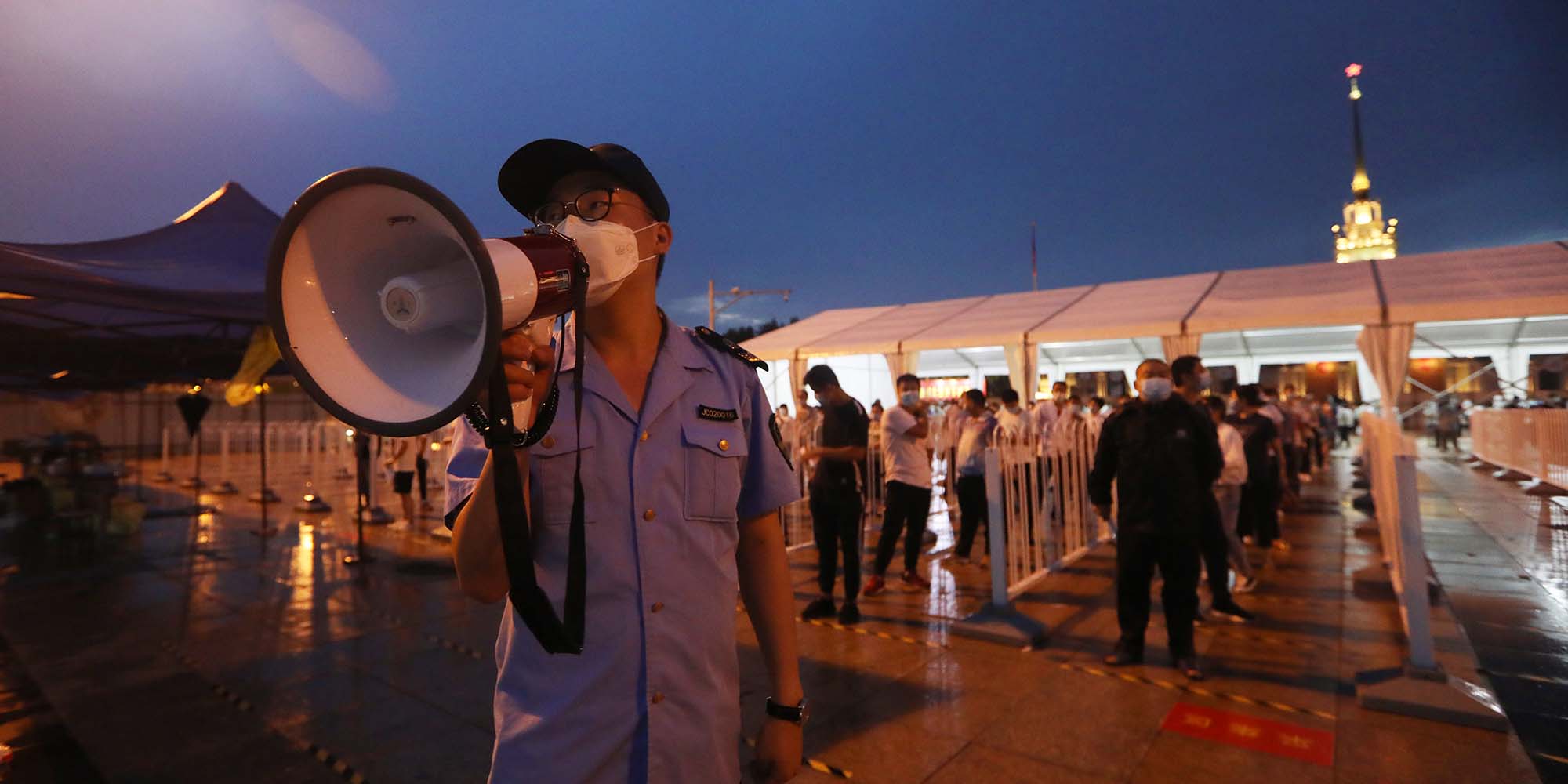 NEWS
Beijing's COVID Cluster 'Contained,' But Search for Source Continues
A leading CDC expert believes the local outbreak's peak was nearly a week ago, though many of the infected didn't show symptoms initially.
Beijing's latest coronavirus outbreak has been "contained," according to the chief epidemiologist at the Chinese Center for Disease Control and Prevention.
"The newly reported cases don't necessarily mean (these patients) are newly infected," Wu Zunyou said at a press conference Thursday afternoon. He added that all 21 local cases reported Thursday had become infected a week ago but only developed symptoms recently.
"The infection peak may have occurred on June 13," Wu said. "New infections will be sporadic."
On Friday, Beijing reported 25 more COVID-19 cases. Since June 11, the city has identified a total of 183 infections. Prior to this period, Beijing had not reported a single local infection in 56 days.
China's CDC has uploaded the genetic sequences of three virus samples obtained from the recent outbreak to Nextstrain, a public database of genetic information for various pathogens.
Experts within China and abroad have noted that the virus responsible for the Beijing outbreak has a similar genome to the coronavirus found in many European countries including Sweden, Denmark, and Portugal.
"The current evidence suggests that the virus comes from Europe," Gao Feng, an infectious disease expert affiliated with Jilin University in Northeast China and Duke University in the U.S., told Sixth Tone. "But we don't know if these three samples represent the major types that are circulating in Beijing, so we can't draw any definitive conclusions yet."
It remains unclear when or how the virus was introduced to Xinfadi, the sprawling farmers market to which the vast majority of the Beijing infections were linked, because of a lack of data.
"What we know almost for sure is that the virus was spreading long before it was first identified in Beijing," Gao said. He added that environmental samples taken from outside the Xinfadi market had tested positive for the virus, too.
"Finding the first person to become infected from this local cluster would be the key to figuring out where the virus came from — but this is very difficult," Gao said.
Although all Beijing schools have been suspended amid the recent outbreak, the gaokao — China's college entrance exam — and zhongkao — the high school entrance exam — will likely go ahead as planned, Beijing's education bureau said Wednesday.
During a press conference Friday, the Ministry of Education announced that face masks will be mandatory for students sitting the gaokao and zhongkao in areas at medium or high risk of COVID-19. As of Friday, the only such areas nationwide are in Beijing.
Editor: David Paulk.
(Header image: A worker directs people to wait in line for COVID-19 nucleic acid testing at an exhibition hall in Beijing, June 18, 2020. People Visual)