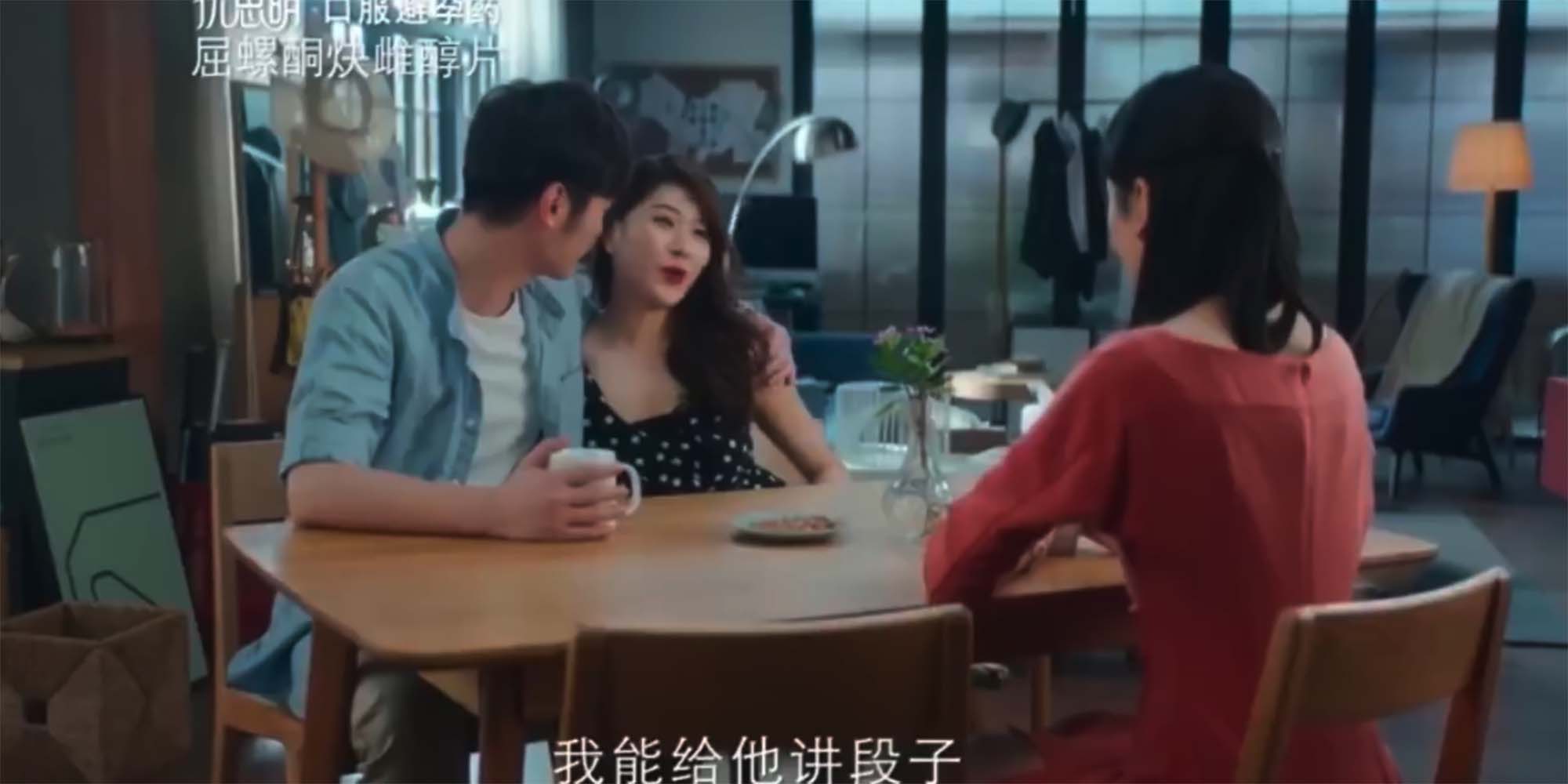 NEWS
Oral Contraceptive Brand Slammed Over 'Sexist' China Market Ad
Bayer China, the manufacturer of birth control product Yasmin, said it "respects a woman's right to autonomous contraception" and has "resolved" the ad.
A leading contraceptive brand in China has been accused of promoting a misogynistic narrative in its latest advertisement, which depicts a woman trying to attract a man by offering him unprotected sex.
Yasmin's 13-second ad, released over the weekend, shows a woman trying to woo her partner who has become infatuated with someone else — in this case his cellphone, metaphorically portrayed as another woman who can "tell jokes," "discuss news," and even "play games."
In response, the female partner stands up, throws a pack of Yasmin contraceptive pills on the table, and challenges the imaginary woman: "Can you do this?"
The man looks at his partner and gulps as the imaginary woman transforms back into a phone.
"Don't let your phone replace intimacy," a voice says at the end of the ad.
While Yasmin may have been aiming to promote intimacy among couples, the delivery of its message has backfired, with Chinese social media users slamming its sexist overtones.
"This ad is so sick. It's promoting the toxic idea that women need to use unprotected sex to win men back," one person commented under the ad on microblogging platform Weibo.
"Yasmin is a pill for women and serves women, but this ad is full of nasty, unrepresentative female stereotypes," said another. "I still have one Yasmin pack at home. If the ad is not removed, I will boycott it."
The ad was aired during an episode of the all-women reality show "Sisters Who Make Waves" on streaming platform Mango TV. The show is considered groundbreaking for featuring a cast of female celebrities over 30, an unconventional trend in China's entertainment industry.
The Chinese division of Bayer, the German pharmaceutical giant that manufactures Yasmin, is said to have privately responded to one Weibo user's complaint by confirming that the ad was removed from Mango TV, according to the Weibo user's post.
Bayer China told Sixth Tone on Monday that it has "resolved" the advertisement.
"Yasmin respects a woman's right to independent contraception, and helps women to better plan their lives and careers," the company said.
Chen Yaya, a researcher at the Shanghai Academy of Social Sciences who comments on gender issues, told Sixth Tone the ad was "sexist."
"Contraceptive pills are designed to enhance female sexual autonomy and give women more choice," she said. "Women welcome more contraceptive methods because many of them don't like or are allergic to condoms. However, this advertisement suggests that satisfying men — making them feel comfortable and accommodated — is the reason women use contraceptives. This is very bad."
Chen added that the ad also does a disservice to men by misrepresenting them.
"The ad shows that the 'giant baby' man lacks autonomy, and is only controlled by sex," she said. "In this sense, it's also discriminatory to men."
When it comes to sex, many Chinese women behave less autonomously than men. Despite a high national abortion rate, 16% of female university students said their partner typically decides whether to use contraception, and over half said they have never masturbated, according to a 2020 survey of nearly 55,000 Chinese students.
The use of oral contraceptives among Chinese women is also low. According to 2019 research from the United Nations, only 2.4% of Chinese women used pills for contraception — twice as many as in 2015 — compared with 8% globally and 16.5% for "developed regions." Meanwhile, the Chinese public's awareness of birth control pills is largely limited to emergency contraceptives, also known as the morning-after pill, commonly taken after unprotected sex.
The low rate of oral contraceptive use is partly due to misunderstandings about the product, research suggests. Nearly 20% of unmarried women do not know the purpose of contraceptive pills, while over 94% are unaware of its effects on the body, and think taking such pills will make them fat and ugly.
Editor: Bibek Bhandari.
(Header image: A screenshot from Yasmin's oral contraceptive ad. From Weibo)