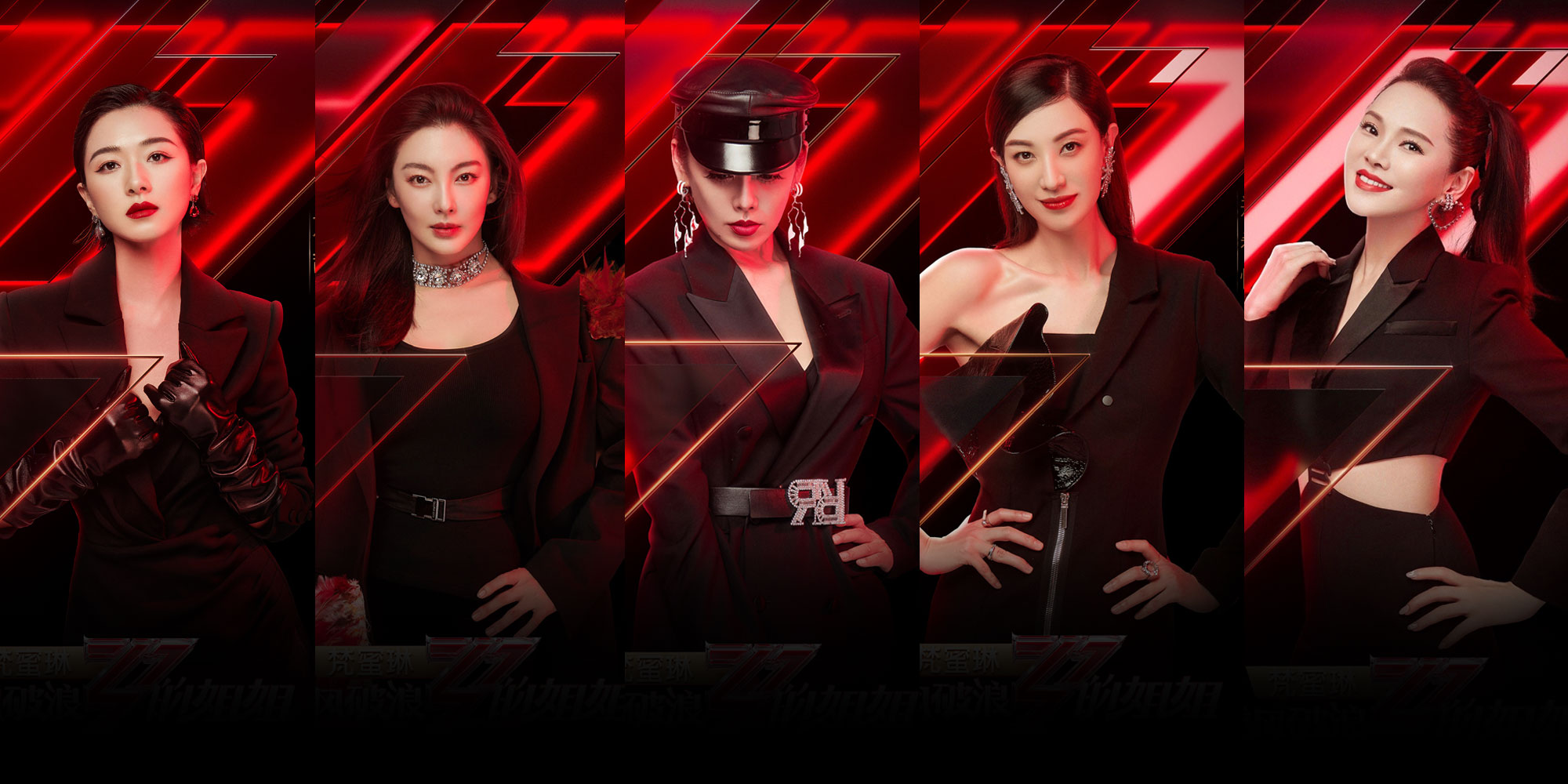 NEWS
'Middle-Aged' Celebs Are Vying to Become China's Next Girl Group
Some viewers praise "Sisters Who Make Waves" for being inclusive, while others say the show does little to address the real issues older women in China's entertainment industry face.
A new Chinese talent show is delivering a powerful message: Age is just a number.
Smashing the ageist attitudes that largely dominate China's entertainment industry, "Sisters Who Make Waves" stars a cohort of celebrities in their 30s, 40s, and 50s — demographics that typically see dwindling screen time. The group of 30 — which includes actresses, singers, and television hosts — are competing for five spots in an all-women band.
When "Sisters" premiered Friday on Mango TV, a video-streaming site under the Hunan Broadcasting System, viewers were reintroduced to several high-profile names including 52-year-old singer Yi Nengjing, 48-year-old actress Ning Jing, 38-year-old singer Zheng Xiyi, and 37-year-old television host Wu Xin. They share common goals: to win the competition and dispel the belief that middle-aged female stars have no place in show business.
Such so-called idol groups in China typically comprise fair-skinned young people in their late teens or early 20s, their unblemished complexions and pretty faces setting a gold standard. Emphasis on appearance and body shape, if not stated outright, is widely accepted as the norm.
Given the industry's rigid superficial standards, many actresses who age out of their 20s say they're getting fewer opportunities than their male counterparts. Some of China's leading ladies of the silver screen have repeatedly called out ageist practices in recent years, only to remain largely unheard.
"Sisters" expressly aims to provide older female celebrities with more opportunities, according to the show's producers. The premiere was a teaser of what viewers can expect from later episodes, showcasing the participants' vocal prowess as they performed soulful ballads and upbeat pop songs.
The debut episode set social media ablaze. A related hashtag on microblogging site Weibo had been viewed more than 8.4 billion times as of Wednesday afternoon, while a user-organized fan group on social platform Douban has over 281,000 members.
The reviews, however, have been mixed.
"For me, it seemed more like a reality show than a talent show," 25-year-old Gao Chen, a Shanghai resident who watched the nearly four-hour premiere, told Sixth Tone. "It's more about seeing the celebrities showing their real personalities than their performances."
"One bullet screen of the show helps me understand its value," a fan wrote on Douban, referring to the endless marquees of viewer comments that scroll across the screen during playback. "I'm less afraid of growing old."
The Mango TV show is a new breed of content that's veering away from — and even correcting — the flaws in female idol groups' carefully cultivated images as young, slim, and sweet. For example, video-streaming site iQiyi's show "Youth With You" defied stereotypes by including married and androgynous participants. Meanwhile, Tencent Video's "Produce Camp 2020" focused on encouraging female participants to break free from the meek-and-weak stereotype by becoming more confident and ambitious.
But with the pandemic disrupting the country's entertainment sector, analysts say there could be even fewer opportunities for middle-aged actresses who've already been forced to the margins and shunted to on-screen roles as aunts, mothers, and grandmothers.
Ma Shicong, a senior analyst researching new media at Analysys, said shows like "Sisters" are coming at a time when viewers are looking for more diversity in their preferred programming — and the uptick in demand could work in the show's favor.
"The show is designed to cater to viewers' demands and emotions," Ma told Sixth Tone. "It's about women's self-awareness … an alternative to the existing talent shows. It appeals to viewers who are tired of today's undiversified, youthful appearance-driven talent show models."
But not everyone is impressed, with some saying content diversification doesn't magically change the way women are perceived and portrayed on screen — and some shows even unwittingly perpetuate the stereotypes they're fighting against.
In one critical commentary, Qian Yue, an associate professor of sociology at the University of British Columbia, said "Sisters" fails to avoid the male gaze. According to the author, the female participants, irrespective of their age, are still programmed to adhere to certain beauty standards and even traditional societal views.
As evidence, Qian refers to one of the show's participants, the actress Ning, who, when asked what kind of band she wanted to form, answered: "(One that) makes women want to be like them, and men want to marry them."
Other gender experts have joined in the chorus of criticism, saying "Sisters" falls flat in addressing gender issues.
Bai Yu, a commentator on gender issues, noted in an online article that the show fails to address the real issues women face, including employment discrimination in the entertainment industry. Instead, it uses the participants' popularity to attract viewers, just like other television shows.
"The fact that the show uses forming a girl group as the ultimate goal is telling women, 'You must be young and beautiful to make a new start,'" Bai wrote.
Correction: A previous version of this story erroneously attributed a quote to the singer Yi rather than the actress Ning.
Editor: Bibek Bhandari.

(Header image: Promotional images for the online series "Sisters Who Make Waves," 2020. From @乘风破浪的姐姐 on Weibo)