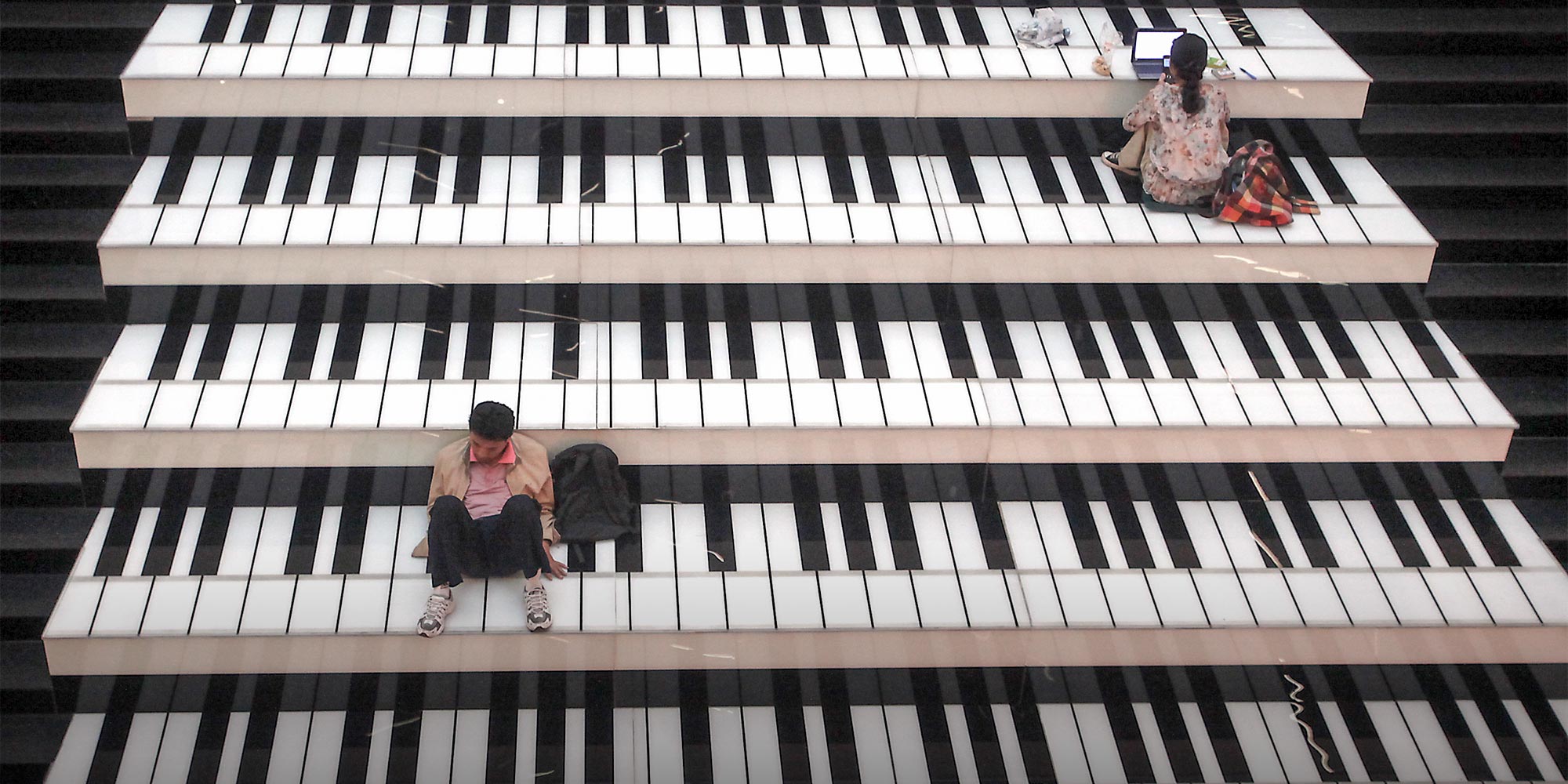 FEATURES
To Beat the 2020 Blues, Just Push Play
From classical to contemporary, traditional to pop, one team is using music therapy to address stress, fear, and anxiety in the wake of the COVID-19 outbreak.
In a prelude to lilting piano music, a soothing voice whispers: "During this extraordinary time, everyone's feeling complex emotions like stress, anxiety, or a lack of a sense of security. Don't worry: All these emotions are fine."
This is part of a 15-minute audio clip uploaded to China's social app WeChat by a team of teachers and students at the Shanghai Conservatory of Music (SCM) and released on March 8 to mark International Women's Day.
Titled "Listening to the Sound of Blossoms," the clip serves as a sample of music therapy — something the team intended to use to help people cope with stress and fear in the wake of the coronavirus outbreak.
"Music can help regulate physiology and emotions, which can make people feel relaxed. Music has this special function. This audio clip can relieve anxiety and strengthen proper mental defense mechanisms," Zou Xinghui, a recent graduate from SCM, told Sixth Tone. "In the process, besides being relaxing, it can also mobilize one's inner vitality."
Within days of offering such online counseling sessions, demand for music therapy surged, according to Zhou Ping, an experienced music therapist and a lecturer at SCM. She heads a team of around 10 music therapists made up of sophomores and recent graduates of the school. Each session, she said, usually lasts 30 minutes with content tailored to meet the needs of different clients.
"The pandemic is unlikely to disappear in the near future, and experts have suggested that we might have to fight the virus indefinitely," Zhou said. "We feel that our profession has a certain sense of mission. When needed, we will rush to the front. There may be trauma after the pandemic, so if people have such needs, we will try to meet the demand."
The same team has been involved in other projects, including background music used in Shanghai's hospitals. The group has also crafted audio material for hospitals in the central province of Hubei and designed the music for patient and medical worker facilities at the makeshift fangcang hospitals in Hubei's capital Wuhan.
Since the coronavirus outbreak intensified in late January, several medical workers, patients, and members of the general public have faced unprecedented challenges in terms of mental health — primarily stress, fear, and anxiety. In Hubei province, where China's epidemic began, counselors on the ground suffering from psychological trauma required support.
As COVID-19 spread, and lockdowns were enforced to contain it, psychological pressure in hard-hit areas mounted as people were forced to tackle isolation, disease, death, and abrupt changes to their lives.
While the United Nations even warned of a potential global mental health crisis, nearly 25% of the over 25,000 Chinese surveyed by the Chinese Academy of Sciences said they'd experienced depression and anxiety related to the pandemic.
Like psychological counselors, Zhou and her team offer support but use music and its many forms to help patients. Domestic media have also reported the work of music therapists, calling them "special doctors who don't use a lancet."
For their sessions, the SCM team sent out questionnaires specifically designed for those who approached them. This was then used to craft audio material.
While some might have needed "passive" counseling through a piece of music with prerecorded audio guidance, others were happy to take an online session through video calls, said Chen Yunzhi, who graduated about five years ago and works with children.
The music they'd choose would depend on the questionnaires and a quick chat between patients and therapists: Some said they felt anxious, while others with chronic diseases said they feared their treatment would be delayed.
After this evaluation, therapists would design the session using music that ranged from classical and contemporary to traditional and pop, each identified as effective for different emotions based on their own music library.
Among those seeking their services were medical workers who needed music therapy to relax after hours of stressful work and even middle school students in the southwestern city of Chongqing, whose parents worked as doctors or civil servants.
Zou Xinghui, who graduated in 2018, designed the counseling session for the students. It was more about interaction, she said. "We find a song, and then take out a certain word or a sentence," she told Sixth Tone. "Then we set a theme. For example, say we pay attention to what our current emotions are like, then we fill the lyrics with our emotions and sing the song aloud."
Zou said she and another music therapist would come up with a melody with lyrics starting with "Let's sing, let's sing our emotions. Happy, happy, sad, sad. We all understand you." The therapists would first sing the song and the students from Chongqing would then sing it themselves with their own emotions woven into the lyrics.
For other sessions, therapists would write scripts to go along with the music they'd select for clients and observe their reactions. However, music therapy sessions are not designed in a fixed manner, said Zhou. "That's why our students need to go through three or four years of study and then more training before they understand interacting with clients, discussing problems, and solving them," she said. "In this process, the form is not that important."
Music therapy can be applied widely to those who are open to such counseling methods, said Yang Yanyi, professor of music therapy at SCM. However, she said the effectiveness varies, and those usually into music might not necessarily find music therapy easier to accept than others.
Music therapy came to China only in the 1990s, when the prestigious Central Conservatory of Music started to admit postgraduate students for the major. Now, with Chinese people turning to counseling more often than previous generations, music therapy has started to gain momentum with the general public.
The interdisciplinary major requires practitioners to understand music, medicine, and psychology. Students are expected to be able to play different instruments, sing songs, and improvise when required. "They have to be versatile," said Yang. "They learn more instruments and take more singing lessons. In addition, they also learn how to experience the emotions of others."
The music therapy major at SCM takes in about five students a year. In China, few universities offer such degrees, and the profession is also not fully recognized across the country. In all, there were only around 200 music therapists on record as of 2017.
But music therapy in the wake of the outbreak hasn't been easy for the Shanghai team, and some highlighted the new challenges they've had to face. In particular, poor internet connections, preparing questionnaires for unprecedented situations, and transitioning from their usual clients — children — to adults. To cope with such practical issues and help the younger therapists, Zhou supervised her team at night after they finished their sessions.
According to Xiao Jinsong, head of the Hubei Psychological Consultant Association, the COVID-19 outbreak has underscored the importance of mental health counselors. He said that, unlike other disasters such as earthquakes or floods, this global public health crisis affects the entire economy and even relationships within households.
Music therapy, he said, works effectively as a rehabilitation method. "It affects our brain through music, allowing it to produce more relaxed emotions," he said. "But it's not a one-size-fits-all thing: Some music pieces might work for everyone, while some need to be more personalized ... and the effectiveness ultimately depends on the interactions between patients and therapists."
Ma Xiaohui, a Chinese erhu musician involved in organizing music therapy-related concerts and lectures across the country for more than a decade, said people in China now have a better awareness of mental health and are more open to attending such events, compared with about 12 years ago. Her sessions usually last for 90 to 120 minutes and have helped audiences share their thoughts with others and relax, she said.
"Among all categories of art, music is the one that directly touches your nerves because it doesn't need explanation," she said. "It's not like appreciating calligraphy or oil paintings, where you need to first understand the theory behind it. You can simply like the music and feel touched."
Younger music therapists in the team said their study and work with clients has helped them personally. While some are engaged in internships at local hospitals or care facilities for children or senior citizens, others have found work after graduating like specializing in providing counseling to children with autism.
Wu Peixin, a sophomore in the team, moved to China after her piano teacher in Malaysia told her about the course. She feels music therapy is magical. "I think this major gives us the best way to find ourselves and understand a side within that we never knew about," she said. "This makes us understand others better, and this becomes our strength."
This is a playlist of relaxing music curated by SMC and published on its WeChat account Feb. 9, 2020.
Click the ♫icon to listen to each track.
♪Johann Sebastian Bach: Aria, The Goldberg Variations, BMV 998. By Glenn Gould♫
♪Edvard Grieg: Lyric Pieces, Book I, Op. 12: No. 1, Arietta. By Emil Gilels ♬
♪Johannes Brahms: 6 Piano Pieces, Op.118 - 2. Intermezzo in A Major. By Radu Lupu ♫
♪Erik Berglund: Lake of Enchantment, Harp of the Healing Waters ♬
♪Stanton Lanier: Awaken the Dawn, December Peace ♫
♪Dave Grusin: On Golden Pond, Now Playing Movie Themes Solo Piano ♬
(Header image: People sit on a staircase designed to resemble a piano keyboard at a shopping mall in Beijing, Oct. 12, 2010. People Visual)