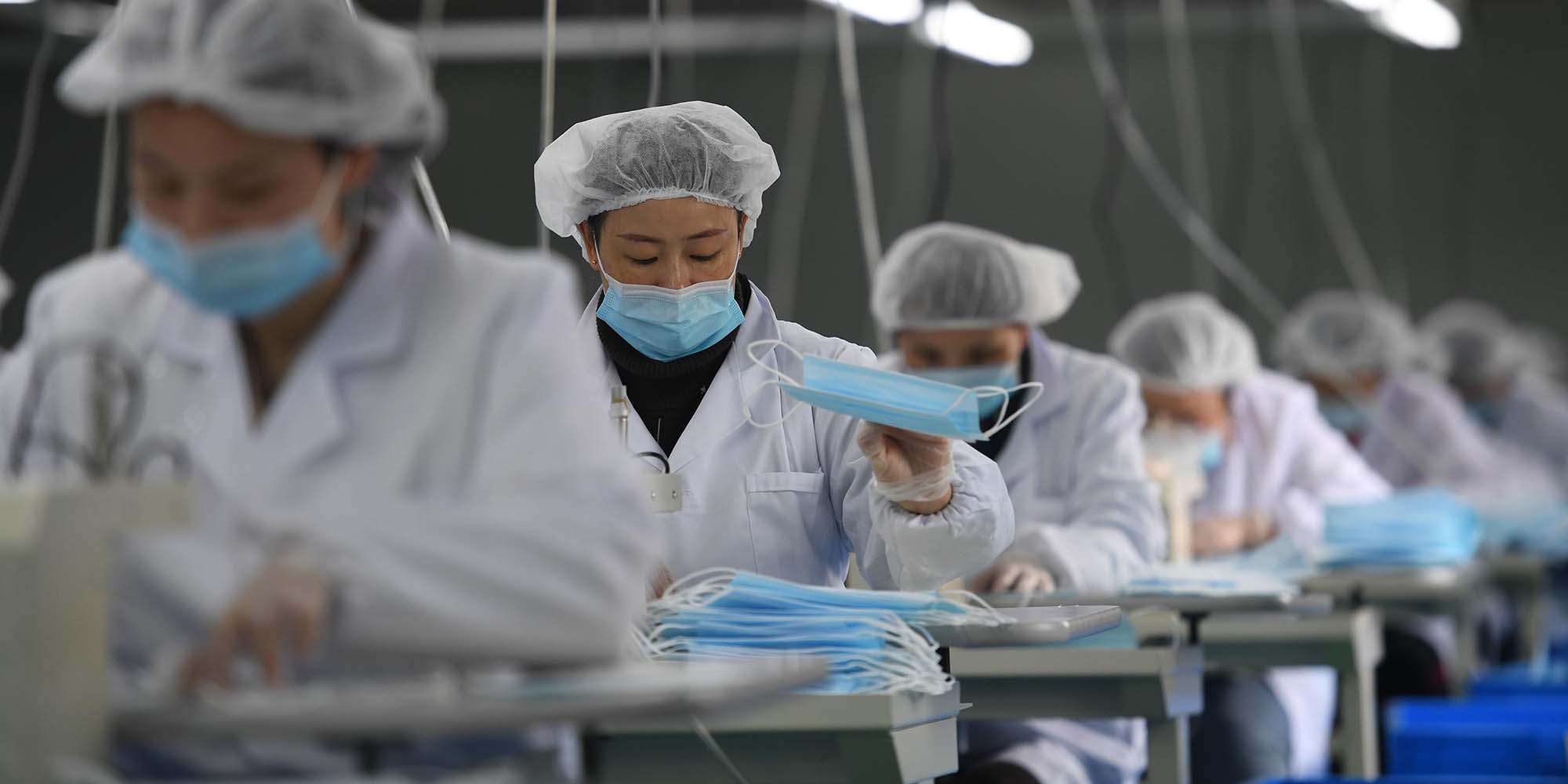 NEWS
Under COVID-19, China's Mask Market Surged. Now It's Gone Bust.
Entrepreneurs say it's becoming more difficult to recover their investments due to dwindling demand and plummeting prices.
In February, Chinese businessman Pan Changsheng invested 4 million yuan ($565,000) to convert his plastic packaging factory into a face mask production line.
Back then, the coronavirus outbreak in China was at its peak. While most businesses were closed to prevent the disease from spreading, demand for personal protective equipment, including face masks, was sky-high.
Entrepreneurs like Pan seized on the opportunity to cash in on the mask business.
Now, some four months later, things have changed. "I've lost 1 million yuan," Pan told Sixth Tone.
As an essential item in limited supply, face masks became a prized commodity during the early stages of the COVID-19 pandemic, which has now infected over 7.5 million people worldwide and killed more than 420,000. The demand was so high that shops were sold out of masks for days. Meanwhile, cities scaled up production and rationed masks to prevent hoarding.
But with the coronavirus now largely controlled in China and production lines back on track, the face mask shortage has subsided, and prices have dropped from 1 yuan each all the way down to 0.2 yuan, Pan said. He still has 2 million face masks in stock, waiting to be sold, at his warehouse in the eastern Anhui province.
"At that time, many people saw an opportunity and got in on the business," Pan said. "But now, many people have large stocks of masks and are suffering huge losses."
As the virus spread globally, demand for masks was so high that even industrial giants, such as electric car manufacturer BYD, and state-owned oil companies joined the race to produce face masks for domestic and overseas markets. According to business data platform Tianyancha, over 76,000 face mask manufacturers registered as businesses between Jan. 1 and June 12 — nearly six times the number of face mask companies that registered in all of last year.
Government statistics show that the daily output of heavy-duty N95 masks and non-N95 masks increased from 130,000 and 5.86 million, respectively, in early February to over 5 million and 200 million by the end of April. Meanwhile, profits for large-scale nonwoven manufacturers producing raw materials for masks increased by over 250% between January and April.
The sector was so prosperous that some companies resorted to illicit means to scale up production and profits, resulting in substandard masks being widely sold online. In recent months, local authorities in several Chinese provinces have cracked down on suppliers for using substandard melt-blown fabric — the raw material used in masks — and arrested dozens for reselling their products at exorbitant prices.
By April 24, China's market supervision authority had seized nearly 90 million substandard face masks.
Hu Xiangyang, a raw material producer in the southern Guangdong province, told Sixth Tone that in the early days of the pandemic, demand exceeded his factory's production capacity. Some clients, he recalled, were sending money to his company's bank account to secure orders even before they had communicated with him or his staff.
"Now, the fever has subsided," Hu said. "Things have returned to normal."
The face mask market has stabilized now, or even receded, jeopardizing the millions of yuan in investments made by entrepreneurs like Pan. A warning from China's national textile industry association earlier this month underscored that the global demand for anti-epidemic materials had peaked and passed, further fraying investors' nerves.
"When the demand (for face masks) shot up, many people entered the business to make a quick buck," Han Jing, deputy director of the China Nonwovens and Industrial Textiles Association's publicity department, told Sixth Tone. "Many of those companies entered the industry from outside. Some of them may be able to stick around if they … can adapt to the market. But some will call it quits sooner or later."
Pan wouldn't say how much money he made by switching from plastic packaging to face masks, but he's expecting swift fallout from the plummeting demand. For now, he has decided to suspend his mask manufacturing unit. He hopes the government will help him sell the 2 million masks he still has in stock, as well as the 4 million yuan worth of machinery that's now sitting idle.
"I feel cheated," Pan said. "The machines are of poor quality. Nobody wants to buy them anymore."
Editor: Bibek Bhandari.

(Header image: Workers on a face mask production line in Hangzhou, Zhejiang province, April 23, 2020. Wang Gang/CNS/People Visual)