This is the third installment of Unraveled, a series of special reports from a Chinese clothing hub struggling to cope with the economic fallout from the COVID-19 outbreak. Watch the first video in the series here, the second part here, and the fourth part here.
GUANGDONG, South China — On a humid evening in late April, the stress of the past few months finally overwhelmed Zhang Yayun.
The 35-year-old and her husband, Tang Dongdong, had spent weeks desperately trying to earn money in the garment workshops of the southern city of Guangzhou, which had been hit by a deep economic slowdown in the wake of the COVID-19 outbreak. With jobs scarce, the couple had accepted wage cuts, night shifts, and any other conditions the bosses demanded to secure regular work.
Then, with the end of the month approaching, Zhang's landlord banged on her door, demanding she pay the month's rent on time. For the mother of two, it was the final straw.
"I don't have any money!" Zhang recalls shouting. "Do you know how hard it is for us?"
Garment worker Zhang Yayun and her husband attempt to survive post-pandemic life. By Wu Huiyuan, Feng Jing, Daniel Holmes, and Qi Ya
Workers across China have struggled to cope with the economic turbulence unleashed by the pandemic. China's economy contracted 6.8% in the first quarter, and the country's unemployment rate rose to 6% in April, indicating that millions had lost their jobs.
But the experiences of Zhang and other migrants in the manufacturing hubs of the Pearl River Delta show that even these figures fail to capture the severity of the situation. Though they aren't counted as unemployed in the official figures, the reversal in their fortunes since January has been dramatic and disorienting.
Just a few months ago, Guangzhou was a magnet for garment workers like Zhang and Tang. The southern metropolis is China's leading production center for clothing, and the city's workshops were eager to recruit extra labor amid booming domestic demand.
Zhang and Tang — who are both originally from central China — relocated to Guangzhou this past July, after hearing stories of factories offering monthly salaries in excess of 10,000 yuan ($1,450). To the couple, which had previously been working on China's eastern coast for less than half that amount, the move seemed a no-brainer.
The pair moved into a small apartment in a corner of downtown Guangzhou known as "Hubei Villages," a densely packed area filled with thousands of garment workshops and apartment blocks. The neighborhood's nickname refers to the fact that a large number of migrants living there are originally from the central province of Hubei — also Zhang's home region.
At first, everything went smoothly for Zhang and Tang: Employers in Guangzhou were just as short-staffed as they'd heard. Young Chinese are increasingly reluctant to work on factory lines, preferring to deliver packages for tech platforms like food delivery services Meituan and Ele.me, Zhang explains.
Each morning, hundreds of factory bosses would stand on the streets in Hubei Villages holding boards on which they'd written the jobs they needed to fill and the conditions they were offering. Workers could simply select the position that suited them and directly negotiate terms with the employers.
"It was like going shopping," Zhang tells Sixth Tone. "You could go there at any time of the day and easily find a job."
Unlike her husband, a veteran garment maker, Zhang lacked experience and initially took a simple job in a cotton thread factory. Within months, however, she felt confident enough to join Tang's workshop as a temporary worker, where she could earn a higher wage and learn new skills. 
By this stage, the couple was making nearly 16,000 yuan each month. Zhang felt better able to provide for her children and aging parents than ever before and was glad she and her husband had decided to come to Guangzhou.
Then, everything began to fall apart.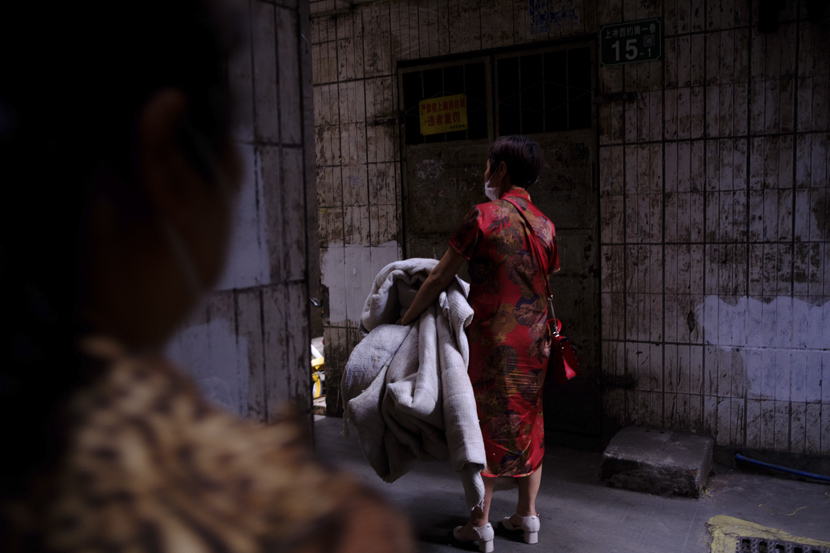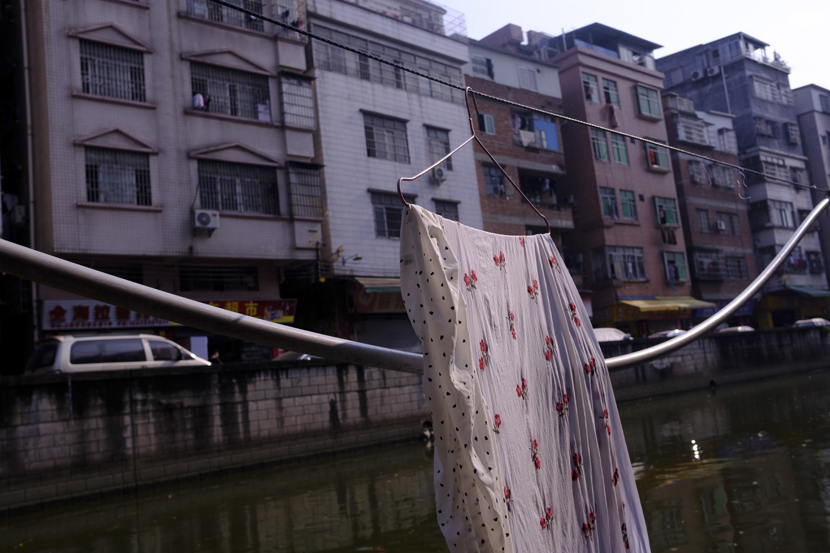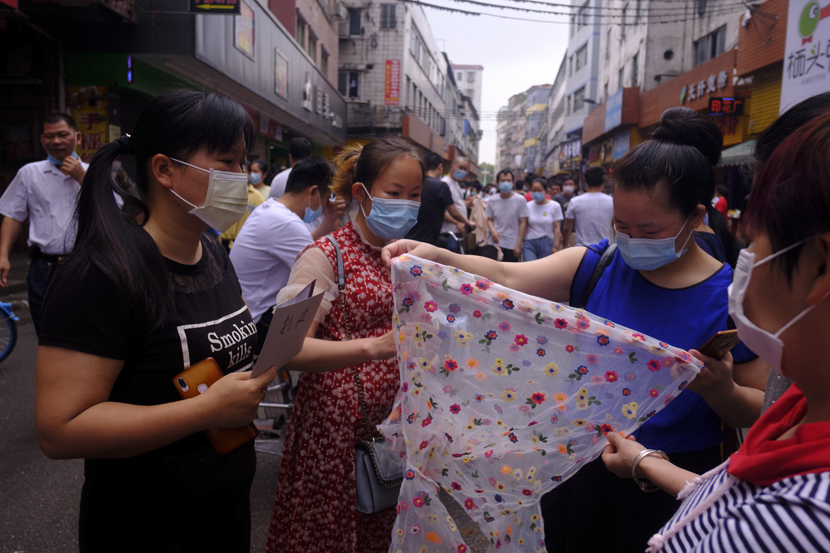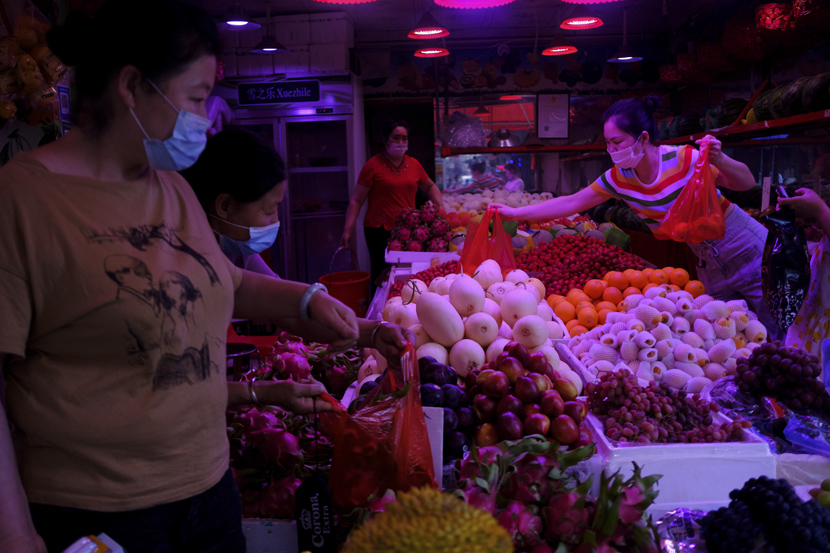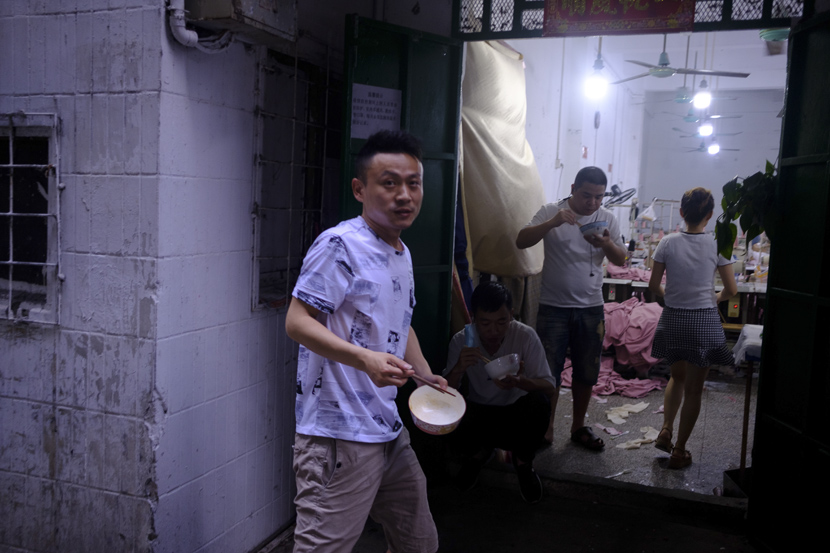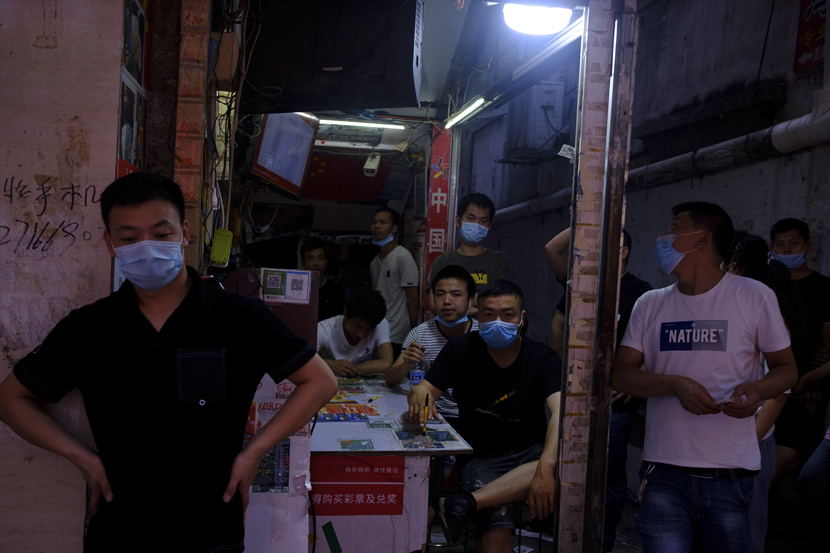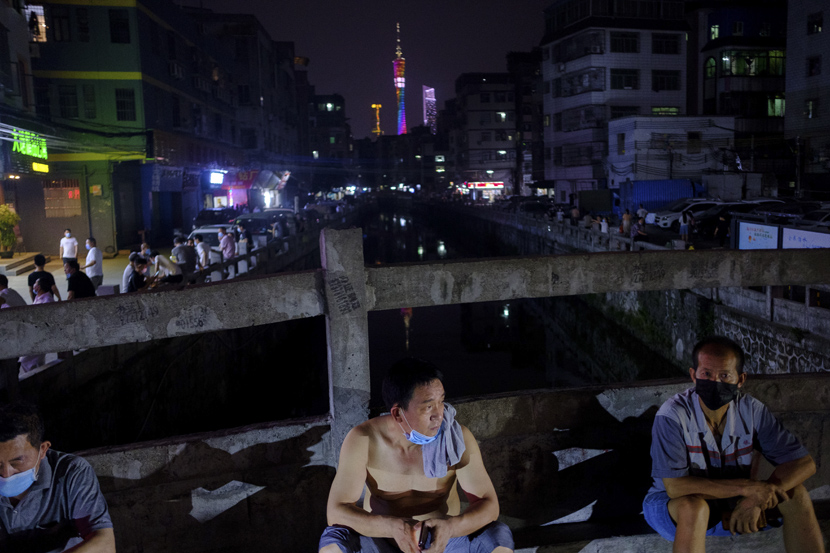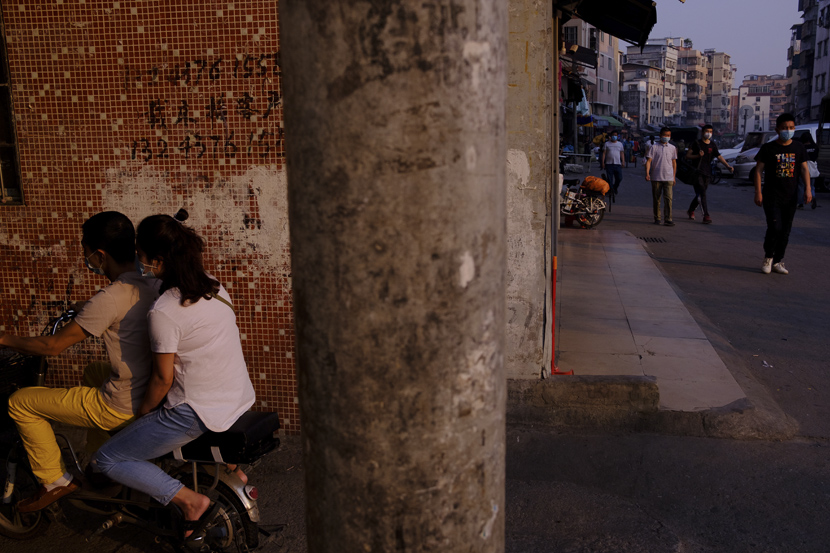 The COVID-19 outbreak seemed little more than an inconvenience at first. The couple traveled to Tang's hometown in the central Henan province Jan. 20, just ahead of Spring Festival. They underwent temperature checks and had to confirm their travel histories on arrival, as the local officials knew Zhang's home region of Hubei was the center of the epidemic. But the scale of the crisis hadn't yet become apparent.
For the next few weeks, the couple holed up in Henan, waiting with growing impatience for the government to allow them to return to Guangzhou. Zhang's mood wasn't helped by the fact that local villagers, after hearing her accent, avoided her "like a plague patient."
Zhang called acquaintances who had stayed behind in Guangzhou for updates on a daily basis, but they rarely provided much clarity. All the city's factories had shut down and no one was certain when they'd be allowed to reopen.
"At the most lucrative time of the year, you're stuck at home with no income and no idea how long you'll have to wait," says Zhang. "That's real suffering."
Finally, in late March, the epidemic in China began to recede, and migrants began pouring back into Guangzhou. Yet Zhang's contacts, to her surprise, advised her to stay in central China. Wages were much lower in the garment workshops these days, they warned.
The couple decided to ignore their concerns. No matter how low the wages were, they couldn't be worse than in Henan, where most people only make 2,000 yuan per month, they told themselves. 
"There are thousands of factories out there (in Guangzhou)," Zhang recalls thinking. "There's always something to do, unless they all close — and that seems impossible."
On April 4, Zhang and Tang boarded the train and returned to their old apartment in Hubei Villages. Local officials were waiting for them. The housing complex where they lived had set up a checkpoint, and all migrants were required to register and take a temperature check. Then, they had to contact their landlord, who signed a "residence certificate" and escorted them to their apartment.
As soon as they arrived home, the landlord began discussing the rent. Given the recent difficulties, he said, Zhang and Tang could have a 200 yuan discount on January's payment, but the couple still needed to pay the rest of the three months' outstanding rent.
Zhang thanked the landlord for being so generous and paid him the 1,600 yuan she owed. Within days, however, she'd come to view his actions very differently.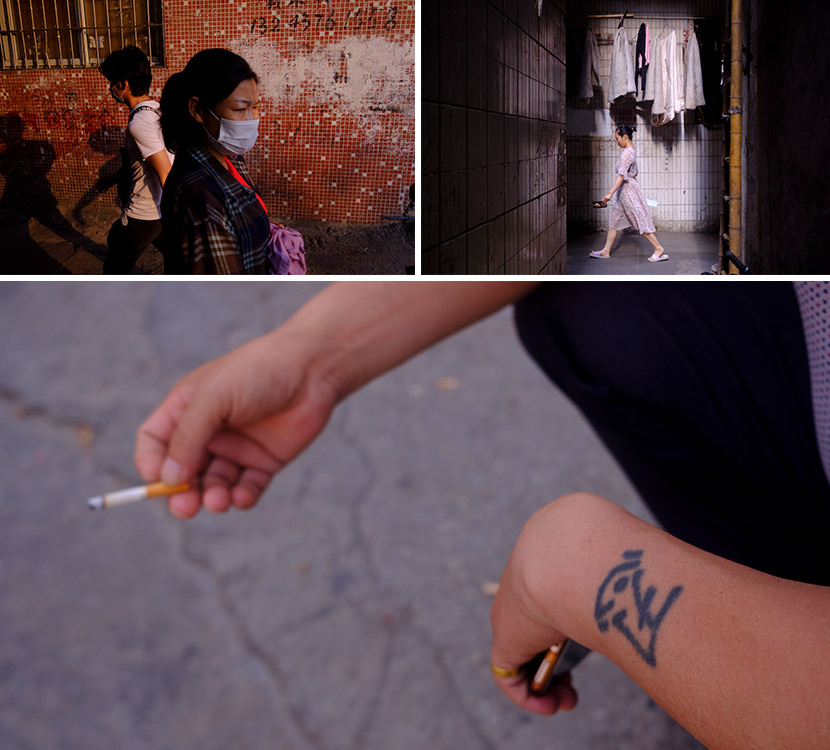 Top left: Residents finish their work and head home in Datang Village, April 27; Top right: A resident walks home in Datang Village, May 1; Bottom: A man with a tattoo of the word "endurance" takes a cigarette break, April 27. In Guangzhou, Guangdong province. Wu Huiyaun/Sixth Tone
The couple's first day back to work went well. There were still thousands of people on the streets in Hubei Villages, though perhaps only one-third the number from before the pandemic. Both Zhang and Tang were hired to work an afternoon shift, earning more than 300 yuan. As they headed home, Zhang felt coming back was the right call.
But on the second day, neither of them managed to find work. Nor the next day. Nor for another seven days after that. For over a week, the couple didn't earn any income at all.
The problem was the wages. Bosses were offering to pay Zhang just 0.60 yuan to process a T-shirt, whereas before the pandemic the standard price was 1 yuan. Convinced the factories were trying to cheat them, the couple refused to accept such a drastic reduction in wages.
It was only when the pair visited another part of Hubei Villages, where factory bosses gather to discuss orders with clients, that they realized the reality of the situation. Buyers were demanding 40% off the prices they'd paid last year and were reducing their order volumes, too.
"I finally understood what my landlord meant when he said, 'everyone is facing difficulties,'" says Zhang. "When the bosses stripped out production costs and expenses, it really only left around 0.50 yuan for the workers."
Zhang and her husband decided they had to accept their new circumstances. Even if they quit the garment industry, other jobs were hard to find. The wages in the workshops were low, but it was better than nothing.
The couple started saying yes to everything the bosses demanded: lower wages, longer hours, and lower tolerance for errors. If they took time to think before accepting a job, often another worker would have taken it by the time they replied.
For most of April, Zhang and Tang worked more than 10 hours a day, often through the night. A full days' work earned them less than 300 yuan combined.
So, when the landlord returned asking for April's rent, Zhang couldn't suppress her frustration any more. She handed over the money, but only after bawling at him as he stood at the front door. 
"Ask my husband to pay the rent next month," she recalls saying as the landlord left. "Don't ask me. My head exploded when I heard you say it."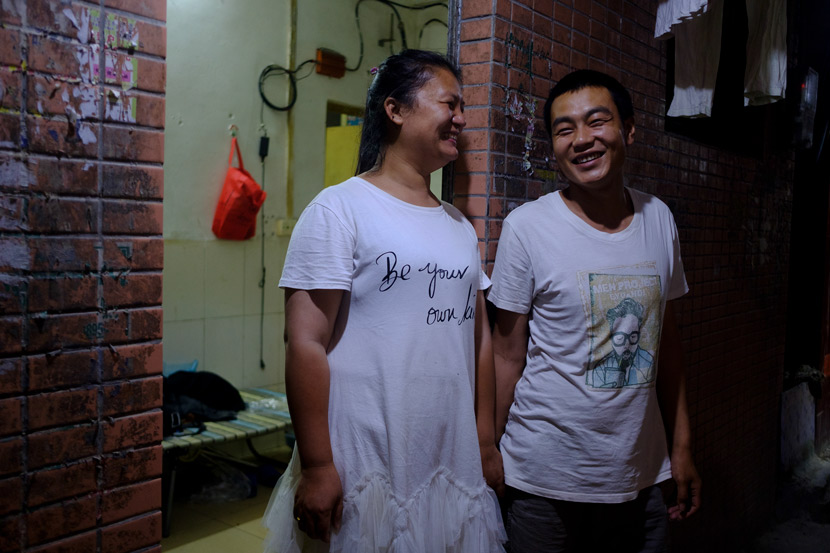 Zhang Yayun and her husband Tang Dongdong pose for a photo in front of their rental apartment in Longtan Village, Guangzhou, Guangdong province, April 30, 2020. Wu Huiyuan/Sixth Tone
The only time Zhang can relax these days, she says, is when she goes to the store to buy food after work. As she shops, she thinks of the people who've spent the whole day on the street without getting work, or the families who have broken apart from the pressure.
Despite everything, Zhang says she feels lucky. Balancing work and child care is harder than ever. She feels more distant from her husband. But they're still healthy, and they still have jobs.
"I heard that there was another infectious case at Qiaonan New Street, where I look for work every day," says Zhang. "But there's nothing for it. We're just trying to survive."
Editor: Dominic Morgan.
(Header image: Zhang Yayun and her husband Tang Dongdong work at a garment factory in Longtan Village, one of the "Hubei Villages" in Guangzhou, Guangdong province, April 30, 2020. Wu Huiyaun/Sixth Tone)