This is the second installment of Unraveled, a series of special reports from a Chinese clothing hub struggling to cope with the economic fallout from the COVID-19 outbreak. Watch the first video in the series here, the third part here, and the fourth part here.
GUANGDONG, South China — Jiang Jiashun knew his garment business' heyday had passed, but he never expected its decline to be quite so quick.
Ever since he returned to his factory in Guangzhou, Guangdong's capital, after lockdowns for stemming the spread of COVID-19 lifted, orders have been hard to come by. "In the past, I would always complain that I have too many orders to fulfill, but this year there's nothing to brag about," Jiang says, smiling and shaking his head.
China's economy has hit a snag due to the strict measures that all but extinguished the outbreak in the country but also closed factories and shops for months. After years of fast growth, the Chinese economy shrank in the first quarter of 2020. Tens of millions of people are estimated to be out of work.
Jiang Jiashun, a garment factory owner in his late 60s, struggles to adapt to post-pandemic life. By Wu Huiyuan, Feng Jing, Daniel Holmes, and Qi Ya
Jiang is part of a small army of people from Hubei — the province in central China where the COVID-19 outbreak began — who for the past few decades have turned their enclave of Guangzhou into China's garment production center. But as factory bosses like Jiang and migrant workers returned to the city over the past two months to pick up where they left off, many have concluded they're better off leaving. Already, buses back home are full of people who have given up.
For now, Jiang is holding on, but only by a thread. During the spring peak seasons of years past, Guangzhou's thousands of workshops would sew together millions of items and ship them all over China and beyond. Now, a 5,000-piece order, once considered small, is a big catch. Prices are down 40%.
To cover rent and wages, Jiang calculates he'd need to earn at least 3,000 yuan ($420) a day to break even. "Look at my workshop now: There are only six people working, and they don't have much to do," he says, adding he employed about 40 people last year. "In the past, I didn't have to be bitter about these things. We could make enough money to pay for a whole year in the first two months."
After Guangzhou's garment industry was allowed to resume business on March 12, people scrambled back to the city's "Hubei Villages" — areas where garment businesses owned by people from the province are particularly numerous. At the time, however, Jiang was still stuck in Wuhan, Hubei's provincial capital, where the lockdown wouldn't end for another month. As old clients called with orders, Jiang had no choice but to turn them down. "It felt like the meat fell out of my mouth just as I was about to bite down," Jiang says, using an idiom. "But what could I do? I could only go back to my sofa and continue to watch those stupid TV shows."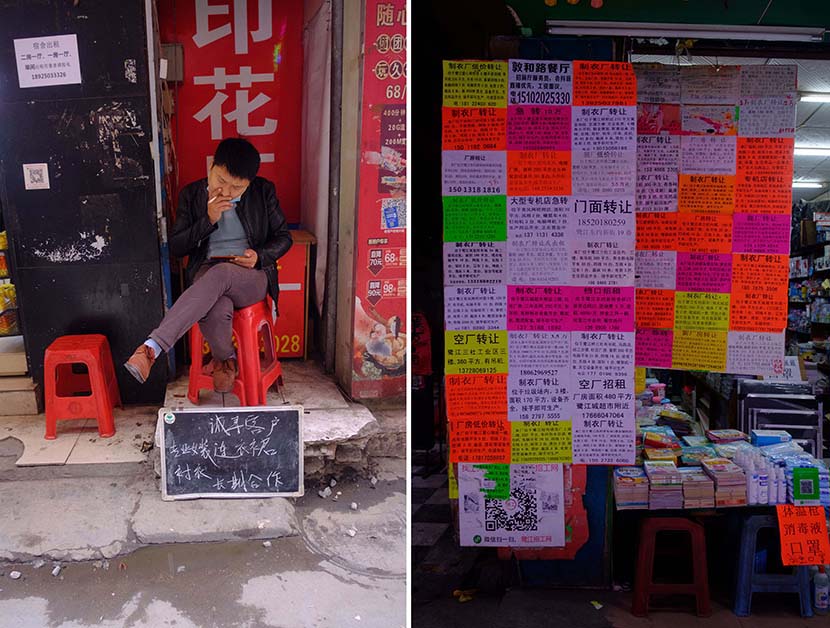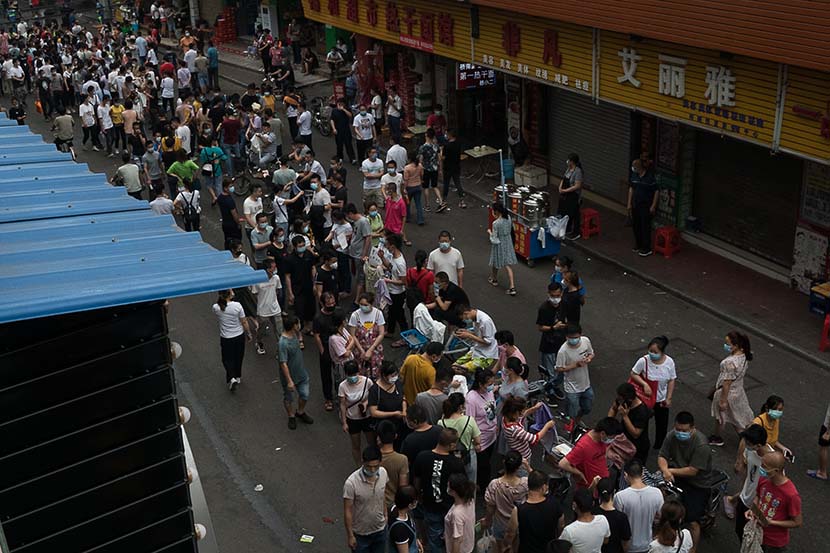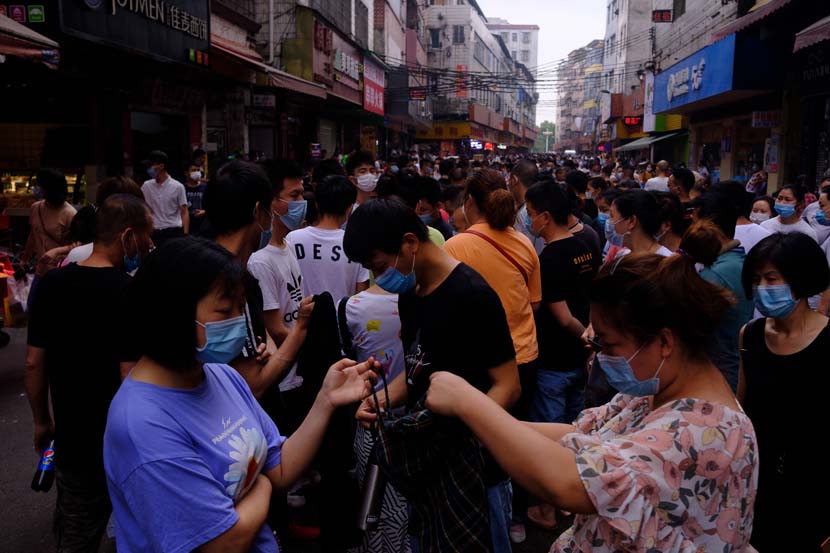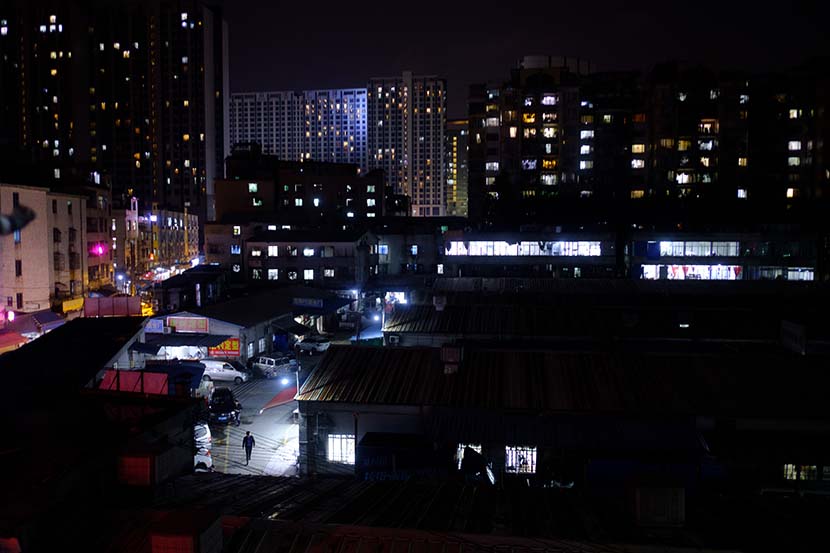 When people could finally leave Wuhan again, on April 8, Jiang and his family secured tickets for the first train to depart after midnight. Amid nationwide attention for Wuhan's victory over the coronavirus, a camera crew from state-owned China Central Television interviewed Jiang, who, visibly elated, shared how he was excited to be able to return to Guangzhou and restart his business.
Upon arrival in Guangzhou, more journalists followed Jiang and his family as they dealt with contact tracing forms and temperature checks on their way back to Haizhu District, as well as when they tried to rehire workers and restart production. Jiang felt like everyone had his back. "I thought the hard times were over, and the good times were beginning," he tells Sixth Tone.
But after Jiang worked through orders that had been outstanding from before the pandemic, he realized the times would not be as good as he'd hoped. Many malls and other shopping areas were still closed, and few people were out buying new clothes. Jiang wasn't getting new orders. His bills were due by the end of the month. But with his clients also low on cash, reminders to pay for completed orders were mostly in vain. At a loss for what to do, he reconsidered his reputation as a boss who never fired workers.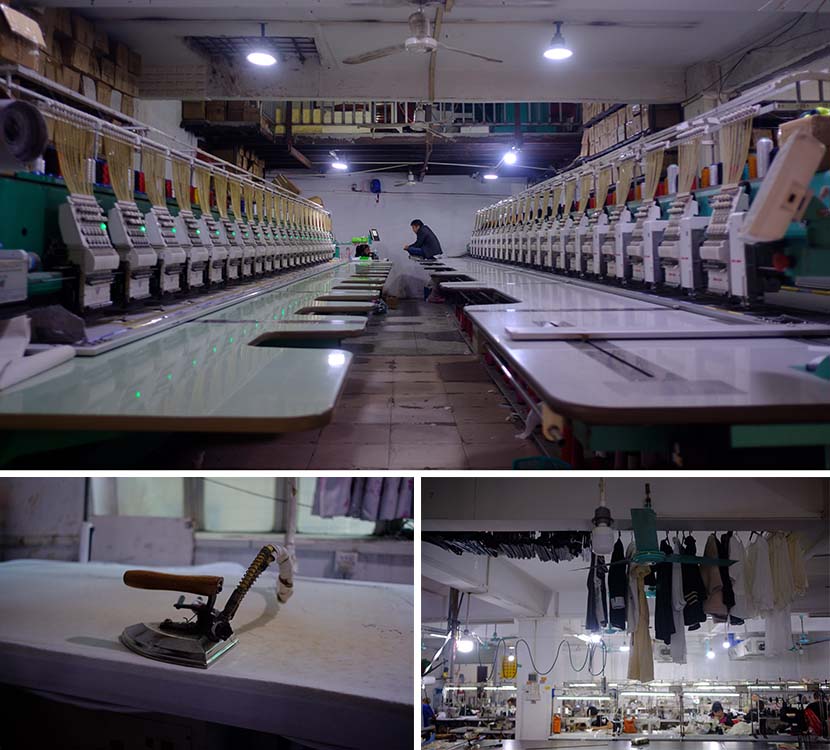 A worker sits on a workbench in a thread workshop (above). A clothing iron on an ironing board in Jiang Jiashun's garment factory (bottom left). Clothing samples hang inside Jiang Jiashun's garment factory (bottom right). Wu Huiyuan/Sixth Tone
In an attempt to drum up some business, Jiang printed 500 business cards and set off for a nearby wholesale market. But at the few open shops, shopkeepers would barely raise their heads when they'd take his card. They'd sometimes throw it away almost immediately. Jiang says he understands — what little demand they can muster, they would send to manufacturers with whom they already have prior relationships. When Jiang returned home, he still had plenty of cards left.
Every day, Jiang visits his clients' factories to see if they need anything, but he knows they don't. "Today I visited my biggest client, and they still have 20,000 pieces in stock that they can't sell," he says. "But I have to go and do something, or else my wife will complain that I'm lazy."
After another fruitless day, Jiang returns to his office, sits down in his chair, and sinks into silence — until his brother drops in to tell him a brand tag manufacturer has not fulfilled their order because Jiang has yet to pay. The tags are needed to finish a sample order to be sent to a Hong Kong client the next day. If satisfactory, the client would pay for an order of 30,000 pieces, money which Jiang could use to pay rent. But that plan is now frayed.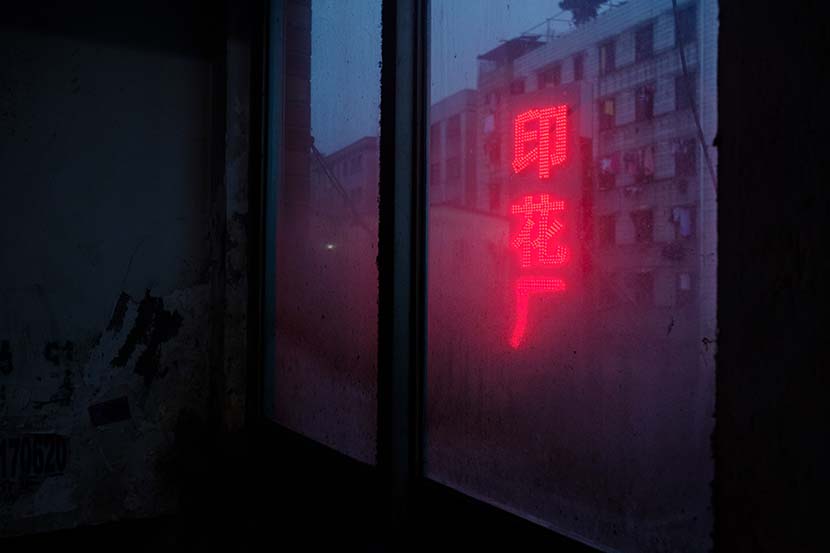 A window view from Jiang Jiashun's garment factory, Guangzhou, Guangdong province, May 2, 2020. Wu Huiyuan/Sixth Tone
Jiang swears and then loudly announces he's going to cook. He makes his way to the kitchen and prepares an elaborate dinner for himself and his employees — roast pork, braised duck with potatoes, fried cabbage, soup, and rice. At the sight of the dishes, the cook of the workshop next door complains their boss has already cut back on the number of meat dishes and may switch to vegetarian meals soon. Jiang smiles and says, "No way! We will turn this around!"
But behind closed doors, Jiang is less confident. Sometimes he questions whether he belongs in this industry. The garment business was a lucky break some 20 years ago, when a real estate venture failed and Jiang decided to give clothing a try instead. At its peak around 2005, his factory employed nearly 500 people, and Jiang earned 800,000 yuan a month. He never really knew whether his good fortune was due to his business acumen or the dumb luck of joining the industry right as China's consumer markets became lucrative. Of one thing he's sure, he says: "Those good times will never come back."
In the past five years, Jiang's noticed the garment industry shrinking. The rise of the internet has made it easier for sellers to find the cheapest wholesalers and producers, he figures. Jiang tried to open an online shop on e-commerce site Taobao, but it never took off. He'd made peace with working for a few more years before retiring and moving back to his hometown in Hubei.
"I'm already 65. I've had a good run … I just didn't expect the end to come so fast." Jiang says. "If I lose money, I lose money. It is what it is."
Editor: Kevin Schoenmakers.
(Header image: Jiang Jiashun poses for a photo in his garment factory in Lujiang Village, Guangzhou, Guangdong province, April 27, 2020. Wu Huiyuan/Sixth Tone)