Not long ago, they were considered eyesores and favored targets of city management officials for their pseudo-legal business status. But now, China's street vendors are being acknowledged as key players in jump-starting the country's economy, which has been stalled by the coronavirus pandemic.
At least 27 cities nationwide, including major metropolises like Shanghai and Guangzhou, have vowed to support the once tightly controlled micro-economy in a bid to maximize consumption and minimize the effects of rising unemployment. Local governments are rolling out temporary policies allowing street vendors to operate in more areas, and some have even offered bank loans and other opportunities to give unlicensed vendors a leg up.
Even city management officials — known as chengguan — who might previously have chased and chastised shop owners are encouraging local street vendors to return for business.
The about-face in official attitudes has resulted in a new-found hype for this traditional street sector, now referred to by state media as the ditan economy. Not only are Chinese e-commerce giants like Alibaba and JD.com offering interest-free loans for starting street-side businesses, but shares of local automakers that manufacture the mobile booths are surging, and online queries for "street vendor tips" have hit a 10-year high on search engine Baidu.
"It feels a little funny," a former street vendor in Beijing surnamed Li told Sixth Tone. "Chengguan were prohibiting the business. Now, there are written words permitting the practice."
The shift in China's attitudes toward the informal sector comes at a time when there is national emphasis on getting the country's virus-stricken economy back on track, especially its small and medium-sized businesses. During a visit to the eastern Shandong province Monday, Chinese Premier Li Keqiang described street vendors as the "lifeblood of China," acknowledging them as an important source of employment.
People like Li, the vendor, know this firsthand. The Tianjin native who now manages her own shop selling handicrafts got her start selling handmade bags on a pedestrian street near Beijing's universities in 2014. She looked this experience as a training ground for starting her own business someday.
During her after-work shifts as an unlicensed street vendor, Li said most of the people like her did this work to support families, though there were also a few college students trying to make some extra cash. Li said she experienced the age-old tug-of-war between the vendors and chengguan.
"It can be like fighting a guerrilla war," Li said, recalling one of her encounters with the city management officials. "Like, hide when someone (a chengguan) approaches and come out after he leaves. But since I was inexperienced, I just grabbed my stuff and left."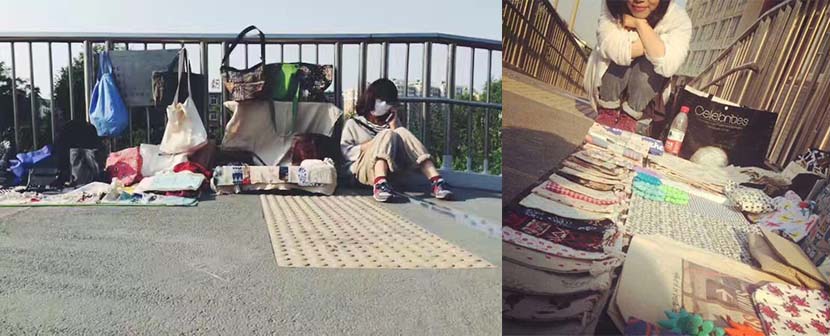 Photos show Li setting out her wares on a pedestrian bridge in Chaoyang District, Beijing, October 2015. Courtesy of Li
Street vending has played an important role in China's urbanization as a source of income for millions of people without formal employment, or those who earn only a meager income in another profession. Experts like Huang Gengzhi, who has studied China's street vendors, believes the country needs to give them a formal nod and recognize their economic worth, just as countries like Singapore have.
"I think it's necessary for the government to think about the street vendor economy from a long-term perspective, seeing it as part of our urban economic development," said Huang, an associate professor of urban geography at Sun Yat-sen University in Guangzhou. "It can't just be a stopgap; otherwise, a lot of our public resources will be wasted."
The post-pandemic era may have achieved just that, at least for the time being. The vendor-friendly policies are asking business owners get back out on the streets, lively again for the first time in months. Alongside them, businesses, too, are picking up.
For example, Chengdu in the southwestern Sichuan province had set up 36,000 mobile street stalls by the end of May, according to state media. This resulted in 100,000 new jobs and an overall uptick in economic activity that didn't go unnoticed outside the province. Premier Li praised the city's efforts during last month's "two sessions" legislative and political advisory meetings.
But experts say encouraging economic activity shouldn't overshadow the underlying problems. There have been reports highlighting the increase in plastic waste, traffic jams, and rising rental fees as mobile stalls are sublet to multiple vendors. There's also the lingering threat of COVID-19, as sporadic infections continue to pop up around the country.
In cities like Guangzhou in the south, existing policies for street vendors are unequal. According to Huang, not everyone is eligible — residents with a permanent household registration, or hukou, are prioritized — to apply to set up shops in government-designated spaces, and the newly relaxed restrictions don't include unlicensed peddlers.
"In the post-pandemic era, the street vendor economy should function more as a policy to support livelihoods," Huang said. "If there must be a selection, I suggest we do not set the threshold for those with hukou only, as Guangzhou has many migrants."
Meanwhile, some 1,900 kilometers away in Beijing, migrants like Li are reconsidering returning to street stalls, as their regular businesses have been hammered by the pandemic. She said the street where she used to set up shop banned vendors in 2018, but recent changes may open up new avenues.
"If I have enough time, I would want to give it another shot," Li said.
Editor: Bibek Bhandari.
(Header image: People browse for shoes at a night market in Zhengzhou, Henan province, May 30, 2020. IC)