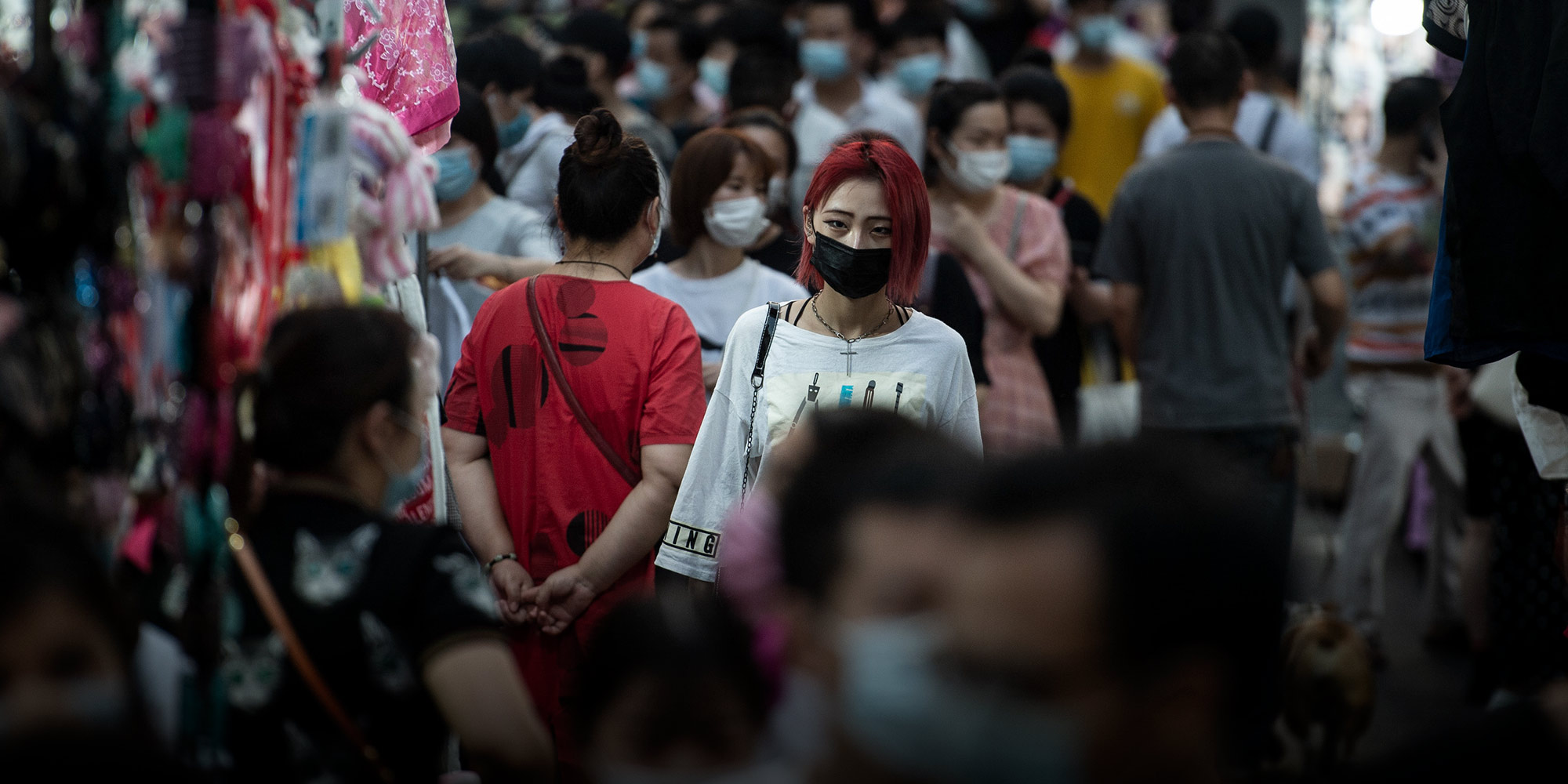 FEATURES
First She Beat the Virus. Now, She's Battling Its Stigma.
Testing positive cost Jiajia two jobs in mere months, even as society turned away.
SHANGHAI — From her COVID-19 hospital bed in Shanghai around mid-February, Jiajia took to a social app to say the virus was not invincible. She meant it as a message of hope. She never expected it to cost her a job.
Posting on her feed on WeChat — China's popular social networking app — she said the battle against the coronavirus was akin to recovering from a cold.
Nearly two months later, just before she was to start a new job as a clinical trial coordinator at a top Shanghai hospital, she realized that a doctor there had learned of her COVID-19 history from the WeChat post.
"The doctor shared this with nurses at the hospital. Within days, rumors spread that an asymptomatic carrier was coming to work. They all panicked," said the 30-year-old.
Her employer — a private company — then consulted the hospital's infectious diseases department, which concluded it was possible for recovered COVID-19 patients to test positive again. "There's no way that my employer would take on the hospital for me," Jiajia said. "They told me to leave after I worked there for four days but paid me half a month's salary."
Jiajia's ordeal underscores what some coronavirus patients have had to face: Recovery is when the hard part begins — getting back to their lives and grappling with the social stigma the disease leaves behind.
To compound the issue, this was the second job Jiajia had lost since she recovered from COVID-19 late February. Jiajia says the pharmaceutical company she was working for when she tested positive "forced her to quit" just seven days after she was discharged from the hospital. 
"I hate myself for writing that message," Jiajia, who asked not to disclose her surname out of privacy concerns, told Sixth Tone late in May. "I'm more than capable, but I lost my job because of someone's discrimination and selfishness," she said, bursting into tears.
By June 3, 661 of the total 673 confirmed COVID-19 patients in Shanghai were discharged after recovering, and none experienced recurring positives — an issue once alarming in the central Hubei province, where the virus first broke out in China.
According to Shen Yinzhong — a member of a team of Shanghai experts on COVID-19 prevention, control, and clinical treatment — asymptomatic carriers are infectious, while recovered patients don't pose any threats to others. "If they were still infectious, we wouldn't discharge them (from the hospital)," he said.
For the Shanghai hospital job, Jiajia had passed all the necessary physical checkups, and her health code was green, indicating she was healthy enough to work or travel. "I didn't violate any rules. I am a recovered patient, not a silent carrier. I was surprised that despite being medical professionals, they are sometimes ignorant."
She did, however, admit that she'd hidden her infection history from the private company. And she's not alone, considering most COVID-19 survivors prefer not talking about the infection to avoid the inevitable stigma that follows.
Such is the case with Maomao, who was also treated in Shanghai and also asked not to disclose his surname for privacy reasons. "Given the widespread fear of the new virus, I know it can bring about unnecessary trouble," the 24-year-old said. "I didn't even tell my parents about it to save them from worries."
Jiajia and Maomao are both members of a WeChat group, comprising over 100 recovered COVID-19 patients who had been treated in Shanghai. Others in the group have also echoed similar sentiments.
"I was devastated that I lost a job simply because I was once infected. The company had told me that with my years of experience, I was the best candidate for the job," said Jiajia. "I couldn't sleep. I couldn't figure out what mistakes I'd made."
Jiajia spoke to Sixth Tone on May 20. The next day, she started a new job — her third in three months.
"This time, I chose a smaller company, which collaborates with lesser-known hospitals in Shanghai. It means there is little chance I'll be recognized," she said.
After the virus cost her two jobs, she'd even contemplated new avenues to make ends meet. "I considered becoming a food-delivery driver or a customer service staff member. The salary might've been around 3,000 yuan ($420), a lot lower than the 10,000 yuan I could easily earn as a coordinator. That would've been better than nothing."
Since her husband spends his time at home taking care of their daughter, the family depends on Jiajia's income. "We aren't well-off, but we were able to cover our daily expenses with my income in the past."
Originally from the eastern Jiangsu province, Jiajia moved to Shanghai five years ago as a clinical trial coordinator. Her job is based inside hospitals, selecting potential candidates for clinical trials of new drugs, managing patients' files, and uploading data.
"It's such an active market, and it shouldn't be difficult for me to find a job," she said. "The pandemic poses challenges to other industries, but the health sector, on the contrary, has become more vibrant."
Despite working in a promising industry, it's taken three months for Jiajia's life to limp back to normal since getting discharged. In her opinion, everything comes down to her coronavirus infection history.
It all started Jan. 23, on her way back home to Jiangsu from a business trip to Hangzhou in the eastern Zhejiang province. Jiajia spent two hours on a bus with a passenger from Wuhan, the original center of the pandemic.
Four days later, the passenger tested positive for COVID-19. And Jiajia began her 14-day quarantine with her large family, including her 2-year-old child, in their apartment in suburban Shanghai. She lives with her parents-in-law and her brother-in-law's family of three — eight total under one roof.
On the last day of her quarantine period, Jiajia developed a slight fever of 37.1 degrees Celsius. She tested positive two days later.
"I wasn't feeling unwell at all, but I felt so guilty. Right after I tested positive, my whole family was quarantined — my husband in a hospital and the others in a hostel," she recalled. "They were scared. And I was under huge pressure."
With only mild symptoms, Jiajia spent just 11 days in the hospital before meeting all standards for recovery. She was discharged on Feb. 21. She calls this the darkest day of her life.
"I felt the hostility from society," she said. "I was discharged at 9 a.m. I spent the entire day outdoors, hesitant about where I should go. Hotels didn't accept me. I asked the residential committee to help arrange a place for me to live in for the next 14 days of observation, because if I went back home, my whole family would have had to stay at home for another two weeks. This would have forced them to stop working."
As real estate agents, it's impossible for her brother-in-law and his wife to work from home. "Eventually they (the residential committee) didn't help. I returned home around midnight."
A fortnight later, Jiajia took her daughter downstairs for a walk, only to find her neighbors trying to stay as far away as possible. "I could tell they found me disturbing. I was experiencing a vicious world that I'd never known before."
Back in October 2019, Jiajia got a job at a private pharmaceutical company that employs thousands in Shanghai. Just before she tested positive early February, Jiajia had completed her three-month probation.
With the country's top human resources authority urging all employers to pay confirmed and suspected COVID-19 patients as well as any close contacts of confirmed patients their full salaries on time, Jiajia said she was paid adequately throughout the quarantine, treatment, and medical observation periods.
But it was after she was discharged that things took a turn for the worse. Her work supervisor harshly criticized her performance and even asked if she deserved to keep her job.
"It didn't happen just once or twice. My supervisor kept calling me saying I was very bad at my job, and I should resign instead of waiting to be fired. Though I was his subordinate, I have self-esteem. Every person deserves respect," she said, breaking down again.
Pressured, she resigned on Feb. 28, assuming it was simply a result of her disappointing performance. It was when she went back to the office to return the company's assets that she realized it was something more sinister.
"My supervisor stopped me from coming too close and sprayed sanitizer on my entry card right in front of me. It's hard to describe what I felt then," she said.
Jiajia was angry about how she'd been treated. She even considered legal remedies but couldn't come up with hard evidence.
"My job falls under the direct supervision of the company's compliance department. It's the very department that knows what might bring about legal risks," she said. "Throughout the whole process, my supervisor never mentioned a word about my COVID-19 history. The tricky part is that they didn't openly fire me but used other methods to force me to quit."
Lawyers specializing in labor disputes told Sixth Tone that it's very common for employers to use reasons other than COVID-19 to turn their staff away. "In the cases I received, employers reduced salary, adjusted their posts, or relocated them in an effort to force them to resign," said lawyer He Fei with Beijing Jintai Law Firm. Since March, she has received eight cases on discrimination involving former COVID-19 patients.
"Employees are usually not aware enough to collect evidence. They sometimes provide WeChat messages, phone recordings, or testimony from co-workers. But if this material cannot form an evidence chain, they don't help in lawsuits," said He. "Employees commonly feel the cost of defending their rights through legal methods is too high. And during this extraordinary period, most don't want to spend too much time or energy on it."
Wang Jue with Zhong Yin Law Firm advised employees to ask their firms for written requests. "If the employer only verbally notifies staff about his or her change of post, reduced salary, or dismissal, the staff should write an email for a formal company reply to the decision and the reasons behind it," she said. "They should try to take the lead in such issues instead of just being passive."
According to Jiajia, most of her former colleagues treated her well when she returned to the office. But even one person's prejudice can cause a lot of harm to a recovered COVID-19 patient. "As long as he (her supervisor) treated me as a potential risk, he would've tried any means necessary to get rid of me. I didn't see any advantages in filing a labor arbitration case," she said.
In the two months between jobs, Jiajia went to shopping malls, parks, and supermarkets and took the metro on numerous occasions. "But I didn't infect anyone. I can't imagine why they have such low confidence in Shanghai's health system — they discharged me, as I had properly recovered and I'm safe and sound."
Jiajia also has a question: "Now that those with severe symptoms have recovered and returned to work in Hubei, why can't we (who suffered just mild symptoms) continue our normal lives?"
Employed as a copilot by a domestic airline, Maomao, the 24-year-old recovered patient, also said he faced discrimination at work, though he wasn't fired like Jiajia. Instead, he was suspended and even ordered not to return to the office to access his personal belongings.
He, too, has similar concerns. "Is there any way health professionals can help educate the public that people who've recovered from COVID-19 are safe and pose no threat to society?"
"We've never stopped making such efforts," said Shen, the member of the team of Shanghai prevention and control experts, who is also the director of medical affairs at the Shanghai Public Health Clinical Center and closely monitors discharged patients. "I would say the public in Shanghai is generally well-informed about the virus and recovered patients, but a few might still feel concerned."
He said so far none of the 670-plus recovered patients in Shanghai had redeveloped a fever or infected other people. "From Jan. 27, when the first recovered patients were discharged, we've required them to come back for revisits after two and four weeks. We applied the highest standards managing both existing and recovered patients."
In such revisits, Shen said many had reported psychological challenges — though recovered, they became mentally vulnerable. Some were scared of having infected their families shortly after being discharged, later anxious about social discrimination.
But based on existing clinical observations and studies, Shen said: "Around 10 days from the onset of the disease, a COVID-19 patient is no longer infectious. … In the WeChat groups of our recovered patients, some spoke of the challenges in getting back to life. But over the months, several have gotten over this difficult period."
With life in Shanghai slowly returning to normal, Jiajia, in mid-May, was offered a job by a smaller company, which is likely to send her to lower-tier hospitals to coordinate clinical trials.
"I don't know what awaits me. But things are definitely getting better," she said. Looking back over the last three months, she said: "Selfishness is a part of mankind's nature. I can understand them (those who mistreated her) if I look at the matter from their perspective."
Despite the ups and downs, Jiajia said 2020 hasn't been her worst year, and that she's been inspired to think more about life and reality. "When I was left jobless, I thought I witnessed the evil in mankind. But I've now found a new job, and I'm more convinced than ever that such evil lies with just a minority of people."
Additional reporting: Luo Meihan.
(Header image: People at a night market in Wuhan, Hubei province, June 3, 2020. Don MCcurren/IC)