On June 6, Chinese media reported environmental authorities in the southern megacity of Shenzhen had handed out a total of 6.2 million yuan ($880,000) in fines to three organizations, including a research institution affiliated with the Chinese Academy of Sciences and the municipal transportation bureau, for falsifying the state-mandated Environmental Impact Assessment (EIA) of a proposed dredging project in Shenzhen Bay.
Although a minor endeavor by Chinese infrastructure project standards, the proposal became the subject of an intense backlash in March after observers realized entire sections of its EIA had been copy-pasted from another EIA produced in a different city. The drafters hadn't even bothered to change the place names. In mid-April, the Ministry of Ecology and Environment (MEE) announced it would investigate the case and called for the quality of EIAs to be improved across the board.
There's a more crucial issue at stake in this case than just another instance of dubious EIA compliance, however. The proposed channel cuts not just through a well-preserved part of the Pearl River estuary, but also one of Guangdong's established "eco-redlines" — areas that are supposed to be off-limits to human development.
The current eco-redline system was laid out in a joint document from the Central Committee of the Communist Party and the State Council — China's Cabinet — in 2017. Under the guidelines, province-level regions are empowered to draw eco-redlines around both state-designated nature reserves and spots that have yet to be designated for protection. In theory, these areas are off-limits to development without a provincial review and central government approval.
The goal was to consolidate oversight of the country's patchwork of nature reserves. Instead of the previous hodgepodge of forestry, marine, and agricultural entities, all redlined territory is overseen by environmental and ecology agencies.
Implementation has lagged, however, and about half the 31 province-level regions on the Chinese mainland have not finished designating their eco-redlines, while lines elsewhere require further adjustment. To speed things up, on June 2, the central government reminded officials they have until the end of the year to finish.
Yet as the above-mentioned case suggests, even where eco-redlines do exist, they are not always enforced.
Local officials are frequently willing to ignore or overlook eco-redlines to approve so-called linear projects, such as railways, highways, pipelines, or transmission lines that stretch over long distances. Hundreds of these projects are proposed across the country each year, and officials often point to their ostensible public benefits to justify giving builders whatever permits they need. Since 2018, linear projects have accounted for 80% of redline breaches documented by the CrossBorder Environment Concern Association (CECA).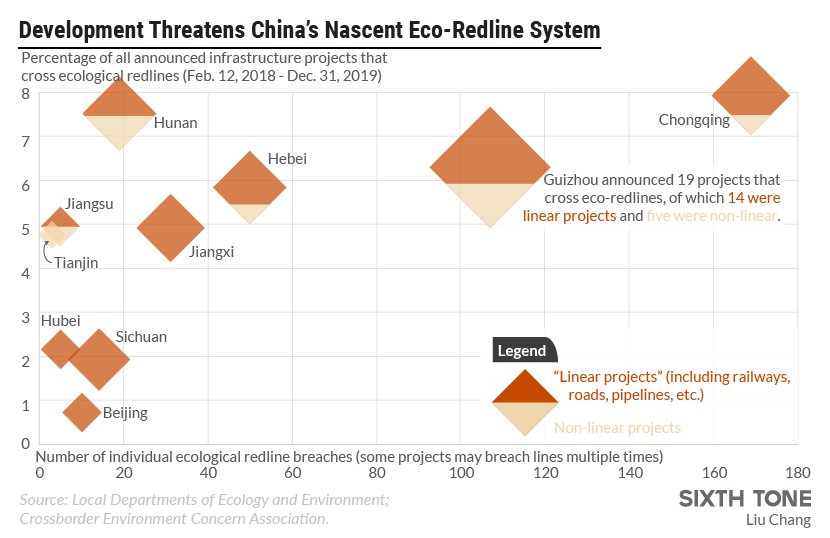 And while any boundary adjustment or proposed development within a redlined area is supposed to be assessed at the provincial level and submitted to the State Council for approval, our data suggests that over 75% of potentially invasive projects were reviewed only at the provincial level or below. This trend is likely to continue, if not worsen, as China streamlines the infrastructure permit process in an effort to get its economy back on track.
This is already impacting perceptions of the system. At CECA, we've talked to investors and project designers in both the public and private sectors, and the most common feedback we've gotten about eco-redlines is: "I don't know much about them, but why should I go around an area if the permit to cut through is easy to get?"
There is also no effective mechanism for carrying out inspections or punishing those who breach redlines. The current eco-redline system was promulgated by decree, and has yet to be codified into law, meaning no criminal charges can be brought against those who break the rules.
In an attempt to address this issue, some regions, including the northwestern Ningxia Hui Autonomous Region, have set a maximum penalty for each redline violation at 500,000 yuan. In my experience, however, these punishments are not an effective deterrent.
Nor are all violations intentional. Many investors and developers are unaware their projects may be crossing eco-redlines, in part because detailed information about local eco-redlines is not always open to the public. Some provincial governments only outline their redlines without providing geographic coordinates, as though they were state secrets. Even lawyers can find it difficult to tell whether a construction site is in compliance.
The MEE is trying to address these issues and get the system in place by the end of the year. But public declarations saying the number of redlines cannot be reduced once the system is in place — combined with the absence of clear guidelines on identifying potential eco-redline zones or re-zoning areas once they are established — may induce local governments to redline as few areas as possible.
There is no doubt that the eco-redline system is an improvement over past GDP-centric models of development, or that it could help strengthen environmental protections. But it needs to be enforced to work. If we loosen our standards and tolerate development within eco-redlines, then the system will wind up no different than the countless failed environmental initiatives that came before it.
In the meantime, a cautious attitude and clear benchmarks for development permits are a must. For example, provinces could designate which types of projects can be carried out within eco-redlined zones. Breaches should only be approved when an expert panel and public committee have determined there is no other option.
At the national level, the country should designate a maximum quota of eco-redline invasions for each province-level region. And that quota should decrease annually until it reaches zero. This will force local authorities to weigh the merits of one project against another. Ideally, limiting eco-redline breaches would also be linked to bureaucrats' performance evaluations.
The Shenzhen case is not the first of its kind, nor is it likely to be the last. I understand that it is impossible to preserve wholly wild or pure nature, but we need to protect our natural capital before it's wiped out. Right now, the country's focus may be on development, but sooner rather than later China will miss what's being lost.
Editors: Cai Yiwen and Kilian O'Donnell; portrait artist: Wang Zhenhao.
(Header image: Tourists hang out in the water at Shenzhen Bay Park in Shenzhen, Guangdong province, May 25, 2020. IC)