China is experiencing a rebound in crimes committed by minors, including more underage perpetrators and victims of sexual abuse, according to a report released Monday by the Supreme People's Procuratorate.
After a steady decrease in youth crime rates since 2014, China's top prosecutor has noted a modest increase in juvenile offenders since 2018. Last year, the country saw 61,295 minors reviewed for prosecution, 5.12% higher than the year before — though lower than the more than 75,000 juveniles prosecuted in 2014. Among 14- to 16-year-olds, crimes subject to judicial review have dropped by just over half from 2014 to 2019.
A breakdown of the juvenile offenders shows that most are jobless (16 is the age at which young people can legally be employed in China), and they're better educated than in years past. Most juvenile offenders today are junior high students, but there's also a rise in delinquency among high schoolers and vocational college students.
From 2014 to 2019, the crimes minors were most likely to be charged with were burglary, robbery, intentional assault, fighting in public, "picking quarrels and provoking trouble," and rape. The rates for the most violent offenses have dropped, as have instances of school bullying, the report noted. However, there's an alarming exception: The country is seeing higher rates of child sexual abuse, and rape now accounts for 21% of all juvenile crimes.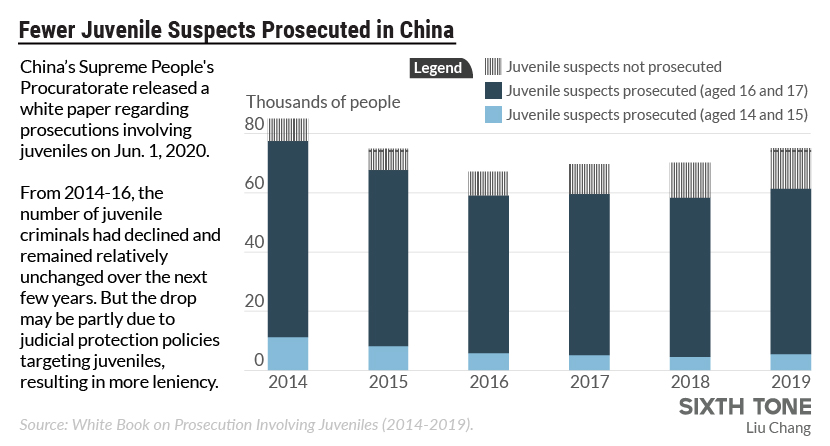 Some experts have attributed this rise to a lack of sex education in public schools and to children's early exposure to inappropriate content on the internet. During this year's "two sessions" — high-profile meetings of China's top legislative and political advisory bodies — proposals calling for stricter internet regulations for young children made national headlines. In addition, preventing internet addiction in children has been added to a proposed amendment to China's law for protecting minors.
However, concerns have been raised that such rules might infringe children's rights, and might not yield better outcomes. Instead of creating an "internet greenhouse" for minors, it may be better simply to focus attention on families, schools, and companies, Liu Xiaochun, an expert on internet law, told domestic media last year.
In 2019, three of the most serious offenses — rape, child molestation, and intentional assault — topped the list of crimes involving underage victims. The report also noted an alarming rise in cases involving guardians, with more adults being prosecuted for child abuse and abandonment, among other offenses.
In just the past year, there have been several high-profile instances of violent acts perpetrated by teenagers, resulting in loud calls to strengthen prevention of juvenile crimes and hold young offenders accountable by lowering the country's age of criminal responsibility from 14.
Editor: David Paulk.
(Header image: Multi-bits/People Visual)