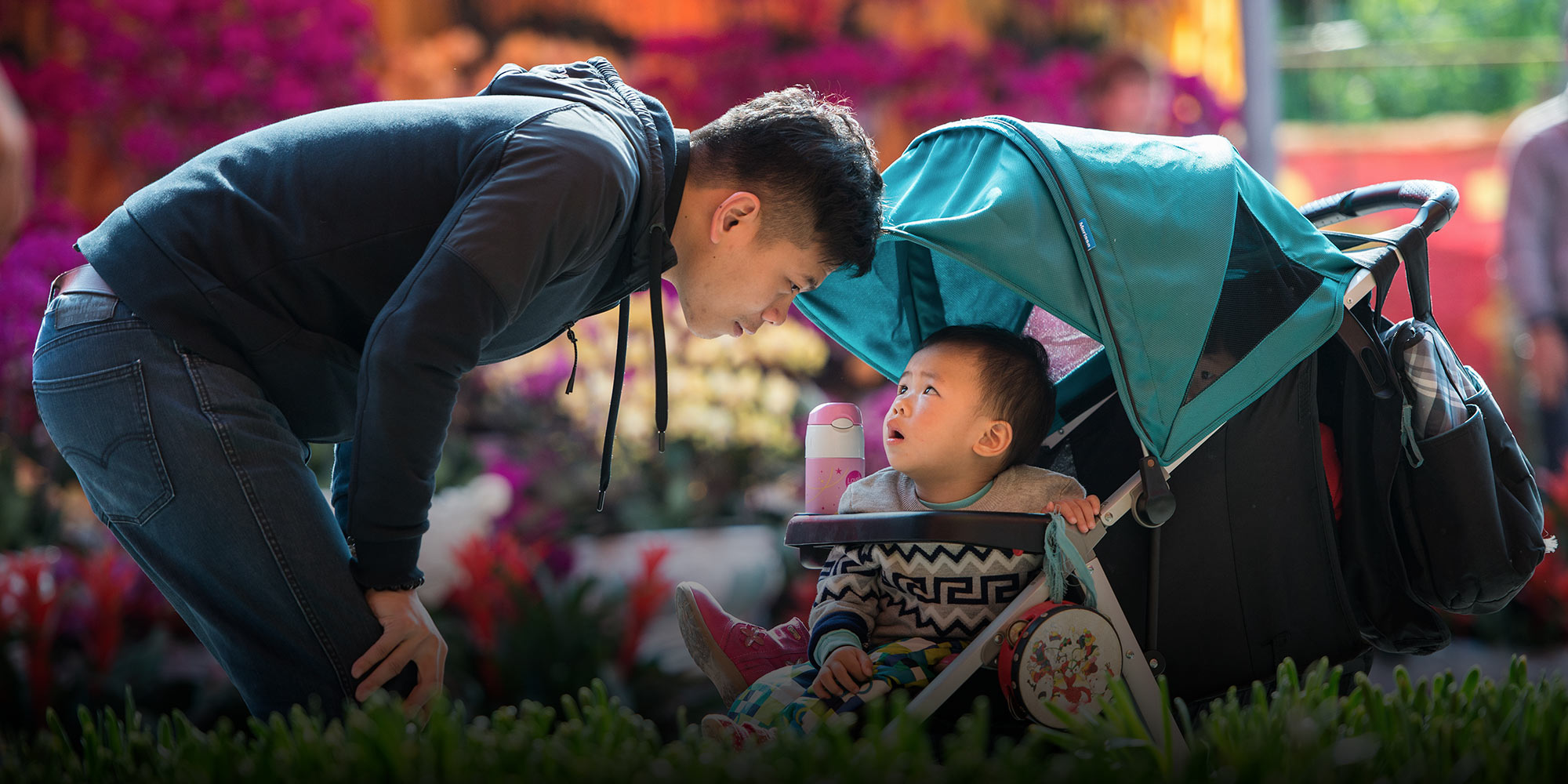 VOICES & OPINION
Why China Needs Shared Parental Leave
To liberate mothers, give them greater say over how — and by whom — postnatal leave is used.
When I gave birth 15 years ago, my husband was allowed to take three days off. Shanghai had only just introduced a paternity leave policy — short even by the standards at the time — and he didn't even know he was eligible until he told his colleagues he was a new dad. Raising a child is a long, arduous process, and his role as the family breadwinner has limited the amount of time he's been able to spend at home over the years. But he still relishes the memory of how he used a hospital-provided cup to feed our newborn child his first drop of milk.
Today, Shanghai mandates 10 days of paternity leave; elsewhere in the country, leave policies average about a week, though in some areas they can be as long as one month. Yet implementation remains a challenge, in large part because men's ability and willingness to take time off is influenced by their workplace culture and the attitudes of their superiors.
One of the more interesting potential solutions to this problem comes from Lin Yong, a professor at South China Normal University. In each of the past two years, he has raised the notion of shared paternity leave at China's "two sessions" legislative meetings, proposing to allow couples to apportion parental leave as they see fit, to extend postnatal leave, and to improve maternity benefits. This time, Lin's proposal quickly climbed microblogging site Weibo's list of popular hashtags, collecting more than 300 million views and 15,000 comments.
China offers new mothers at least 98 days of maternity leave, in line with standards set by the International Labor Organization's Maternity Protection Convention. Since the advent of the two-child policy in 2016, however, most province-level regions have extended maternity leave to fall between 138 and 158 days. Regional policies mean most men, too, are entitled to getting 15-30 days off — putting Shanghai on the low end of the spectrum.
Shared parental leave would allow families to combine their maternity and paternity leaves and allocate it how they wish. A number of countries have already implemented similar policies. Sweden offers parents 480 days of leave, for example, with each parent entitled to a minimum of 90 days, while the remaining 300 can be divided however they like. Norway's latest policy guarantees at least 15 paid weeks off to each parent, and 16 paid weeks' leave that can be split.
Yet Lin's proposals for a similar system in China have elicited doubt, criticism, and even ridicule. Given how difficult it is to get men to take the paternity leave they're already entitled to, some critics worry providing shared parental leave or extending paternity leave would accomplish little of practical significance. Another hurdle, according to skeptics, is the inherent cost to employers of improving parental benefits, especially during an economic downturn.
It's worth remembering that shared parental leave is not simply a math or economics problem: It's potentially a way to revolutionize women's place in society, both conceptually and practically. If more fathers get involved in parenting, then Chinese society may come to see "parenthood" as a responsibility to be shouldered as a family unit, rather than as a label attached to women of childbearing age.
In particular, partially freeing women from the responsibilities of childrearing could help bring equality to the labor market. Chinese women surged into the workforce after the founding of the People's Republic, and as many as 90% of all working-age women were employed by the late 1970s. Beginning in the "reform and opening-up" period, however, employers gained more say over hires, and women's additional childrearing and caregiving duties became negative assets on the job market.
Even unmarried, childless women are impacted: It's common for employers to avoid hiring them in order to "save labor costs" — such as the price of paying dual salaries to them and their temporary replacements if they eventually get married, have kids, and use their leave. Female employment has nosedived as a result, widening the discrepancies in job ranks and income between men and women.
This doesn't just hurt women; it's greatly complicating efforts to increase the nation's birth rate. Since 2013, the Chinese government has adjusted its policies to encourage more families to have a second child. But even after scrapping its long-standing one-child policy in 2016, the subsequent spike in birth rates was brief. In 2019 the country's birth rate hit a new low, signaling the limited effectiveness of the new two-child policy.
While the original aim of the policy was to incentivize women to have children, many studies have found it reinforced statistical discrimination in labor markets toward female employees while exacerbating the so-called motherhood penalty.
Allowing families to share parental leave might help alleviate some of the pressure on women at home and at work. Meanwhile, without knowing which parent might choose to take the extra leave, employers would have less economic reason to discriminate against female staff. Easing structural workplace sexism would improve women's career prospects while paving the way for broader sociocultural and policy changes aimed at boosting gender equality. And numerous studies have shown that the more men participate in caregiving, the more willing women are to have children.
Many critics worry fathers might not actually spend their parental leave contributing to childrearing or housework, but let's not overlook the constructive role policy can play in changing culture. If the government passes a law that highlights fathers' roles as caregivers and deems that men, like their wives, are parents as well as employees, the effects will trickle down into the home. And although most women currently have access to maternity leave in excess of the 98-day minimum, policymakers could ensure they don't lose this guarantee by mandating that only excess and paternity leave is eligible to be shared.
Another argument against shared parental leave is that it places more financial pressure on employers. This is a misunderstanding. On its own, shared parental leave doesn't increase the number of days off for both parents, nor will it require employers to pay additional allowances. It simply gives parents the flexibility to allocate their leave how they wish.
Of course, if China really wants to boost its birth rate, simply allowing parents to re-allocate their current leave is far from enough. The experiences of other nations suggest extending leave periods could help ameliorate some concerns of prospective parents. To spare businesses the expense, the state could carry these added costs.
Implementing shared parental leave will take time. But gradually encouraging fathers to get involved in parenting can change the mindsets and lives of millions, while pushing the labor market toward less discrimination. Given the stakes, it's time for China to act.
Translator: Katherine Tse; editors: Cai Yineng and Kilian O'Donnell; portrait artist: Wang Zhenhao.
(Header image: A father and son make eye contact in Dongguan, Guangdong province, April 23, 2017. An Dong/People Visual)