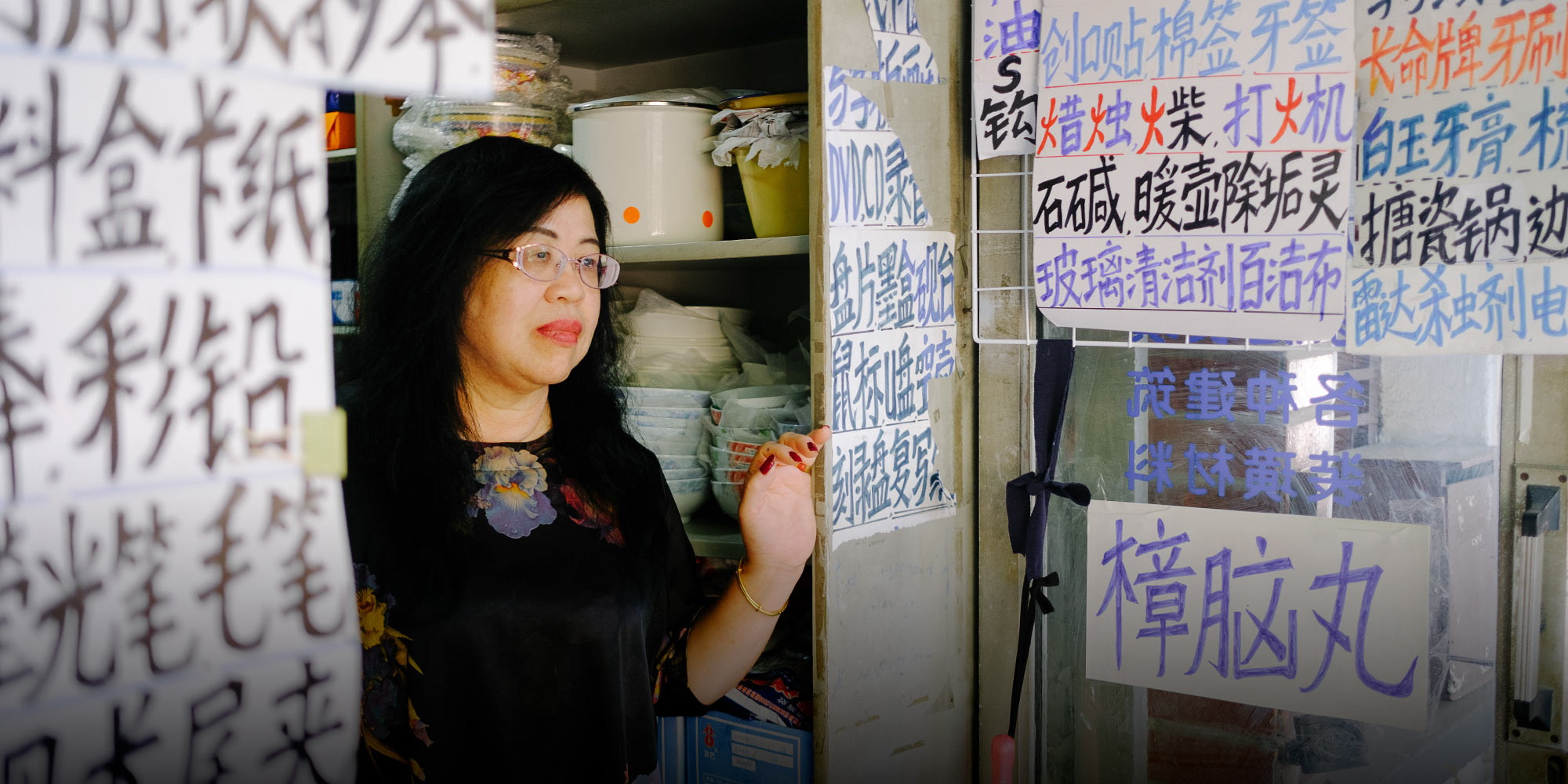 FEATURES
Shanghai Wants to Harmonize Its Signs. One Woman's Pushing Back.
The Chinese city has imposed strict controls over advertising displays. But critics complain the campaign is turning stores into "bald chickens."
SHANGHAI — On a quiet afternoon in late April, Fei Baoying was startled by the sound of clattering and banging coming from just outside her building in the leafy former French Concession.
The 69-year-old went to investigate and discovered five men poking around the entrance to her small store. The uniformed figures informed her they'd been sent by the local government to remove the handwritten posters hanging all around the front door.
Before Fei realized what was happening, the men began tearing the boards apart.
"They grabbed stuff in my store and destroyed all my handwritten signs," Fei tells Sixth Tone. "The signs hanging outside were ripped off the wall and dumped on the ground."
The elderly business owner had become the latest victim of Shanghai's sign clampdown — a drive to remove advertising displays deviating from the municipal government's strict "urban appearance" regulations.
Chinese cities have imposed tight controls on how businesses decorate their storefronts over recent years as part of a wider push to make urban spaces safer and more "civilized." The campaign, however, is facing growing public backlash amid complaints it's quite literally draining the color from China's streets.
By targeting Fei, the authorities have thrown gas on the fire. Her business — Haocheng Trading Store — is locally famous for offering a flavor of Old Shanghai, featuring in TV shows, newspaper articles, and social media influencer accounts.
Set just off Taiyuan Road, a historic street lined with 1920s terraced housing, the cramped, cluttered store sells a variety of classic Shanghai-branded products — from cosmetics to cockroach poison. Fei opened the business in 1998, and it's since become a go-to place for nostalgic locals eager to track down items they remember from their youth.
The small posters placed all over the store — on which Fei handwrites the names of specific brands in pencil and coloring pen — are a key part of Haocheng's old-fashioned charm. Such homemade signs used to be seen everywhere in China during previous decades. Fei is arguably the leading exponent of this dying art left in the city, according to Li Zhiqian, a Shanghai-based expert on urban typography. 
"(Her signs) are delicate, carefully written, and informative," says Li.
But none of these virtues were enough to save Fei's ads from the chengguan — the city management officials tasked with enforcing local regulations in Chinese cities.
Periodic crackdowns on unorthodox signage have been a feature of life in urban China for years. Unsafe or illegally installed billboards are usually the main targets, but the drives sometimes go further. In 2017, Beijing destroyed more than 14,000 rooftop signs in a citywide cleanup campaign — a move justified in part by the need to make the national capital "neat and beautiful."
Shanghai has a long history of similar policies. The city's management of signs is famously strict: Businesses are only allowed to hang one sign outside their venues, and they can only do so after they've obtained a permit. Other rules set requirements regarding signs' size, lighting, and materials, among many other issues.
Local officials have launched campaigns to upgrade signs on several occasions, with a major one coming ahead of the 2010 World Expo. Controls tightened even more in 2018, after a signboard fell and killed three people on East Nanjing Road — the city's main shopping street.
In the wake of the tragedy, the city stepped up inspections and tasked each district with replacing old and unsafe signs. The renovation drives, however, soon showed signs of mission creep. 
In many cases, entire streets had their signs replaced with new boards in identical styles and colors, sparking public criticism. The appearance of a row of uniform black-and-white signs on Changde Road in 2019 drew particularly fierce pushback. Some quipped the street looked like it had been filled with funeral homes. One local academic complained the blanket approach to renovation projects was turning stores into "bald chickens."
Local authorities quickly covered up the signs on Changde Road and vowed to refine their signage policies, but the inspections continued. It was only a matter of time before Haocheng and its chaotic mosaic of colorful cards became a target.
Throughout 2019, Fei received increasingly frequent visits from chengguan trying to convince her to remove the signs on the grounds that it was against the rules to have multiple boards hanging on the exterior of her store. At first, she managed to hold off the officials, showing them media reports on her store and arguing her handcrafted signs helped preserve the city's heritage.
"My store retains a flavor of Old Shanghai and helps convey the message that China also has good stuff," she says.
The chief of the local chengguan was sympathetic, and for months he'd alert Fei in advance whenever an inspection was due to take place so she could hide her decorations. But after the chief was transferred elsewhere, Fei was on her own.
The incident in April left Fei furious, especially the assertion by the five chengguan — who, it later emerged, were employed by a security contractor hired by local authorities — that her cards "affected the city's image." She questioned whether the men's actions were even legal, submitting a complaint to the police and calling the city's citizen hotline.
The hotline, Fei says, told her no ban on handwritten signs exists in Shanghai, but local police were reluctant to investigate. Local media, though, soon picked up her story, and the heated public response eventually forced a local official to appear on TV May 9 defending the removal of Fei's boards.
Haocheng, the official suggested, had violated the city's regulations by having its posters protrude too far outside the building. He did acknowledge in the interview, however, that there had been "problems" in the way the policy had been enforced — a possible reference to the chengguan's rough treatment of Fei.
The controversy has led to renewed calls for Shanghai to rethink its tight restrictions on storefronts. Li, the typography expert, says streets are becoming increasingly monotonous, damaging the city's spirit.
"It's very regrettable," says Li. "This urban space can't fire your imagination or give you much inspiration."
Xu Yong, director of the Shanghai Advertising Association's outdoor signs committee, says his organization hopes to use the Haocheng case to convince the government to loosen its management of outdoor signs. The city is currently revising the rules, with the new policy expected to be announced soon, according to Xu.
"Through this case, we can have face-to-face technical communication with the relevant agencies," says Xu. "If there's a favorable outcome, hopefully we can push through some changes in the legal document."
There are some signs of progress at the local level. Zhu Weijue, a sociologist at Shanghai's Tongji University, worked with street-level authorities around downtown Nanchang Road to create a clear set of guidelines for businesses on how they could renovate their storefronts to meet government standards.
In the past, small businesses would often adopt a sign design suggested by local officials because it was the easiest way to ensure they were compliant. By offering clarity on what styles, colors, and fonts officials would accept, the guidelines gave stores on Nanchang Road more freedom to make individual choices, Zhu says.
"To put it bluntly: I just didn't want the diversity to be removed," the academic tells Sixth Tone.
Since the Nanchang Road guidelines were finalized in 2019, several officials from other parts of the city have consulted Zhu about the system, and the central district of Xuhui — where Fei's store is located — has adopted a similar set of rules. There appears to be growing awareness among local authorities, Zhu says, of the value of a diverse urban landscape.
Fei is taking a more direct approach. She's created a new set of handwritten boards to replace the ones destroyed in April, and the new cards are already hanging proudly around her doorway.
How long the new signs survive remains to be seen. "My best plan is to keep them as they are," says Fei. "They (local officials) aren't messing with me right now, but they might come after a while."
Editor: Dominic Morgan.
(Header image: Fei Baoying poses for a photo at her store in Shanghai, May 12, 2020. Wu Huiyuan/Sixth Tone)