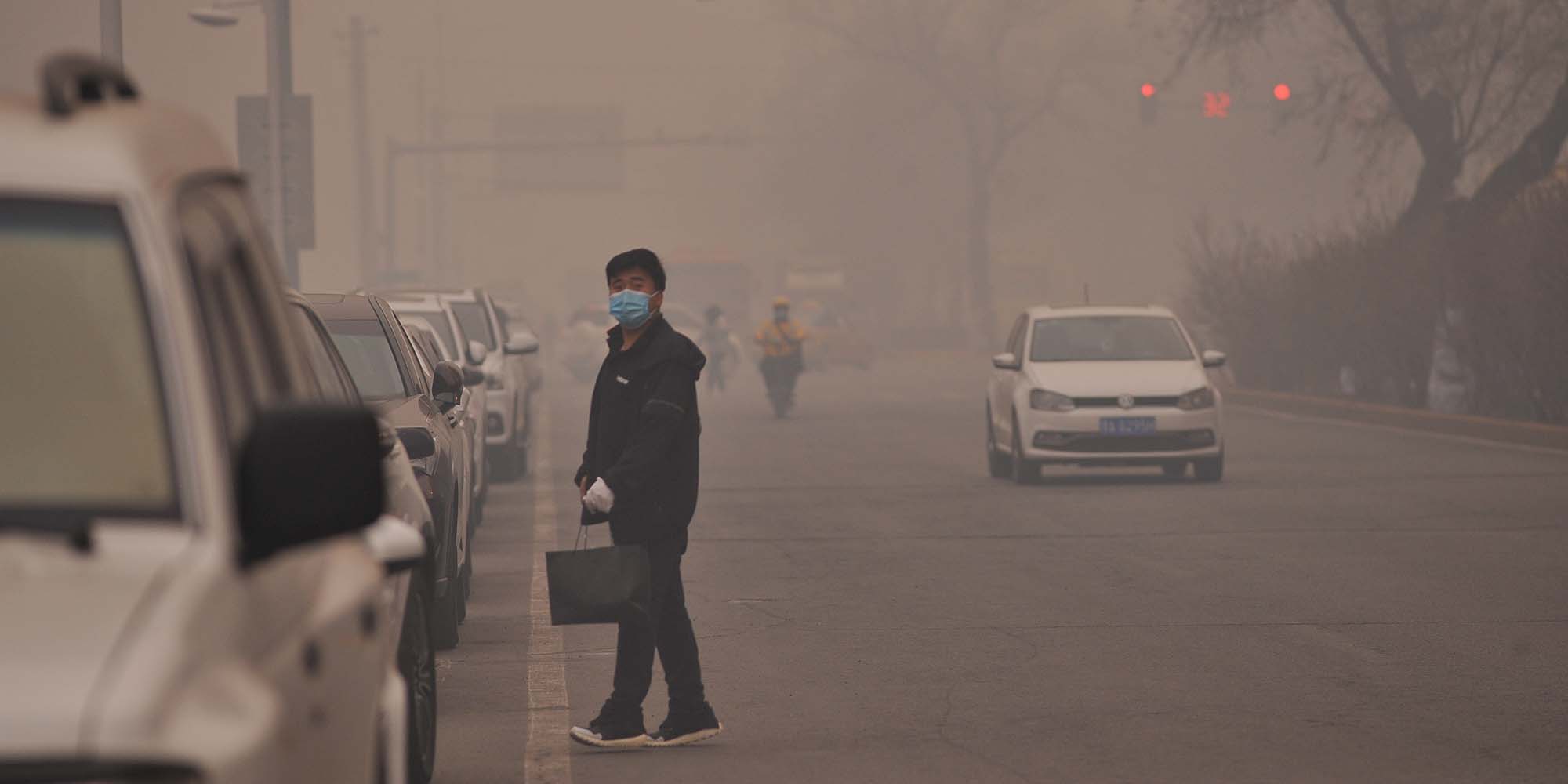 NEWS
China Faces Headwinds in Meeting Air Pollution Targets
Despite some progress, the country faces challenges in achieving environmental targets as it looks to jump-start its economy, disrupted by the COVID-19 pandemic.
China's ambitious drive to curb air pollution may be running against the wind this year as authorities try to balance environmental targets and economic growth slowed by the coronavirus pandemic.
Liu Bingjiang, director of the Department of Atmospheric Environment at China's Ministry of Ecology and Environment, said the country still faces challenges in cleaning up its smog-choked cities, rebutting claims that the government was seeking to relax the environmental threshold so companies could boost production.
"China's emission levels remain high," Liu said Monday during the ongoing "two sessions" political meetings in Beijing. "There is a big gap between PM 2.5 (tiny air particles hazardous to human health) concentrations in key regional cities and the national standards."
In 2018, China released a plan to slash total sulfur dioxide and nitrogen oxide emissions by more than 15% from 2015 to the end of this year, an ambitious target to "win the battle for blue skies." Cities not meeting their air quality standards, meanwhile, would aim to reduce their PM 2.5 levels by at least 18%.
"The proportion of days with good air quality should reach 80% annually, and the percentage of heavily polluted days should decrease by 25% or more from 2015 levels in cities at the prefecture level and above," the plan said.
China has recently launched several measures to achieve these goals, including crackdowns on factory emissions and shifts from coal to cleaner forms of energy to heat homes during the winter. However, some local government initiatives have been criticized for using stopgap rather than long-term solutions to meet air quality targets.
The results have been promising overall. China has seen an average decline in PM 2.5 and sulfur dioxide, which comes from burning coal, by 43% and 73%, respectively, compared with 2013, according to Liu. Meanwhile, days with severe air pollution have declined by 81%.
Still, achieving blue skies remains an uphill battle.
Earlier this month, the Ministry of Ecology and Environment said that despite a nationwide decline, PM 2.5 remains high in all northern cities deemed "highly polluted," including Beijing, Tianjin, and 26 other cities in Hebei, Shandong, Henan, and Shanxi provinces. In 2017, the ministry had announced plans for these cities to switch from coal to clean energy, though that initiative was fraught with challenges due to insufficient planning and poor implementation.
Despite factories being closed for the Lunar New Year holiday and transportation being frozen due to COVID-19, Beijing and its surrounding areas still recorded hazardous pollutants such as PM 2.5 and PM 10, according to the Ministry of Ecology and Environment. Meanwhile, satellite images from NASA showed a dramatic reduction in nitrogen dioxide — which mainly comes from vehicular emissions and the burning of fossil fuels — in several Chinese cities compared with the same period last year.
The gains were short-lived. Research showed there was a rebound in air pollution in the months following the lockdowns, with levels of sulfur dioxide, nitrogen dioxide, PM 2.5, and ozone surpassing levels from the same period last year.
According to Liu, ground-level ozone has emerged as the country's major pollutant after PM 2.5. Massive discharges of nitrogen oxide and volatile organic compounds — both from vehicle and factory emissions, and both hazardous to human health — as well as severe heat and drought impacted seven provinces in 2019, causing a dramatic increase in ozone levels.
Hao Jiming, a professor of environment at Tsinghua University, told Sixth Tone that while China has made strides in curbing air pollution, the country still has a long way to go to achieve its goals. He added that pollution control measures and management should not be compromised, as they're a key step in achieving long-term air quality outcomes.
"China's efforts to control air pollution remain an uphill battle," Hao said. "They must continue, and must not be shaken."
Editor: Bibek Bhandari.
(Header image: A man on a street in Harbin, Heilongjiang province, April 18, 2020. People Visual)