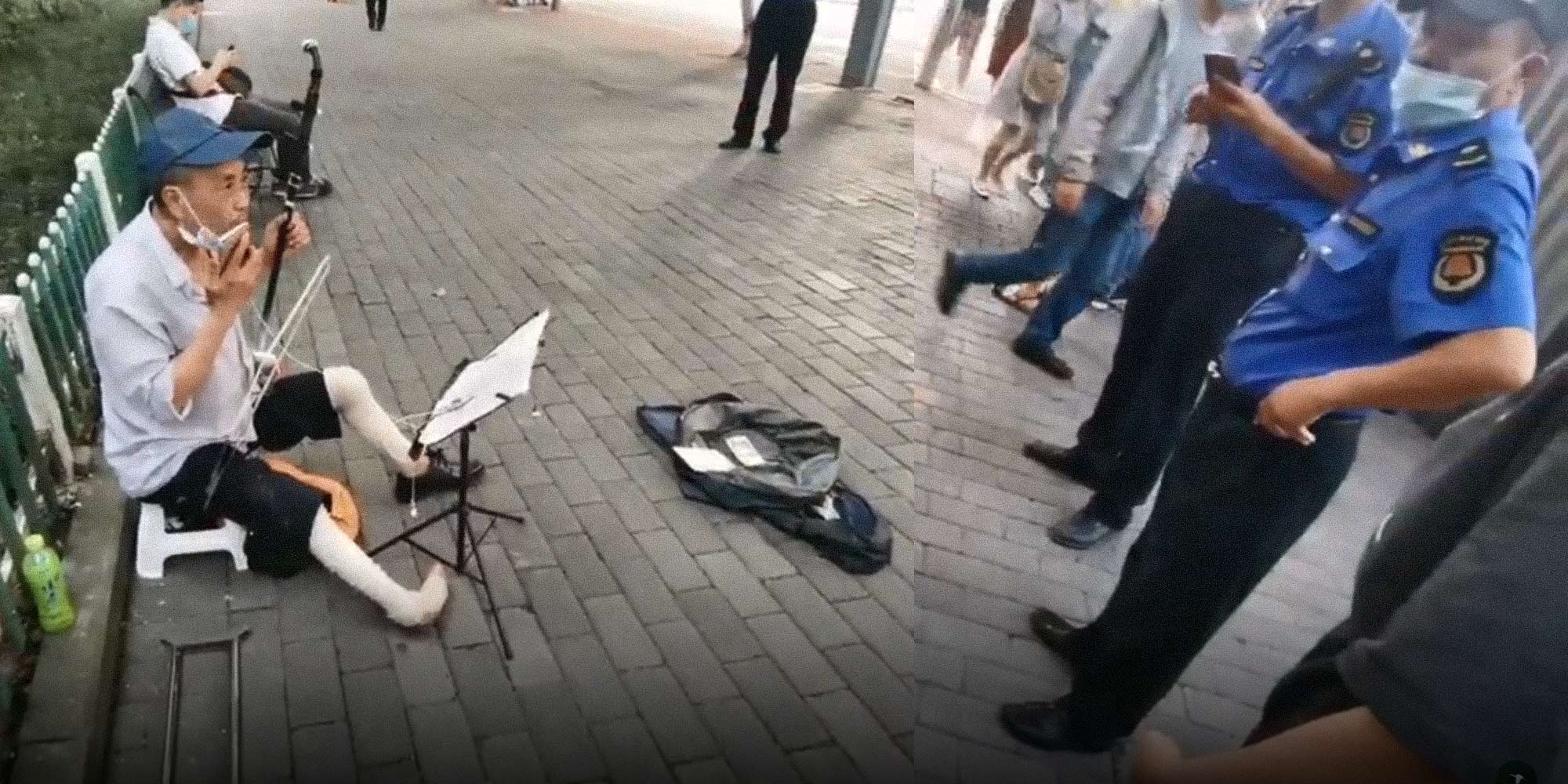 NEWS
Disabled Man Barred From Performing, Accused of Tainting City's Image
Conflict between locals and city management officials is once again in the spotlight after an incident in Chongqing.
City management officials in Chongqing have forbidden a man with a disability from giving sidewalk performances because he is "tainting the city's image." The incident has again sparked discussion on the role of such personnel, as well as the plight of people with disabilities.
In a video posted Sunday on microblogging platform Weibo, officials in the southwestern city can be seen telling the elderly man to cease playing the erhu — a traditional musical instrument — and leave the premises.
"These kinds of people on the street taint the image of our city," one of the uniformed officials is heard saying in the video. "Yuzhou Hotel is nearby. It's frequented by government officials and foreigners."
These officials, known as chengguan, play an important role in maintaining order in China's cities, but they have also gained notoriety for occasional bad behavior toward hawkers and unlicensed street vendors. Some of the conflicts involving chengguan have turned violent — even deadly — with local authorities stepping in to resolve disputes, in one case by having hawkers and chengguan temporarily swap jobs.
A woman surnamed Lin who witnessed the incident told Sixth Tone she shared the video online to raise awareness of people with disabilities. The 27-year-old Chongqing resident posted the video Sunday, coinciding with China's National Day for Helping the Disabled.
The man seen in the video, surnamed Deng, said he has been playing the erhu on the streets for 10 years to supplement his income. The 62-year-old added that he lost the use of his legs from polio at the age of 2 and receives a monthly allowance of 630 yuan ($90) from the government.
The city management officials, he said, have repeatedly stopped him from performing over the past three years. Though admonished by chengguan for his traditional music, Deng added that he is admired by locals and foreigners alike.
"I feel very sad," Deng told Sixth Tone. "I am playing erhu to carry forward traditional Chinese culture and make a living independently. I don't understand how I've made the city lose face."
Deng added that while other street vendors usually flee when the officers visit unannounced, he, being crippled, has no choice but to confront them. Being banned from performing in the street could cost him his livelihood, he said.
Deng's plight has received wide attention on Weibo, with many questioning the officials' motives and calling on authorities to take better care of people with disabilities.
"What does 'tainting China's image' mean? Only people like you who lack humanity are tainting China's image," one user commented under the video. "Is there any country in the world that does not have disabled people? How a country treats its people shows how civilized it is."
However, some netizens have noted that Chongqing might have registration or licensing requirements for street performances. Last year, city authorities proposed such a requirement — which would have required people like Deng to pass an exam — but it was not formally adopted. The proposal would also have prohibited chengguan from disrupting performances by licensed individuals. In Deng's case, the chengguan may have been acting on a 2017 city regulation prohibiting "roadside stall businesses."
According to a 2019 report from the China Disabled Persons' Federation, over 36 million people with disabilities in the country have registered with the organization, though the actual number is likely around 80 million. People with disabilities remain a largely invisible community in China due to a lack of public facilities to assist their mobility.
Zhang Yujuan, a lawyer who provides legal counsel for disabled communities, told Sixth Tone the Chongqing city management officials' behavior may have been unlawful. She added that Deng's case is representative of the discrimination faced by people with disabilities, which can manifest as insufficient support from the government and often prevents them from leading normal lives.
"There is no regulation that bans street performances in China, as long as people are not blocking the road or disturbing the neighborhood, which was not the case in the video," Zhang said. "So the city management official (admonishing Deng) was abusing his power."
An employee at the Shiyou Road district community office in Chongqing — where the chengguan patrolled, according to Lin — told Sixth Tone they were aware of the incident and are investigating the case. A publicity official at the office surnamed Pan declined to comment.
Editor: Bibek Bhandari.
(Header image: Screenshots from a video posted to Weibo show city management officials ordering a disabled street performer to leave the premises, Chongqing, May 2020. From @芥林rg on Weibo)