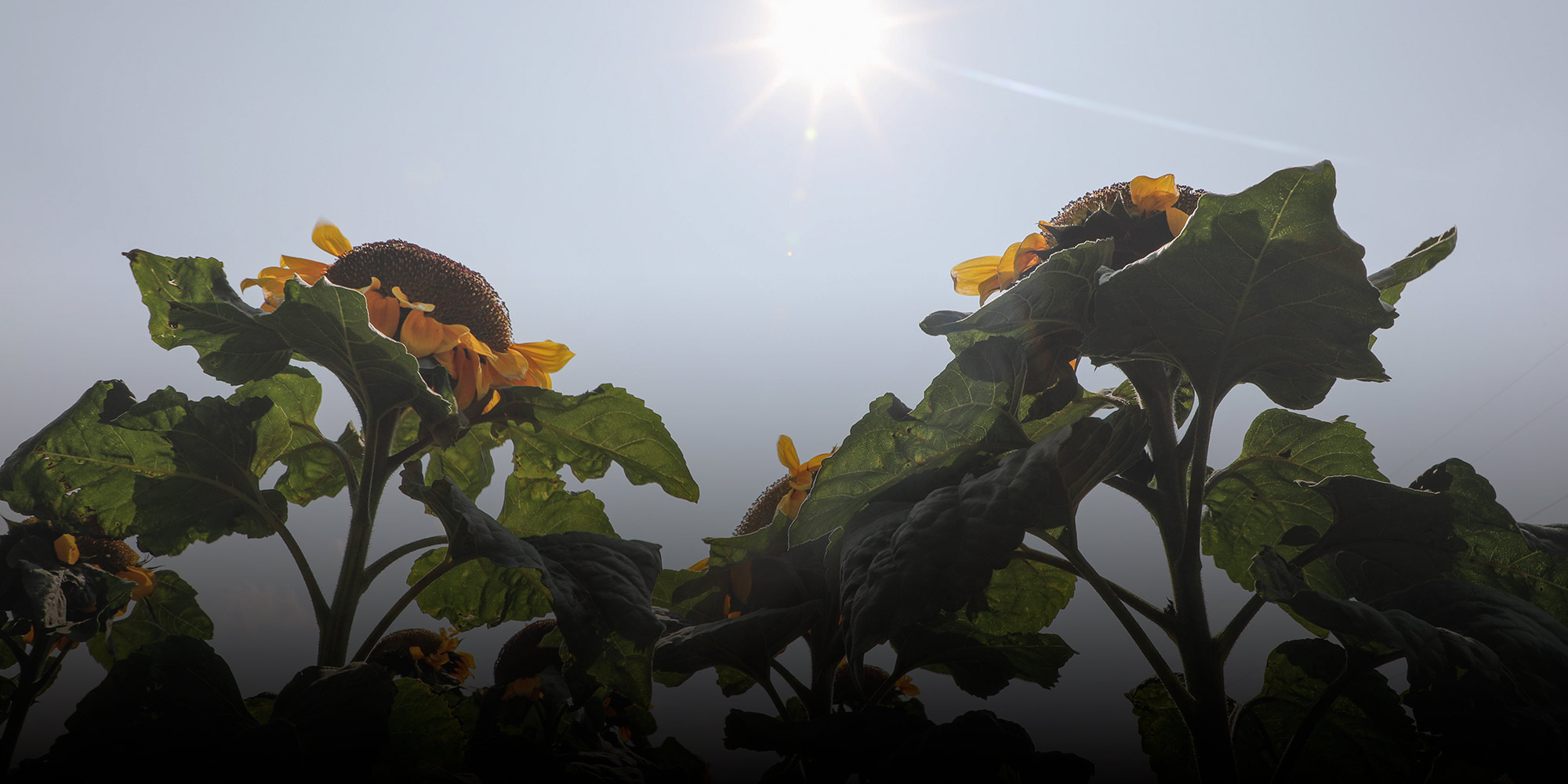 FEATURES
Bloom and Bust: The Officials Who Bet a County's Future on Sunflowers
Two local leaders invested heavily in planting sunflowers to help their region climb out of poverty. Then the plan backfired spectacularly.
The trial, conviction, and subsequent exoneration of two village officials in a poor region of rural China has raised questions about the extent to which grassroots government workers should be held accountable for poverty alleviation projects that don't pay off.
Yao Minjie and Zhang Lixin, of Duolun County in North China's Inner Mongolia Autonomous Region, were convicted last year of abusing official power to force through agricultural projects they claimed would raise local incomes and tackle destitution, but which ended up posting more than 1.5 million yuan ($210,000) in losses.
However, just as Yao and Zhang were coming to terms with lengthy jail sentences, a higher court abruptly ordered a retrial. Days later, the case was thrown out. The two men had kept their freedom.
Yao and Zhang's legal travails spotlight the vague ways local-level courts interpret mismanagement issues and abuse of power, as well as the risky decisions many frontline cadres must make to improve local living standards amid a much-touted nationwide drive to eradicate absolute poverty by the end of the year, a target now menaced by the ongoing coronavirus pandemic.
Although low-ranking officials spend a great deal of time and energy thinking of ways to improve local industries and meet market demand, in this kind of work, "nobody can guarantee that a project will definitely succeed, or comes entirely without risks," said Li Xiaoyun, a professor at China Agricultural University and a member of a key leading group of the State Council, China's Cabinet, in charge of poverty alleviation.
Switching to Sunflowers
Duolun, the county where Yao and Zhang served, occupies part of the vast, empty Inner Mongolian grasslands a five-hour drive north of Beijing. Once considered one of China's poorest counties, it was removed from a list of priority areas for poverty relief last month.
According to the county government's latest work report, rural residents in Duolun earned an average annual disposable income of 14,179 yuan in 2018. Although that figure represented a 9.9% increase over the previous year, it is still far lower than the equivalent amount in China's major cities. Residents in Beijing earned about 57,000 yuan in disposable income on average in 2017, according to official statistics.
When the poverty alleviation drive took hold in Inner Mongolia in the mid-2010s, Yao was serving as the Communist Party secretary of Xigangou, a township in southwestern Duolun, home to some 6,000 people scattered among evocatively named villages like "Cow's Eye" and "Big Rock." Zhang, meanwhile, served as the township head.
As Xigangou's two highest-ranking officials, Yao and Zhang were responsible for improving livelihoods in the township, where six villages were officially classified as poor. They opted for a dramatic shift in local industry, pivoting away from cattle and sheep farming and toward the cultivation of edible sunflowers, tomatoes, and other cash crops, leavened with a dose of tourism. The two men later argued in court that they settled on the strategy after concluding traditional farming methods were not profitable enough to fulfill poverty alleviation demands.
The sunflowers were supposed to be the stars of the show. In 2015, villages in Xigangou signed contracts with Inner Mongolia Safuwo Agriculture Development Co. Ltd. to supply sunflower seeds to the company at a guaranteed minimum price of 3.5 yuan for every half kilogram. But few expected prices to sink that low; at the time, the market rate for raw sunflowers was about 10 yuan per kilogram, while the seeds typically fetched 14 yuan to 16 yuan per kilo.
The highways of Xigangou became lined with sunflower plantations and vegetable greenhouses. By 2016, more than 1,100 farmers had sown sunflowers across 2,200 mu, an area equivalent to about 370 acres, according to a government work report. Yao and Zhang waited for their initiative to bear fruit.
Plummeting Prices
It wasn't long before the plan started to go awry.
By mid-2016, excessive rainfall and poor harvesting conditions slammed the quality of China's edible sunflower crop. Procurement prices plummeted to about 3 yuan per kilo.
With sunflower prices suddenly so low, Safuwo refused to buy Xigangou's seeds at the agreed minimum price, arguing the products did not meet quality standards outlined in the contracts. The move decimated the expected earnings of the township's newly minted sunflower farmers.
The problems were compounded by inclement weather, alleged theft of crops by neighboring villagers, and a turbulent tomato market that left many rural dwellers peddling produce at bargain-basement rates just to make back some of what they'd invested.
Additionally, multiple village cadres in Xigangou said official mismanagement meant some farmers were only able to reap about a quarter of their sunflower plots during the 2016 harvest.
What had seemed like a progressive approach to local development was rapidly falling apart. A special audit commissioned by the government found that Xigangou's economic transformation had in fact incurred losses of 1.5 million yuan. Yao and Zhang, the project's orchestrators, now found themselves in the firing line.
Zhang told financial outlet Caixin in April he had not anticipated the price of edible sunflowers could be "once-in-several-decades" low. "If we had considered every single risk, we wouldn't have been able to do anything," he said.
Tried and Convicted
In May 2018, Duolun County's party discipline inspection committee opened an investigation into Yao and Zhang. The following month, both men were removed from their party posts and handed administrative demotions. Later, their cases were transferred to China's legal authorities amid allegations they had abused their official power.
The following January, public prosecutors filed a suit against Yao and Zhang, accusing them of "arbitrarily" spending 5.4 million yuan of government money to fund unauthorized poverty relief projects in Xigangou, causing operational losses of 2.21 million yuan.
For the defendants, the stakes were high. According to a 2012 legal explanation by China's Supreme People's Procuratorate, officials convicted of abuse of power and whose actions caused more than 1.5 million yuan in economic damages should be sentenced to between three and seven years behind bars.
The case rested on the extent to which prosecutors could prove that Yao and Zhang had exceeded the limits of their official responsibilities while implementing the poverty alleviation projects.
According to Deng Xueping, a Shanghai-based lawyer who has dealt with China's prosecutorial system for many years, abuse of power convictions need to meet four key conditions. First, the accused had to work for the state in an official capacity at the time the alleged crimes took place. Second, their behavior had to exceed the legal limits of their authority. Third, the consequences had to include damages to human life or property. And fourth, there had to be ironclad proof there was a cause-effect relationship between their behavior and the losses incurred.
Of those conditions, the second and fourth are the most flexible and demand the bulk of scrutiny in any court case, Deng said.
In court, Yao and Zhang denied all the charges. They admitted to making errors in the course of their work, but argued they tried to correct them out of a genuine desire to help local residents and couldn't have predicted the coming collapse in sunflower prices.
But their defense gained little traction. Prosecutors submitted to the court a special audit report stating that six collectives in Xigangou earned a combined 840,000 yuan from the sales of sunflowers, tomatoes, and other agricultural products between January 2016 and May 2019, against operating costs of 2.24 million yuan. When management and sales fees were factored in, the projects made losses of 1.5 million yuan, the report said.
Yao and Zhang argued that neither the accounting firm nor the report they produced had the legal authority to be used at the trial. They also tried to convince the court the details in another audit were insufficient to bring a criminal case against them, and inspectors focused too strongly on unprofitable ventures and did not account for the actual level of poverty reduction in Xigangou.
To the two men's chagrin, the court disagreed, partly on the grounds that the rural collectives that operated the local farms had verified the document as accurate. Jurors eventually determined that Yao and Zhang had incurred economic losses totaling 2.04 million yuan, of which 1.5 million yuan were directly attributable to the failed sunflower and tomato projects.
Ultimately, the court concluded that Yao and Zhang had implemented changes to Xigangou's poverty relief plan without obtaining approval from their superiors, leading to millions of yuan in economic losses that reverberated down to local residents.
In September of last year, the two men were convicted of abuse of official power. Yao was sentenced to three years in prison, and Zhang received a four-year suspended sentence. On Feb. 28, a higher court in Xilinhot upheld the verdict on appeal.
An Abrupt Reversal
After Yao and Zhang received the official appeal verdict, the case took an unexpected turn. Media reports, including an influential article in the Xinhua Daily Telegraph, a newspaper affiliated with the official Xinhua News Agency, questioned the legality of the verdict. The Inner Mongolia government also sent an investigation team to Duolun County to look into the case.
On March 31, the intermediary court in Xilin Gol League, which administers Duolun, launched a retrial on the grounds that a judge had identified a litany of legal errors during the original proceedings.
On April 3, the Xilinhot court determined the facts of the original case were unclear, reversed the verdict, and sent the case back to Duolun for a retrial.
Five days later, prosecutors in Duolun abruptly threw out the case. The reason given was that "there is no proof of criminality or legal grounds for prosecution." Yao and Zhang were suddenly in the clear.
Deng, the Shanghai-based legal expert, said it seemed likely that Yao and Zhang's cases did not meet all the legal conditions for an abuse of power verdict.
"In this case, the so-called poverty-relief capital losses are more likely to be the result of market forces. Even if Xigangou Township had completed the approval process prior to implementing the projects, they could still have incurred losses due to changes in the market and other causes," Deng said. "In other words, there is no strong cause-effect relationship between the alleged breaches of official power and the losses incurred."
Many frontline government cadres in China are encouraged to be proactive in finding ways to lift local people out of poverty, a fact the original verdict of Yao and Zhang's case failed to adequately account for, Deng added.
Li, the professor, said poverty alleviation projects in China typically receive funding from the provincial government and are carried out by county-level officials. However, administrative hurdles between county governments and frontline village cadres frequently cause conflicts.
Grassroots officials spend lots of time and energy thinking of ways to improve local industry and meet market demand, Li said. But in some cases, investments can wilt for reasons that are almost impossible to foresee.
This is an original article written by Tang Ailin and translated by Matthew Walsh of Caixin Global. It has been republished with permission. The article can be found on Caixin's website here.
(Header image: Wang Yu/Qianlong/People Visual)