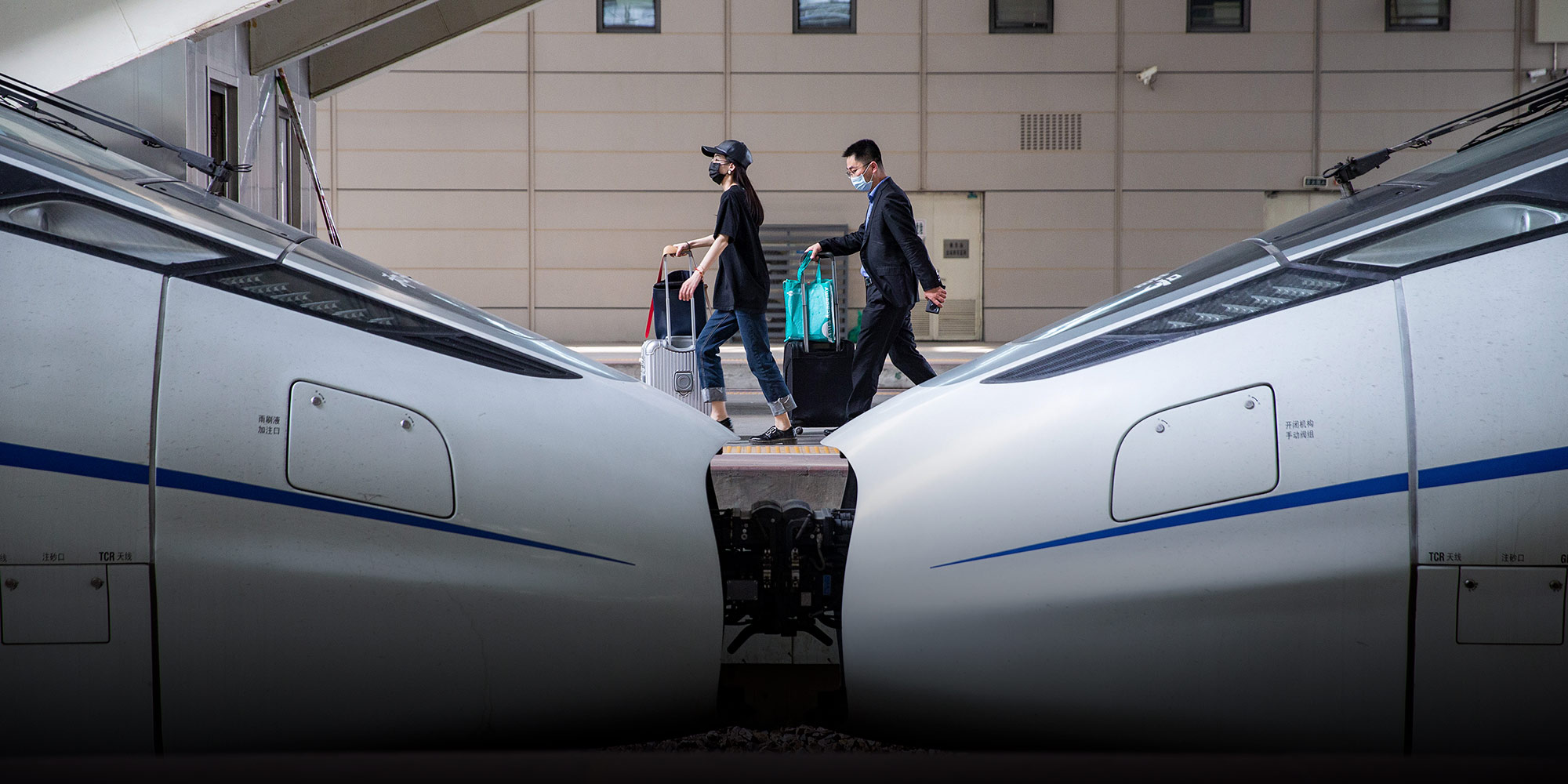 VOICES & OPINION
How Bad Assumptions Derail Epidemic Prevention
Increased population mobility helped COVID-19 spread across China, but so did outdated and misleading notions about who travels.
It's been less than half a year since the novel coronavirus was first identified. In that short span of time, it's already reached six continents, infected over 4.4 million people, and contributed to more than 300,000 deaths worldwide as of May 15.
It should be clear by now that the rapid development of international transportation networks and the attendant rise in global mobility allow viruses to spread faster and more easily than ever before. In China, the coronavirus was carried to every province-level region in the weeks and days leading up to and just after the Lunar New Year holiday, a time when hundreds of millions of Chinese return home or travel. And the country's subsequent success in controlling and rolling back its coronavirus-linked COVID-19 epidemic owes much to its strict controls on movement: quarantining suspected carriers, shutting down transit links, developing digital health passports, and putting up cordon sanitaire around the hardest-hit regions, including Wuhan.
Now that the country's outbreak appears to be under control, however, it's worth reflecting on some of the assumptions driving these decisions. For example, many of the most onerous measures fell squarely on the heads of the country's "floating population" of migrant workers — a largely blue collar group that takes advantage of the extended holiday to travel home each year. As fear spread, migrants, especially those from Wuhan and the surrounding areas, reported having their private information leaked or being told by their landlords not to return after the holiday.
But were blue collar migrants really the main reason for the spread of the virus in China? For many Chinese people, COVID-19 brought back memories of the deadly 2003 SARS outbreak. Yet although the number of internal migrants in China approximately doubled over the past 20 years, tourism- and business-related travel have grown much faster over that same period. For instance, the number of domestic tourists is currently 7.4 times higher than it was in 2000.
Full data for 2020 is not yet available, but statistics from 2019's Lunar New Year travel rush show there were 367,000 trips in and out of Wuhan each day between Jan. 21 and March 1. This may seem like a lot, but it is only about one-third higher than the overall daily average for 2018.
Ordinary business travel declines during the period before and after the Lunar New Year, but this drop is largely canceled out by an increase in tourists. Thus, even when the flow of migrants is at its peak, it is unlikely to account for more than one-third of total movement in and out of Wuhan — and likely less.
Meanwhile, a spatial analysis of the epidemic's spread shows the earliest and most severely affected cities outside of Wuhan and surrounding Hubei province were not the region's primary sources of migrant labor. Rather, they were business hubs like Guangzhou, Shenzhen, Beijing, and Shanghai, as well as beach cities like Zhuhai and Sanya.
Even in the provinces surrounding Hubei, the worst-hit areas were provincial capitals with business and tourism links to Wuhan, not the border regions from which the city draws its migrant labor force.
This isn't to say monitoring migrants in a pandemic is unimportant, but we have to be attuned to some of the shifts that have taken place in migrant populations over the past few decades. China's migrant population has doubled, but it's also changed qualitatively, with more migrants engaged in business instead of menial labor.
These businesspeople are far more likely to engage in the kind of behaviors that spread infectious disease than migrant factory workers. Arriving at their destination, they have more opportunities for contact with locals through their business activities, wide social networks, and active social lives, putting them at a high risk for infecting people.
This is one reason that Wenzhou and Taizhou — two eastern cities known for their go-anywhere business cultures — were among the hardest hit outside of the outbreak's epicenter, even though there were few there who had returned from Wuhan.
In short, many of the actions that most affected migrants over the past few months were based on false assumptions and caused communities and urban officials to lose focus on other potential transmission vectors while unintentionally increasing the fractures between residents from different regions. If anything, such strategies may have led migrants to deliberately conceal their identities and travel histories, making it harder to track and stop the coronavirus' spread.
More important, the epidemic response has exposed key deficiencies in China's community governance. Part of the problem can be attributed to the longstanding, if mostly one-sided, competition between locals and migrants over urban public services. But top-down management approaches and a lack of awareness also hindered control and prevention work.
State-appointed community workers, despite purporting to serve residents, are often more concerned about not angering their bosses or being blamed for problems in their jurisdictions. Even when cities and local residents themselves were not calling for restrictions to be put on migrants, nervous grassroots officials sometimes used their power over communities to unilaterally impose such rules.
These problems would be less salient if grassroots governance was open to multi-party participation, with community workers instructed to act as coordinators for local stakeholders or organizers of public affairs rather than as agents of an omnipotent government. Currently, community workers do more to hamper the construction of an inclusive urban society than promote it.
China also needs to be more careful in how it uses emerging technologies such as big data, which are becoming prominent parts of the country's governance toolkit. The data generated by the movement of people played an important role in preventing and controlling the spread of COVID-19 by allowing officials to trace contacts and isolate them. But as the example of migrants suggests, it's easy to miss the forest for the trees: mistaking all human movement for migration, or migrants for a homogenous group.
Failing to adopt a more cautious approach to technology runs the risk of causing even greater damage in the future. Only when policymakers clearly understand the complexity behind the data — the actual composition of the groups they're tracking, for example — can they avoid making incorrect judgments and predictions about disease transmission or other important issues.
In future epidemic prevention and control work, the country should face up to the complexities posed by its floating population and avoid simple but inefficient prevention and control measures. In the long term, China needs a more inclusive social environment, a more diverse governance system, and a more effective use of new technologies, not just for epidemic prevention but for the good of all society.
Translator: David Ball; editors: Cai Yiwen and Kilian O'Donnell; portrait artist: Wang Zhenhao.
(Header image: Passengers prepare to board a high-speed train at a railway station in Nanjing, Jiangsu province, April 30, 2020. Su Yang/People Visual)