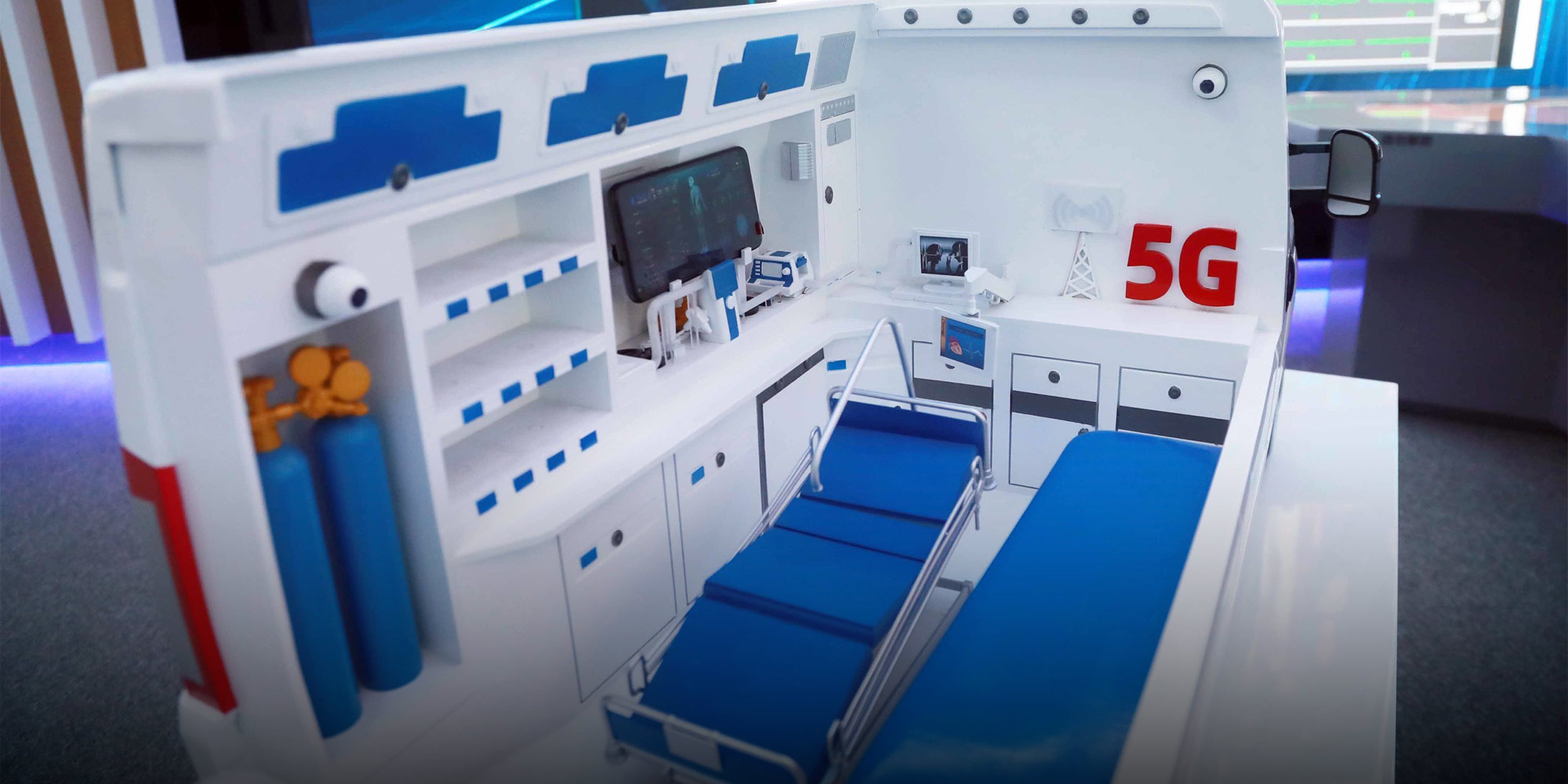 NEWS
How 5G Is Streamlining Hospitals' Emergency Response
Sending test results from the ambulance directly to hospital specialists as they consult remotely can shave up to 30 minutes off a patient's treatment time.
SHANGHAI — Thanks to hundreds of 5G base stations erected throughout the city, ambulances in Shanghai's Hongkou District are being transformed into mobile emergency rooms.
Traditionally, emergency medical technicians have assessed patients with electrocardiograms and blood pressure checks in the ambulance as they're en route to a hospital. But Yu Hua, head of Shanghai General Hospital's information center, suggests that due to a lack of systematization, patients might have to undergo the same checks again after arriving at the hospital.
"Sometimes this can be a waste of time," Yu told Sixth Tone. But with faster connections and greater processing power made possible with 5G, this potentially life-threatening inefficiency could become a thing of the past.
"Once connected to the 5G network, as soon as patients are loaded into the ambulance, their vital signs, electrocardiogram, and location are sent to the hospital, which allows our specialists to assess the situation remotely," Yu said. "For heart attack patients, this can save 20 to 30 minutes."
Currently, only a handful of ambulances in Shanghai are taking advantage of the city's 5G network, as the project is still in the trial phase.
During the COVID-19 pandemic, 5G has played an important role in emergency medical care, providing glimpses of a potential high-tech future for public health. When the construction of two "pop-up" hospitals in the central Chinese city of Wuhan was announced in late January, millions of people tuned in to 5G-enhanced livestreams to watch the progress in real time. Upon the hospitals' completion less than two weeks later, doctors there were able to consult remotely with leading experts in other provinces.
According to Yu, the development of 5G will also improve telemedicine, making it possible for patients to receive treatment, prescriptions, and follow-up checks from their homes.
"The 4G network, which boosted the spread and development of cashless payment and mobile videos, revolutionized our lives — and 5G will do the same," Wan Jianhui, the director of Hongkou District's Science and Technology Committee, told Sixth Tone. Wan added that domestic companies have so far come up with dozens of potential applications of 5G technology, including unmanned shops, online education, and video games.
As of March, Shanghai had over 18,000 5G base stations. This year, the city will invest 10 billion yuan ($1.4 billion) to achieve full 5G coverage, building 12,000 additional base stations and setting up 32,000 indoor transmitters, according to a press conference earlier this month.
Contributions: Luo Meihan.
(Header image: A model of an ambulance's "mobile ER" is on display in Shanghai, May 13, 2020. Bai Kelin/IC)