A city in central China is again at the center of a nutrition product scandal after several toddlers developed eczema, swollen heads, and other signs of vitamin deficiency.
Five children in Chenzhou, Hunan province have been diagnosed with rickets after consuming Bei An Min powdered beverage product, a protein mix that parents say staff at a baby product store described as a milk formula substitute for their dairy-allergic babies, state broadcaster CCTV reported Wednesday, citing local media.
According to the report, after the five babies showed adverse reactions to milk, doctors at an unnamed local hospital diagnosed them as allergic to dairy, and recommended the parents opt for amino acid-based formula instead. The parents of the five children went to the same store, a local branch of the chain Love Baby's Workshop, where Bei An Min was recommended to them as the "best choice" for babies with dairy allergies.
"When we heard the truth, I almost collapsed. The whole time we thought it was milk formula, like the shop assistant said," lamented a mother surnamed Zhu. "But it turned out to be just a powdered beverage — meaning my daughter was drinking (this instead of infant formula) for two years!"
The market regulation bureau in Yongxing County, which is administered by Chenzhou, told Sixth Tone's sister publication The Paper that although it is still investigating the case, there does not appear to be any foul play on the part of local doctors or hospitals. On Thursday, the Hunan provincial government told The Beijing News that the baby product store is under suspicion of fraud and false advertising.
The case has attracted wide attention online, with many parents expressing concerns over the quality of domestic infant formula products. "These people don't have hearts, they need to be severely punished," a user on microblogging platform Weibo commented under a related post.
This is the second time in six months that Chenzhou has made headlines because of unsuitable products being marketed for young children. In December, several parents accused doctors at Chenzhou No. 1 People's Hospital of making under-the-table deals with a local baby products store to promote hypoallergenic infant formula sold there.
The hospital suspended two doctors for giving misleading advice, and Chenzhou authorities vowed to conduct a full inspection of local pharmacies and hospitals.
However, months later, a mother surnamed Cao filed a complaint on March 30 with the Hunan Administration for Industry and Commerce on behalf of all the parents affected. They said their rights had not been protected and requested that the authorities provide their children with free medical checks, as well as cover the treatment costs for their malnourished children.
The Chenzhou Administration for Industry and Commerce responded on April 16, saying the incident stemmed from the distribution company leaving promotional brochures and leaflets in the hospital, and from "some individual doctors" recommending these products to patients.
Months before the December scandal, local manufacturer Shandong FineHere Biological Technology Co. Ltd. in August recalled over a dozen of its products — including the protein powder the Chenzhou parents would later take issue with — for failing to meet national food safety standards.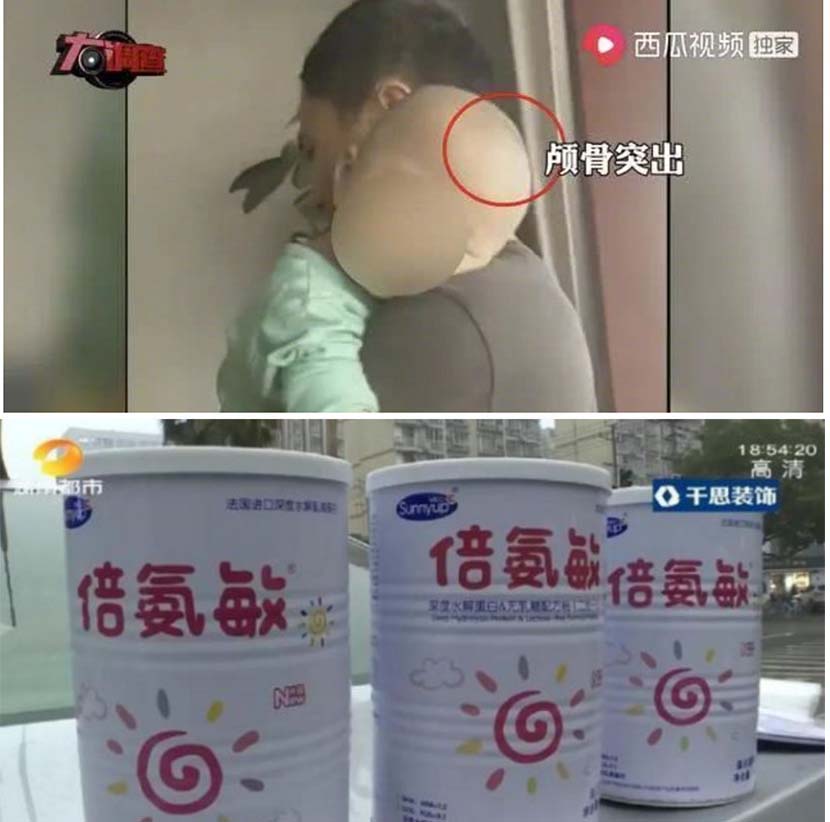 Screenshots of one of the sick children and containers of Bei An Min protein powder. From @头条新闻 on Weibo
The recent case involving Bei An Min has caused painful memories of the 2008 tainted milk powder scandal to resurface. That year, 21 market-leading infant formula manufacturers were found to be adding melamine — a toxic chemical used in a wide range of plastic materials — to their products to boost protein content. The contaminated formula was linked to the deaths of at least six babies, and an estimated 300,000 more were affected.
At the time, China's central government declared a national food-safety emergency, and in the aftermath of the scandal tightened regulations on products for young children. In 2015, requirements that infant formula producers register with the China Food and Drug Administration (now the National Medical Products Administration) and disclose full ingredient lists for their products were added to China's food safety law, with the provisions taking effect in October.
However, even with more official oversight, the country has continued to see food safety crises involving infant formula. Domestic media have repeatedly found that many companies unqualified to produce infant formula are still entering the market by marketing their powdered beverage products — which aren't subject to the same rigorous food safety standards — as suitable for babies.
An industry insider in the eastern city of Ningbo told The Beijing News that as long as such companies pay furtive fees to local hospitals, they can get their powdered beverage products added to the hospital pharmacy's stock — sometimes even with a doctor's recommendation.
According to China's regulation on infant formula issued last year, though strict standards apply to the production of such products — companies must enlist credentialed specialists to show they know what they're doing, for example — the requirements for powdered beverage products are far fewer.
"The product category is food — just like any beverage you might normally drink — rather than baby formula," said Li Zhuo, a district-level director at Hunan's market regulation bureau, referring to powdered beverages. "It doesn't have to register as a health product, to say nothing of its capacity to meet an infant's nutritional needs."
An employee who works in sales at one of China's top pharmaceutical companies told Sixth Tone that loopholes like companies registering their products as regular foodstuffs but then marketing them for babies are fairly common in China.
"When these products are being sold at hospitals, it means it's more than just 'some individual doctors' who are involved — although the company would have had to go through lots of compliance procedures, at least in terms of quality control," said the sales employee, speaking on condition of anonymity. "It's a systemic problem that permeates through the entire industry."
Editor: David Paulk.
(Header image: Aflo RF/People Visual)