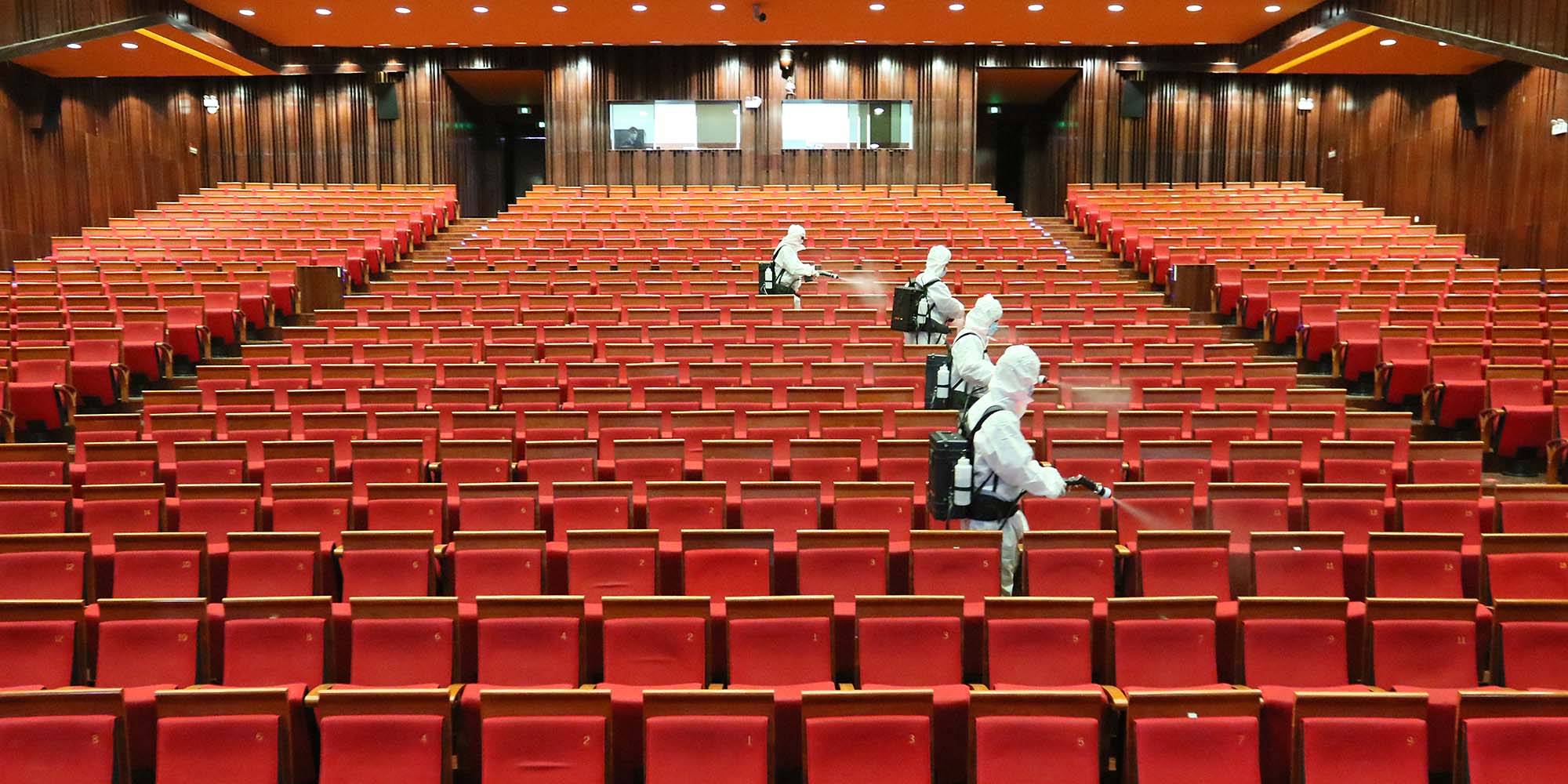 NEWS
Battered by COVID-19, Chinese Cinemas Prepare to Reboot Business
Movie theaters will follow social distancing rules and screen both old and new releases when they open.
China's entertainment venues have been given the green light to reopen, but industry insiders are adopting a "wait-and-see" attitude about whether business will rebound.
The central government's guideline approved the opening of indoor venues — including cinemas, theaters, and karaoke facilities — that had previously been shuttered soon after resuming business over fears of a COVID-19 resurgence. However, following the monthslong interruption, the film production companies, movie theaters, and other entertainment venues preparing to reopen and return to normalcy are facing more uncertainties than other sectors.
Bao Yaopei, a movie theater manager in downtown Shanghai, told Sixth Tone her business is still waiting for notice from the local authorities to reopen, as the central government's directive didn't give a timeline.
"We are ready at a moment's notice (to reopen), but we are still keeping a cautious attitude about the market," she said, adding that it's difficult to predict the exact date for resuming business, as well as future attendance.
In January, as COVID-19 swept across China, tourist sites and entertainment venues were ordered to shut down amid concerns that the contagion could spread wherever people congregated. The country's film industry, as well as its theaters, were among the hardest-hit sectors, with more than half a dozen new releases halted and the Lunar New Year box office — normally peak moviegoing season — hammered by quarantines and home isolation.
According to an estimate from the country's National Film Bureau, the pandemic could result in more than 30 billion yuan ($4.2 billion) in box office losses, or close to 50% of the previous year's total revenue. Thanks to hits like sci-fi blockbuster "The Wandering Earth" and teen drama "Better Days," last year's box office raked in a record-breaking $9.2 billion, while the rival movie market in the United States collected $11.26 billion.
The reopening of just over 500 of the nation's 12,408 theaters in March offered a glimmer of hope for the industry, but it was short-lived as the venues were ordered to shut again. The theaters took in a meager 72,400 yuan during the first weekend they were allowed to open.
Last week's announcement to reopen movie theaters has been met with excitement among potential viewers. On microblogging platform Weibo, a related hashtag had garnered more than 970 million views by Thursday evening, with many saying they are looking forward to watching the new releases soon.
Bao said her theater — with 11 screens and a total seating capacity of over 1,400 — is eagerly waiting for moviegoers, as they've suffered massive financial losses amid the pandemic. She said the theater would comply with new rules such as social distancing and contactless ticketing, but that business would depend on the movies being screened.
For example, when some theaters announced they would reopen in late March, many said they would screen classics and recent hits, including the Oscar-winning American drama "Green Book" and Chinese animated blockbuster "Ne Zha."
Dong Minna, a culture and entertainment industry analyst at market research firm Analysys, told Sixth Tone that China's film sector faces challenges in reopening due to the interconnectedness and interdependence of several elements in the business chain. The film production and film distribution units, both of which are experiencing their own slowdowns, would directly impact the theater business.
"Now would be the best time for theater chains to reopen, so at least customers could have places to go (watch movies)," she said. "Then production and distribution companies could consider when to release the new movies that got postponed. It's about one thing leading to another."
According to Dong, the industry currently faces two major problems: production companies deciding on release dates and theater chains struggling to earn enough income to cover reopening costs.
With theaters shut, movie producers are also seeking alternative channels, with many considering digital releases. Though it may be a sign of the changing times, industry veterans are wary about such a shift.
Lu Chuan, a Chinese film director known for the Nanjing Massacre-themed drama "City of Life and Death," said in an interview with The Beijing News that movie theaters are important for the industry, as they offer a more personal experience that cannot be replaced by online viewing parties. He added that although distribution and consumption habits may change with the times, experiencing movies on a big screen should not fade away.
"I hope I won't see the death of cinemas in my lifetime," Lu said. "For me, cinema is a belief. I really feel that watching movies on the cinema's big screen brings a certain unique happiness, and a sense of ritual."
Editor: Bibek Bhandari.
(Header image: Medical staff sterilize a theater in Yantai, Shandong province, May 12, 2020. People Visual)