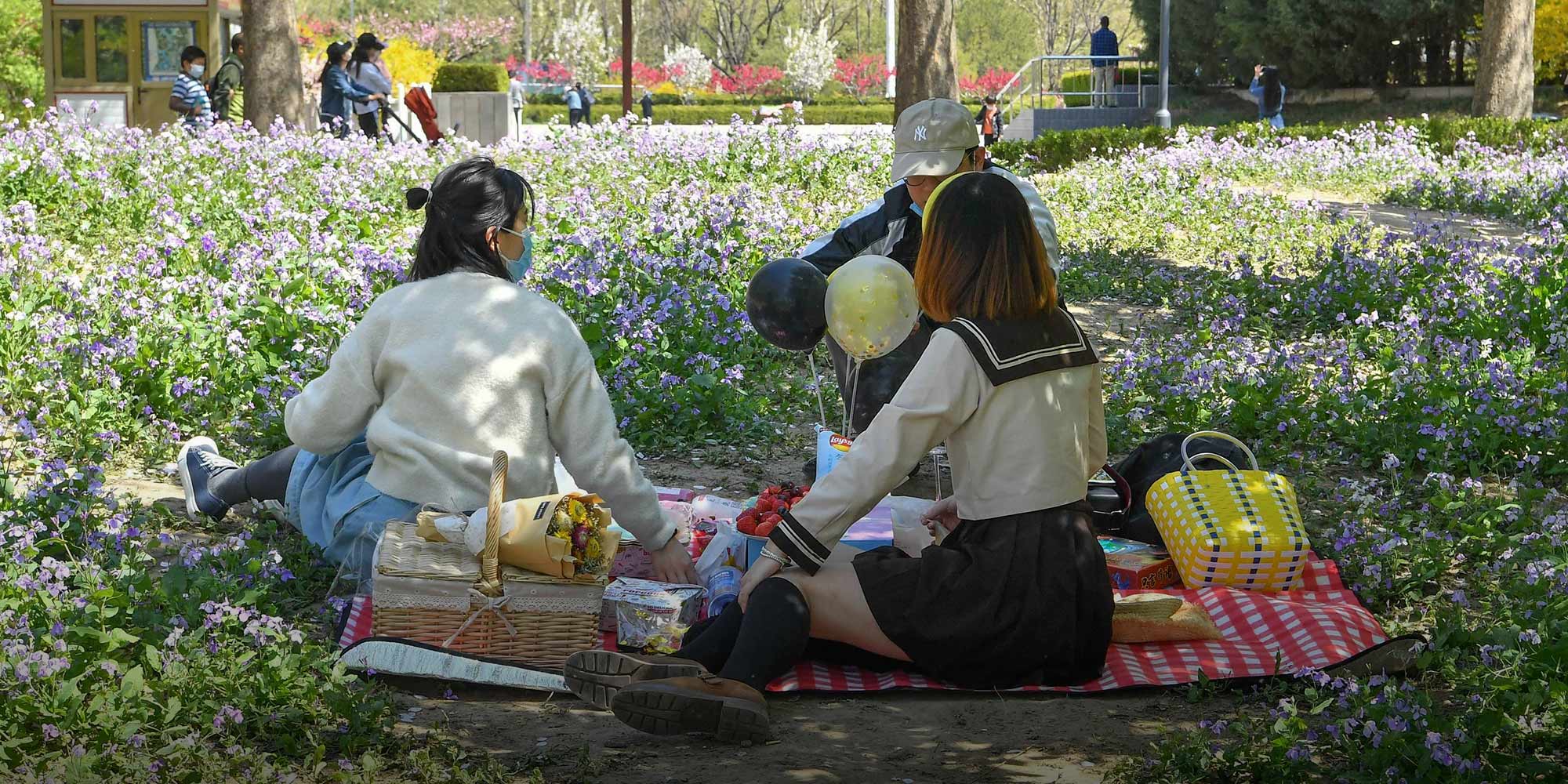 NEWS
Panic Gives Way to Picnics as Young Chinese Emerge From Isolation
Some say they genuinely enjoy the outdoors; others say it's just a social media fad.
The sun's out, the weather is warm, and once-cooped-up residents in cities across China are now out picnicking in parks.
Though heading to parks for an outing on a sunny day is hardly novel, the activity is becoming more visible as strict quarantine and social-distancing rules are relaxed amid declining coronavirus cases. Sales of picnic-related products have soared, with some vendors noting high demand for products such as picnic blankets and tents, according to multiple media reports.
"The weather's good, and being at home for so long made me want to get some fresh air," a 26-year-old Shanghai resident surnamed Wang told Sixth Tone. "It's perfect: Picnics are an outdoor activity, after all."
With few if any coronavirus cases in many Chinese cities, and major hubs like Shanghai and Beijing reporting no new infections in weeks, residents are slowly returning to enjoying social activities that were once restricted. Businesses are gradually reopening, and the central government has given the green light to reopen large indoor and outdoor venues that had been shuttered soon after reopening earlier amid fears of a COVID-19 rebound.
The picnic trend has been partly popularized by online influencers sharing photos of their neatly curated experiences on social media sites including lifestyle platform Xiaohongshu, or Little Red Book. The social media personalities are typically seen in parks sipping wine, posing with slices of pizza, and pretending to leaf through books — all while making eye contact with the camera and flashing a smile guaranteed to win a few thousand likes.
"Summer is really here, and we should go out for a picnic while the weather is nice," one user wrote in photo captions on Xiaohongshu. "You must not forget to include flowers, colorful snacks, and fruits."
On social media platforms like microblogging site Weibo, several picnic-related hashtags have popped up recently, with users encouraging each other to share their experiences. There's even a hashtag translating to "picnic photo competition," with prizes taking the form of online praise.
But not everyone is interested in following the picnic fad, which many say is only for self-gratification on social media.
"Why do so many people like picnics now? The food you take there is all for the sake of photos — that's not fun at all," wrote one Weibo user. "You might as well have (common dishes like) baked sweet potatoes and roast chicken."
A video of picnickers in Shanghai being mocked has also gone viral, with the vlogger G Seng Dong telling his 1 million-plus Weibo followers that the experiences shared online are carefully curated and far from authentic. The food platters, slices of pizza, and sushi rolls are only pretenses to drum up more views, he said.
"Having a picnic isn't just about eating," the vlogger jokes in the video, before laying out some of the general requirements for a good "Western-style" picnic. "The aim is to be beautiful by taking photos and posting them on WeChat feeds. If one can't share (the photos), who would bother going for a picnic?"
Zhang Yi, a senior analyst at online consultancy iiMedia Research Group, told Sixth Tone that the picnic trend has only been around in the country for the past four or five years, as Chinese people have adopted new social activities alongside rising living standards. After weeks confined at home, the idea of a planned outdoor activity has proved appealing during the pandemic.
"The demand will keep increasing," Zhang said. "Demand is largely from those who are with family members and those with intimate social circles, whose need for nature, outdoor entertainment, and leisure was fueled during the pandemic. … Information on platforms like Xiaohongshu is certainly for marketing purposes, but it also reflects the need for such activities."
Additional reporting: Yuan Ye; editor: Bibek Bhandari.
(Header image: Young people enjoy a picnic at a park in Beijing, April 11, 2020. Li Shanze/IC)