The opening whistle had blown on Nankai University's Freshmen's Cup soccer tournament, but I was stuck on the sidelines. As team captain, I should have been out there. As a woman in a man's game, all I could do was watch.
I had signed up immediately when I heard my school was recruiting players for a soccer tournament last September. When training officially started, however, I quickly realized I was the only woman who'd registered.
The first of my new teammates to call me "captain" did so as a joke, having heard I'd organized a women's team in high school. But after I dribbled the ball right through the defense, it became my title.
I took the job seriously: organizing practices, assigning positions, and passing out jerseys. The night before the match, we got together to finalize strategies. I would start as a forward. Before going to sleep, I sent out messages of encouragement to everyone, letting them know that we would rise or fall together.
The next day, as we were about to take the field, the referee suddenly noticed me. "Wait a second. Let's get another team on first," he said.
Turning back to us, he added: "You might not be able to play. The Freshmen's Cup has never had a girl compete before."
The first priority was to adjust our tactics to account for the change of forward. I was near tears — to have trained for so long, only to be kept from playing at the last second — but I knew I couldn't bring down the team. I did the only thing I could: run up and down the sidelines, shouting coaching tips. "Number Seven, push up! Defenders, watch your men!" It was the only way to show I was still in the fight with them.
After the match, I asked the referee why he'd banned me. Nothing in the rules said women couldn't play, and there was no separate team or tournament for female players. The university's soccer association decided to put it to a vote. The other teams would decide if I should be allowed to join subsequent matches.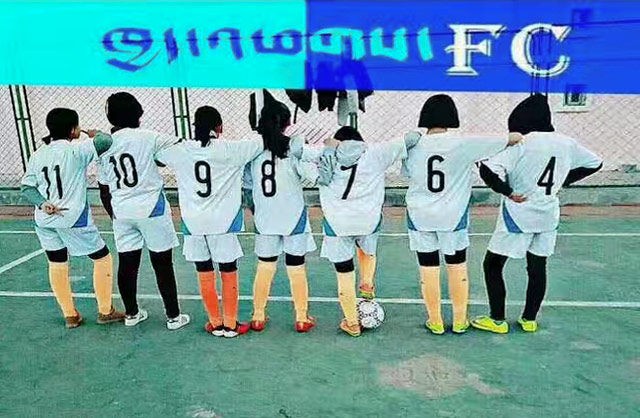 Pubu Droma and her teammates pose for a photo during her first year of high school, Lhasa, Tibet Autonomous Region. Courtesy of the author
High Altitude Training
Growing up in Lhasa, our courtyard was shared by a number of households. I started playing soccer with the other kids when I was in first grade.
We would play in the lane outside the courtyard, using bottles to mark the goals. Once, we shattered the windows of a nearby print shop. The owner scooped up our ball and stormed outside, pretending to be angry and chasing us around.
He never stopped us from playing, however. Though he did build a metal fence around his shop.
People in Tibet play soccer year-round: Even temples have their own soccer teams, while children play in the streets with worn-out soccer balls. The stronger players are known as the Cristiano Ronaldo or Lionel Messi of their neighborhoods.
In middle school, our class would often go behind our teachers' backs and kick soda cans around in the stairwell. Two students would stand watch at the entrance or by the window. If they saw a teacher coming, we would all go flying back to our classroom.
Back then, the girls were spectators. There were no matches for us, so we cheered for our male classmates from the sidelines. When two girls told me they wanted to organize a women's tournament in ninth grade, I eagerly started lobbying everyone to set it up. I recruited four good friends to join, but they pulled out the next day after their parents, worried about injuries, refused to let them play. The other girls started wavering, too.
I felt terrible. Our male classmates had a scrimmage that afternoon, and I told them I wanted to join. I pushed myself and kept trying to steal the ball. I didn't want anyone to think I was dead weight. At one point, I cracked the defense and almost scored, forcing a save from the goalie.
I played my heart out that afternoon: It was my first real game. Perhaps because of how much fun it looked, a handful of female classmates later told me they wanted to play, too. We decided to organize our own match.
Not long after the game started, the opposing goalkeeper tossed the ball toward the center of the field. I jumped up, chested it, and, bringing it under control, dribbled around three defenders and sent it sailing into the net before the goalie could even react.
The field suddenly erupted with cheers. The moment was so surreal. I didn't know what to do. One of my teammates wrapped me in a hug, jolting me back to reality. I ran a lap around the field, high-fiving and hugging all of my teammates.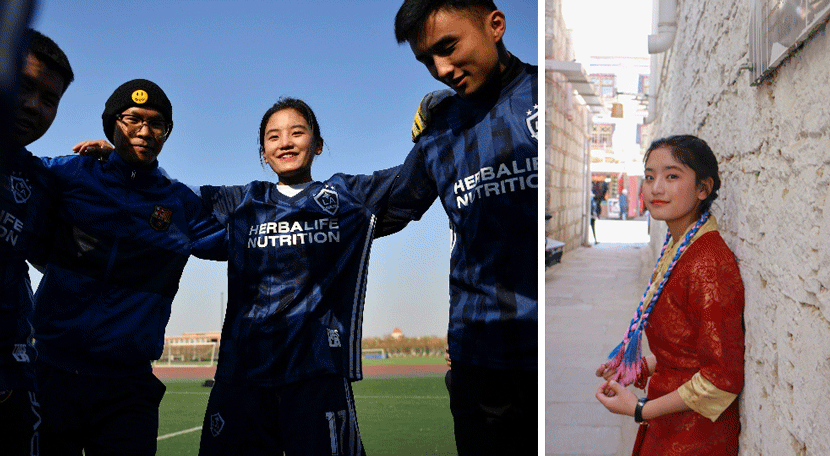 Left: Pubu Droma (center) with her teammates at Nankai University, Tianjin, Nov. 28, 2019. Li Ran/Xinhua; Right: Pubu Droma poses for a photo in Lhasa, Tibet Autonomous Region, March 2019. Courtesy of the author
Respect
That was an important moment: It gave me confidence and made me believe I had what it took to play. I soon fell head over heels for soccer, but sadly, our team only played three or four matches before disbanding.
The summer after I finished middle school, I decided to try again. I recruited each player individually. To get to the faraway practice fields, we packed ourselves into a van that shook the whole way there. We wanted to play a serious match, so we trained two or three times a week during the summer, often for the whole day. We would leave early in the morning and get back after the city had fallen quiet at night.
Almost all the other players were boys, who were much better than the girls at first. We trained more frequently, though, because we wanted to improve our ball skills. Since the field cost money, my teammates and I would sometimes hop fences at nearby schools and look for practice spots on campus.
Within two months, we started beating the boys' team on a regular basis — sometimes by a large margin.
Yet our invitations to play were still occasionally met with barbs, even when they were accepted: "Do you want us to embarrass a bunch of girls?" There were also some boys who would deliberately go easy on us. I was angry. I calmly told them we treated the game seriously, and we hoped they would, too.
As a soccer player, you want your opponents to respect you and see you as a real competitor.
Many of my teammates' families didn't want them playing soccer. Some worked it out themselves, but others would come to me for help. Their parents thought girls who played soccer were slackers, or were worried people would talk if their daughters played sports instead of staying at home.
The neighborhood gossips who gathered in the courtyard to chitchat certainly did. I felt their stares every morning as I set off for practice, dressed in my sweatpants and toting a ball.
At first, I was keenly aware they were judging me. Before leaving, I used to check to see if there were any of them around. I'd wait until it was less crowded and quickly duck out.
But playing made me happy, and I gradually began to wonder why I should have to change my behavior just because others might gossip.
I once invited my dad to a match. He knew nothing about the game, but he nevertheless sat cross-legged on the sidelines, watching me earnestly. I remember sneaking glances at him. Every time, he would catch my eye and nod.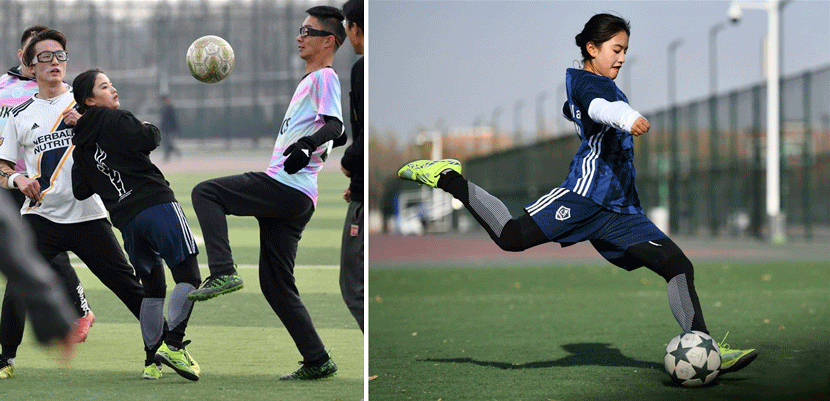 Pubu Droma during a football match at Nankai University, Tianjin, November 2019. Li Ran/Xinhua
Going the Distance
Not long after I started college in the northern city of Tianjin, 3,600 kilometers from home, my parents mailed me a military backpack stuffed with gifts from Lhasa. Inside was yak jerky, clothes, and a stack of romance novels. There was also a pair of neon green cleats, crammed with brand-new soccer socks.
Training for the Freshmen's Cup, I kept being knocked down when I went up against stronger or taller guys. To make up for my weaknesses, I worked to improve my ball skills and speed as much as possible, along with my lower body strength and overall fitness.
I know that when a woman plays on a men's soccer team and they lose, her gender gets put under the magnifying glass. People will blame her for any mistakes her team makes during the game, even if she didn't do anything wrong.
Of course that doesn't matter when you can't get off the sidelines. That first day of the Freshmen's Cup, I remember sitting on the sofa in the girls' dormitory, anxiously awaiting the results of the captains' vote.
Finally the first message came in: "I would like to express my personal support for the captain of the tourism college team and the female athlete who signed up for the competition. I especially admire her for what she's done."
That set off an avalanche of support from the other captains. One of them said: "I appreciate having a female classmate who loves soccer this much, who isn't afraid to go up against guys on the field, and who has worked so hard."
I read every message. I knew the other captains couldn't see, but I bowed to them in an expression of solemn gratitude.
With 11 votes cast, 10 were in favor; one opposed. I would be suiting up for the Freshmen's Cup.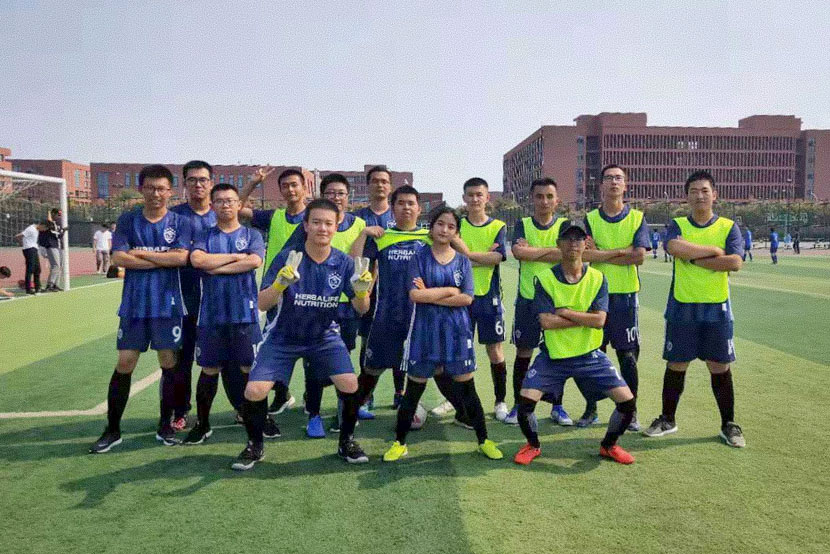 Pubu Droma with her teammates ahead of the Freshmen's Cup at Nankai University, Tianjin, September 2019. Courtesy of the author
Extra Time
In the end, we were eliminated before the semifinals. But the story didn't end there. After the matches wrapped, a female classmate of mine came up to me and asked if I wanted to form a university woman's team.
Within two hours of announcing tryouts, 50 women had signed up. We ultimately picked 43 for our team. Two months after we started, the university's Dean's Cup expanded to include women's soccer. The COVID-19 pandemic has put everything on hold, but last month I applied for funding from the school on behalf of our team. I hope to use it for training.
But if that doesn't work out, I can always go back to hopping fences.
As told to The Paper's Chen Yuanyuan and Huang Jijie.

Translator: Katherine Tse; editors: Cai Yiwen and Kilian O'Donnell; portrait artist: Zhang Zeqin.
(Header image: Pubu Droma (right) passes the ball during a match at Nankai University, Tianjin, Nov. 28, 2019. Li Ran/Xinhua)