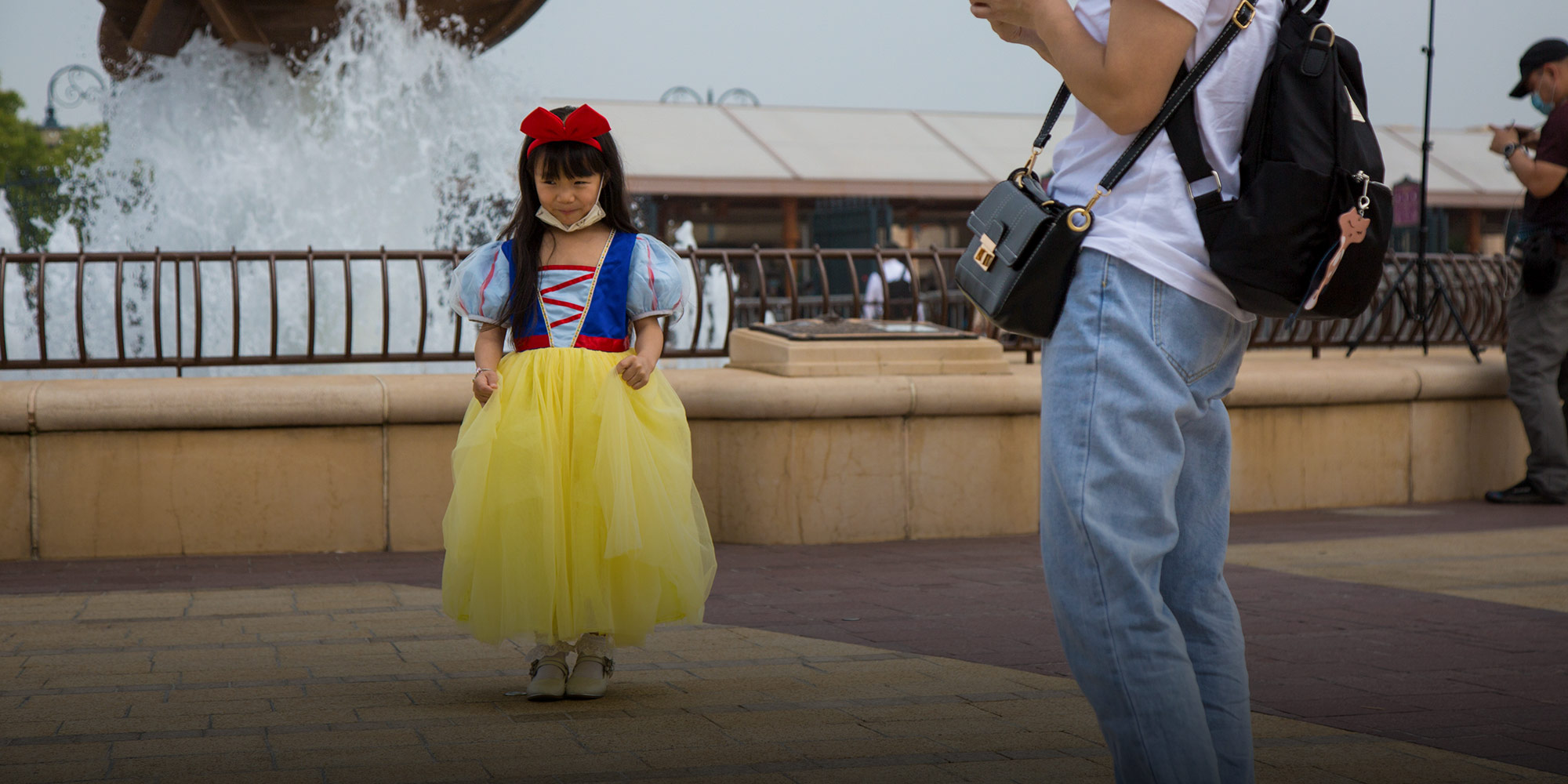 NEWS
Shanghai Disney Reopens to Smiles and Social Distancing
Patrons were low in numbers but high in spirits on the first day back since the park closed in January amid the ongoing COVID-19 pandemic.
SHANGHAI — Fairy-tale fantasies are coming back to life, albeit with a few social distancing rules.
Shanghai Disney Resort welcomed visitors on Monday after more than three months of suspended operations due to the coronavirus pandemic. The theme park said entrance tickets for the first day sold out within minutes when sales resumed Friday but did not disclose the number of expected visitors.
Just before 9 a.m. on reopening day, the normally packed parking space outside Shanghai Disney was mostly empty, and there were no large crowds lining up to enter the park. Loudspeakers in the area intermittently blared cheerful music and reminders to practice social distancing, as masked cleaning staff wiped surfaces with disinfectant.
A mother surnamed Zhang was one of the guests waiting for a fun-filled day with her 6-year-old daughter, Feifei. The family from Jiaxing in the neighboring Zhejiang province make pilgrimages to the park eight or nine times a year, and had looked forward to the reopening of one of their favorite places in the world.
"It feels exciting to be back again — it's been a while," Zhang, 34, told Sixth Tone after snapping photos of her daughter, dressed as Disney princess Snow White, posing in front of a water fountain. "I think the measures implemented in the park should be good, and there are relatively fewer people on the first day, so we can get on more rides."
In January, as COVID-19 swept across China, tourist sites and entertainment venues were ordered to shut down amid concerns that the contagion could spread anywhere people might congregate. On the 25th, Shanghai Disney announced that its gates would be closed until further notice.
As the theme park reopens, staff and guests are being welcomed with new rules, signaling a potential new normal in the post-pandemic era. Shanghai Disney said it would implement "enhanced health and safety measures" — only guests with green health codes on a health-tracking app will be admitted — to ensure that spaces aren't as crowded as usual. Prior to the pandemic, the park accommodated about 80,000 people daily.
"(The park will be) accommodating social distancing in queues, restaurants, ride vehicles and other facilities throughout the park, and implementing increased frequency of sanitization and disinfection," park representatives said in a press release.
For the time being, Shanghai Disney is only offering online tickets — priced at 499 yuan for weekends and 399 yuan for weekdays ($70 and $55, respectively), as well as half-day tickets — and visitor numbers will be capped at 30% the original maximum capacity, or around 24,000 people, as mandated by the government.
Near the Disneytown dining and entertainment area just inside the park's entrance, a group of seniors posed, smiling, for a group photo. A Shanghai native in her 60s surnamed Li told Sixth Tone they had come to the park for a much-needed break, expecting the place to be less crowded.
"We've come here with friends for some food, photos, and conversations," Li said, adding she has visited the theme park twice before, when lines were long. "(Wearing masks) is a bit inconvenient, especially as it's getting warmer now, but it brings some security. Also, the cap on visitors makes me feel a bit more comfortable here."
Masks are currently mandatory for all visitors at Shanghai Disney. The parade and nighttime spectacular have been suspended, and even beloved Disney characters roaming the park are practicing social distancing, with close-contact patron pictures prohibited.
For Feifei, the nighttime light show and photos with her favorite Disney characters were the highlights of previous trips, but she still looked forward to hopping on the Snow White and the Seven Dwarfs-themed roller coaster soon after the family entered.
"We'd be happy just to wander around and see the flowers in the park," Zhang said.
Shanghai Disney's reopening comes at a time when the city has lowered its public health emergency response level and the country is slowly resuming business. On Friday, the State Council, China's Cabinet, gave the green light to reopen tourist attractions and indoor venues that had been reopened previously, only to be shut down again soon afterward over fears of a COVID-19 rebound.
In its first year after opening in June 2016, the $5.5 billion Shanghai Disney Resort attracted 11 million visitors. The Walt Disney Co., which owns several entertainment venues and media outlets worldwide, said it could see its profits being slashed by $1.4 billion this year amid the coronavirus pandemic, mostly due to theme park disruptions, including at its most profitable park in Shanghai.
Editor: Bibek Bhandari.
(Header image: Feifei and her mother stand near the entrance to the Shanghai Disney Resort, May 11, 2020. Shi Yangkun/Sixth Tone)