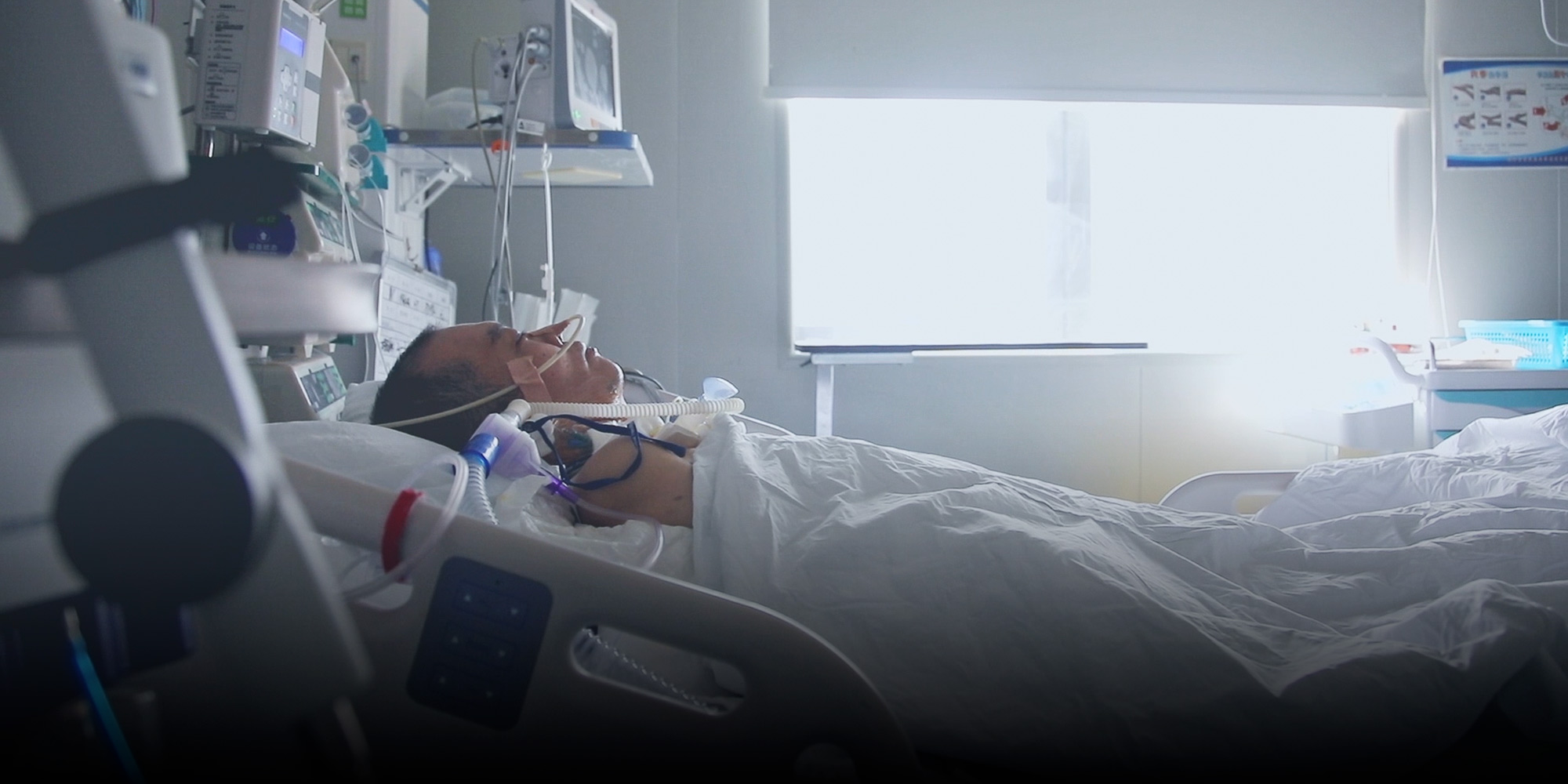 MULTIMEDIA
Step by Step: A COVID-19 Patient's Road to Recovery
Yang Hong spent two months on and off a ventilator in an ICU. Now, he's slowly getting back on his feet.
This story is part of a visual series highlighting the first-hand experiences of those caught in the crossfires of the coronavirus epidemic in central city Wuhan.
HUBEI, Central China — Perched upright in a hospital bed, Yang Hong cradles his smartphone to his ear and makes a seemingly innocuous request of his wife: "Bring me a pair of cloth shoes."
Yang's feeling encouraged. Just earlier that day in mid-April, the 47-year-old was at last able to stand up for a couple minutes after being bedridden and going on and off a ventilator for the past two months. A physiotherapist supported him from behind, and he was so tired, it was as if he'd run 1 kilometer. But with more physical therapy, he'd be able to walk.
Back in mid-January, Yang, a doctor of nephrology in Changjiang Hospital of Changjiang Water Resources Commission, was diagnosed with the coronavirus after a CT scan showed he had an infection of the lungs. He'd had a cough and fever on Jan. 5. By Jan. 20, just days before the central city of Wuhan was put in lockdown to contain the spread of the virus, he was in the intensive care unit of Wuhan Pulmonary Hospital being put on a ventilator for the first time.
The hospital's ICU, designated for treating COVID-19 patients, was overrun with the critically ill. All 10 beds in the ward were occupied until April, with hospital staff working overtime to care for cases with no known effective treatment.
Yang proved resilient. Hospital staff tried to take him off the ventilator twice, only for him to have difficulty breathing once more. In the end, they had to perform a tracheostomy, but medical staff remained optimistic. Yang was the first patient to show improvements in the ICU.
"I was so glad to see his will to survive," resident ICU doctor Chen Yumei says. "This is really important."
Yang's wife, Huang Min, watched his progress from behind a glass door, leaving fruit and groceries at the ICU for medical workers to deliver to him. Though the time apart has been difficult for the 45-year-old, she says she's glad her husband is in a safe and clean environment.
"I don't feel our connection has been separated by doors," Huang says. "I feel it's more reassuring to see him through a glass door. That means he's inside a safe and clean place."
Yang was eventually transferred to No. 1 People's Hospital for recovery. Huang waited for him outside for the transfer to see him face to face, saying she felt "at ease." From then on, Yang made incremental improvements, extending his toes and moving his fingers to regain muscle strength.
When Yang finally placed his two feet on the floor the morning he asked for the shoes, he was exhausted, but exhilarated all the same.
"With the physiotherapist's help and support from behind, I could stand up," he tells Huang over the phone. "I stood up on my own two feet."
Editor: Hannah Lund.
(Header image: Yang Hong lies in bed in Wuhan Pulmonary Hospital's ICU, March 17, 2020. Shi Hanwei for Sixth Tone)