HUBEI, Central China — Zhang Fan's daily scrolls through the job listings at her university's career center are starting to feel futile. 
The college senior hopes to work as a geography teacher after graduating this summer, but there's a problem: None of the public schools in her home province of Hubei in central China are hiring.
"Recruitment probably isn't the first thing on their minds," Zhang tells Sixth Tone.
Zhang is one of 440,000 final-year undergraduates in Hubei — the center of China's initial COVID-19 epidemic — who have been attempting to complete their final months of studies amid a public health emergency that has killed thousands in the province. 
With Hubei's outbreak now largely under control, life in the region is slowly returning to normal. The provincial capital Wuhan lifted a 76-day lockdown in early April. But students like Zhang are graduating into a future full of uncertainty.
Many have had their plans for post-college life dashed due to the disruptions caused by the pandemic. Finding a job, meanwhile, has become tougher than ever as companies institute hiring freezes to cope with an unprecedented economic contraction.
Zhang is set to graduate from Hubei University of Science and Technology (HBUST) in just over a month, but the 24-year-old still has no idea what she'll do next. She originally hoped to go to graduate school in the fall. None of the universities to which she applied have responded, however, as they've only just reopened after closing in January.
Teaching was her backup plan, but even that might not work out, she says. Only a few positions at private schools or tutoring centers are available, and they offer fewer benefits than those at public institutions. "Usually we would've known what's next by now," says Zhang. "I guess I would take a private school job as my last resort."
Thousands of students in Hubei are in a similar situation.
Competition for jobs requiring college education in China was already fierce, as the number of degree-holders has increased rapidly in recent years. An estimated 8.7 million students will graduate this year, up from 5.7 million a decade ago. In a 2019 survey by recruitment platform Zhaopin.com, 88% of graduates said it was difficult to find work.
In Hubei, it's even more intense. The province is one of China's largest education hubs with over 120 higher education institutions — 30 more than Beijing. During normal times, many graduates find work at the city's "Optics Valley" and other Wuhan technology hubs. Now, however, new openings on the ground are thin.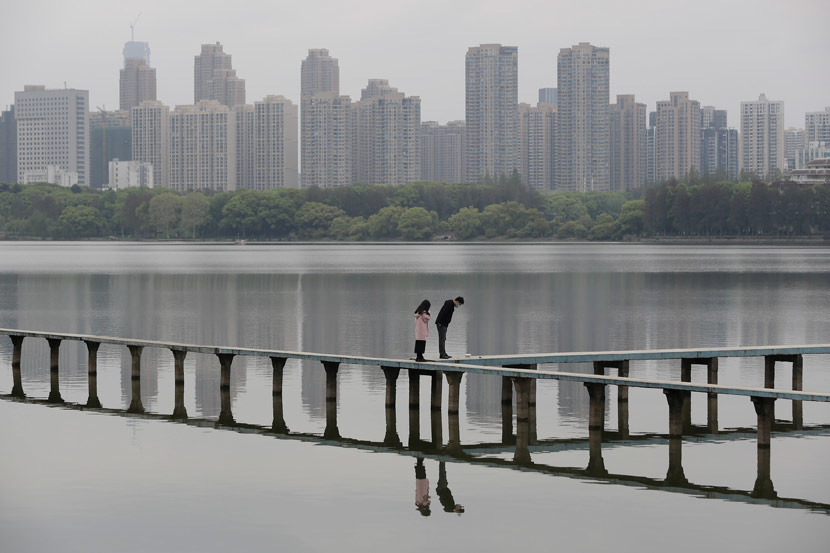 A couple walks by the East lake, which is near Wuhan University, March 30, 2020. People Visual
Even seniors at Wuhan University, one of China's top-ranked colleges, are struggling to secure a job this year, according to Liu Wenbin, deputy head of the university's career center.
"During March and April last year, around 60 to 80 of our students were being hired per day," Liu tells Sixth Tone. "But this year, only about 10 students are getting job offers each day."
Liu says most small, privately owned businesses in Hubei haven't reopened or have only just done so, and so hiring isn't a priority. Many employers have also abandoned plans to take on more staff due to the economic uncertainty.
"We've seen a significant reduction in demand (for talent) from companies," says Liu. "But luckily, government policies are helping."
Central and provincial authorities are rolling out measures designed to shore up the job market. In March, China's official unemployment rate dipped slightly to 5.9%, but many analysts say the figure fails to capture the true scale of joblessness, especially as migrant workers aren't included in official surveys.
In Hubei, small firms that hire graduates will be given special stipends. The Ministry of Education, meanwhile, launched a "24365 campus hiring service" in late February, partnering with recruitment websites including 51job to support the class of 2020.
Job seekers crowd a job fair in Wuhan, Hubei province, April 21, 2020. Mao Jie/People Visual
But connecting students with employers — especially smaller businesses — has been a challenge amid continued restrictions on large gatherings. 
The coronavirus struck during the spring term, usually the peak time for graduate recruitment in China. Hundreds of mostly local companies would normally attend careers fairs on campuses across Hubei during this period, but the events were all canceled.
Universities have launched online portals to help seniors share resumes with companies and set up video interviews. Smaller firms, however, are still adapting to the new system, says Mei Xianchen, deputy head of the career center at HBUST, Zhang's school.
"Some smaller firms don't have specialized human resources departments, so they don't have the capacity to deal with online hiring," says Mei. "But these local companies are usually the major source of jobs for our students."
According to Mei, only 30% of HBUST's class of 2020 have secured job offers to date, compared with at least 60% this time last year. "The situation is bad," he says.
Students are also struggling with virtual job hunting, with some unable to navigate the system and send out resumes, according to Mei. Zhang is particularly fed up with the online interview process.
"Video interviews are frustrating," she says. "I can't present some of my skills, like writing clearly on the blackboard, which would've earned me some points." 
But the employment market in Hubei is likely to improve later in the year, provided the province can avoid a second virus outbreak, experts tell Sixth Tone.
51job is running a job platform for graduates from Hubei in partnership with the Ministry of Education. Zhang Qihao, a human resources expert from the company, says although the number of positions listed for Hubei on 51job's platforms is only around 70%-80% of the level seen this time last year, the firm expects to see an improvement during the second and third quarters.
"There's usually a three-to-six-month lag between the recovery of the economy and the job market," says Zhang. "Since late March, we've already seen a dramatic rise in the number of job listings and people posting resumes."
Wuhan in particular has shown clear signs of improvement since the city's lockdown ended April 8, according to Zhang. As of April 20, there were 88,000 Wuhan-based job openings on 51job's website, up 166% compared with a month earlier.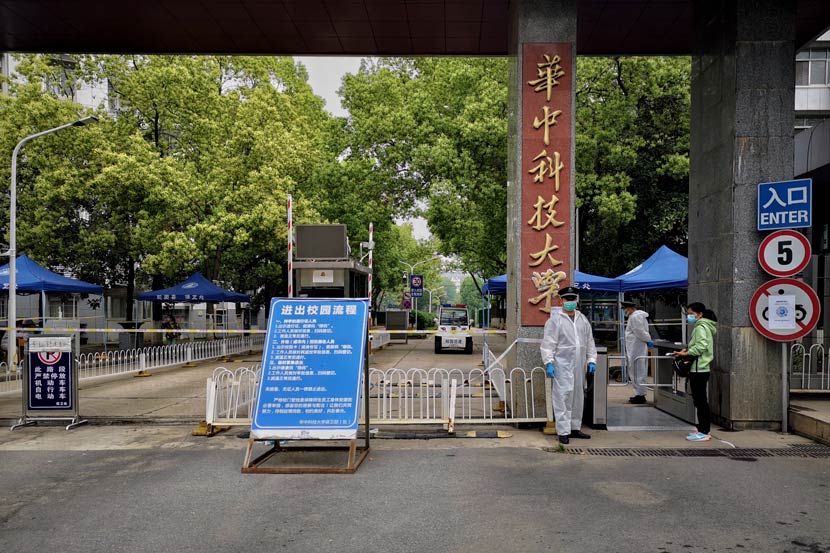 Staff in protective equipment man an entrance to Huazhong University of Science and Technology in Wuhan, Hubei province, April 23, 2020. Zhang Yi/People Visual
Frank Long, an economic sociologist at Wuhan University, predicts that China's economy will stabilize by next January.
"The economy and job market won't get worse than it was earlier this year, when Hubei ground to a halt for two months," says Long. "Even if we were hit by a second wave in November as some assume, it wouldn't be as bad as before. We'll be prepared and know what to do."
Although the services sector — especially restaurants and travel businesses — has been battered by the lockdown, Long expects the crisis might also create opportunities for some graduates in technical fields.
"The epidemic has revealed the dire need to fund and develop our public health sector, as well as other technology-intensive industries like big data analysis," he says.
For now, Hubei's universities are simply trying to soothe students' anxieties. Liu at Wuhan University says the career office has been receiving a large number of calls from final-year undergrads unsure where to go next.
"We told them to be patient and confident," says Liu. "We're one of the top schools in the country. Finding a job shouldn't be a problem for our students — as long as they have fair expectations."
According to Liu, today's graduates have increasingly high requirements for their first jobs, which sometimes prevent them from actually starting their careers. "They want their first job to be their dream job."
Mei at HBUST says he's giving his students the same message. He's encouraging graduates to consider less fashionable jobs — such as positions in local residential committees, small businesses, or in smaller cities.
"We guide them to correctly assess the situation," says Mei.
Liu's biggest worry for Wuhan graduates, however, isn't the state of the economy: It's the discrimination they may face from people elsewhere in China, where the virus didn't strike so hard.
"They may run into trouble finding an apartment, and employers may turn them down simply because they come from Hubei," says Liu. "Labeling people is just not necessary."
Editor: Dominic Morgan.
(Header image: A man walks across the campus of Huazhong University of Science and Technology in Wuhan, Hubei province, April 23, 2020. Zhang Yi/People Visual)
Correction: The article has been updated to correct the job title of Frank Long.