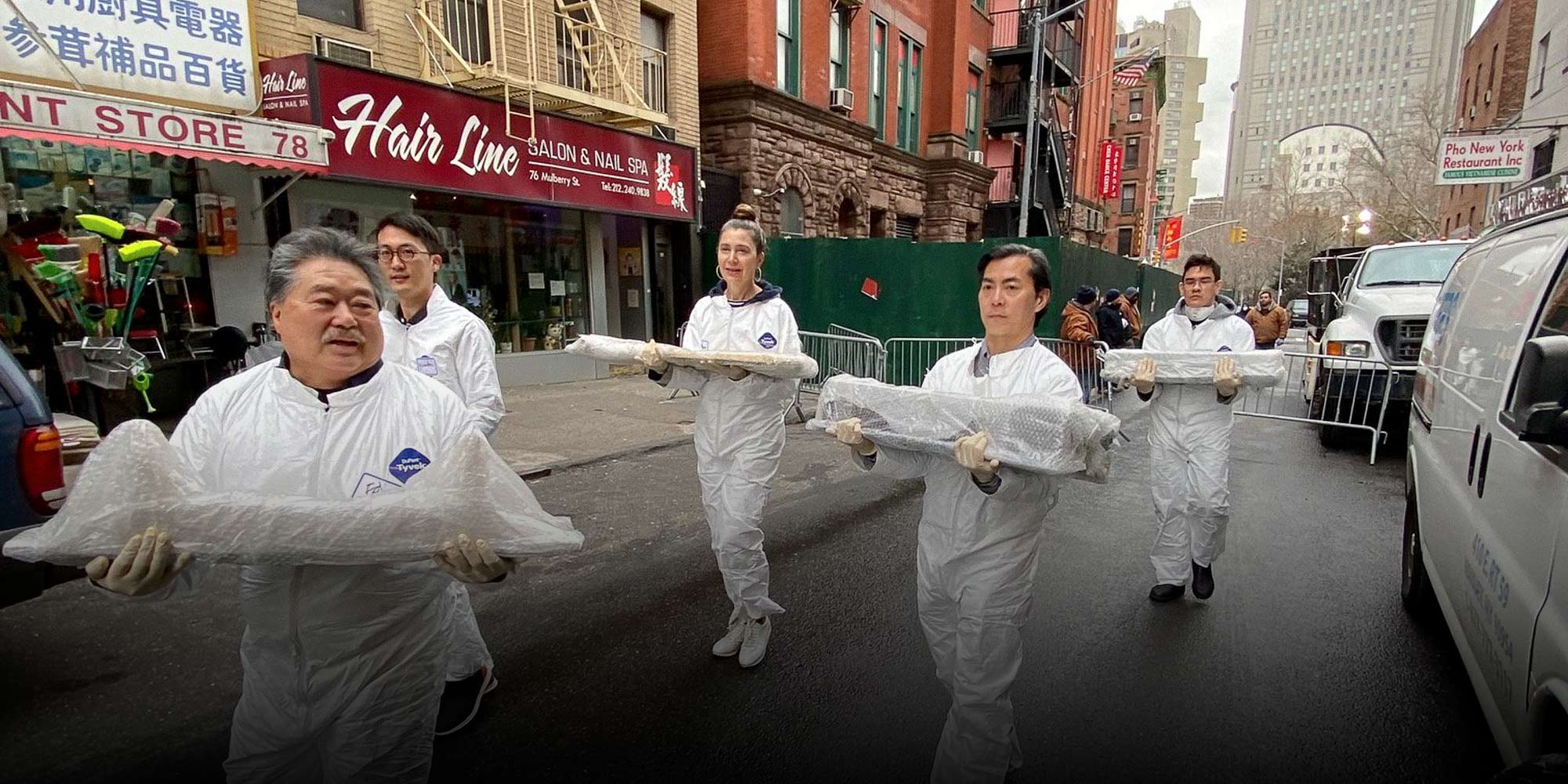 VOICES & OPINION
Reimagining 'Museums of Identity' for a Post-Coronavirus World
With Sinophobia and xenophobia on the rise, it may be time for institutions like the Museum of Chinese in America to reconsider the stories they tell.
On Jan. 23, the day before Lunar New Year's Eve, a fire tore through the 130-year-old building in Manhattan's Chinatown neighborhood where the archives of the Museum of Chinese in America are housed.
MOCA was founded in 1980 as part of the community-led New York Chinatown History Project. Although based in New York City, MOCA says it wants to preserve and present the experiences of all Chinese Americans, and it is supported by donations from individuals and organizations from across the country and around the world to tell global stories of Chinese immigration. Its archives contain 85,000 items collected from Chinese Americans nationwide: a treasure trove of information about families and communities.
Fortunately, the fire did not consume this material. Instead, it drenched it, with the archives soaking for hours in the water used to quench the flames. It wasn't until early March that museum staff members were finally allowed to retrieve the affected items and send them to restoration experts. Nevertheless, they remain hopeful the majority of items can be repaired.
The fire came at a strange time: That same day, halfway around the world, the central city of Wuhan was put under lockdown to contain an outbreak of a newly identified coronavirus. By the time the archives could be shipped off for restoration, New York City had replaced Wuhan as the new epicenter of the global COVID-19 pandemic.
As the disease has spread, Chinese Americans and immigrants from China have been placed in a peculiar situation. On the one hand, they've become targets and victims of hate crimes, including verbal abuse and physical assault, because of crude associations with the virus' "Chinese" origin. On the other hand, they have helped mobilize resources and networks in both the U.S. and China to fight the pandemic, including by donating personal protective equipment and volunteering to aid vulnerable populations.
Their active community engagement has the potential to change the stereotypical "permanent outsider" tag Chinese Americans and immigrants from China have been saddled with in the United States. As MOCA notes in its permanent exhibition, although Chinese Americans call the United States home, their Chinese roots form an essential part of their identity. This dual identification, particularly prominent in first-generation immigrants, can leave them vulnerable to racial discrimination, red-baiting, and violence, especially at times of social turbulence or upheaval. It also perpetuates the outsider stereotype: Even today, American-born Chinese must still frequently answer questions about where they're "really" from.
Indeed, Chinese Americans, and Asian Americans in general, have long been depicted as hard-working "model minorities," even as their voices are silenced. In recent years, however, they are not only pushing for greater social recognition of their cultural heritage — by making Lunar New Year an official holiday, for example — but also taking on leadership roles in local legislative bodies and government. They're even forging links of solidarity with other racial and ethnic groups, like the "Asians 4 Black Lives" campaign in support of the Black Lives Matter movement.
The arrival of COVID-19 in the U.S. offers a unique opportunity for Chinese Americans to rethink their identities and for American society to reflect on its history of racism toward this and other "outsider" groups. Particularly relevant is the country's longtime practice of blaming "others" — whether national, racial, or ethnic — for contagious disease.
Building more museums would help. In recent years, a number of museums of Chinese American history like MOCA have been established in cities around the country. One, set to open this October in Philadelphia, aims at becoming the first comprehensive museum of Chinese Americans in the United States, though it will focus on the history of Chinese Americans in the state of Pennsylvania.
These new institutions should not just replicate the tropes found in so many American "museums of identity." In the words of museum critic Edward Rothstein, identity museums often tell similar stories of how, "after a long period of suffering, prejudice, and hatred, a group has carved a distinctive place in the history of the United States, its once scorned identity now a source of strength."
But emphasizing dual identification and telling formulaic immigrant stories risks missing the complexities of Chinese American life and the organic roles they play and have always played in their local communities and society. The renewed racism now faced by Chinese Americans should push pioneers like MOCA to reflect on their visions and missions. What kind of memories do they want to preserve and present to the public? What do they want society to learn from history through their work?
Instead of old-fashioned narrative arcs, the world needs alternative frameworks. MOCA's current permanent exhibition is still very much centered on the national histories of China and the U.S., an "us (Chinese) versus them (American, but mainly white Americans)" dichotomy, and stories of powerful men who changed history, like Abraham Lincoln, Sun Yat-sen, and Franklin D. Roosevelt.
These narratives and their portrayal of Chinese Americans as a homogeneous group are too simplistic to capture the nuances of the past and present and are not helpful in breaking down long-held racial stereotypes. They fail to recognize Chinese Americans as having diverse cultural origins and social backgrounds or how age, occupation, class, and individual choice shape their experiences after arriving in the U.S. in very different ways.
Equally important, museums and history projects should take a grassroots approach to collecting and curating. MOCA already claims to do so, and indeed has been doing great work collecting items and oral histories from ordinary individuals. But what they collect in this fashion is still used to tell stories of immigrants based around national histories and homogenizing assumptions.
More radical steps are needed, like inviting ordinary people to participate in curation work and moving away from a focus on success stories. Museums may also need to rethink their ambitions of becoming "national" and instead dig into unique local histories.
The effects of the ongoing pandemic on communities around the world should be documented, and artifacts of the past few months may become an important component of future museum collections. Using new technologies, oral histories can be combined with tweets, individual stories of racism and violence, photographic and documentary evidence of Chinese American community contributions, and more. By placing all this within the historical context of racism in America, hopefully institutions can push audiences to reflect on what it really means to be in a diverse and inclusive society.
Editors: Wu Haiyun and Kilian O'Donnell.
(Header image: Volunteers help move MOCA'sarchives in New York, Feb. 1, 2020. From @mocanyc on Twitter)