SHANGHAI — In late April, travel agent Fang Si met her business partner Cai Hao for a crisis meeting. The first item on the agenda: trying to save their company by investing in pig farms.
Pivoting from luxury flights to livestock is a desperate move, but Fang and Cai feel they have few other options. Their agency is losing money fast and will soon have to fold unless they can find new sources of income.
"There's always a need for pork," Cai tells Sixth Tone. "We're not aiming to make big money from such an investment, but we hope the returns can help us cover our basic costs, including the wages of our 12 employees."
Cai and Fang are among the thousands of brick-and-mortar travel agents who have seen their businesses flatline since April, when the industry became embroiled in the febrile politics of the coronavirus pandemic.
Despite the rise of online travel firms, traditional agents still play a major role in China's flight-booking market. As of 2019, 4,378 agencies focusing on air tickets altogether handled 60% of passenger flight seat reservations, sources at the China Air Transport Association told Chongqing Economic Times.
The agency run by Cai and Fang is one such business. Founded in 2004, the Shanghai-based firm has survived by helping companies arrange international business trips, with their profits coming from the service fees charged to clients.
But this business model suddenly became untenable after travel agents were accused of charging Chinese citizens sky-high prices for flights back home as they tried to flee European capitals.
The first signs of trouble for agents emerged in early March. China's COVID-19 epidemic had largely subsided, but the country was wary of a second wave of infections beginning as people returned to China from Europe, the United States, and other areas seeing a rapid virus spread.
To contain the number of imported cases, Chinese authorities announced that from March 29 domestic airlines would have to drastically cut international flights to China. Each airline would only be allowed to operate one route per country, one flight per week for each route. Seat occupancy rates would be capped at 75%.
With thousands of Chinese citizens desperate to return home and escape the growing crisis in the West, the policy appeared certain to trigger a rush to secure seats on the few remaining flights. "Many overseas students were rushing to book flights to return home," says Fang, whose business concentrates on connections between Shanghai and London.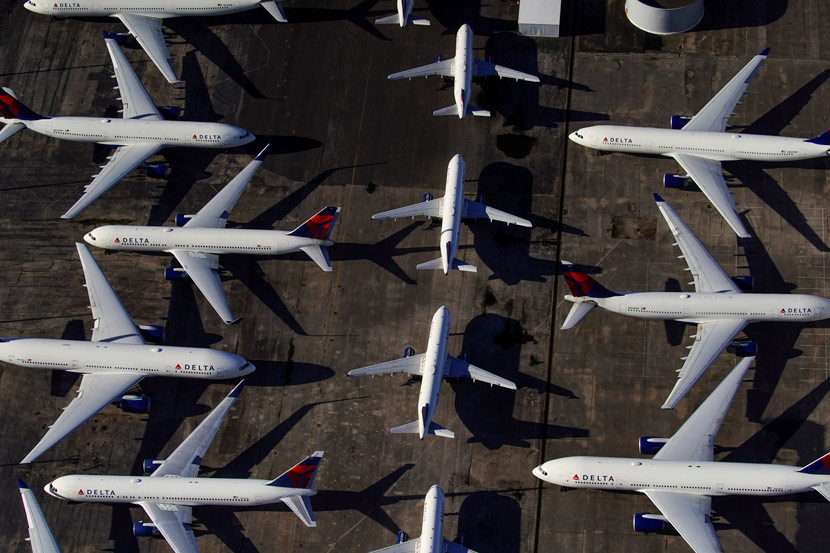 Large numbers of airplanes are parked due to flight reductions made to slow the spread of the coronavirus, at Birmingham-Shuttlesworth International Airport in Birmingham, Alabama, U.S. March 25, 2020. Elijah Nouvelage/Reuters via Xinhua
Airfares soon skyrocketed.
By early April, travelers were being quoted prices of 86,900 yuan ($12,250) for a one-way, first-class ticket from London to Shanghai for May 4, according to Securities Daily. Economy-class tickets on other flights leaving Europe were priced as high as 100,000 yuan. 
With public anger mounting, the Civil Aviation Administration of China (CAAC) blamed the spike in prices on rogue agents, banning all domestic airlines from collaborating with agents when selling tickets for international flights April 16.
"We'd noticed that given the market demand had far surpassed supply, individual agents from home and abroad had hiked the ticket prices to over 100,000 yuan through malpractices like booking seats using false customer information and then changing them to real passengers' names," said Sun Shaohua, a CAAC official, in an April 20 press conference. "Airlines should sell all international flight tickets through their direct sales channels and strictly abide by pricing policies … Ticket scalping behavior should be fully banned." 
The policy may have helped bring prices down, but it has had a devastating impact on agents. Fang and Cai have been left unable to generate significant revenues but are still paying around 130,000 yuan per month in rent, property management fees, and staff salaries. Most companies in the industry are in similar dire straits, according to Fang.
"If we can't survive, most (players) in this business won't be able to pull through, either," says Fang. "We're still allowed to sell tickets for domestic flights. But 90% of our profits came from international flight tickets."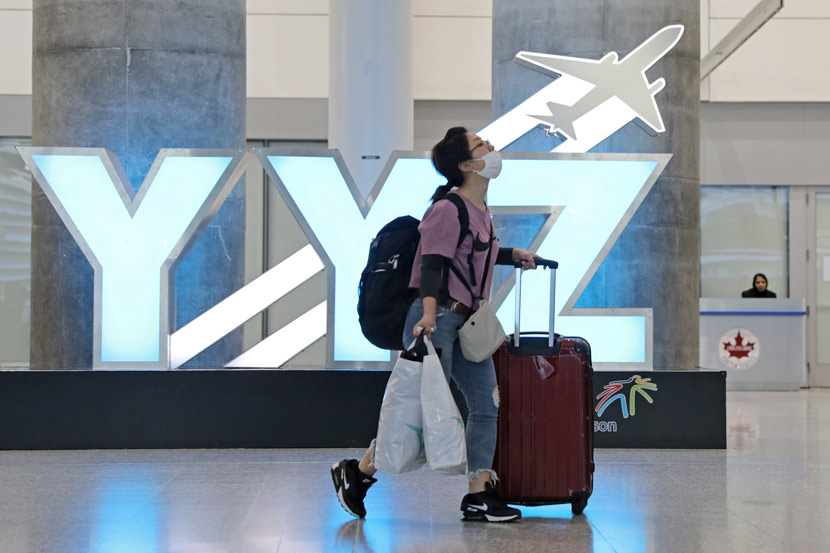 A traveler walks through the international arrivals lounge at Pearson Airport in Toronto, Canada, March 13, 2020. Chris Helgren/Reuters via Xinhua
For Cai and Fang, the entire industry has been punished for the actions of a few bad actors. They point out that agents had been banned from hiking flight ticket prices under rules introduced about a month before the scandal erupted.
"We were banned in late March from raising prices above the rates offered to us by the airlines," says Fang. "We'd face punishment from a fine to the revoking of our agency certification."
The agents also feel their industry has been unfairly singled out. According to Fang, airlines should also be held accountable for their roles in raising prices.
On eTerm — China's official flight ticket information platform used by airlines and licensed agents — Fang shows Sixth Tone the price of an economy-class ticket from London to Shanghai rising from just over 18,000 yuan in January to 28,825 yuan in late March.
"It (the increase) was purely due to the airline's pricing," says Fang. "How could they hike the price, and how did they price their tickets? This has never been made transparent."
The CAAC has been gradually handing domestic airlines more autonomy to set airfares since 2010. In 2016, the airlines were allowed to set their own prices for all flights.
For Fang, the authorities' decision to blame agents for problems during the pandemic reflects a long-term policy trend that has favored larger players in the travel industry at the expense of agencies.
"We've always been a disadvantaged group," says Fang. "There's no industry association to represent us, helping to make our voices heard."
Agencies have been hit particularly hard during the pandemic, according to Cai. Since 2015, when China's domestic airlines stopped paying agents commissions on flight ticket sales, agencies have made money by charging a 3% service fee for each booking — a rate corporate clients were willing to pay.
But the service fees became controversial in March. Authorities deemed the charges a form of price hiking and banned agencies from imposing them. According to Cai, at least one agency was fined for charging a service fee.
"Our staff worked lengthy hours to search in the eTerm system for available flight seats," says Cai. "It doesn't make sense if we don't get paid for our services."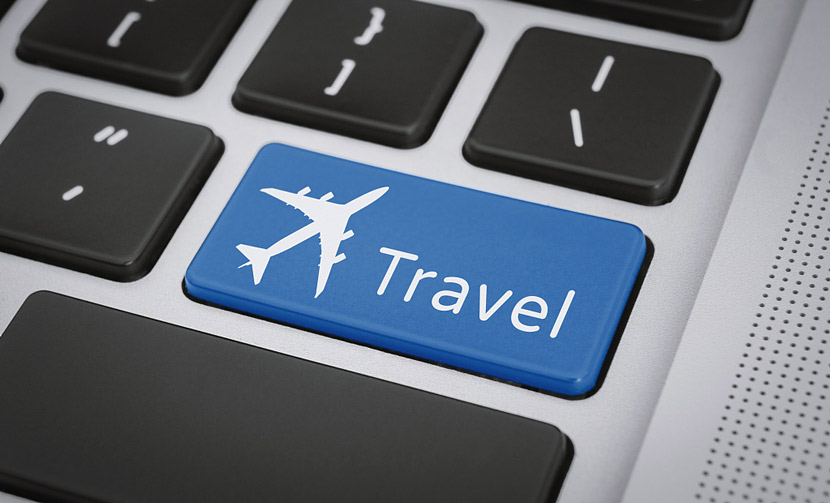 Constantine Johnny/Moment/People Visual
Airlines, meanwhile, have often declined to offer cash refunds for flights canceled during the pandemic, which has put agencies under added financial pressure. Fang says her company has refunded tickets worth 7 million yuan since January.
"Some airlines have refunded people with coupons valid for one year due to their capital turnover issues," says Fang. "But we still have to refund our clients in cash. ... It's a big pressure on our cash flow."
Cai says he understands why the traditional travel agency industry has declined since he set up the company nearly two decades ago. In the early days, few Chinese consumers had access to the internet, and new online competitors like Ctrip — now rebranded as Trip.com — were barely a threat.
Airlines and travelers almost completely relied on agencies to handle flight bookings, with traditional agents making over 90% of seat reservations in 2003. Cai was working at a booth in a hotel near Shanghai Railway Station.
"We didn't need to walk out of the hotel to find customers," he says. "The customers found you."
Passengers check in at an airport in Haikou, Hainan province, May 1, 2020. People Visual
Over time, the big technology companies were able to lure individual travelers with better deals and more convenience. But Fang says agencies still have a lot to offer corporate clients due to the high level of service they provide. Until the pandemic struck, Cai and Fang served nearly 50 companies.
"We're reachable to our clients around the clock," says Fang. "Working 12 hours a day is normal for us."
It's still unclear how long Chinese authorities plan to enforce the agency ban. Legal experts tell Sixth Tone the decision to punish an entire class of businesses could go against Chinese competition laws. 
In 2016, the State Council, China's Cabinet, announced plans to establish a fair competition review system, to prevent the issuance of policies that might eliminate or limit market competition. The system is now in force across the country.
"Without the pandemic, such a rule (the agency ban) wouldn't pass the fair competition review," says Liu Chunquan, a partner at Shanghai-based law firm Duan & Duan who specializes in aviation law. "However, it's an interim measure to address the problem of skyrocketing air ticket prices in a special time."
For Liu, agencies are within their rights to apply for a review. "It's definitely a well-intentioned policy," he says. "But whether it's scientific to ban all agencies from the business and whether there's a better way to address the problem, this can be discussed."
The likely outcome of such a lawsuit is unclear. Chinese aviation law doesn't specify rules on practices by agencies. The fair competition review system, meanwhile, doesn't state the amount of compensation entitled to businesses with interrupted access to a fair market.
Cai and Fang also think agencies have legal grounds for complaint. For now, however, they're still weighing their options — and making plans for their pig farms.
Editor: Dominic Morgan.
(Header image: Lane Oatey/Bluejeanimages/People Visual)