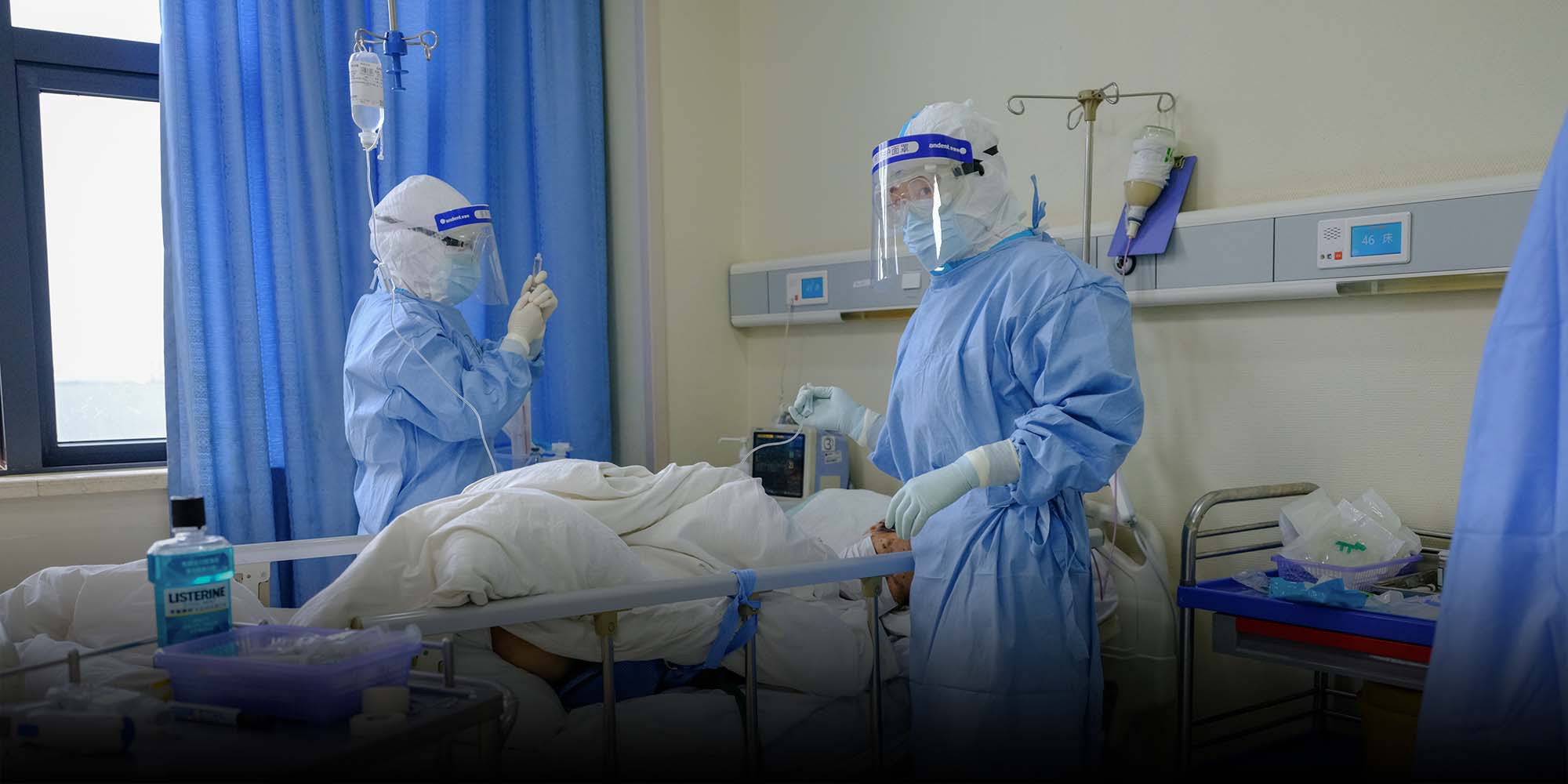 FEATURES
From the Front Lines: A Steep Learning Curve, a Bittersweet End
For four months, Dr. He Ping supervised a COVID-19 quarantine ward in Wuhan.
HUBEI, Central China — Before the coronavirus outbreak had Wuhan firmly in its grasp, Dr. He Ping had never seen an infectious disease up close.
The 46-year-old geriatrician had studied cardiovascular disease at Wuhan's Tongji Medical College, one of the top medical schools in China, from her bachelor's degree right up to her M.D. When SARS swept across parts of the country in 2002, she was still in graduate school, and Wuhan saw few cases.
In the years that followed, as China upgraded its infectious disease response system, the capital of Hubei province — with nearly 400 hospitals, 40,000 licensed doctors, and 54,500 registered nurses — was hailed as a beacon of public health excellence.
Then came COVID-19, and the floodgates opened. From opening the first coronavirus-only ward among non-respiratory departments in her hospital to grappling with a disease then only classified as an "unknown pneumonia," Dr. He, like Wuhan itself, was put to the test like never before. And gradually, she went from working as an internal medicine doctor to leading a COVID-19 ward at ground zero in a four-month battle against the city's biggest public health emergency.
When Sixth Tone visited Dr. He at Wuhan Union Hospital on April 11, just 25 COVID-19 patients were left in her ward. On April 25, the last patient was discharged. Wuhan recorded zero hospitalized coronavirus patients on April 26. 
This is her story, as told to Sixth Tone and edited for brevity and clarity.
On Jan. 2, I was transferred from the headquarters of Wuhan Union Hospital to its branch in Caidian District, to take over the geriatric department. The outbreak was already very serious. We received three COVID-19 patients on Jan. 6 — back then it was still called an unknown pneumonia. Each day, at least three or four patients came in with similar symptoms.
None of us knew anything about the mysterious disease, but when you saw the lung scans of these patients, you knew it was vicious. We knew it was unusual and reported it to the infection control department. 
We weren't a designated COVID-19 hospital at that time. After epidemiological inspection and nucleic acid tests, confirmed patients were transferred to Jinyintan Hospital, which specifically dealt with infectious diseases.
This meant a lot of effort because Jinyintan Hospital was pretty overstretched, just like we were. There were no beds available, but we managed to transfer the patients.
As more flooded in, however, there was simply no way to transfer them all. On Jan. 26, we also became a designated hospital for treating coronavirus patients. All our wards were to be converted into isolation zones.
I was tasked with overseeing the conversion of the geriatric ward. According to the list I was given, I was to work with doctors from a variety of disciplines, and only two specialized in internal medicine. It was very stressful at first. The disease was completely new, and the knowledge we had at the time wasn't enough to meet the challenge around the corner.
To my relief, help came the next day. The Beijing medical team — our first assistance team — arrived in Wuhan on the night of Jan. 27 and came to check our ward the next day. As soon as they saw it, they told us it wouldn't work, that the level of protection was insufficient. Their experts dealt with the SARS outbreak, so they were very experienced. They told us that the existing quarantine area didn't have the space needed for medics exiting the hot zone to safely take off their protective suits and prevent potentially lethal aerosol transmission.
We started work to excavate the wall to create the space needed. The digging was done at 10.30 p.m. The next morning, shortly after clearing the construction debris, we opened our ward. We received 19 patients the first day and in three days my wards were filled. On Jan.30, another floor in our building also opened for coronavirus patients, and around Feb. 5, all 16 floors in the building were converted to specifically treat this disease. 
Earlier, many acquaintances had asked us to let their friends in since there was a shortage of beds. People were just calling anyone they knew for help. But our hospital followed norms set by the outbreak command center, and we were issued a list of patients so admissions wouldn't become chaotic. After more wards opened, and particularly after the introduction of fangcang (temporary shelter hospitals set up in Wuhan to ease the burden on dedicated hospitals) the situation began to look up.
Our understanding of this disease was step by step. Initially, we only knew its clinical attributes: cough, sputum, and a fever that did not subside. In acute cases, we saw respiratory distress followed by multiple organ failure. 
Then there were the lungs, and the images of ground-glass opacity and the change of exudates (which shows white patches in the lungs caused by the build-up of fluid). After seeing several such scans, you will never forget them. They're that severe. The virus spreads to both lungs, and some just turned completely white (which signals that the air sacs have become increasingly clogged as the lungs filled with fluid).
The disease develops rapidly. Many of our patients were fine in the first week but slumped sharply in the second week after multiple organ failure. Some patients who spoke to us in the morning died during our next shift. This was the hardest part. You couldn't help but think, how could this be?
Doctors may witness life and death more than other professions, but in general, we can predict the outcome. But this disease made life and death so abrupt. In our ward, there were many couples, mothers, and children. Many were left alone in the end. This disease is very severe, I hope we never face it again in the future.
I had never treated infectious patients before, so everything had to be learned from scratch. When we received orders to become a designated hospital on Jan. 27, the management told us that everyone had to put aside their specialties and become an infectious disease doctor.
I pored over medical journals and websites daily. From the beginning, I maintained a diagnosis and treatment plan for our ward, and it was constantly updated. Every day, as long as we learned something new, I updated the plan to include information like malnutrition, thrombosis, DIC, damage the virus caused to the heart as well as treating diabetes, hypertension, etc. We tried to learn as fast as possible.
Many doctors from the assistance team specialized in infectious and respiratory diseases. But they didn't understand our local dialects, so it was hard for them to communicate with the patients. They also needed time to get used to our computer systems, so we dispatched two doctors at a time to help them enter and exit the hot zone.
There were many experts on the assistance team. One team led by Dr. Zhong Nanshan (China's top expert on respiratory diseases) took over one of our ICUs. Every time I participated in a case discussion, it felt particularly rewarding. The whole national team was here. It felt a bit like one of those duels on Mount Hua in the martial arts novels.
Over one-third of the patients in my ward were older people. They generally had preexisting health conditions that were tricky to treat, and some developed bacterial complications along with the viral infection. Many of the last remaining patients in my ward were once on the brink of death. They were anxious, and several saw their loved ones succumb to the disease.
A grandfather in my ward said that seven of 10 people in his family were infected after one dinner on Lunar New Year's Eve. His wife passed away in our ICU. The grandfather couldn't call his wife, and he asked us repeatedly of her whereabouts. Our doctor had to lie because if we told him the truth, he might've lost the will to live. It was only after he was discharged that his son told him. But he knew it already — he just didn't want to face it.
I hope society won't be prejudiced against those who have recovered. It's really not easy for them to carry on. Just surviving is hard. Many were family cluster infections. It's very common to lose relatives, and they're living with a very painful experience that's hard to move on from. Please don't discriminate against them.
Overall, we treated 168 patients. In the first week, five died. But after learning from our experiences, only two passed away in my ward. In the end, it was a good result, and I'm proud of the turnout. Our hospital treated severely ill COVID-19 patients, and the bodies of many had turned purple (indicating a lack of oxygen in their blood) when they were transferred to us.
Speaking of the complexity of the treatment, the patient in bed No. 62 was relatively complicated. He experienced a sharp turnaround and went back to the ICU to be intubated. It did him good but when he returned to our ward, he developed a multidrug-resistant bacterial infection, and then pleural effusion (fluid in the lungs). We also set up a special rehabilitation squad to help patients like him function on their own. He finally recovered on April 21.
Another patient was readmitted after testing positive again, and he was transferred to our ward. There may have been problems with sampling or transport. The false negative rate of the nucleic acid test could be pretty high. I think he didn't necessarily test positive again, but was probably positive the whole time.
Patients discharged from our ward have never tested positive again because our discharge criteria are even stricter than the national standard. It takes at least four negative nucleic acid tests for them to be discharged, and there are long intervals between each test.
For many patients, the recovery process through nucleic acid tests is: double positive, then single positive, and finally double negative. The national guidelines require obvious absorption in the lungs (indicating reduced scarring), but how do we define "obvious"? Is it 80% absorption? Is it 50%? Or just 30%? This was hard to pin down — we had to understand it ourselves.
It's possible that the virus may exist for a long time, or even appear again. In our country, it is often the elderly who develop severe symptoms, while the young show milder symptoms. But in the United States, some people in their 20s, after one visit to a doctor, die the next day. Some reports indicate that it might be the antibody-dependent enhancement (ADE) effect: The patient already had antibodies from an earlier infection, but in the second round, the virus mutated, triggering a stronger response from the immune system. I'm a little worried about this possibility now, and we sometimes discuss it in our WeChat groups. In Wuhan, there may be people who are infected and asymptomatic, but I think this group probably isn't too large.
Gradually, all the medical assistance teams left, leaving only our own doctors to treat the remaining critically ill patients. The surviving patients were basically all difficult cases.
Over the last few weeks, we discharged one or two patients a day. They were then transferred to rehabilitation hospitals. At the moment, there are around eight patients being treated in our ICU wards. They have all been cleared of the virus, but we are still on standby in case of positive antibody tests or false negatives.
I had mixed feelings yesterday (April 28). I'd been looking forward to the day it would all "end" for a long time, and had prepared myself psychologically — because as patients were discharged, there would come a day when none would be left.
But when the wards were finally empty, the feeling was more complicated. It wasn't just pure joy, as I had expected. Yesterday, when those of us at the hospital sang a song about spring blossoms in memory of this moment, the tears flowed freely. Thinking of what we have been through these past four months, the memories are all bittersweet.
Contributions: Ye Ruolin
(Header image: Medical workers wearing protective equipment treat patients at a ward in Wuhan Union Hospital (West Branch) in Wuhan, Hubei province, April 11, 2020. Shi Yangkun/Sixth Tone)