A popular Chinese world-building game was removed from domestic app stores on Tuesday after struggling to remove erotic content and deter sexual predators.
The issues within Mini World: Block Art — which since its release in the summer of 2017 has been downloaded 50 million times on the Google Play store, and many more times on Chinese app stores — were brought to light on April 2 when a content creator called Little Scholar Xie Chenyuan posted about them on video-sharing site Bilibili.
In his video, Xie showed how user-created maps — custom-designed locations such as arenas within the game that can be shared with other players — were filled with erotica, displayed along rows of in-game blackboards. The vlogger also found boards inviting players to join erotic chat groups on Tencent-owned messaging app QQ by adding certain contacts.
Shortly after sending a friend request to one such account while posing as a 12-year-old girl, Xie was contacted by someone who claimed to be the same age. The new acquaintance urged Xie to undress and send nude photos.
Days after Xie posted his video, Mini World announced on its official Weibo microblog that it was aware of the issues and planned to address them by temporarily disabling "chat zones" within maps, stepping up supervision, and pursuing legal action against the worst offenders. However, the problems appear to have persisted.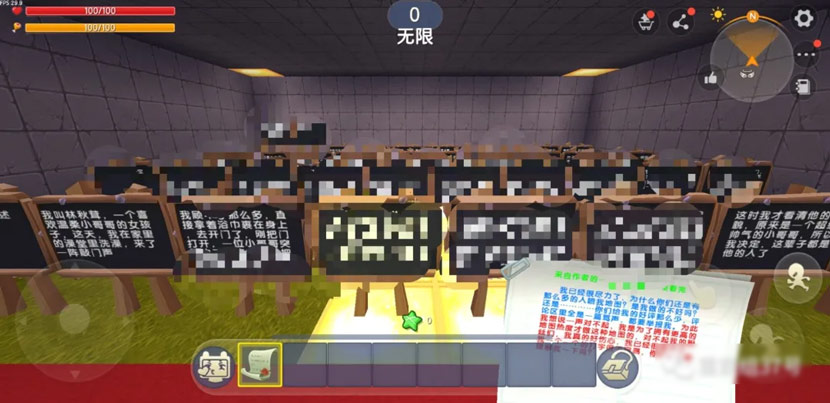 A screenshot from the mobile game Mini World: Block Art shows user-generated erotica scrawled across rows of virtual blackboards. From 重案组37号 on WeChat
On April 27, The Beijing News reported that a mother had caught her 5-year-old daughter undressed and taking photos of herself, per the instructions of a stranger she had met in Mini World. School-age children told the outlet that although games now require new players to register accounts under their real identities, many minors seeking to skirt playtime restrictions instead register using their parents' IDs, often without permission.
The article also found that user-hosted maps with illicit content were still accessible, thanks to creative spellings and renderings of certain words that might otherwise be caught by content-moderating algorithms. Players make such maps to attract followers, and might promise to release a new erotic map if their fan count reaches a certain threshold, according to the article.
On April 28, Mini World announced in a Weibo post that it would be removed from app stores for a period of "rectification," and that any new user-uploaded content would be temporarily prohibited.
"Mini World will strictly implement all rectification measures related to content safety, and will cooperate with public security organs to bring criminals to justice," the game said. Mini World's official website was also offline Thursday.
Zhu Wei, an associate professor at China University of Political Science and Law, told The Beijing News that video games, as "online service providers," have a legal responsibility to monitor the user-generated content that appears within them — especially if minors make up a large proportion of their audience.
"If this kind of erotic content continues to appear in the app, parents will be within their rights to sue the game," Zhu said.
While maps that include sexual language and even lengthy works of erotic fiction probably could not be considered "pornography" — the creation and dissemination of which is a criminal offense in China — they could constitute "vulgar or sexual information" and be subject to crackdowns from cyberspace regulators, Zhu said. Sharing inappropriate content directly with minors through channels such as QQ groups, meanwhile, would warrant more serious punishment, the academic said.
Online games are increasingly becoming a domain for pedophiles and sexual predators seeking victims. In December, a New York Times investigation uncovered cases of sexual abuse stemming from wildly popular games like Fortnite and Minecraft, which appeal to young audiences. After establishing a relationship with the target, the predator pressures them into sending explicit photos and videos of themselves, which are then used to blackmail the victim into sending more.
In recent years, China has imposed increasingly strict gaming regulations on minors. In November, authorities introduced a slew of policies — including playtime limits, curfews, and spending restrictions — in an effort to curb gaming "addiction" and gaming-related myopia in children and teens.
On Weibo, netizens have reacted with shock to the revelations of Mini World's seedier side, with many concerned parents commenting to say that their young children play the game. "It (Mini World) should have been taken down a long time ago," one user commented under a related media post. "Students right now are all addicted to this game."
Other users, meanwhile, have taken the game's sudden exposure as an opportunity to mock it for being an apparently unabashed carbon copy of Minecraft. "Hey, this game looks way too similar to Minecraft," read a top comment with 19,000 likes under the same post.
Editor: David Paulk.
(Header image: A promotional graphic from the popular Chinese mobile game Mini World: Block Art. From @迷你世界-MiniWorld on Weibo)