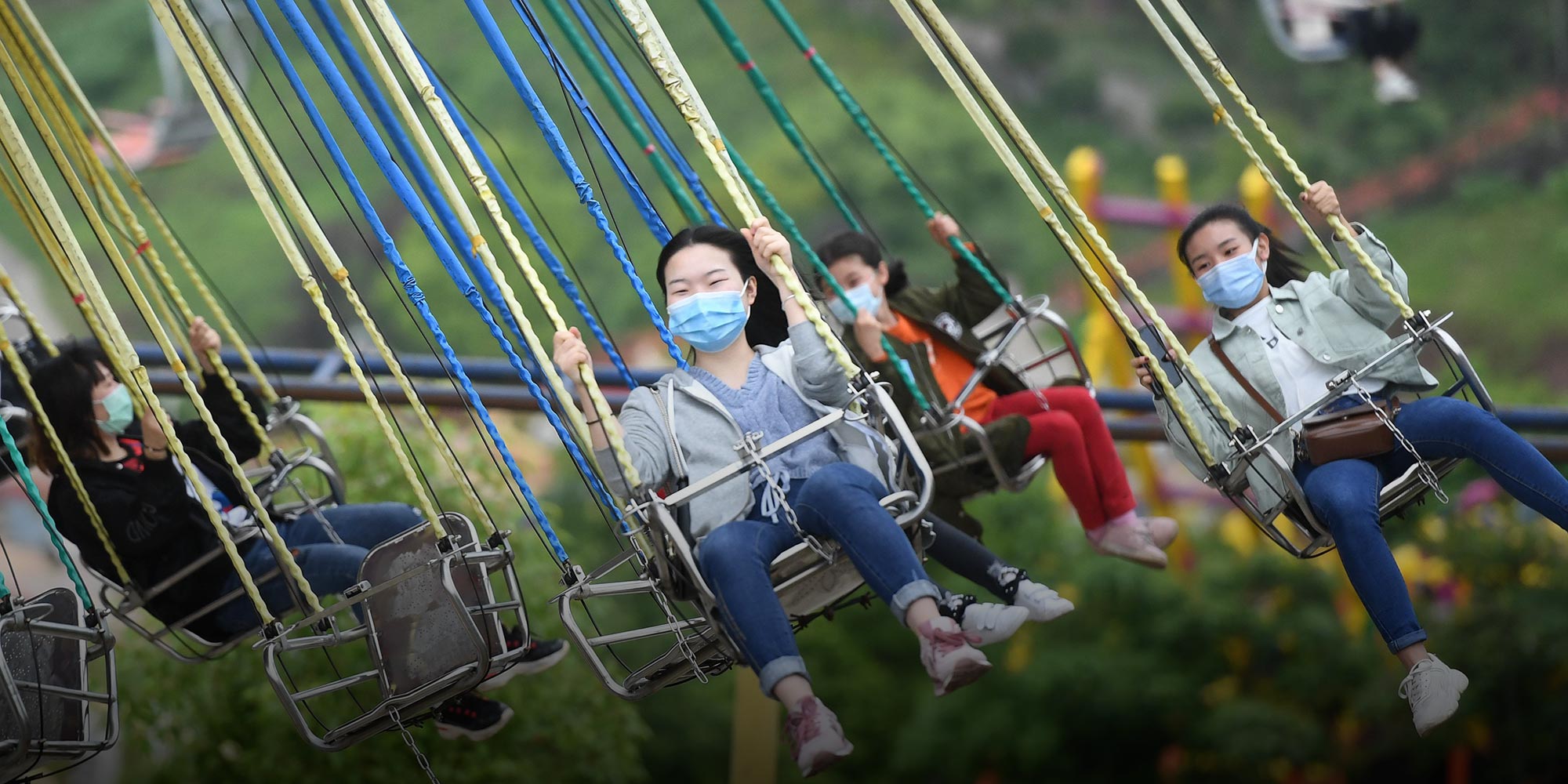 FEATURES
China's Travel Firms Brace for Make-or-Break Holiday
Tourism businesses are trying everything to lure visitors ahead of the May Day holiday. But many consumers remain reluctant to travel far.
SHANGHAI — In over a decade working as a tour guide, Lin Xi had never been so excited to receive a booking. Last week, a family from Shanghai confirmed a two-day trip to Suzhou, a city just over 70 kilometers away, for the upcoming May Day holiday.
During normal times, the 600 yuan ($85) gig would barely be worth mentioning. But Lin feels incredibly lucky to have it: Most of her colleagues have no work at all.
"The number of clients has decreased by 99% compared with any time in the past 10 years — in fact, we basically have none," Lin tells Sixth Tone. "Some tour guides … had no choice but to find a temporary job to make a living."
China's vast tourism sector is showing tentative signs of recovery amid a decline in the country's COVID-19 infections, but the industry is still facing major disruptions ahead of the May Day break, which begins Friday.
Travel firms have been banking on an uptick in demand over the public holiday to bring some relief from the worst slump to hit the industry in decades. This past November, the Chinese government extended the 2020 May Day holiday to five days in an attempt to boost consumption.
Cities have taken extraordinary steps to attract visitors ahead of the holiday. Tourism bureau officials hosted special livestream shows to promote local attractions. Haikou, in tropical Hainan province, released millions of yuan in "consumption coupons" and offered heavy discounts on flights, hotels, and tourist venues.
But the measures appear to have only had a limited impact. Trip.com Group, a leading online travel firm, estimates Chinese travelers will make around 90 million trips over the May Day break. That's more than double the number of trips made during the Qingming Festival holiday earlier this month, but less than half the figure for the May Day holiday last year.
Despite the fall in new coronavirus cases in China since March, the tourism sector still faces some virus-control restrictions, which is impacting demand. 
Travel firms are banned from organizing tours for travelers outside their home provinces. Schools in at least 15 cities have told students and teachers not to travel during the holiday. And popular destinations like the eastern mountain Huangshan have been ordered to only admit 30% their usual number of visitors to avoid overcrowding.
Many consumers, meanwhile, remain wary of unnecessary travel. According to super app Meituan, nearly 90% of the May Day trips booked through its platform are to local destinations, significantly more than usual.
Jessie Pan, a 28-year-old from Shanghai, tells Sixth Tone she recently cancelled a planned four-day trip to Guilin, a popular destination in Southwest China, over the holiday on her parents' advice.
"Both my parents are worried about the safety of taking a flight, and they forced me to cancel it," she says. "But staying at home for five days is totally a waste of time. I think maybe I can go to a neighboring city."
Deng Cen, a 22-year-old who works at a bank in the central city of Changsha, had to lie to her family so she could travel to southwestern Chongqing.
"I told my parents I'm traveling with friends to make them feel comfortable," says Deng, adding that her partner had decided not to join her. "I'll be cautious and avoid the popular tourist attractions."
For thousands of companies in China's tourism sector — which generated annual revenues of 6.6 trillion yuan and provided around 10% of the country's jobs last year — the main goal has simply become survival after all the dramatic income plummets since January.
As the coronavirus began to spread in the country, cities went under lockdown, airlines cut flights, tourist attractions and public venues shut down, and several countries imposed travel bans. China's Ministry of Culture and Tourism banned travel agents from selling package holidays and group tours ahead of the Lunar New Year holiday.
In February, the China Tourism Academy estimated that domestic tourism revenues would see negative growth of nearly 70% in the first quarter, and the industry would experience losses of 1.2 trillion yuan for the whole year. 
Han Wei, 33, who manages a customer service call center for Trip.com, recalls being deluged with calls from customers wanting to cancel bookings from late January. The number of enquiries more than tripled during the height of the epidemic, he estimates.
"Our colleagues would choose to skip lunch," says Han. "Even if you had time to heat up your meal, you didn't have time to finish it."
Trip.com was among several online travel firms to offer full refunds to consumers wishing to cancel bookings due to the pandemic. In late March, the company said it had handled over 30 million cancelations worth a combined 31 billion yuan.
"In the spring, the only calls we got were to cancel orders," says Han. "But as long as the clients want to talk about their problems, I'm always ready to help."
The spread of COVID-19 across the world has dealt a second blow just as Chinese firms were hoping to move on from the crisis. In early April, Pew Research Center estimated that 90% of the global population now lives in countries with some form of travel restrictions, while around 3 billion people are in places completely closed off to nonresidents.
Liu Zeng, another customer services representative at Trip.com who mainly serves the firm's Japanese clients, tells Sixth Tone his workload surged again in March, after the announcement that the 2020 Tokyo Olympics would be postponed.
"Again, I was having to answer 60 to 70 phone calls every day," says Liu. "Some wanted to cancel their deals with a full refund, while others wanted to change their bookings to next year."
The World Travel and Tourism Council predicts that $2.7 trillion in economic activity will be lost globally in 2020 due to the decline in travel and tourism caused by COVID-19. Asia-Pacific will be hit hardest, with over $1 trillion in lost activity and 64 million job losses.
Chen Yong, an assistant professor at the Ecole hôtelière de Lausanne in Switzerland who specializes in tourism economics, tells Sixth Tone that COVID-19 is the worst crisis the global tourism industry has ever faced, far surpassing previous shocks such as the 2001 9/11 terrorist attacks, the 2003 SARS epidemic, and the 2008 financial crisis.
"The impact of those incidents was quite regional and limited as far as the global tourism industry was concerned," says Chen. "But this year, we can see shrinking demand for travel worldwide."
For Chen, China's tourism sector will only truly start to recover once the pandemic is brought under control globally.
"If the pandemic is still out of control in the second half of the year, the economic impact will not only affect demand from tourists, but also the number of travel-related companies — they might not survive," says Chen.
But the crisis might also drive improvements in the domestic tourism industry, forcing firms to improve their standards of service, according to Chen.
"There's huge tourist traffic from China to the rest of the world, but not the other way around," says Chen. "Now, it's a good chance for restaurants, hotels, and tourist attractions to examine their hospitality and improve their quality of service."
Lin, the tour guide, has already noticed this trend in her own industry. Guides with a big following on social media, she says, are fully booked for the May Day holiday. 
"Only the top people in the industry will never be wiped out," Lin says.
Editor: Dominic Morgan.
(Header image: Visitors ride an attraction at an amusement park in Chongqing, April 25, 2020. Chen Chao/CNS/People Visual)