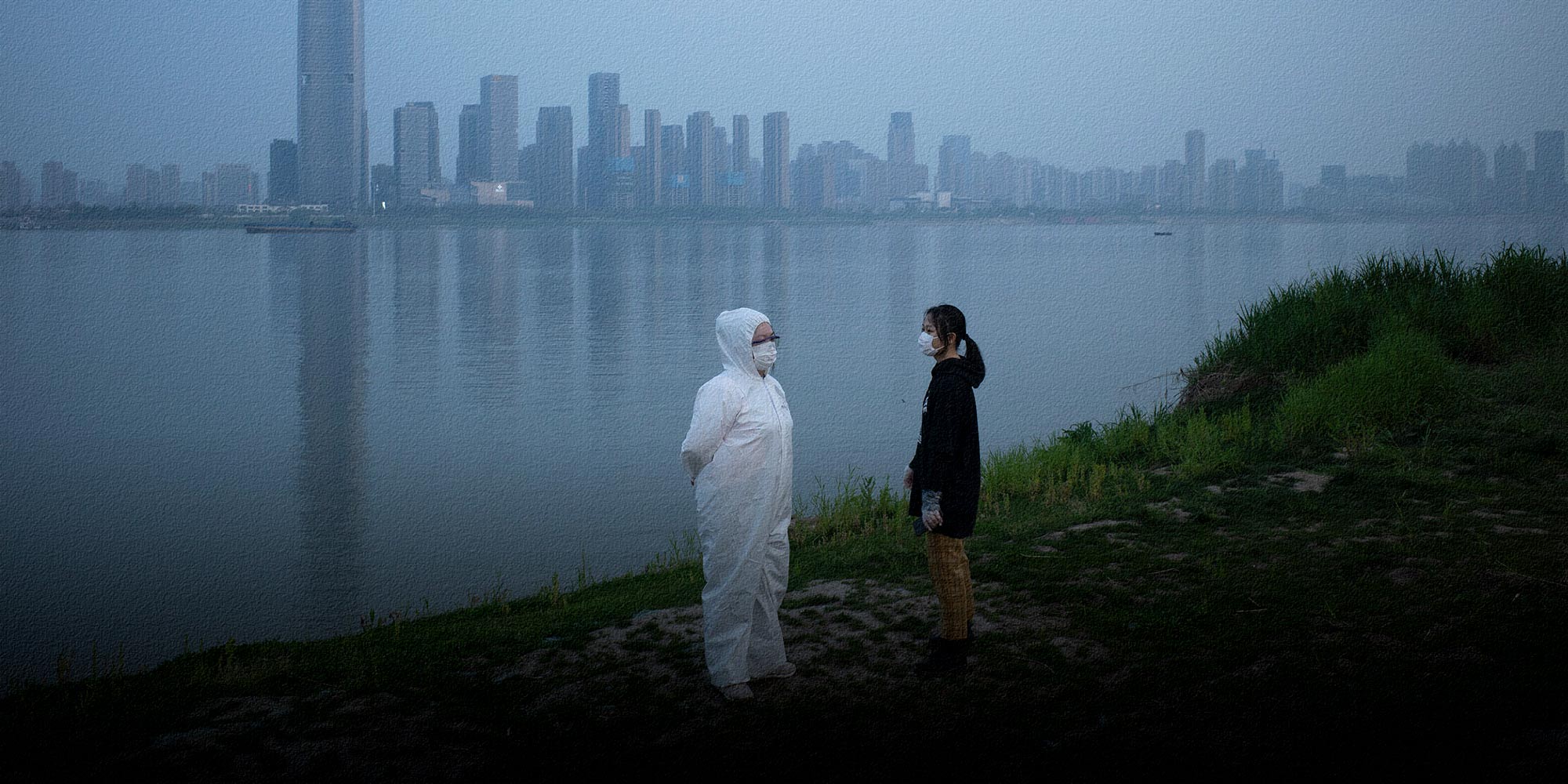 VOICES & OPINION
Grief in a Fallen City: On Processing the Trauma of COVID-19
COVID-19 killed over 3,800 people in Wuhan. A local grief counselor discusses what it's like to help the survivors pick up the pieces.
This article is the last in a series of first-person accounts from medical workers who lived and worked in Wuhan over the past four months. The rest of the series can be found here.
Late one night in March, a young woman I was counseling suddenly sent me a message. "Can I put your name down as my emergency contact?"
The woman had just lost her mother to COVID-19. Her father had been out of the picture since she was a child. She was essentially an orphan.
I said yes.
After a slight pause, she messaged again: "When my mother was alive, she was always my emergency contact. Now that she's gone, I have no one to put down on the form. If I die, no one in this world would care or miss me."
She's not the only person who lost their emergency contact to the coronavirus. I've worked in a Wuhan hospital's hospice care center since 2007, but the past four months were like nothing I've ever seen.
Here, at the epicenter of the COVID-19 outbreak in China, more than 50,000 people fell sick. Over 3,800 died. The city's initial battle against the coronavirus appears to be drawing to a close — the city announced it had cleared its last hospitalized COVID-19 patients of the virus on April 26 and the streets are gradually returning to life — but the psychological scars will take far longer to heal.
No Time to Say Goodbye
In early February, a university professor who'd organized a team of social workers and psychological counselors to provide counseling services asked me if I would be interested in joining. Figuring I could use my expertise in grief counseling to help patients and their families, I agreed.
Over the past 13 years, I've met countless terminal cancer patients and their loved ones, watching as the former waited out their last few days or weeks while the latter tried to come to terms with their impending loss. It's always a painful process, but there's time to process the fear and grief.
Not in this case. COVID-19 generally killed its victims in less than a month. Many people saw their loved ones suddenly deteriorate and die in the span of just a few days. They were gone, just like that. Everything happened so fast.
Most didn't even get to say goodbye. A colleague of mine lost her father, but even she, a health care worker, wasn't allowed to see his body before it was cremated.
It guts her to think about it: Her father's body was taken from his hospital bed and rushed to a funeral home to be cremated. According to Chinese custom, children should dress up a deceased parent and give them a decent farewell. She later told me she regretted not being there with her father in his last hours, even though she knew it would have been impossible. And she's tormented by the thought that she might have brought the virus home with her from work. All she can do is force herself to think, "My dad was already in his 80s. It was his time to rest."
Wuhan is full of such stories. Some residents later tracked down the hospital staff who witnessed their loved ones' final moments, needing to hear from someone who was there that their family member wasn't in too much pain when they died.
"An Impossible Situation"
The sudden loss of a loved one is a huge emotional shock. But whereas in my past work, most family members of the deceased would gradually move past their grief during the course of treatment, many of the people I've talked to over the past three months are trapped in deep sorrow.
Often they have trouble sleeping, so our conversations might last until late in the night. Some of my fellow volunteer counselors have reported staying online with help-seekers as late as 4 a.m. I've talked with people who would cry whenever they talked about their relationships with their deceased family members; people who couldn't even stand the sight of the word sangqin — "to lose a family member"; people who would share how they had desperately tried to get their loved ones into treatment, only to watch helplessly as they died anyway.
Guilt and remorse were two of the most frequently expressed emotions. Thirty-something Ling — a pseudonym — lost her father. She would repeat the same phrases over and over, like a mantra: "I should have asked my father to leave Wuhan and return to our hometown for Lunar New Year"; "If I was more capable, I could have gotten my father a hospital bed earlier, and he wouldn't have died."
Ling's mother passed away when she was a teenager, and she had come to see her father as a pillar in her life. In the early days of the outbreak, Wuhan suffered from acute shortages of everything from medical supplies and protective gear to hospital beds. Despite her best efforts, Ling's father ran a high fever for at least three days before she was finally able to get him admitted to a hospital. By then it was already too late. He had always been healthy; three days later he was dead.
I've become used to the sight of death and grief, but nothing prepared me for the trauma, guilt, and anger I've witnessed from those who went through so much pain trying to seek treatment. Some patients told me they had knelt down and kowtowed to doctors in a desperate bid to get treated for their symptoms — to no avail. If I were in that position, I probably wouldn't be able to take it, either.
But it was an impossible situation. Even a co-worker of mine had to wait six feverish days before she was admitted to the hospital where she worked.
Others were haunted by the fear of death. I talked to people who stayed with their sick partner or parent at the hospital until the end — something that theoretically was against the rules. They saw everything. When they were then quarantined in hotels or sent home, they were terrified of the same fate awaiting them.
Getting Help
Health care workers, who spent more time than anyone in close contact with the virus, have been some of the hardest hit. This may be most true of nurses, who saw to patients' personal and medical needs, including conducting high-risk throat swabs. Some of them were under so much pressure, they would break into tears whenever they saw stories about people dying.
Since March, I have been organizing mutual help sessions at our hospital where health care workers can share their experiences and feelings. Though some were at first reluctant to talk, after a few sessions they started to open up.
One nurse talked about how she had been living in fear since the pandemic started. At its peak in Wuhan, she said she would be terrified of being struck by a car while walking on an empty street, or that the buildings lining the road might collapse on her.
And the people I've spoken with are probably the lucky ones. So many people and families have been affected by the pandemic in Wuhan, but only a few are getting professional help.
It's difficult for us to find people who need assistance, as Chinese are not quite used to the idea of therapy. During the lockdown, most of our sessions happened online, via voice or text messages, rather than over the phone or in video calls. Some were concerned about privacy, but it's likely they also felt safer and more comfortable that way.
It can be a long way back. I've had patients who seemed to calm down for a time after repeating their stories, but their sorrow and guilt can rebound at any moment. Sometimes it's extremely difficult to lift their spirits. It's like they've been paralyzed. And without being there physically, it can be hard to build a firm connection with them.
I nevertheless try to be a presence in their lives, even when they don't ask for my help. I've found many of them are still burdened with worries, anxieties, and sorrow. They need someone to talk to, even if they don't know how to say it.
Meditations
As the virus has receded in Wuhan, many residents are trying to return to their normal lives. The co-worker of mine who lost her father is gradually moving past her guilt, in part by focusing more on taking care of her still-recovering mother. Some who didn't seek professional help are finding comfort and peace with their friends and in chat groups filled with bingyou — "fellow patients."
For my part, I've recently attended several meditation sessions as a way to relieve some stress. I was so busy with my work at the hospital and the volunteer counseling program, I didn't even realize how exhausted I was until a supervising counselor reached out to me one day.
Healing takes time. Life is slowly returning to Wuhan, but the city is still a far cry from normal. It's good to hear that the last hospitalized COVID-19 patients have been cleared of the virus, but we can't allow that to distract us from the deep psychological scars left by the last four months.
One of the people I counseled said something that has stuck with me. "During the outbreak, patients and their families kept pushing forward, even through blood and tears," she said. "Now that the epidemic is under control, the vast majority of residents are burying their grief. The challenge is to find a way to keep living."
As told to Sixth Tone's Cai Yiwen.
Editor: Kilian O'Donnell; portrait artist: Zhang Zeqin.
(Header image: Two residents stand by a riverbank in Wuhan, Hubei province, March 24, 2020. Zhang Zhitao/Southern Metropolis Daily/People Visual)