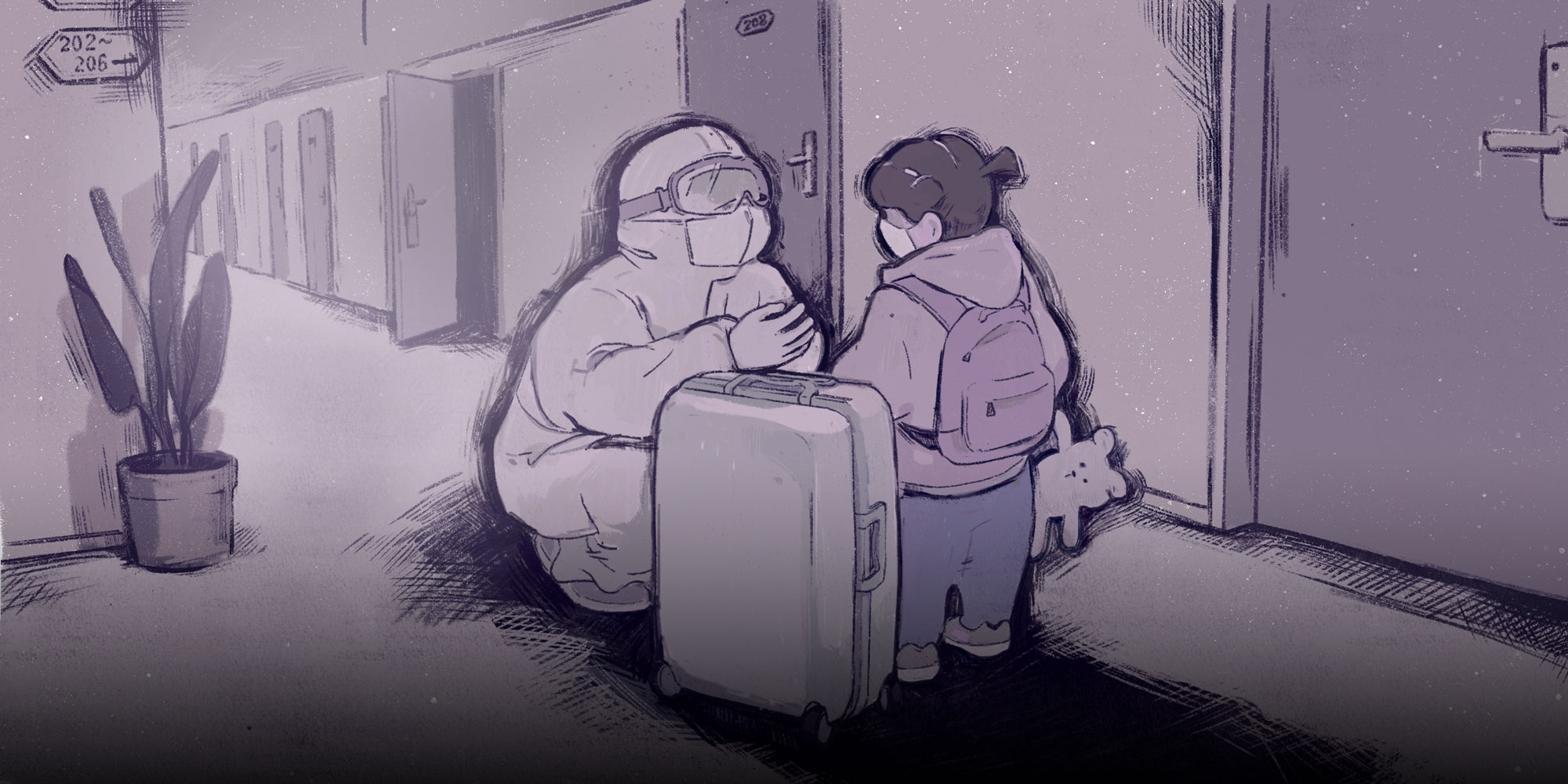 FEATURES
How Wuhan Cared for Pandemic's 'Temporary Orphans'
With thousands of moms and dads sick or quarantined, volunteers lent a parenting hand.
HUBEI, Central China — When social worker Li Ren told her son she'd be going on a monthlong business trip, it was the biggest lie she'd ever told him. 
In truth, Li was volunteering to enter a quarantine center in Wuhan, the city in Hubei province where China's COVID-19 outbreak began, so she could accompany a 4-year-old daughter of hospitalized coronavirus patients. "Her grandmother died of the disease, and both of her parents were ill," Li tells Sixth Tone. "Nobody in the family was able to look after her."
On Feb. 19, Li received a call from a local government officer asking her to help out. The girl's mother, who hadn't immediately been admitted to the hospital because she only had mild symptoms, received word that a bed had become available. And so Li, after convincing her husband this was the right thing to do, set out into the cold and quiet night to pick up the girl, Yiyi — a pseudonym to protect her privacy.
When Li met Yiyi, she was timid, with her hair in a ponytail and her eyes red from crying. It was close to dawn when the two arrived at a hotel-turned-quarantine center and were given a room on the seventh floor, which housed six more children — ages 4 to 17 — who were all in the same situation as Yiyi.
There are no public figures on how many children in Wuhan were left without guardians during the height of the country's epidemic. But with 3,869 deaths and more than 50,000 confirmed infections, thousands of families lacked caretakers as they spent weeks in treatment, recovery, and quarantine. As Wuhan was cut off from the rest of the country since Jan. 23 to contain the virus' spread, out-of-city relatives were unable to help out, as was the case with Yiyi's family.
In late January, the plight of children left without guardians due to the coronavirus outbreak became front page news in China after a 17-year-old boy with cerebral palsy died alone at home after his father had to go into quarantine. After public outcry, China's Ministry of Civil Affairs on Feb. 11 tasked local officials with reporting and taking care of children left alone due to the pandemic.
However, during a time when lower-level officials were flooded with a range of urgent responsibilities, care for these children was often patchy in practice. Fang Li, the mother of two children who were quarantined on the same floor as Yiyi, tells Sixth Tone the solution her residential committee originally suggested was having her 13-year-old daughter take care of her 4-year-old son at home. "I said, if you don't help me, then I'd just as soon be shut out on the balcony and quarantined with the children, never leaving my apartment," Fang says.
Cindy Chen, a Wuhan resident who spent time in a so-called fangcang shelter hospital, told Sixth Tone in early March that a girl in her ward was there without her parents. She also recalled seeing a man who had tested negative for the virus checking himself in so he could be with his infected child.
Xu Jing, founder of child care nongovernmental organization Qiansuilan, tells Sixth Tone that, before her group's volunteers entered the quarantine center, nobody there was taking full-time care of the children — some of whom, like Yiyi, were only 4 years old. Many needed not just physical care but also emotional support, having experienced their families shaken up by disease and sometimes death.
Li had previously worked for an NGO providing children and the elderly with psychological counseling and other services for two years. But she had never had to care for someone so intimately or under such stressful conditions.
Living together in the same room, it took a while before the fragile and frightened Yiyi opened up to Li. "Whenever I tried to talk to her, she never replied," Li recalls. Yiyi never screamed or cried, appearing traumatized by her family's situation. Once, when Li helped the girl change her clothes in the morning, she found Yiyi had wet her bed.
To get Yiyi to let her guard down, Li only wore a mask instead of the entire protective outfit that was standard at the quarantine center, since all children had been in close contact with their infected relatives. Every time doctors wearing protective suits and goggles entered the room to check their body temperatures, fear was visible in Yiyi's eyes, Li remembers. "She would keep walking backward and not say a word. She just stared at them as if they were monsters."
Li's efforts worked. After three days, Yiyi became more willing to talk and started smiling. When watching TV, she would point out her favorite characters, and the two sang and danced together. To not add to Yiyi's worries, Li didn't allow her to make video calls with her mother, who agreed it was best the girl didn't see her sick and grieving.
While Li accompanied Yiyi round-the-clock, Zhou Huiqin, another volunteer on the seventh floor, was taking care of six children at once. "Thinking about these children in need of a caretaker, I felt it was my duty to help out," says the 52-year-old. "Only later did I find out how stressful it is. You have to be very careful in every aspect of their care." 
Zhou — who works for Xu's NGO, Qiansuilan — made a schedule to better divide her attention among her six charges. She spent time playing with the 4- and 8-year-old, made sure they had snacks and toys, and helped them during meals and showers. She helped the other children, who were in their teens, disinfect their rooms and keep up with their school work.
But most important was helping the children work through the pain of being away from their families while relatives were sick with COVID-19. Zhou reminded herself to be patient when the children got upset. "They were all a bit nervous the first day they arrived at the quarantine site," she says. "An 8-year-old boy cried on his first night here. He said he wanted to go home, and he felt scared of sleeping alone. I made him a promise that I wouldn't leave until he fell asleep." Every day, Zhou kept her word.
Huang Minfang, a counselor based in the southern city of Guangzhou who specializes in juvenile psychology, tells Sixth Tone it is crucial under the current circumstances to tell children they haven't been abandoned. "You should allow children to vent their feelings, to feel scared and hopeless," she says. "You could tell the children their parents can't visit because of disease, but that they love them, and that's why they asked social workers to take care of them."
Another aspect of emotional support is how to deal with death. Yiyi would sometimes mention her late grandmother, who raised her before she fell ill. "She talked about how her grandma combed her hair and what games they played together," Li recalls. "She didn't know about her grandma's death. Maybe her mother hadn't told her about that."
Xu, of Qiansuilan, says that the NGO will focus on helping children process the loss of family members, especially parents. "Taking care of them at the quarantine site is the first step of our project, and we are now revisiting the families to take care of their mental health," Xu says, adding that the separation during the period of quarantine might also have left mental scars.
Pan Aiqin, the mother of a 14-year-old boy, tells Sixth Tone she felt her son had changed slightly after coming out of quarantine. "He sticks closer to me and wants to talk to me all the time."
Li and Zhou finished their jobs as "temporary mothers," as Chinese media had started calling them, in late March after the children's parents one after another recovered and left the hospital. For many children, leaving the quarantine center was almost as emotional as moving in. "I waited until the morning of the day her mother was ready to pick her up before I told Yiyi she was going to meet her mother," Li says. "She stared at me with her big, round eyes for a long time, and she didn't say a word."
Li stayed in touch with Yiyi and her family, who turned down Sixth Tone's interview request, after the girl and both her parents moved back home. But when she noticed the family getting back to normal, she decided to stop calling. "After several video chats, I found that Yiyi's family was getting better, so I stopped intervening," Li says.
Li thinks back fondly to her 24 days with Yiyi. "Sometimes, especially when my son is naughty," she jokes, "I feel like it's better after all to have a girl (like Yiyi)."

Illustrations: Wang Zhenhao; editor: Kevin Schoenmakers.