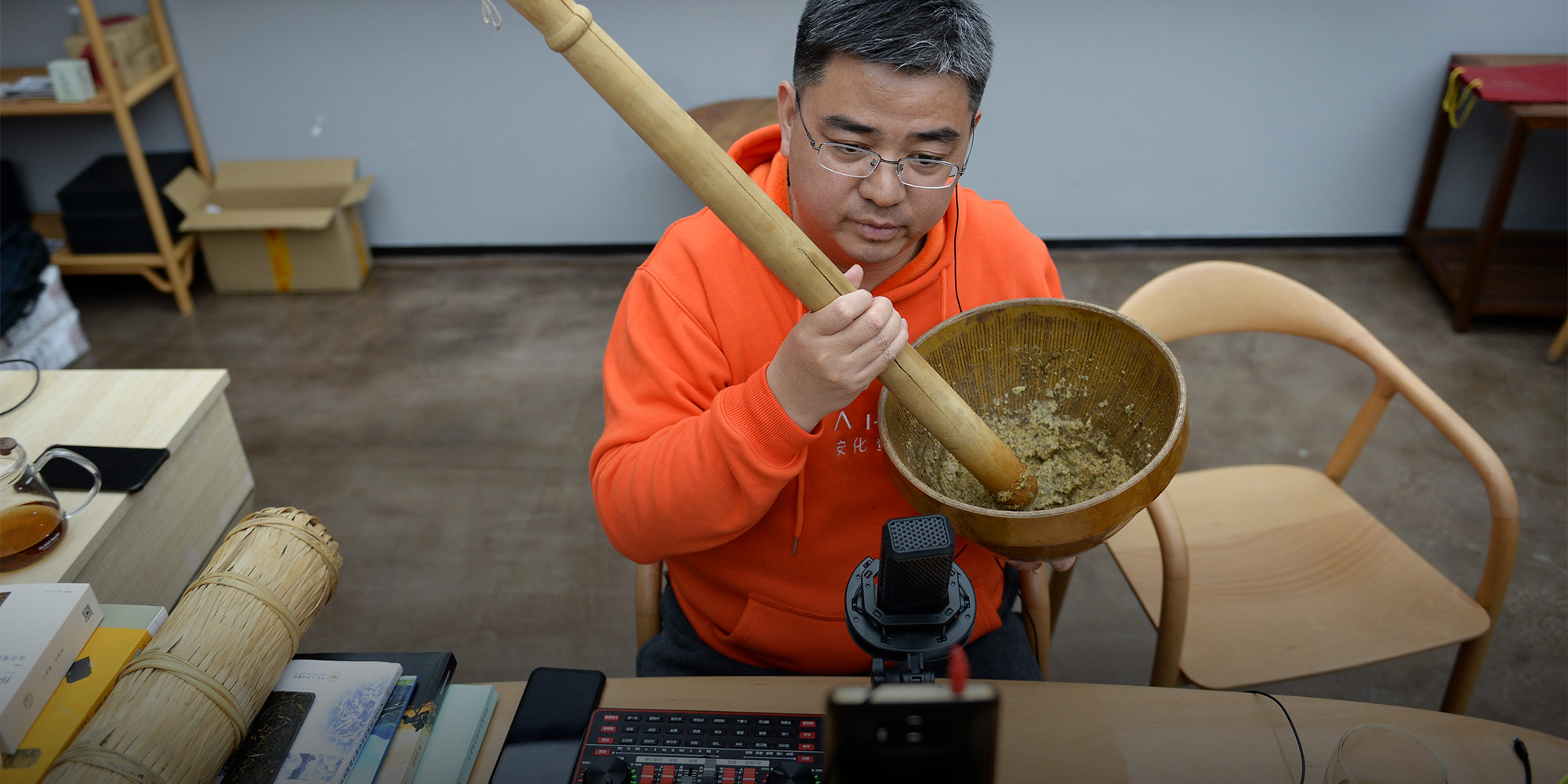 NEWS
Pandemic Turns China's Local Leaders Into Livestreamers
In the wake of COVID-19, rural economies are struggling to recover. Local officials are taking on new, more public roles to help.
"My dear darlings, welcome to my livestream!"
This warm salutation comes not from a seasoned online broadcaster, but from a 49-year-old rural official hoping to sell some sweet potatoes to his audience.
With the COVID-19 pandemic disrupting markets and supply chains, China's low-level officials — city mayors and heads of villages, townships, and counties — are increasingly turning to livestreams and short videos to help boost online sales of local products farmed or produced by their constituents: anything from pineapples, honey, and mushroom sauce to tea and salted duck eggs.
According to the Ministry of Commerce, over 100 local government officials participated in commercial livestreaming in the first quarter of 2020. Even Chinese President Xi Jinping has gotten in on the action, joining a livestream to promote locally grown black fungus during a recent tour of the northwestern Shaanxi province. He said at the time that the online technology could help farmers sell their products and alleviate rural poverty.
Livestreams like the one promoted by Xi are generally public-private collaborations between government bodies and major online companies such as e-commerce giant Taobao and short-video app Douyin, as TikTok is called in China. These campaigns often carry the charity tagline zhunong, or "relief for farmers."
One such scheme, launched in February by Taobao rival Pinduoduo to boost sales in vulnerable agricultural regions, has seen leaders participate in over 50 livestreams on the app. A similar commercial livestreaming initiative from Douyin had generated 63 million yuan ($8.9 million) in rural product sales as of April 19, with 44 mayors and county leaders participating.
On April 18, the mayors of five cities in Hubei — the central Chinese province where the coronavirus was first detected, and which was effectively locked down for over two months — participated in a commercial livestream with pop-rock idol Yang Kun to boost sales of regional products and restore consumer confidence. And last weekend, a new initiative involving 100 county heads promoting rural tourism broadcast its first livestream.
In a typical iteration of one of these programs, the official, accompanied by a "professional" livestreamer, will sit at a table surrounded by local products, a colorful campaign banner displayed on the wall behind them. The official will then introduce their region's customs and history, advertise products, eat, cook, and perhaps even serenade viewers with song over the course of a broadcast lasting up to three hours.
On April 21, Kuang Jikang, the mayor of Kaiping City in the southern Guangdong province, addressed an audience that reached 1.1 million viewers during a two-hour broadcast. After introducing his region's historic buildings and wildlife, including ducks and geese, Kuang advertised dozens of local products, and cooked and ate an egg-and-chives stir-fry. He even gave the dish an auspicious name — "eggs wish you a long life" — leading to over 150,000 eggs being sold.
Some officials have taken to livestreaming like ducks to water, even gaining a degree of online celebrity. Wang Shuai, a portly county official in the eastern Shandong province, loves to eat copious amounts of food during his broadcasts, which are peppered with the English and Chinese catchphrases of more prominent streamers. During the Hubei mayors' broadcast, one official sang an endearingly off-key folk song, and another pair were given "thug life" sunglasses using a video filter.
Another county official, Qiu Xueming from the central Henan province, is known for enthusiastically guiding his online viewers on tours, selfie stick in hand, of chicken coops, fisheries, and farms in his locality up to three times a day. During one broadcast in February, he helped locals sell over 3,000 kilograms of fish.
Wang, the Shandong official, tells Sixth Tone that commercial livestreams are a way for public servants like him to hit their growth targets and make locals happy by helping to boost their sales. The pandemic has meant the cancellation of commodity fairs — where hard-to-sell products were peddled in the past — as well as changed consumer habits and disrupted logistics networks, with large trucks not being allowed into Beijing during the early stages of the outbreak.
"If we were not using innovation, using these kinds of methods — if we were still using those old offline methods — then we would very likely not achieve our targets that we promised to the government," said Wang, adding that livestreaming comes naturally to him as a member of the "post-'80s" generation.
According to Wang, the idea to get involved with streaming didn't come from his superiors. Instead, it was guided by policy trends such as last year's Village Broadcast Plan, a program for encouraging grassroots commercial livestreaming nationwide that's coordinated by Taobao and the Ministry of Commerce.
When Wang and his peers first tried out commercial livestreaming, they initially struggled to attract viewers because they were nervous and presented themselves in an overly formal, bureaucratic way. But they gradually adopted more fun, relaxed styles. In December, Wang gained wide attention for eating a succession of braised chickens during a livestreaming and short-video recording session, resulting in some 10,000 birds being sold.
"Perhaps I was a bit nervous. They (the producers) kept saying I was eating the chicken wrong, that my facial expressions weren't sufficiently enthusiastic, and that netizens wouldn't like it — so I should start again," Wang said. "I don't remember how many chickens I ate, but in the end they said I ate at least 10."
More recently, Wang sold tomatoes by issuing a tomato-eating challenge to his viewers. He says the success of some early livestreams, including his, has encouraged other localities to give it a try. And President Xi's commercial livestreaming cameo last week has given local leaders more confidence to break into the industry.
He Miao, a county head from the northwestern Xinjiang region who has been promoting local e-commerce through his Weibo microblog since 2015, sees the leader-livestreamer trend as an inevitable result of the rise of the medium, combined with an urgent need for rural products to be authoritatively backed. "At a time like this, leaders have a responsibility, an obligation, to do this," he told Sixth Tone.
According to He, commercial livestreaming is particularly valuable for remote regions of China, including his own, which produce a low volume of high-quality, niche products and don't have strong logistical infrastructures.One problem with the medium, He says, is that livestreams can only be successful if their visibility is boosted by the host platform, which might happen just a few times a year. For consistent sales, a reliable fan base is needed.
With so many officials jumping on the commercial livestreaming bandwagon, some media outlets have wondered whether this represents a fleeting fad or a "new normal" in local politics, while others have suggested such endeavors fall into the category of shameless self-promotion. But not all livestreams perform well, and there's the risk of reputational damage if the products one is selling — and essentially vouching for — turn out to be of poor quality.
During last month's "315 Evening Gala," an annual consumer rights protection program on state broadcaster China Central Television, the commercial livestreaming industry was singled out for being rife with fake and inferior products, and for using popular livestreamers to trick consumers into buying such goods.
As far as livestreaming officials are concerned, however, many viewers find their eagerness to support local businesses endearing, and media outlets have lauded such initiatives for showing the human, down-to-earth side of local leaders.
"I feel they're so cute, serving the people," a WeChat user commented under an article about this new brand of cyber-salespeople. "Keep it up!"
Editor: David Paulk.
(Header image: A county official demonstrates how to grind tea leaves during a livestreamed promotion for locally sourced tea in Anhua County, Hunan province, March 19, 2020. Chen Zhenhai via Xinhua)