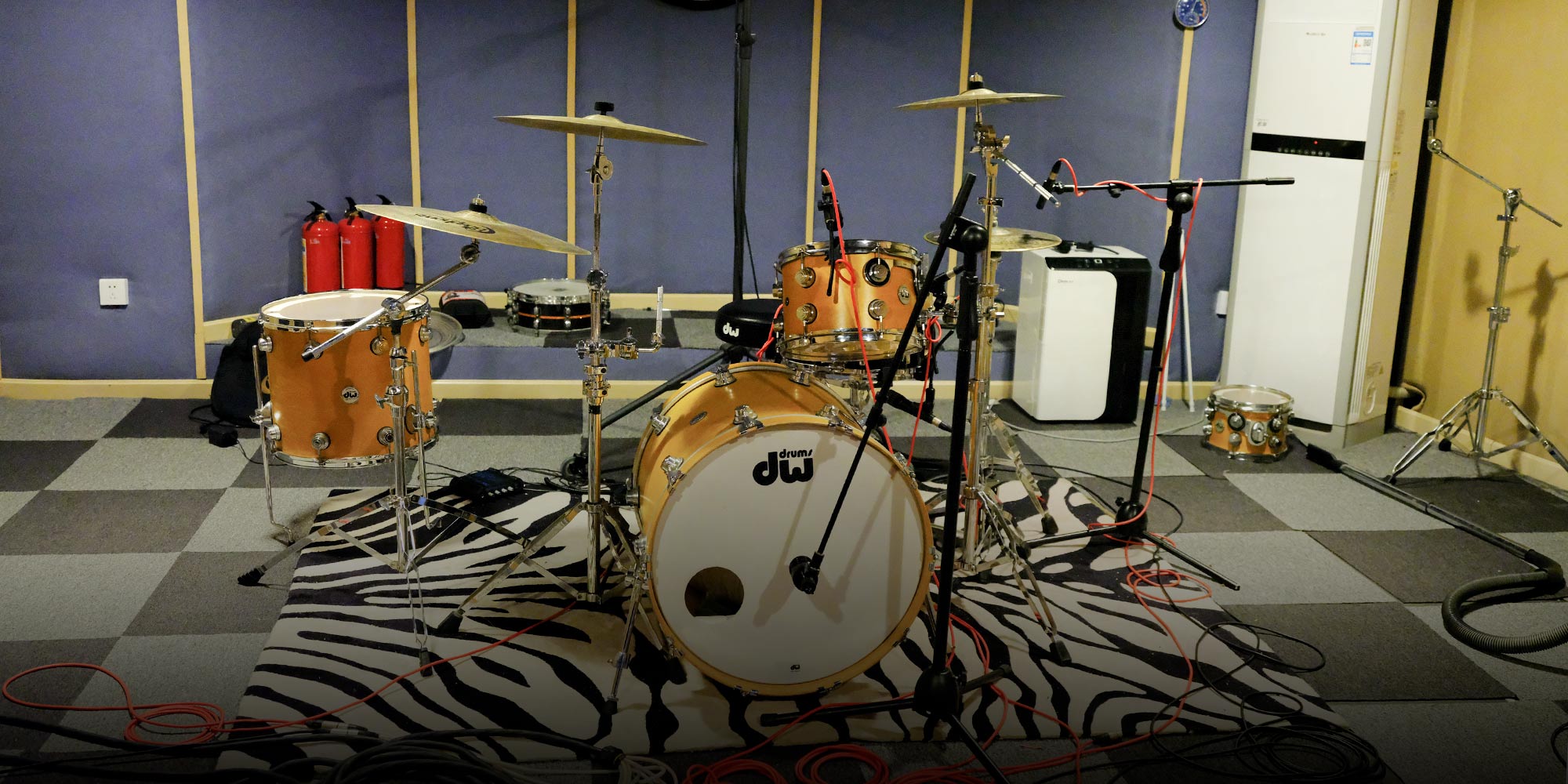 FEATURES
Anarchy in Hubei: Wuhan's Punk Bars Ride Out COVID-19
The Chinese city has long been famous for rebellious rock music. But the coronavirus crisis is threatening its most storied venues.
HUBEI, Central China — Fearless punks used to launch themselves from the second-floor balcony during shows at Wuhan's most famous rock venue, trusting the writhing mass of sweaty limbs below to break their fall.
But Vox — the livehouse known as the beating heart of China's "Punk City" — hasn't heard the roar of distorted guitars or screaming crowds for months.
The main stage is empty, and the only figure in the mosh pit is the venue's resident tabby cat, "Little Wang," prowling quietly between the tables. On the black back wall, Vox's motto is written in cursive white lettering: "Voice of Freedom, Voice of Youth."
The venue has been shut since late January, when the central city was suddenly locked down in an attempt to contain its coronavirus epidemic. Wuhan finally reopened to the rest of China to much fanfare 76 days later, and local stores, restaurants, and offices have been gradually resuming operations. 
Yet live music bars like Vox and Prison Bar — another well-known haunt for the city's punks — are still waiting for the green light to start hosting gigs once more.
Vox has had to cancel or delay more than 50 shows since the lockdown, Zhu Ning, the venue's founder, told Chinese web media Music Business in March. It also called off a two-day rock festival to celebrate its 15th anniversary, instead making do with a few livestreamed interviews and home-based band performances.
The shutdowns are an existential threat to many livehouses. Despite earning practically nothing, they're still obligated to continue paying rent, as well as their staff's salaries and insurance plans. One promising new venue in the southern city of Shenzhen has already gone out of business.
"The virus is having a strong impact on this industry, especially these frontline venues," says Li Ke, Vox's manager, speaking to Sixth Tone at the venue. "We have high running costs … and yet we can't open, so we don't have a penny of income."
To cope, Vox has furloughed staff members on a reduced wage and negotiated a rent cut with its landlords, Zhu told Music Business. It's also put out video content on platforms Weibo and Bilibili, though views are so far minimal.
"We're thinking of other ways to generate income," says Li. "We can only hold on tight."
If Vox and Prison were to close, it would be a bitter blow to Wuhan's music scene. The small venues played an outsized role in the city's emergence as China's punk capital, and both remain landmarks for fans of the genre.
Punk in Wuhan began in the '90s with a single musician: Wu Wei. A young bassist with a troubled background, Wu got hooked on Western rock music while living in Beijing, buying cassette tapes of The Clash and the Ramones on the black market.
Disillusioned with life in the capital, Wu returned to Wuhan with his friend and drummer — and eventual Vox founder — Zhu in 1996, resolving to develop a punk scene in their hometown. The pair formed the band SMZB — an abbreviation of the Chinese for "bread of life" — and played their first gig that December.
Wuhan — a blue-collar city with a reputation for straight-talking and armed rebellion — proved to be fertile ground for punk. Soon, the city had a thriving stable of bands with colorful names, such as Play to Death, Angry Dog Eyes, Big Buns, Dogshit Sandwich, and Day of Chaos.
Though some claim Chinese punk was born in Beijing, bands in Wuhan were known for staying faithful to the punk spirit of sticking it to the man and working collaboratively. 
SMZB refused to record love songs, instead belting out rhymes about social injustice, political corruption, and police brutality in a mixture of Chinese and broken English.
As mostly cash-strapped youth, musicians from different bands worked together closely — living together to save money, sharing instruments and even band members, and creating posters and plastering them in local schools. Few local drummers could play in the fast punk style, so Zhu played for five different groups. After one night of concerts, he claimed he was so exhausted, he didn't get out of bed for three days.
"Never Release My Fist," a 2015 documentary about Wuhan's punk underground, records the wild living and hardships endured by members of the subculture during the early days. Musicians jokingly describe the movement as feeling like a tightly knit mafia clan, with Wu Wei — whom they called Boss Wu — their villainous head.
"People playing in bands in those days were crazy. They just wanted to do music; they couldn't live without it," says Li. "Those guys in that time were all very poor, so everyone lived together to save money."
Finding places to practice and play was a permanent headache, recalls Lin Wenhua, a vlogger and former member of the Wuhan punk band Red Spider. Clubs, bars, and karaoke parlors would refuse to let them back after they performed there, saying they were too noisy. Practice sessions often ended when the police arrived.
In desperation, Red Spider resorted to practicing in a garage-like storefront in a park, and even a novelty Mongolian yurt — rehearsing there involved lugging amps and kit onto a ferry to cross the river.
"In the early days it wasn't like now, where there's everything you need, like practice rooms you can rent for money," says Lin, who to this day goes by the name Spider. "Everything was done DIY … it was really tough."
Vox was born out of this need for a permanent base for Wuhan's punks to perform. Zhu, who had left SMZB after the band moved to Beijing, created the Vox brand in 2000 with the aim of creating a safe haven for music. Its first location was in an old missionary church in 2002 — which was ideal, because it was "cool" and "extremely cheap" to rent, according to Li. Cool as it was, though, the venue was poorly run and shut down within six months.
In 2005 — after Zhu returned from touring in the United States, where he learned more about how to professionally run a livehouse — he set up the second incarnation of Vox, which mainly operated as a bar. In 2007, it relocated to its third and final location.
Li, who started working at Vox part time around this time, says it was the first American-style bar in the area. It was soon followed by Prison Bar, which Wu founded after returning to Wuhan from Beijing in 2009.
Both venues went on to acquire something approaching legendary status in Wuhan, pulling in a colorful crowd of expats, musicians, aging punks, and misfits. Prison even became the subject of an SZMB song.
"When the show was over (in Vox), a huge amount of people would come in to drink beer," says Li. "In those days, it was hot, busy, and pretty chaotic."
Wuhan is a university city with a plentiful supply of young artists, and hundreds of bands played at Vox over the years. They often came and went, however, without a single recording to their name, says Li. To immortalize the city's ephemeral music scene, Vox began to record annual live compilation albums called "Voice of Wuhan."
In 2015, Vox started its own record label, Wild Records, which is now an independent business entity with five bands signed to it. It also opened two new livehouse branches in the central city of Changsha and the southwestern Chongqing, in 2017 and 2018, respectively.
The punk movement that originally put Wuhan music on the map has since all but burned out, with Vox standing as the final permanent relic to that age. Out of the early cohort of bands, only SMZB remains. 
"Wuhan punk was very famous at the time, but there was actually just one wave of bands," says Li. "Now, everything is more popular than punk … the most popular are Taiwanese bands: representatives of the petty bourgeoisie."
Punk declined in Wuhan as society changed, Li suggests. Whereas the early punk musicians were poor and angry, today's young people are not. Lin describes them as "gentler" and "more patriotic." They're also more interested in writing hits, getting fame online, and making money, Li adds.
"Times have changed," says Li. "Young people live much better than they used to … They just think, 'how can I pursue a comfortable life?'"
The old bands broke up as they aged and work and family pressures mounted. Newer musicians craved more complex sounds, shunning the basic chord structures and four-beat rhythms of punk. 
Former punk rocker Xu Bo, who played with Lin in Red Spider in the early 2000s, says he moved on to emo later that decade. In recent years, he's strayed even further from his punk roots, founding the math rock band Chinese Football — presently one of Wuhan's most famous acts — which is signed under the Vox-associated Wild Records. 
If the punk scene he used to play in was rooted in hot-blooded rebellion, Xu says he's a believer in a more introspective approach to change — starting from yourself, from within. "This might differ from bands of that generation, who were all about resistance," he tells Sixth Tone.
Wuhan's reputation as a "punk city" is now mostly a legend, according to Li. Commentators love to draw a link between punk and Wuhan's local culture, with its harsh dialect, brusque manners, and history of revolution — from the 1911 uprising that toppled China's last emperor, to the vicious infighting during the decadelong Cultural Revolution. In true punk style, however, Li scoffs at the idea there's a real connection with the city's music scene. "Does this have anything to do with it? It's a forced analogy," he says.
But Xu still sees glimpses of the old punk spirit in how Wuhan has responded to the COVID-19 crisis. From the fearless "aunties" who continue to congregate and dance on the streets, to the public spiritedness shown by many locals, punk's values of self-organization and fierce loyalty are alive and well.
Xu says he learned this spirit during his early days at Vox, when everyone pooled their efforts to help out with events, and he'd help to clean up after they were done.
"Everyone might have their own understanding of what punk is. But what I admire is the spirit of DIY in punk — do what you can do," says Xu. "To this day, this kind of thing has left a deep impression on me, even to my bones." 
Editor: Dominic Morgan.
(Header image: A view of the rehearsal space in Vox's studio in Wuhan, Hubei province, April 9, 2020. Shi Yangkun/Sixth Tone)